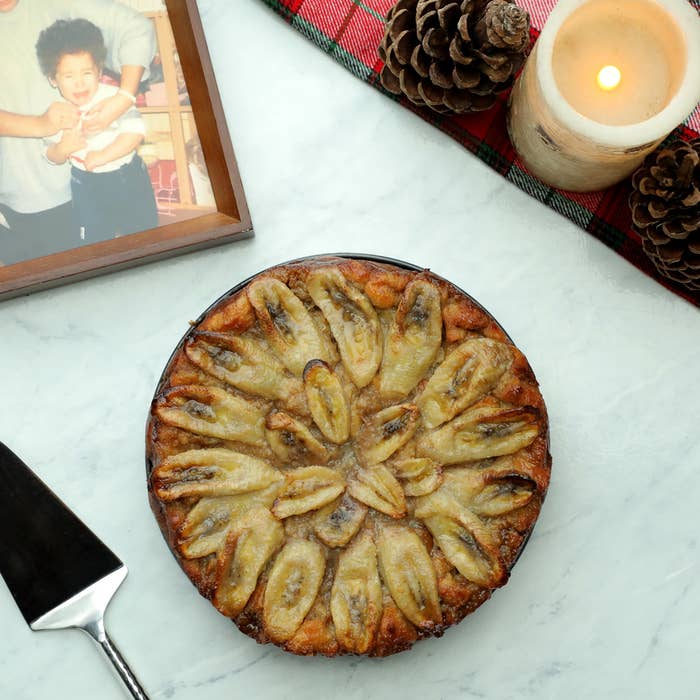 Servings: 8

Ingredients:
3⁄4 cup sugar
11⁄2 cups plus 1 tablespoon milk, divided 3 eggs
11⁄2 teaspoons kosher salt
11⁄2 teaspoons ground cinnamon
1 pound brioche, cut into large cubes
3 bananas, cut on the bias
2 tablespoons unsalted butter
1⁄3 cup brown sugar
Flaky salt
Preparation:

1. Preheat oven to 375F (350F for convection). Grease an 8-inch springform pan and set aside.
2. Combine sugar and 11⁄2 cups milk in a small saucepan over low heat. Heat just until sugar melts, whisking occasionally. Remove from heat and let cool.
3. Whisk in eggs, kosher salt, and cinnamon. Add brioche to the bowl and fold to coat. Using a potato masher or your hands, gently mash until bread breaks down into smaller pieces, but not until totally liquified.
4. Pour into prepared springform pan. Arrange bananas on top in 2 concentric circles.
5. Melt butter in a small pot over medium-low heat. Add brown sugar and stir until melted and starting to bubble. Stir in 1 tablespoon milk and let cook until caramel comes together, about 1 minute. Pour caramel over the bananas and bread pudding. Sprinkle with flaky salt.
6. Place pan on a sheet tray (to catch any drips) and cover with foil. Bake for 30 minutes covered. Remove foil and bake for another 20 minutes uncovered. Let cool, then unmold. Slice and serve.