The Perfect Holiday Roast Turkey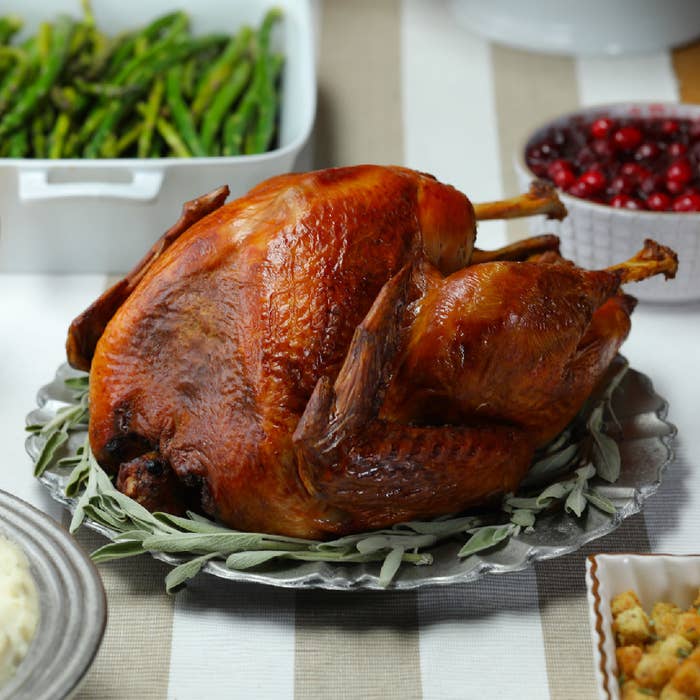 INGREDIENTS
Serves 8-16
2 gallons water
1 bag The Spice Hunter Original Turkey Brine and Bag
12–24-pound turkey, defrosted
1 cup butter, melted
PREPARATION
1. In a large pot, bring one gallon of water to a simmer. Add The Spice Hunter Original Turkey Brine and Bag, taking care to remove and save the brining bag inside the package. Stir well and remove from heat. Let brine cool to room temperature (you can put the pot on ice to speed up this process).

2. Place your defrosted turkey into the provided brining bag, seal, and refrigerate for 12-24 hours.

3. Preheat oven to 450°F (230°C).

4. Remove the turkey from the brine, and discard the brine. Rinse the turkey thoroughly, then place it on a roasting rack. Let air dry or pat dry with paper towels.

5. Baste the turkey liberally with melted butter and place in your preheated oven. Roast for 20-30 minutes (depending on size) until the skin turns a light golden brown.

6. After 20-30 minutes, cover the breast of the turkey with aluminum foil and turn down the oven temperature to 350°F (180°C). Continue roasting for 2½ to 3 hours, or roughly 15 minutes per pound. When a meat thermometer inserted into the thickest part of the breast registers 165°F (74°C), remove the turkey from the oven.

7. Place the turkey on a carving board and tent with foil. Let rest for 30 minutes before carving and serving.

8. Enjoy!