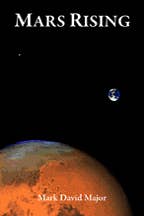 What is your name, where were you born and where do you live now?
My name is Mark David Major. I was born and raised in St. Louis, Missouri but I have lived for the last decade in Jacksonville, Florida in the United States.
Did you always want to be a writer? If not, what did you want to be?
I always wanted to be a writer but my career has been diverse because so many things fascinate me: architecture and urban planning, history and politics, academia and business, etc. The common thread running throughout my career has been my ability to write. Besides, at any early age, I realized disappointment was likely if I chose a career as an astronaut, baseball player, or President of the United States because: 1) I get motion sickness; 2) I can't hit a fastball; and, 3) no sane person would ever want to be President of the United States in today's world.
When did you first consider yourself as a "writer"?
When I was in high school and started writing science fiction stories. However, I do not think the title "writer" officially applied until my play, The Persistence of Memory, was performed for a short 1992 run in the St. Louis area. At that point, the label could not be avoided.
Did it take a long time to get your first book published?
I did not publish my first book, Mars Rising, until 2011. Before this, I was published multiple times in different venues including poetry magazines and anthologies, academic and professional journals, and newspapers. Mar Rising is only the second book I have written. When I was in my early 20s, I completed an unpublished spy novel entitled Flowers Are Not Requested. I still have the draft and might revisit the material sometime in the future but it's not a priority right now.
TO READ THE REST OF THE INTERVIEW, VISIT JEANZBOOKREADNREVIEW.COM AT THE LINK BELOW: