We all know now that Falcon and the Winter Soldier is out, your obsession with Bucky Barnes has resurfaced. It never fully went away, but it's back in full force. Here are some Bucky moments that will help add fuel to the (already incredibly hot) fire.
Oh, and I've pointed out where to find every single scene down to the second so you can relive each one yourself. Because why not?
7.
Bucky defending Steve's honor in the alley.
6.
Bucky staring at Steve like this.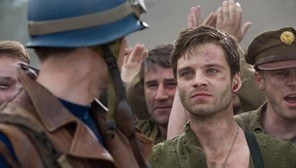 3.
This soft Bucky moment from the end of Civil War.
2.
His cameo at the end of Black Panther.
1.
And FINALLY, THIS MOMENT RIGHT HERE:
I bet I missed a ton of others, so let me know which ones are your favorites in the comments.
(Also, I'm just really excited to see what is to come with the Falcon and Winter Soldier . LET THE WILD AND OUTLANDISH THEORIES BEGIN!)