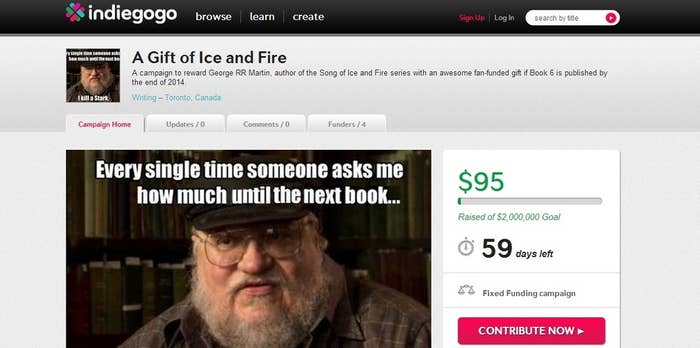 George RR Martin, author of the legendary fantasy series A Song of Ice and Fire that inspired the hit show Game of Thrones, is notorious for taking his time in between books.
There was a five year gap between the release of the third book, A Storm of Swords and the fourth book, A Feast for Crows. It took Martin another six years to put out the most recent book, A Dance with Dragons.
Winds of Winter is the next book but there's no light at the end of the tunnel; we don't know when it'll be published.
Enter a newly founded Indiegogo campaign called "A Gift of Ice and Fire."
Their mission is simple: Reward GRRM with "an awesome fan-funded gift" should he complete Winds of Winter by the end of 2014.
Possible gifts include a statue of GRRM riding a dragon to be erected in Santa Fe, N.M., a donation to a cause of GRRM's choice, or just the $2,000,000 itself—Yes, the project's goal is to hit $2,000,000 within the next 59 days.
At the time of writing, the campaign has raised $95.
If nothing else, the fact that this exists is a testament to the devotion of Martin's fans and how powerful his literary creations really are.
Now, for your trouble, here are some Game of Thrones characters as cats!