This week a company recalled 35,464 pounds of raw ground beef. That's 17.7 tons.
The company is JBS USA and it's located in Lenoir, North Carolina. Someone found blue, hard plastic pieces in one of the products, which prompted the recall, according to the US Department of Agriculture.
The beef was shipped to distribution centers in Virginia and Indiana and was sold in Kroger stores in Illinois, Indiana, North Carolina, Virginia, and West Virginia, as well as Food 4 Less and JayC stores in the Midwest, Kristal Howard, a Kroger spokesperson told BuzzFeed News.
None of the ground beef is still in stores. But if you buy and freeze meat, check it. If it has been recalled, throw it out or return it.
"We are aware of the JBS recall and have verified that none of these products are in our stores today," Howard said in an email. "We encourage customers to check their freezers for the potentially affected products and not to consume them but throw them away or return them to their place of purchase for a full refund.
The recalled meat has the establishment number "EST. 34176" inside the USDA mark of inspection.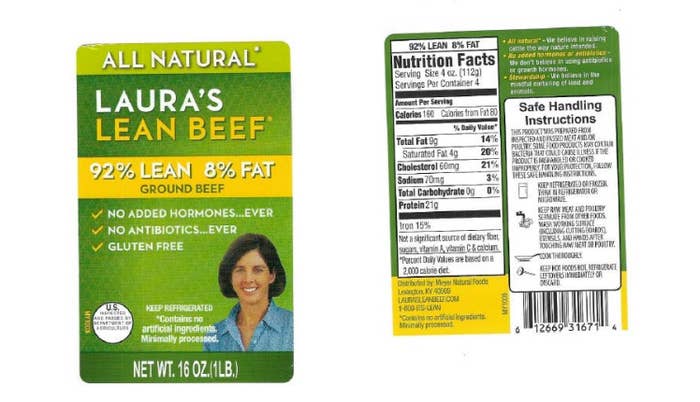 The beef was sold under names like Kroger Ground Beef 80% Lean – 20% Fat, Private Selection Angus Beef, and All Natural Laura's Lean Beef, but the USDA has published an entire list of recalled beef products and what their labels look like on their site.
The good news is that no one has gotten sick or been injured from eating the meat.
"There have been no confirmed reports of adverse reactions due to the consumption of these products," according to the US Department of Agriculture. "Anyone concerned about an injury or illness should contact a healthcare provider."