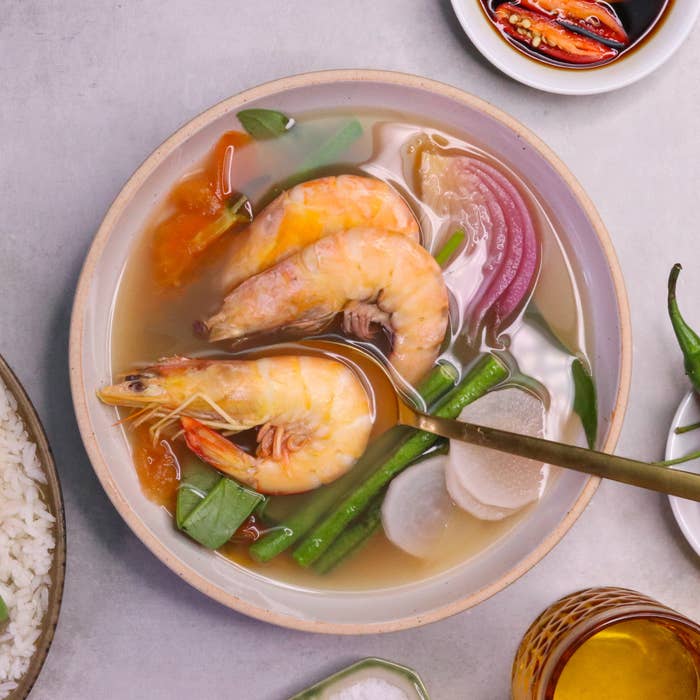 Ingredients
2 litres rice water

1 red onion, cut into 6 segments
2 tomatoes, cut into 6 segments each
10 shrimp
10 yardlong beans (sitaw), cut into thirds

1 cup white radish, thinly sliced
1 bunch water spinach (kangkong), stems removed
2 green chilies
40g tamarind soup base powder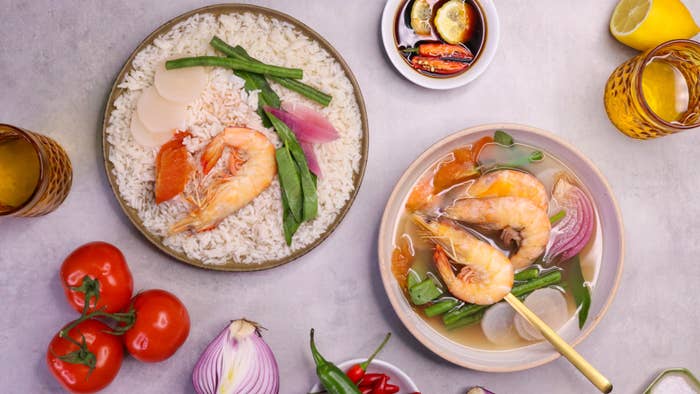 STEP 1. Place a large pot over high heat and add the rice water, red onion and tomatoes. Bring to the boil and cook for 5 minutes.

STEP 2. Add the shrimp and cook for 3 minutes, until the shrimp have changed colour. Remove the shrimp from the broth and set aside.
STEP 3. Turn the heat down to a simmer, then add the yard long beans (sitaw), green chilli and white radish to the pot and cook for 5 minutes.
STEP 4. Once the beans and radish have cooked, add the tamarind soup base powder, then stir to combine. Add the shrimp back to the pot to heat up, then at the last minute add the water spinach (kangkong), and ladle into serving bowls.
STEP 5. Serve Sinigang Na Hipon with rice and enjoy!