This is Kaitlyn, a Sumatran tiger that lives at the Australia Zoo in Beerwah, Queensland, located roughly 45 minutes north of Brisbane. Threatened by poachers and habitat loss, the species' population has plummeted to less than 500 in the wild. :(
But there's good news! Less than a week ago, on August 22nd, she gave birth to a pair of male cubs! As the picture below reveals, they are ridiculously adorable. And, ahem, sleepy. Between bouts of grooming and nursing, they take lots of cat naps.
The arrival of these cubs is significant because Sumatran tigers rarely breed in captivity and many of their offspring do not survive due to complications. Because Kaitlyn was born to a wild mother and captive father, she is one of the most genetically valuable individuals in the world. Notes the zoo's head tiger supervisor, Giles Clark:
"Not only will these cubs ensure the survival of the species in captivity, but they will also provide genetic diversity among captive tiger populations. Kaitlyn's wild bloodline is an important factor."
In an effort to educate the public more about the plight of the Sumatran, Australia Zoo has partnered with The Pet Collective on a 24-7 live cam that affords an extraordinary look at these magnificent creatures as the bond with their tiger mom.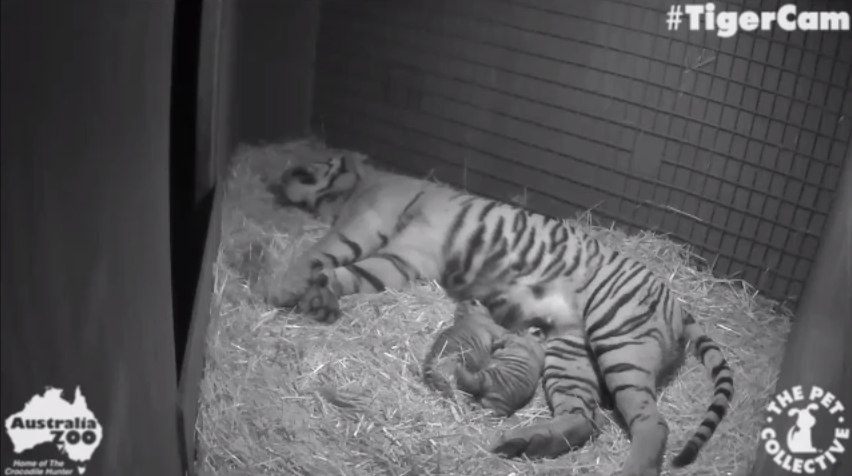 This post was created by a member of BuzzFeed Community, where anyone can post awesome lists and creations.
Learn more
or
post your buzz!