Kelli Lewis and Wendi Kilman New Release SHOE TREE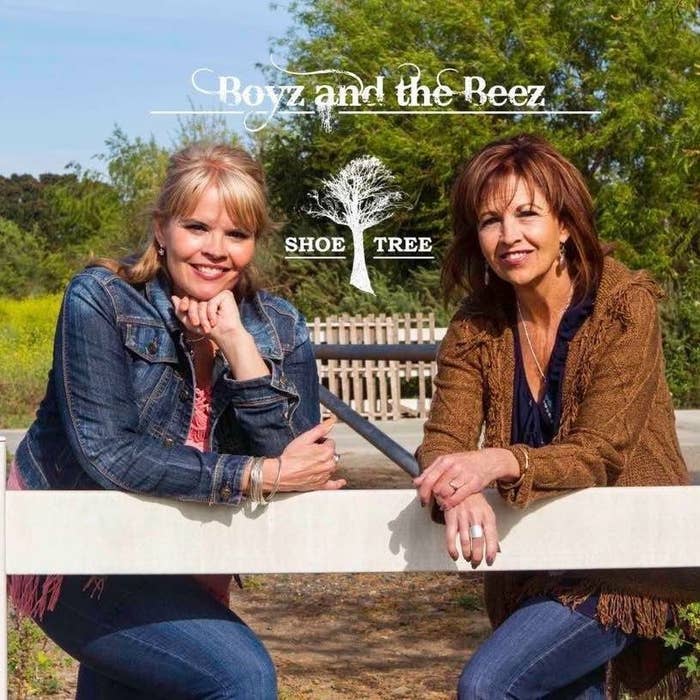 Musical Dad Lives On In Daughters' Music
Studio City, California, Sisters act The Boys And The Beez have released a new music release paying musical homage to their talented late dad. Kelli Lewis and Wendi Kilman picked up the songs and completed them, honoring what they believe their father would have wanted.
"Road To Rosie McCann" is a bluegrass song that was left incomplete when their songwriter father, Fred Sherry passed away at the end of 2016. At 86, he was in the process of writing the song that he planned to use to celebrate his favorite Irish pub in Santa Cruz, California, Rosie McCann's.
After his death, Wendi found the lyrics on his desk and she decided to finish them, despite her concern about doing them justice.
Another song about the pub, "Thirty-two Steps To Rosie McCann's," was written by Kelli before Fred's death and was actually the inspiration for him to start writing his song about the iconic pub.
Performing as their recording act The Boyz and the Beez, the ladies and their accompanying band members have been performing their swing music in Southern California for several years.
This latest recording is available online in stores including iTunes and Amazon.
Another song, "Shoe Tree" was recorded as a gift to their dad, who the sisters describe as "an extraordinary singer, musician and human being".
Wendi recounts, "even though I'm not so much of a songwriter, the words to complete the song flowed as if he was sending them my way".
The playful, catchy song described what Fred considered his "training" so he could continue to walk up those 32 steps to the pub drink for a drink, to meet his friend Mike, socialize and delight in the portrait of a pretty woman who reminded him of actress Jane Seymour.
The lyrics to the playful song tell the tale of his trips to the pub.
"It's a big long bar in Santa Cruz, I don't go for the food, I go for the booze. I've been a looong, looong time on the Road to Rosie McCann… climb 32 steps if I have to crawl."
One of Wendi's favorite lines from the song were completed by her from her father's started theme.
"It's great to be alive I often say, think I'm gonna have another IPA, long, long time on the road to Rosie McCann."
Wendi says "my dad never stopped getting excited about music and making himself better," adding, "he'd always say, 'I've got a new goal.'"
Daughter Kelli says, "I was always intrigued by my dad's stories of being in the music business and performing on television and in movies during the1950s".
Fred, a decorated U.S. Army veteran who, as a child sang in movies, got his first big break in 1952 when he won the Horace Heidt national radio contest with his rendition of Cole Porter's "Begin the Beguine." He was a tenor with a crisp, velvety voice.
Wendi remembers bringing his recording from the Horace Heidt show into her second grade show and tell and puzzling her 7-year-old class mates who had brought stuffed animals and slingshots to share. Her share seemed so natural to her, as music was always such a part of their household.
In the 1950s after winning the competition, Fred launched his career with the Jones Boys quartet, a group that would open for artists Sammy Davis Jr., Tony Bennett and Bobby Darin, and made appearances on the Ed Sullivan and Arthur Godfried shows.
Later in the decade Fred became a studio singer, working with Ella Fitzgerald, Benny Goodman, Andre Previn, Shelly Mann and Peggy Lee.
Fred enjoyed combining his musical talents with his free flowing sense of humor. He was remembered for grabbing an array of instruments for an impromptu number at home.
Kelli remembers that every year on the day she and her sisters and brother returned to school after summer vacation, Fred pulled out his upright bass and from the front lawn belted out, "Happy Days are Here Again."
He left the full-time music business to open a lighting store after marrying and having four children, but he never stopped performing.
The sisters named the album Shoe Tree, because their father was known in his Northern California community for nailing old boots and other footwear to a tree on his property, so as to not waste them.
Kelli's original song about the unique tree, Dad's Shoe Tree, is included in the recording. She describes it as "a catchy, upbeat tune that brings a smile to listeners".
Before Fred passed he knew his daughters were going to record this collection and expected to see both his and Kelli's songs featured. The sisters decided to keep his name credited as the songwriter, but added Wendi's name as well.
Kelli remembers, "he taught me you're never too old to do what you want to do."
'Shoe Tree' by Boyz and the Beez is available online through quality digital music retailers now.
Online:
www.boyzandthebeez.com