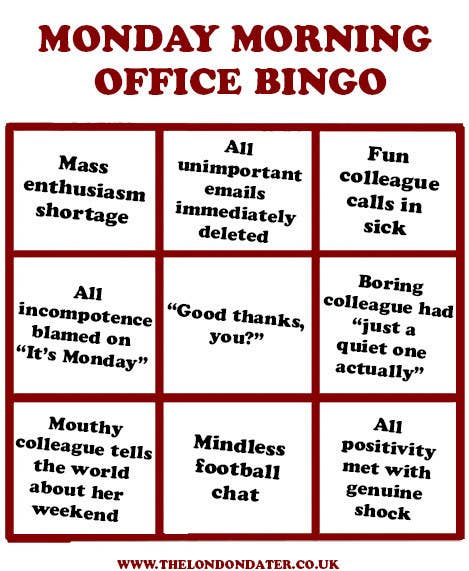 Mass enthusiasm shortage
You scan the office and there's not a smile to be seen.
Every 'good morning' is pronounced as 'mgmhmnmnnmng'.
For the next couple of hours, only the most necessary communication occurs.
All unimportant emails immediately deleted
The only bearable task for first thing on a Monday. Deleting emails.
Press releases. Event invitations. That really urgent task you put off from last Friday. Anything to do with work experience students. All in the trash.
Fun colleague calls in sick
The boss fields a suspicious-sounding sick call.
Everyone already knows who's on the other end.
They've all seen the Instagram snaps from their Sunday session at the pub.
Still, the boss accepts their excuses without batting an eyelid.
All incompetence blamed on "It's Monday"
Coffee spills. Emails sent without attachments. Million-pound contracts completely forgotten about.
The office moron will blame any mistake on "It's Monday" and be instantly forgiven.
The same applies on Fridays. Also, any other day before 10.00 or after 16.00.
"Good thanks, you?"
The go-to answer to any attempted smalltalk from fellow staff members.
Almost certain to be met with a response of "Yeah, good thanks."
Boring colleague had "just a quiet one actually"
That one dull colleague who's always asked what they got up to at the weekend. Nothing. Not a single thing. Again.
Yet, they'll deliver their "just a quiet one actually" response with such pride, you almost believe they enjoyed it!
Perhaps that's what getting old is like? Maybe a 40-hour work week becomes so exhausting that a "quiet one" on Saturday and Sunday is sheer bliss?
Mouthy colleague tells the world about her weekend
This woman will jump on any invitation to tell the complete story of their weekend from 17.01 on Friday to the present moment.
Even when no-one asks, she'll relentlessly rabbit on.
You've never spoken directly to her, yet you still know everything about their boyfriend, family and #fashiongoals.
Mindless football chat
The easiest way for blokes to build workplace bonds.
One asks another if they watched the game, and suddenly they're all the next Gary Lineker.
All positivity met with genuine shock
Any sort of smile is met with "you're looking cheerful for a Monday".
Tell a joke or sing a merry tune and they'll be rumours you're still drunk from the weekend.
If only, eh?