Roast Chicken and Vegetables with Zesty Salsa Verde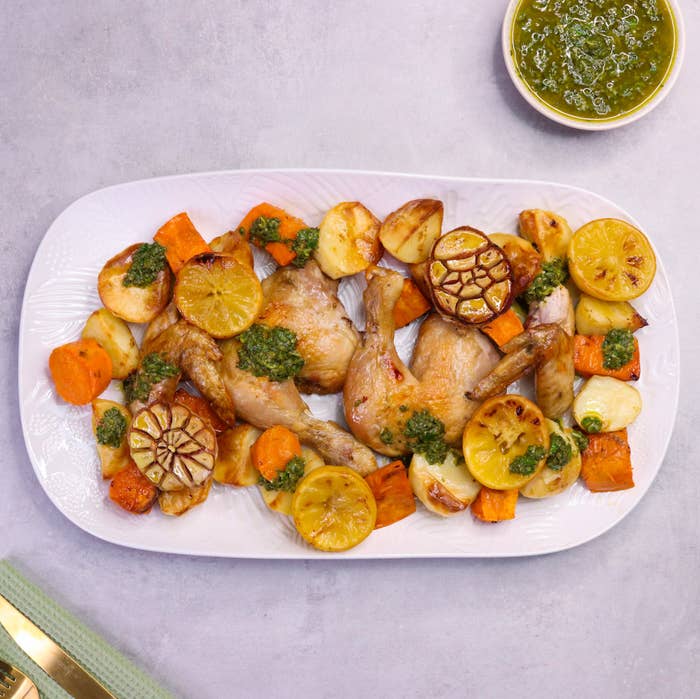 Ingredients
1.7kg The Free Ranger whole chicken
1 tbsp salt flakes
1/4 cup olive oil
500g sweet potato, cut into chunks
500g baby potatoes, cut in half
2 small lemons, halved
1 garlic bulb, cut in half
Zesty Salsa Verde
2 garlic cloves, chopped
1 cup parsley leaves
1 cup basil leaves, firmly packed
1 tbsp baby capers
2 tbsp lemon zest
1/3 cup lemon juice

½ cup extra virgin olive oil
Method
STEP 1: Preheat the oven to 200°C fan-forced. Line a large tray with baking paper.
STEP 2: Place the Free Ranger whole chicken on the lined tray, pat dry the chicken with paper towel. Arrange sweet potato, potato, lemon halves and garlic around the chicken. Sprinkle with salt flakes and drizzle over extra virgin olive oil.
STEP 3: Place the tray into the oven and roast for 1 hour and 20 minutes until the skin is crispy and sweet potatoes, potatoes, lemon halves and garlic are roasted.
STEP 4: Meanwhile to make the zesty salsa verde, place the garlic cloves, parsley leaves, basil leaves, baby capers, lemon zest, lemon juice and olive oil into a food processor. Pulse for 1 minute or until slightly chunky. Place salsa Verde into a serving bowl.
STEP 5: Cut the chicken drumsticks with the thigh attached off the chicken and cut the chicken wings. Reserve the chicken breast fillets for the Chicken, Quinoa and Roasted Almond Salad and the chicken carcass for the Cheat's Chicken Laksa.
STEP 6: Serve the chicken, sweet potatoes, potatoes, lemon halves and garlic onto a large serving platter and drizzle with the Zesty Salsa Verde.
STEP 7: ENJOY!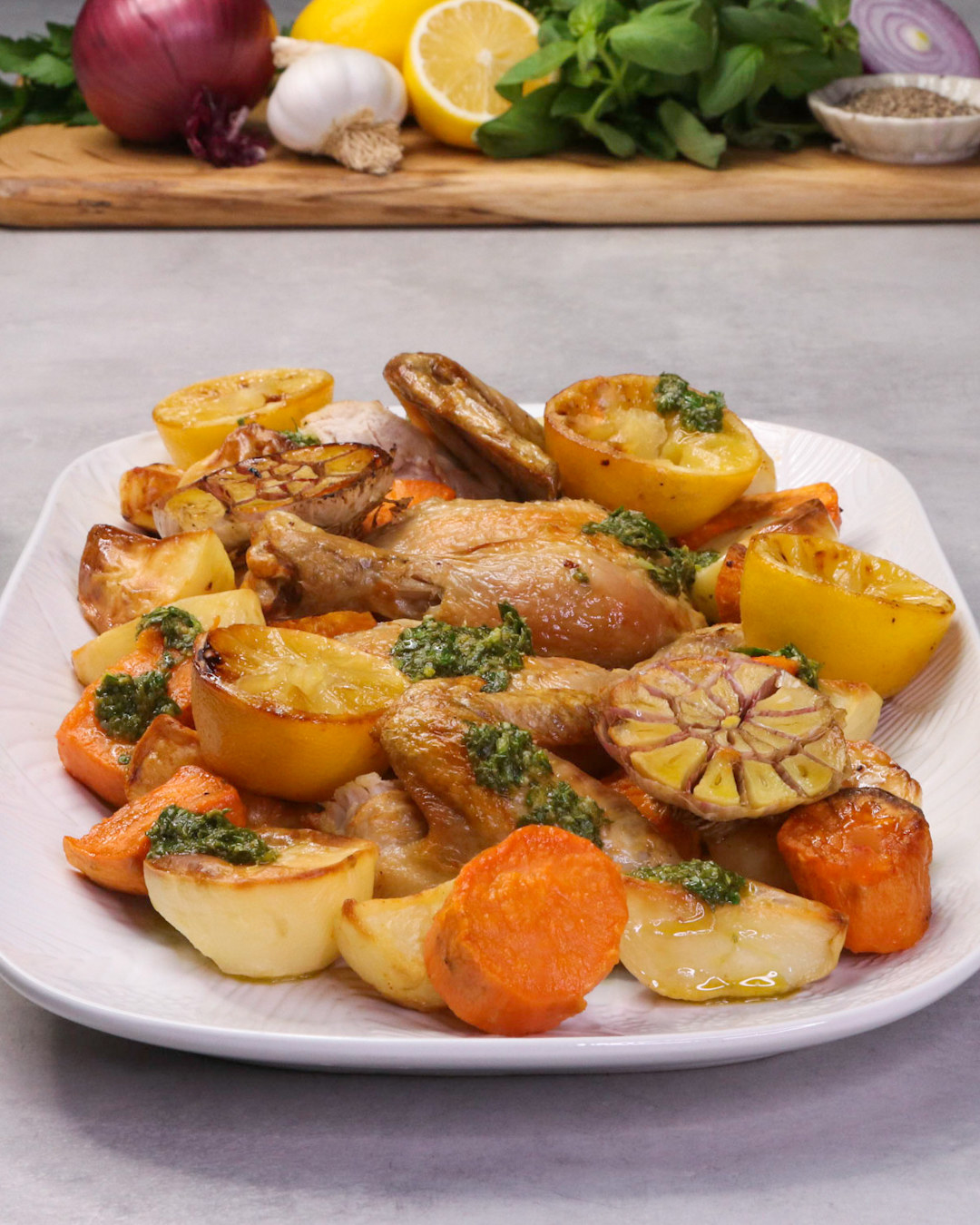 Cheat's Spicy Chicken Laksa
Ingredients
1 chicken carcass
1/2 cup shredded chicken (from carcass)
1 brown onion, halved
2 tbsp vegetable oil
185g jar laksa paste
400ml coconut cream
1 tbsp fish sauce
2 tbsp spicy chilli oil
185g dried rice noodles
1 bunch bok choy, cut into quarters
1 bunch Chinese broccoli, cut into thirds
To garnish
1 cup bean sprouts
½ cup coriander leaves
STEP 1: In a large pot over medium heat, place the chicken carcass, onion and 2 litres of water. Bring to the boil and simmer for 2 hours. Remove the chicken carcass and the onion from the pot and discard. Reserve 2 1/2 cups of chicken stock. Freeze the remaining chicken stock or use for another use.
STEP 2: In a large deep saucepan over medium heat, heat the vegetable oil and fry the laksa paste for 5 minutes, stirring often until fragrant.
STEP 3: Pour the reserved chicken stock and coconut cream into the laksa saucepan simmer over low heat for 10 minutes. Stir through the fish sauce and chilli oil in the laksa broth.
STEP 4: Place the rice noodles into a large bowl and the bok choy with Chinese broccoli into a separate large bowl. Boil a full kettle, then pour hot water into each bowl allowing the water to cover the noodles and asian greens. Sit for 10 minutes, then drain the water from each bowl.
STEP 5: Divide cooked noodles, bok choy and Chinese broccoli among serving bowls, then add the shredded chicken.
STEP 6: Pour laksa broth into prepared bowls and garnish with bean sprouts and coriander leaves.
STEP 7: ENJOY!
NOTES:
Leftover chicken stock can be stored in the freezer up to 3 months or in the fridge for 3-4 days covered.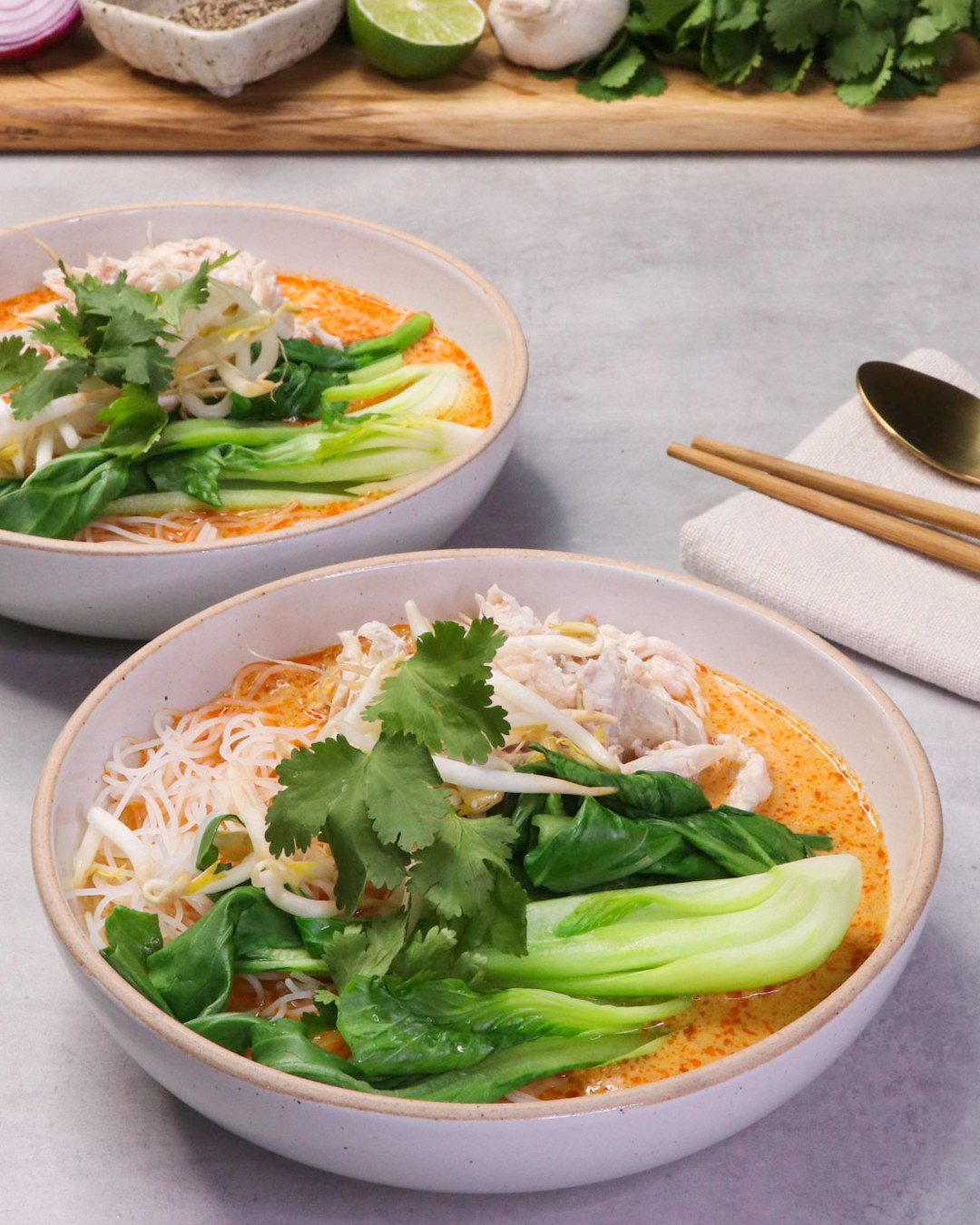 Chicken, Quinoa and Roasted Almond Salad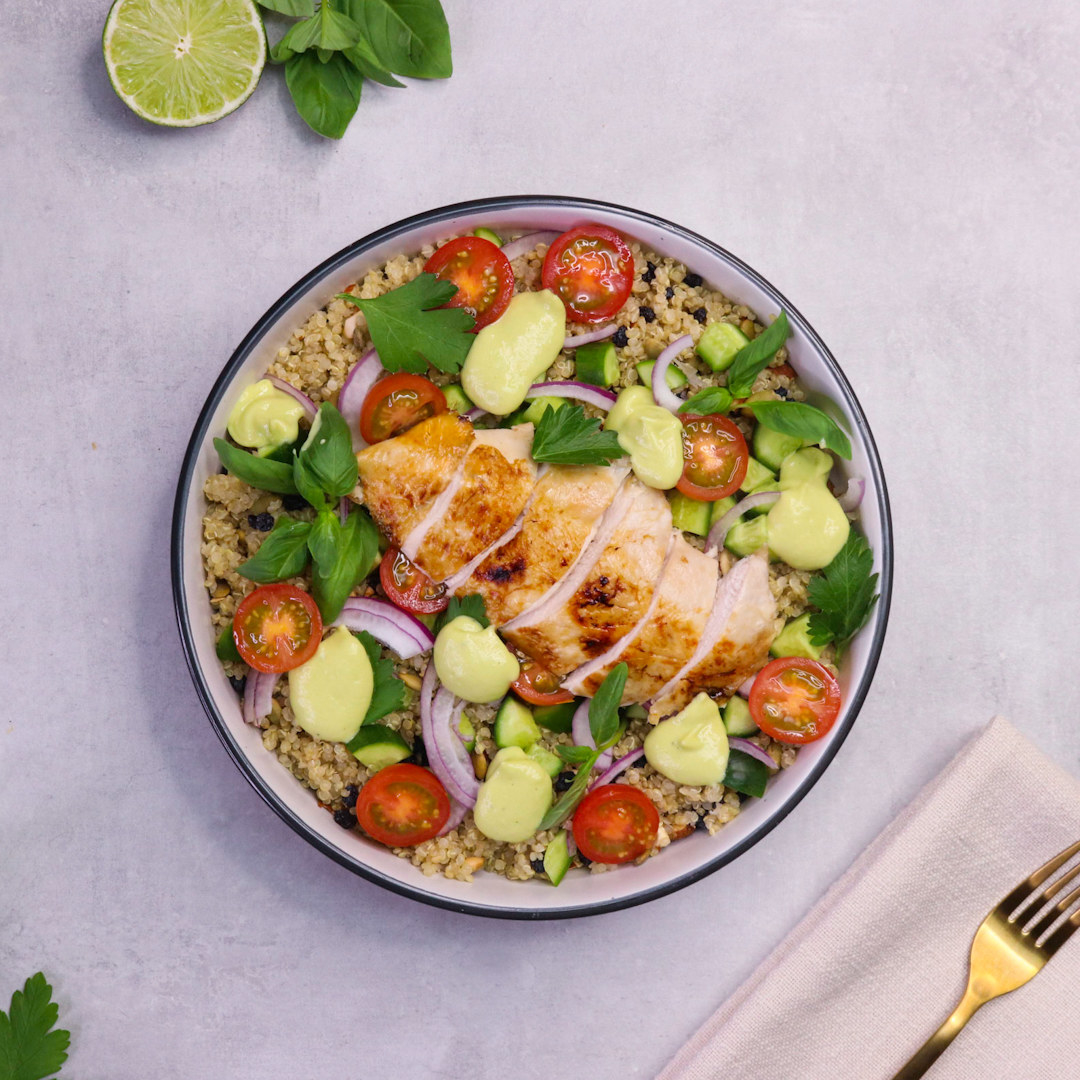 Ingredients
1 cup white quinoa, rinsed
¼ cup pumpkin seeds, toasted
¼ cup currants
⅓ cup almonds, toasted, roughly chopped
1 small red onion, thinly sliced
1 1/2 cups cherry tomatoes, sliced in half
1 cucumber, diced
The Free Ranger chicken breast fillets, sliced thickly
Creamy avocado dressing
2 avocados, skin and seed removed, cut in half
2 tbsp sour cream
1 garlic clove, crushed
1 tsp sea salt
1/2 tsp cracked pepper
¼ cup lime juice
¼ cup olive oil
¼ cup water
To garnish
1 cup basil leaves
1 cup parsley leaves
Method
STEP 1: Place the quinoa and 1 ½ cups water in a medium size pot over high heat, bring to the boil. Reduce heat to low, place a lid on the pot and cook the quinoa for 15 minutes or until the quinoa is fluffy. Cool quinoa completely before serving.
STEP 2: To make the creamy avocado dressing, place the avocados, sour cream, garlic, sea salt, cracked pepper, lime juice, olive oil and water in a small food processor. Blitz on high until the dressing is creamy and smooth.
STEP 3: To serve the salad, combine the pumpkin seeds, currants, chopped almonds and cooked quinoa in a large bowl. Place onto a serving platter. Scatter over the red onion slices, cherry tomatoes and cucumber.
STEP 4: Add the Free Ranger breast fillets slices on top of the quinoa mixture, dollop the Creamy avocado dressing over the chicken slices and sprinkle with basil leaves and parsley leaves.