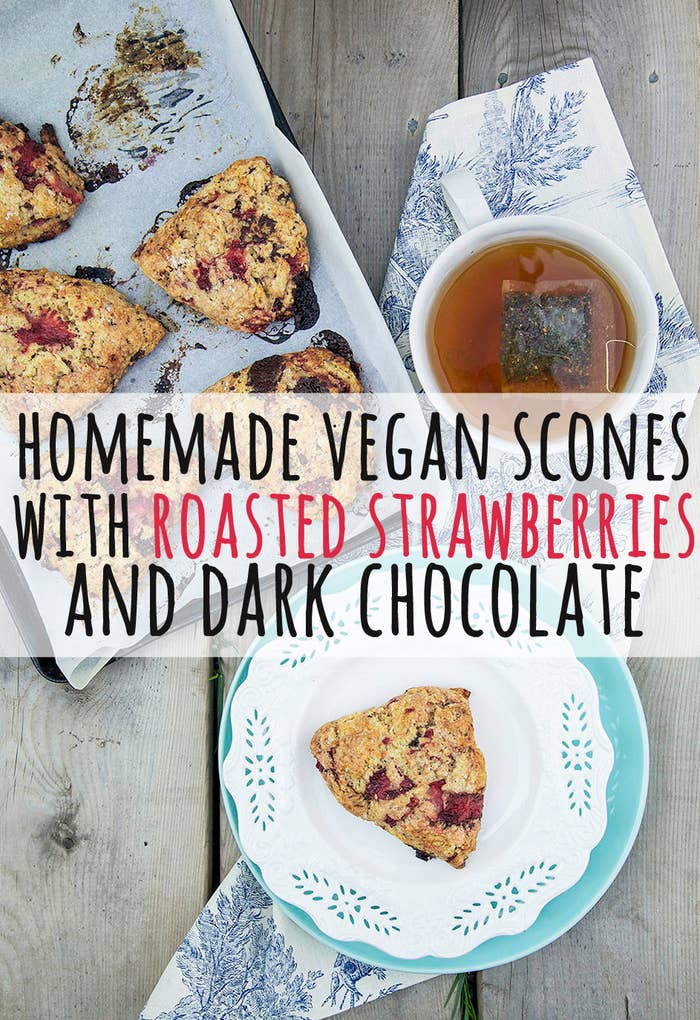 I've been writing about spring vegetables for awhile, but the fruit of the season deserves the spotlight too.
Strawberries bring sweet hope for summer fun and longer, consistently warm days. So it's fitting that when these berries first start showing up in late spring, I tend to ambitiously cart six quarts of them home at a time. The fruit is so fragrant, ruby red, and jammy that I can't help myself.
Of course, the last batch or so starts to look a little rough after several days because I can't eat them fast enough. But that's when this recipe — for delicious vegan scones with oven-roasted strawberries and dark chocolate — comes in handy.
Roasting the strawberries is crucial. Twenty-five minutes in the oven concentrates the fruit's juices and makes them ideal for a scone. It also ensures you won't end up with watery pockets in the dough.
A scone is something that's easily made vegan. Cold coconut oil and a touch of lemon or lime juice is added to coconut milk to make a "buttermilk" that gives great texture to the finished product. Then berries, antioxidant-rich dark chocolate, and whole wheat flour are mixed in — and you've got a lighter, homemade sweet treat that's perfect for spring.
First, coat the strawberries in a mixture of lemon juice, maple syrup, and vanilla extract, then spread them out on a baking sheet.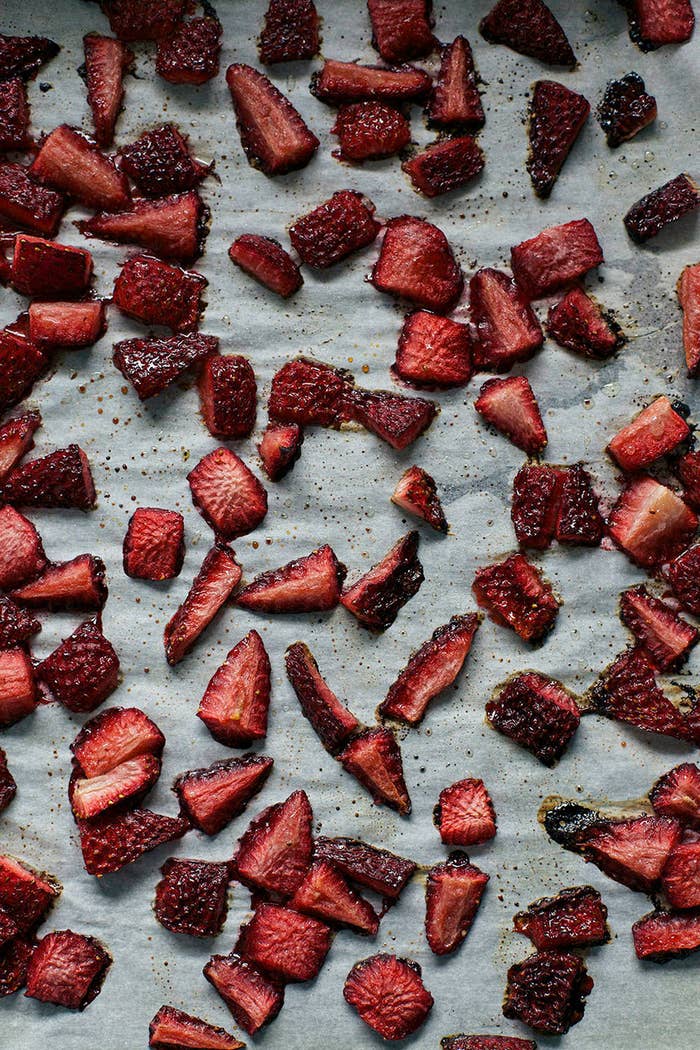 While the berries are roasting, combine the coconut milk and lemon juice, and set it aside to curdle for five minutes.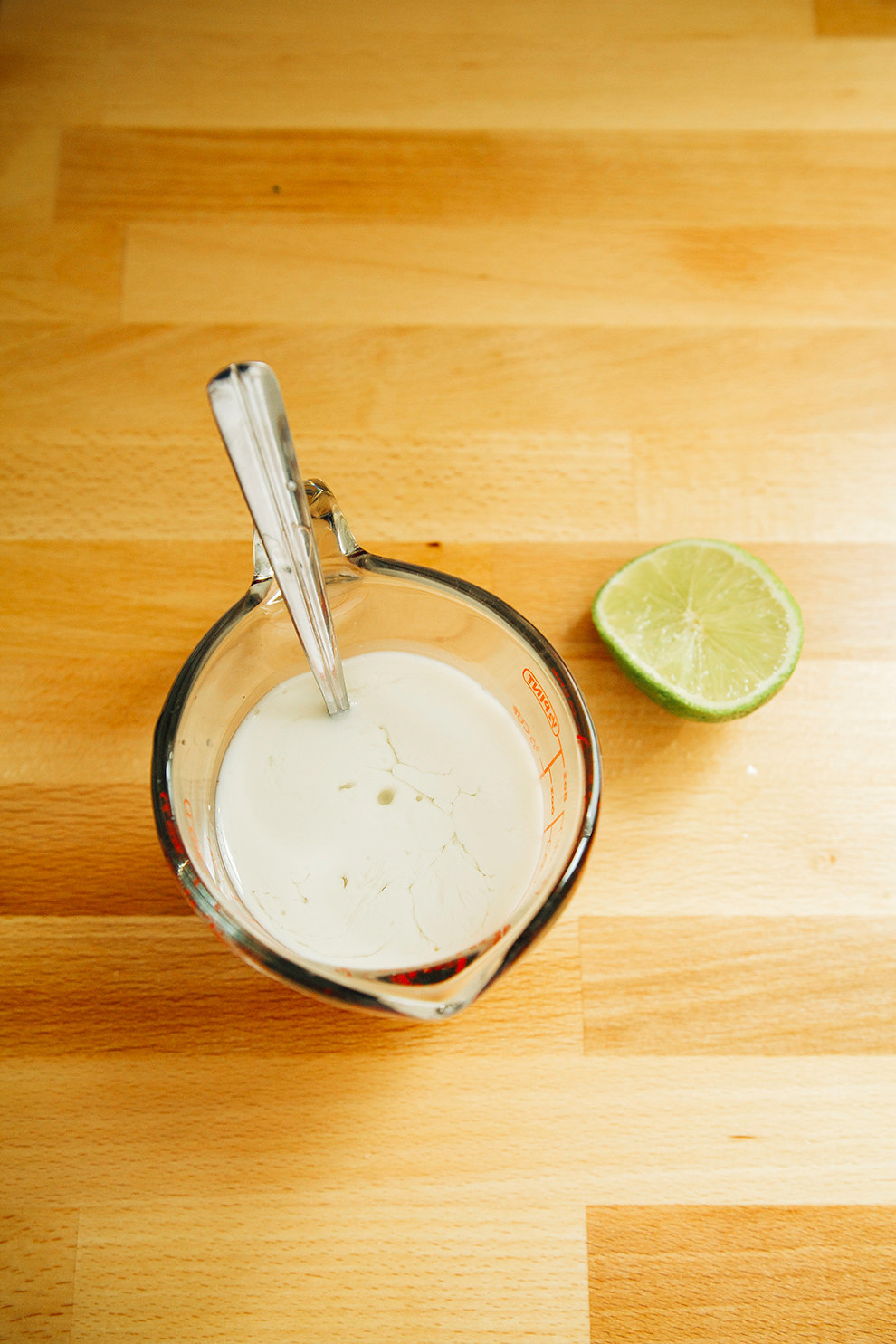 In a separate bowl, mix the flour, baking powder, sea salt, and sugar.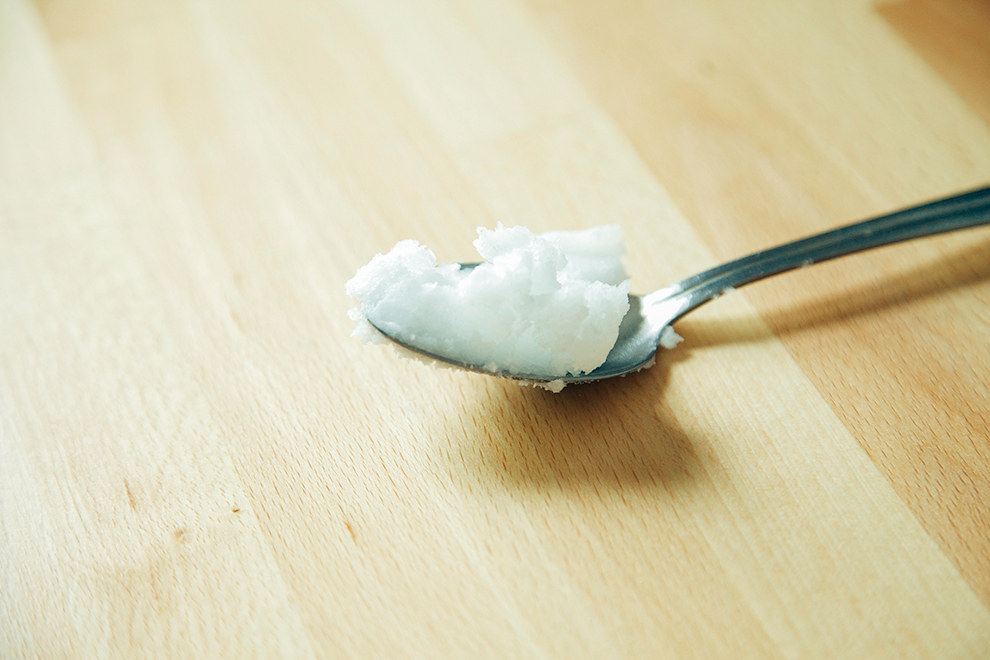 Then add cold coconut oil, either by cutting the flour mixture with a pastry cutter, or by rubbing pieces of the oil between your thumbs and fingers in the flour.
Gently fold in the cooled roasted strawberries and chocolate pieces and evenly distribute them throughout the dough.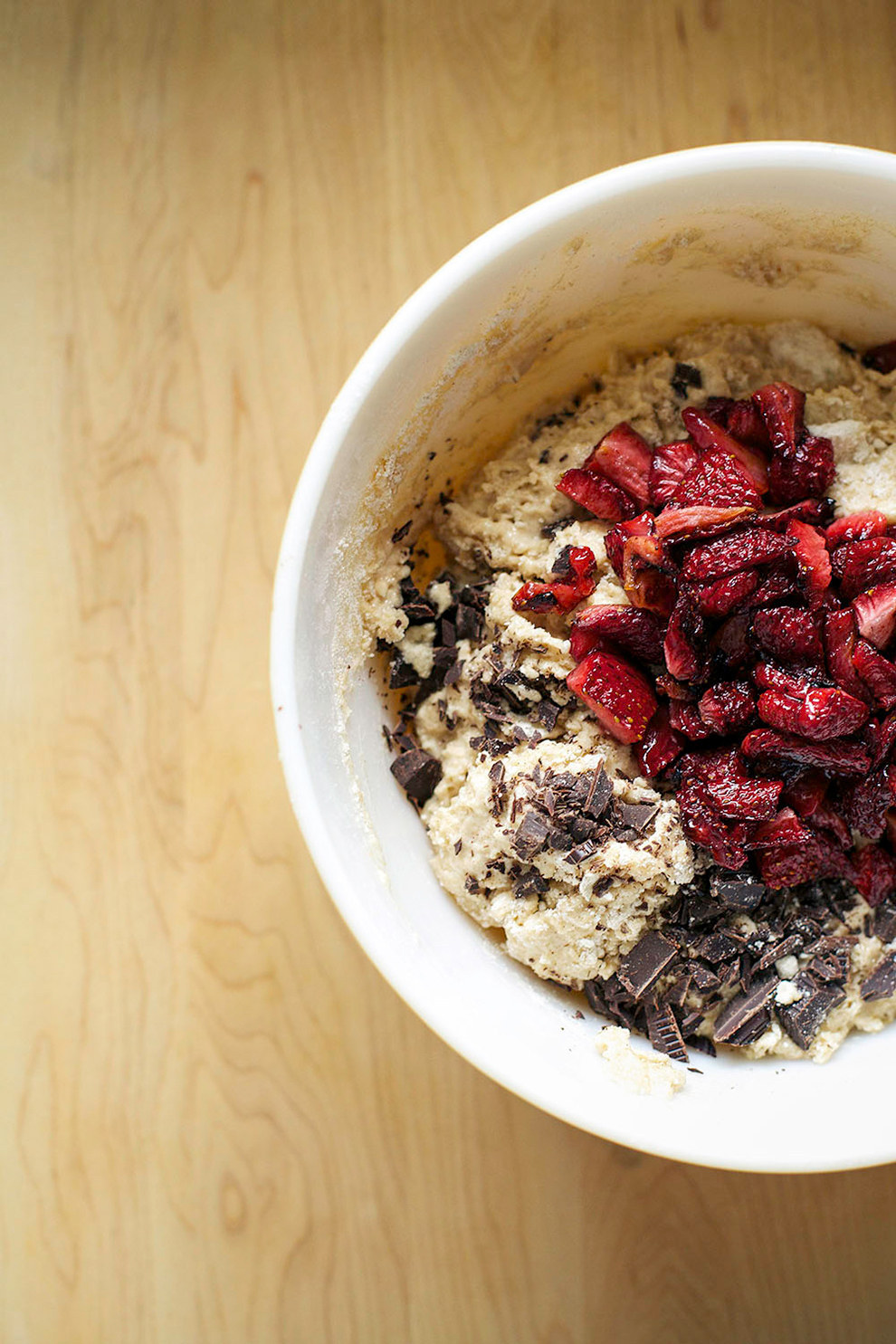 Place the dough on a well-floured surface, and shape it into a rough circle. Divide into six triangles, sprinkle with sugar, then pop everything into the oven.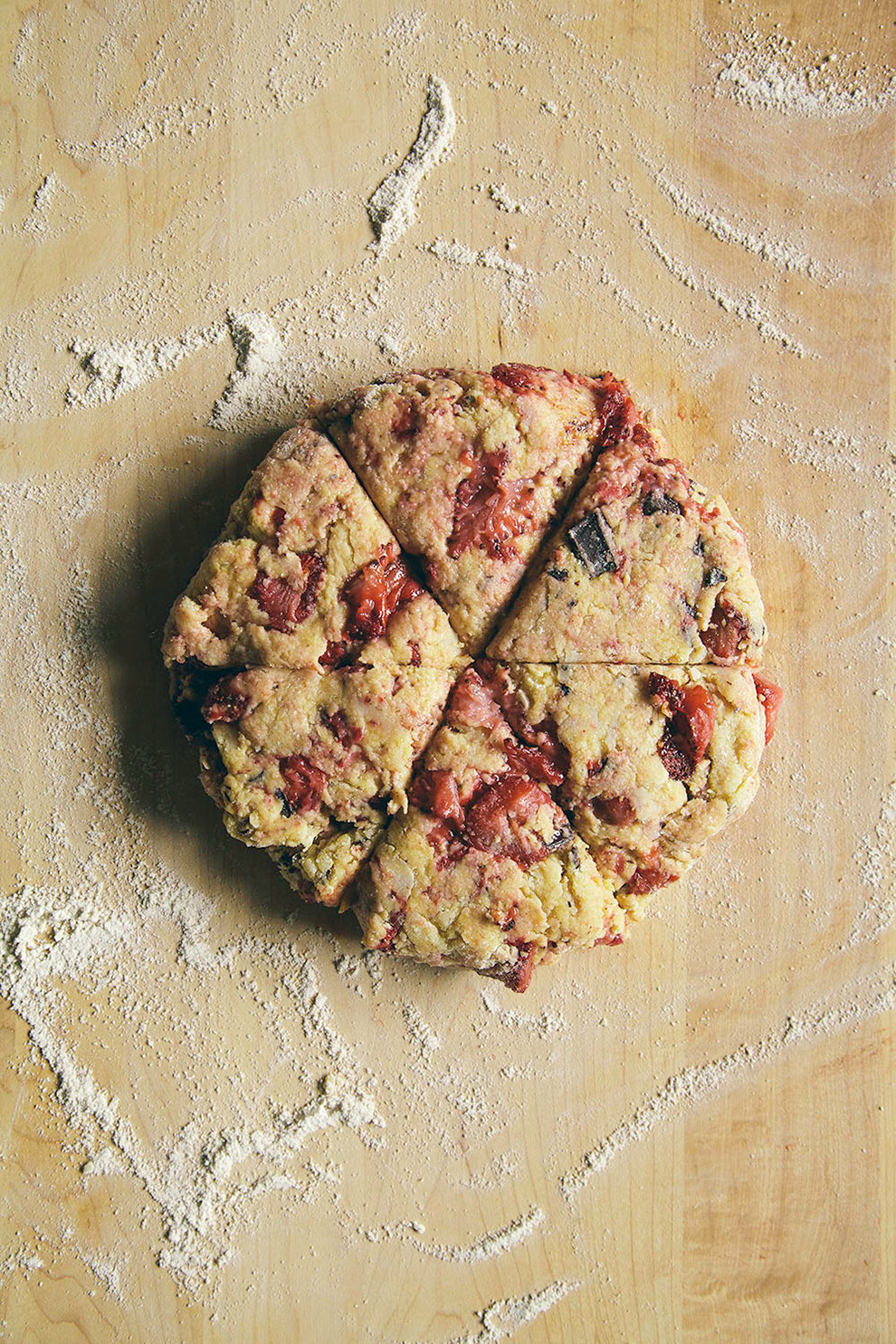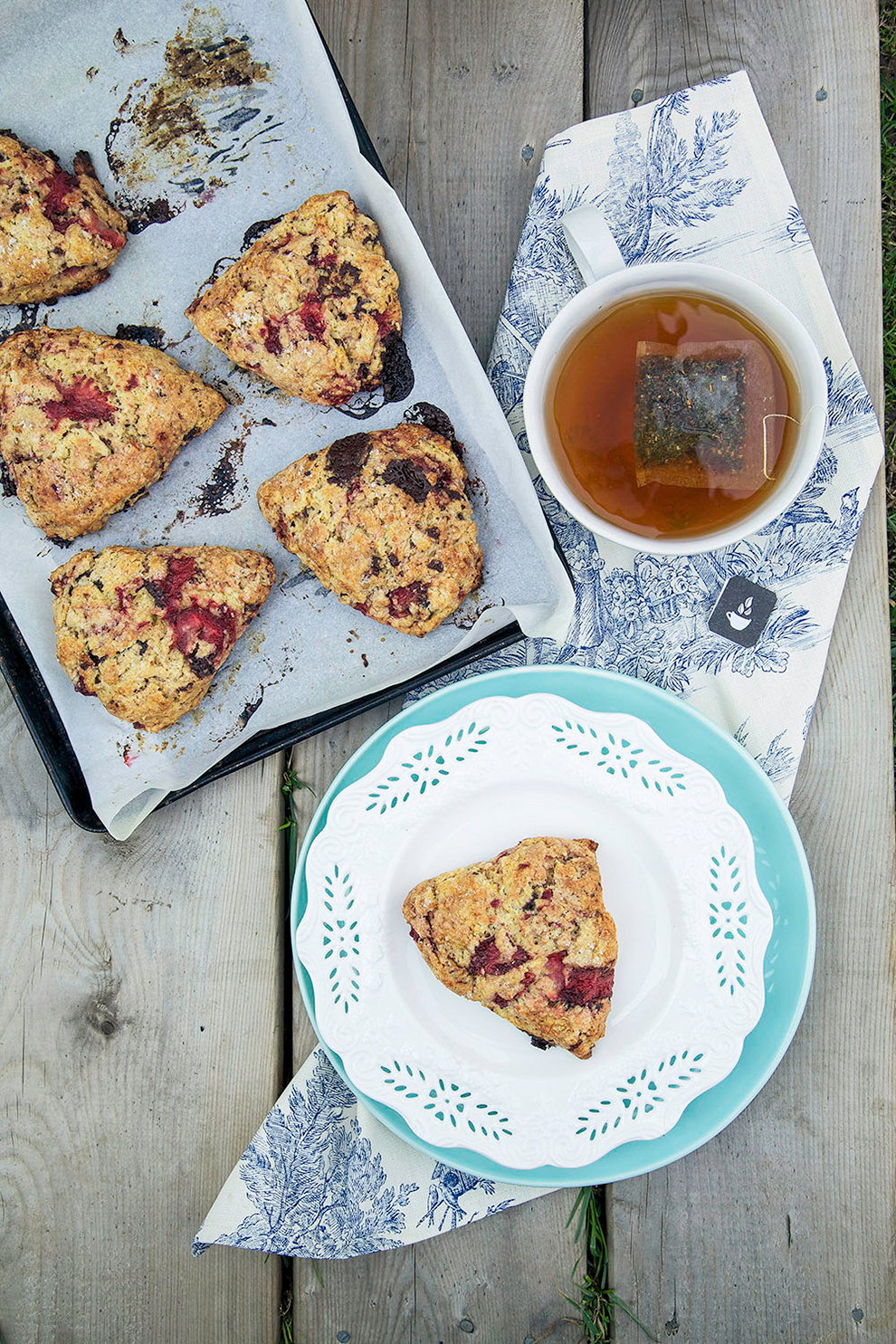 Vegan Scones With Roasted Strawberries + Dark Chocolate
Recipe by Laura Wright
Makes six scones.
INGREDIENTS:
2 cups chopped strawberries
2 tsp lemon or lime juice, divided
1/2 tbsp maple syrup
1/2 tsp vanilla extract
1/2 cup + 2 tbsp coconut milk (or almond, soy etc)
1 cups whole wheat pastry flour
1/2 cup whole wheat flour
1 tbsp baking powder
pinch of fine sea salt
1/4 cup evaporated cane juice/sugar + extra for sprinkling
1/4 cup cold coconut oil
1/4 cup dark chocolate pieces or chips
PREPARATION:
Preheat oven to 375 degrees F. Line a large baking sheet with parchment paper and set aside.
In a medium bowl, combine the strawberries, 1 teaspoon of the lemon juice, maple syrup and vanilla extract. Lightly toss them together until all of the berries are coated. Scrape them onto the prepared baking sheet and spread them out a bit. Roast the berries for 20-25 minutes or until slightly shriveled and juices are running. Set aside to cool thoroughly.
Keep the oven at 375 degrees and put a fresh sheet of parchment onto the baking sheet.
In a liquid measuring cup, combine the milk and remaining lemon juice. Stir the mixture a bit and set aside to curdle for 5 minutes.
In a large bowl, combine the light spelt flour, whole spelt flour, baking powder, sea salt, and the 1/2 cup of sugar. Stir everything to combine. Add the cold coconut oil to the bowl. Cut the coconut oil into the flour mixture with a pastry cutter or simply by rubbing pieces of it between your thumbs and fingers into the flour. Once you have pieces of coconut oil about the size of small peas and the flour mixture is clumping together, add the milk + lemon juice mixture. Stir until the dough just starts to form. Gently fold in the cooled roasted strawberries and chocolate pieces to evenly distribute them throughout the dough.
Dump the dough out onto a well-floured working surface. Pat the dough into a rough circle, about a 1/2 inch thick. Cut the dough into 6 even triangles. Place the cut scones onto the lined baking sheet, sprinkle them with sugar and place them in the freezer for about 10 minutes to firm them up. When you're ready, bake the scones for 20-23 minutes.
Allow them to cool slightly before eating.