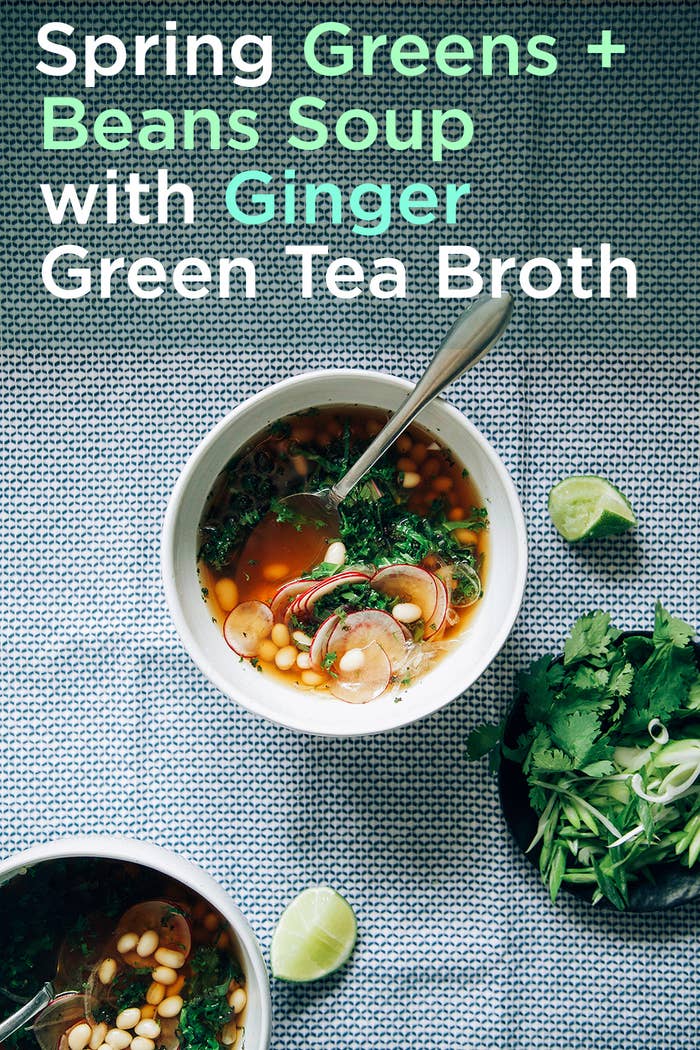 I know that last week I said I never wanted to look at another soup again.
But spring's early days are cold where I live (in Ontario). A transitional food strategy is a good way to a) take advantage of some very early spring goods and b) get more greens in your diet.
We plant kale in the garden every year towards the beginning of May. In the months leading up to that, the plants we put in last year (but forgot to pull out of the garden — oops) begin to sprout new growth. So with no real effort at all, we get tender shoots of kale before spring really starts to kick in.
This broth-y and warming soup is a simple way to really enhance those first greens. It's satiating without seeming heavy. The vegetables/greens are cut real wispy-like, so that they "cook" upon contact with the hot broth. I know that adding green tea to a soup sounds weird, but it adds a savory depth that makes this simple bowl all the more satisfying. The ginger is zingy and sharp, the tamari is salty, almost meaty, and the beans fill this whole bowl out with some protein.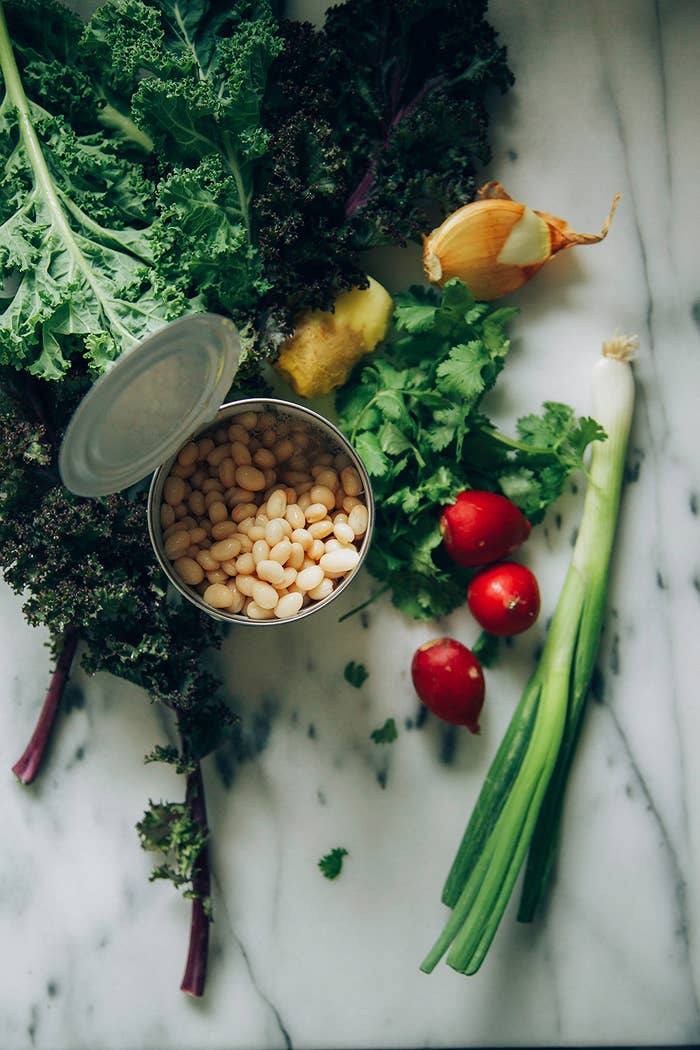 First, bring vegetable broth to a boil. Then, add some sliced ginger, green tea, and a bit of tamari or soy sauce...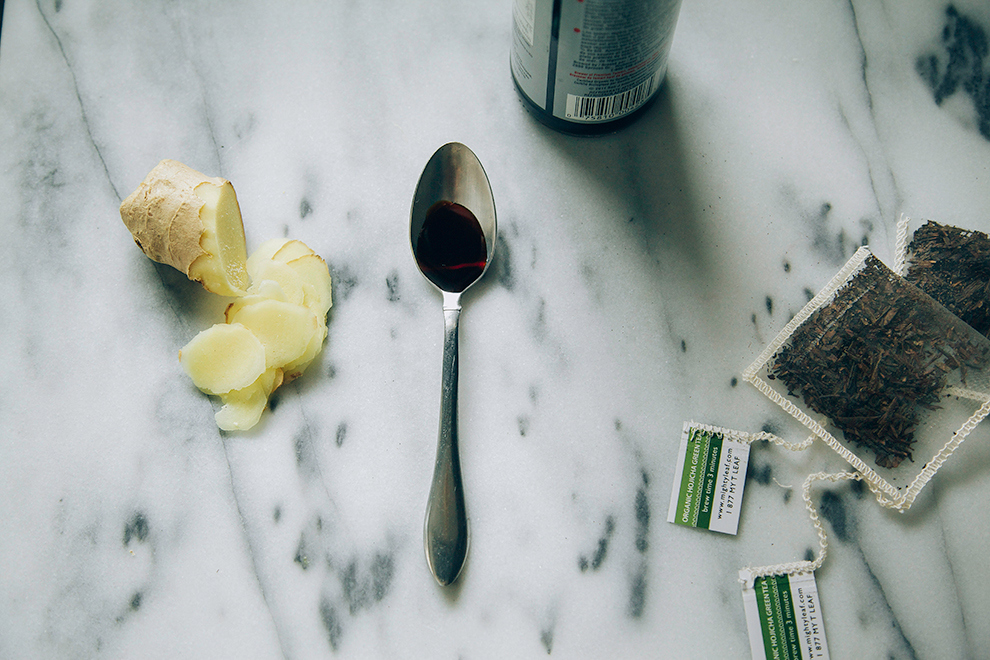 ...and simmer for two minutes.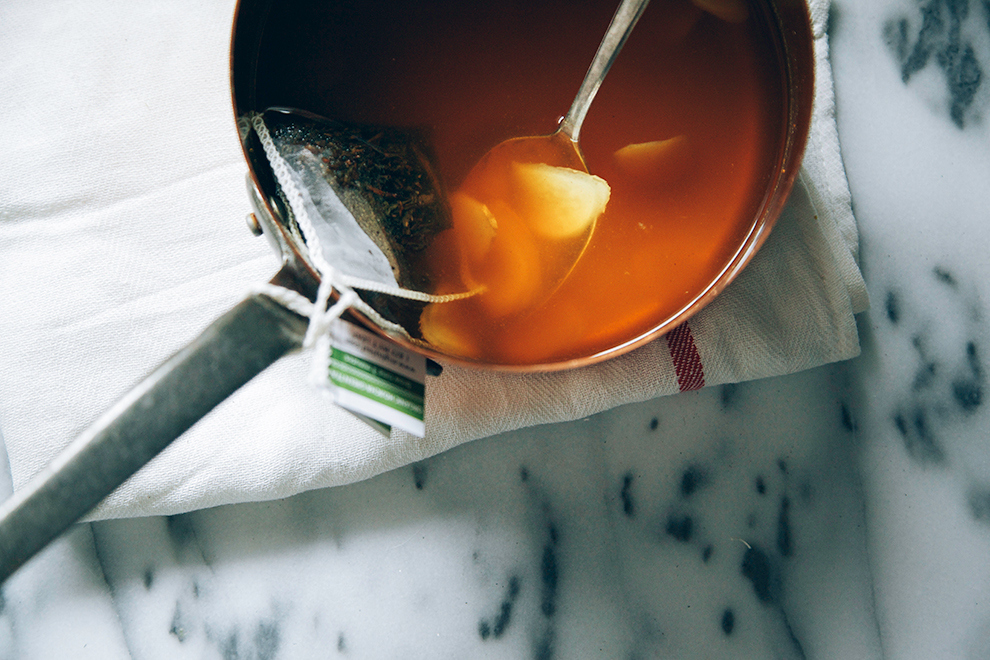 Meanwhile, chop the kale into small, thin slices.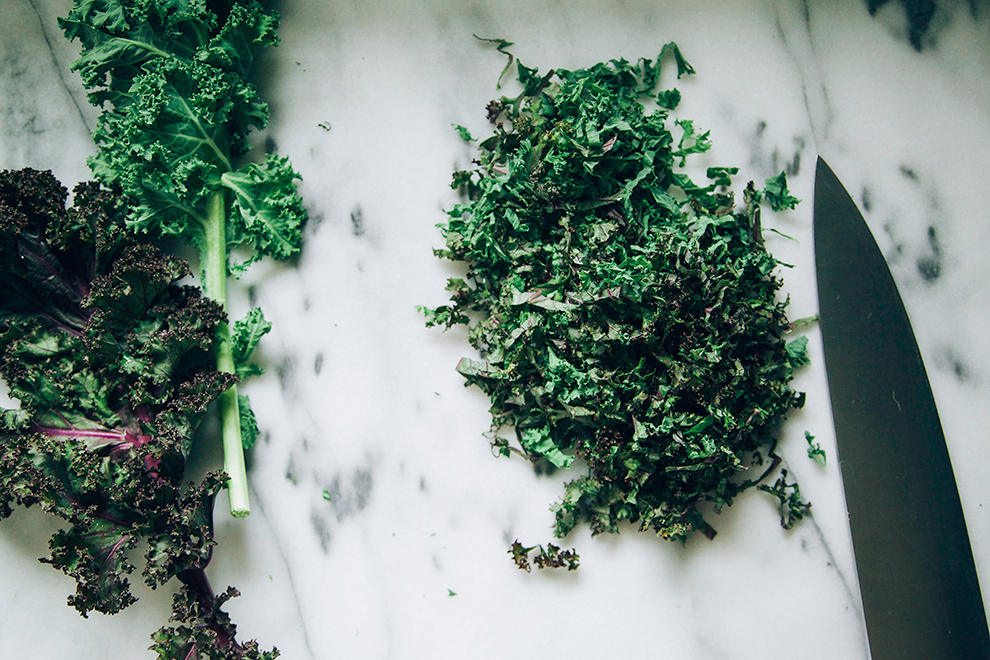 Do the same with radishes and a shallot.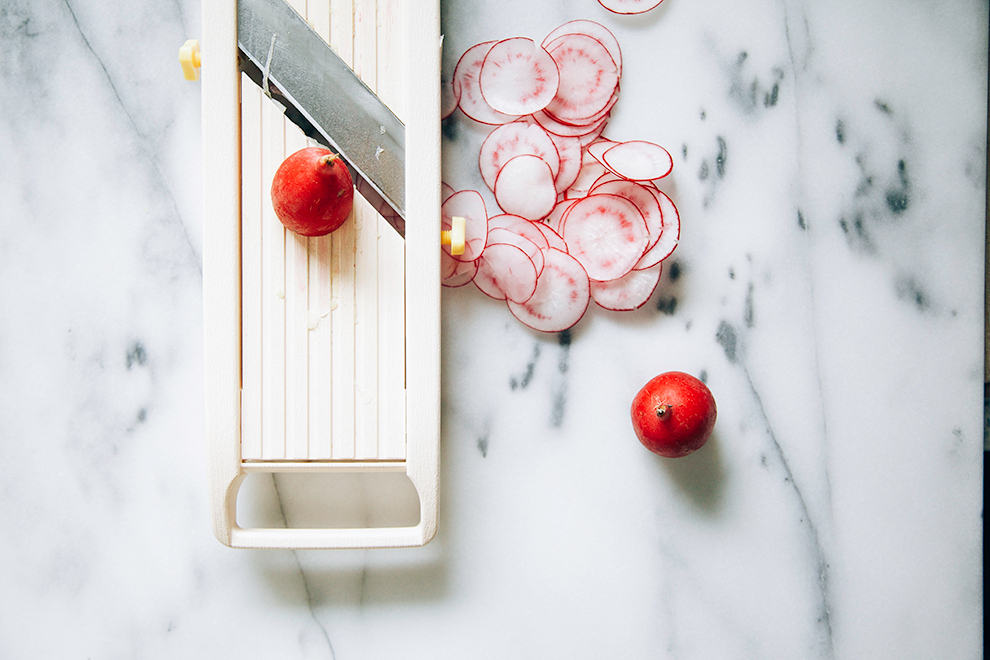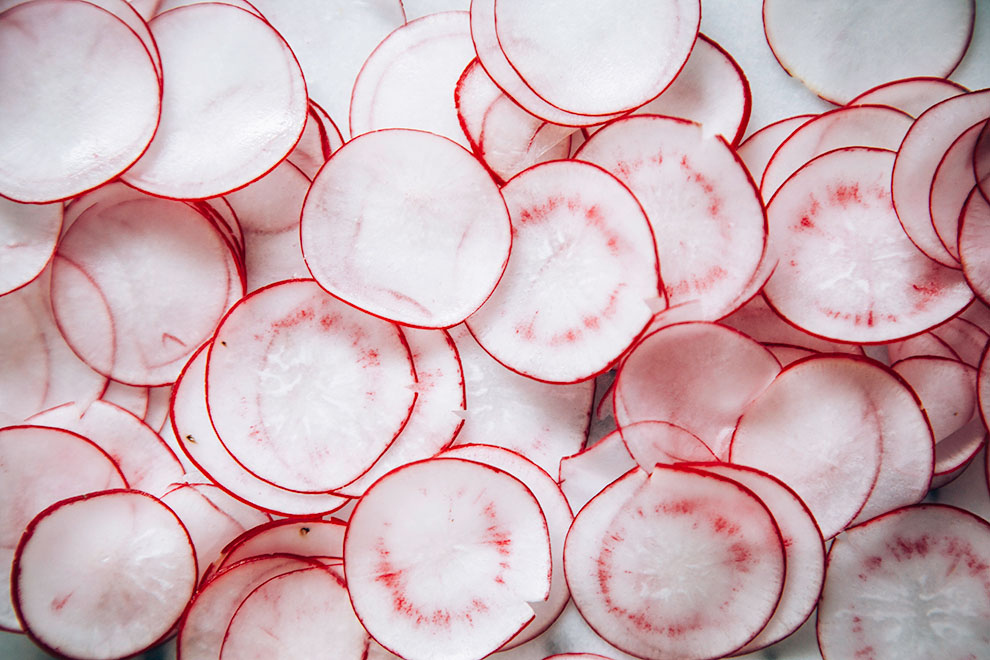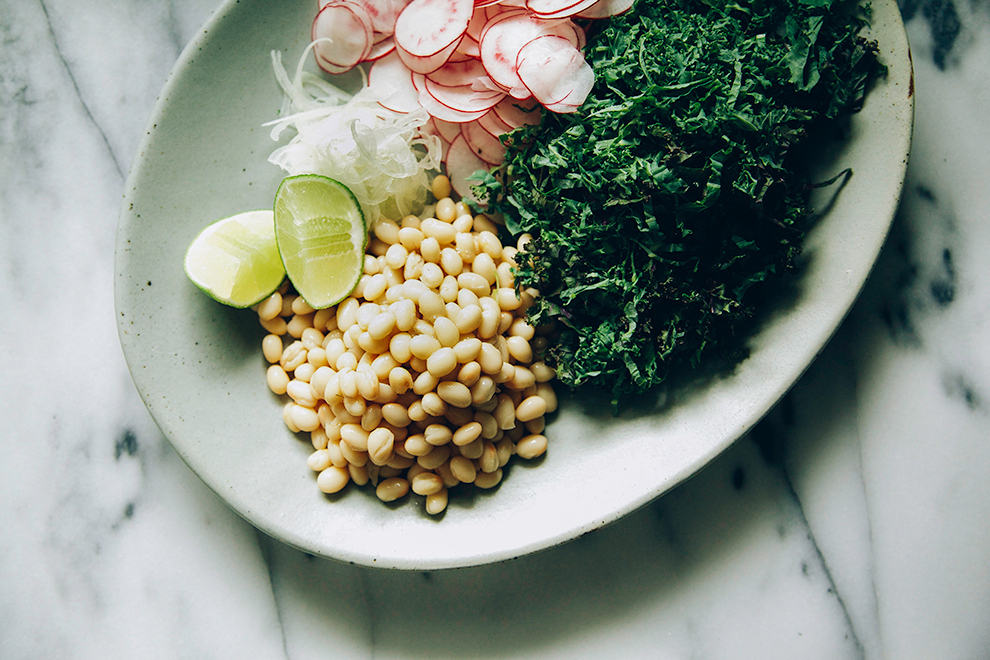 Divide the kale, beans, radishes, and shallots into four separate bowls.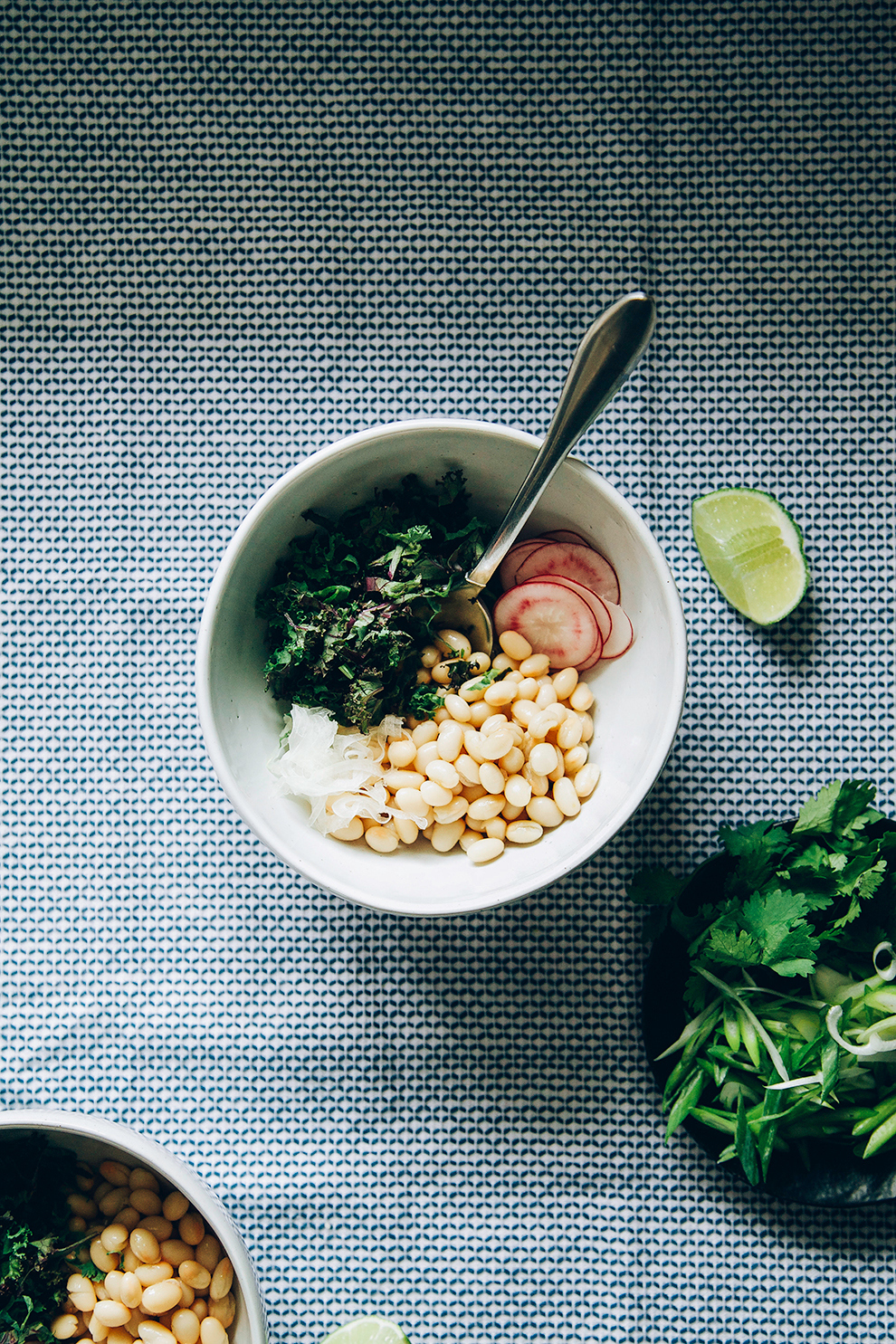 Bring the broth back up to a boil and strain out the ginger slices. Then, carefully pour broth over each bowl.
Give them each a good stir so that everything is covered in hot broth. This will also instantly cook the veggies.
Top with plenty of fresh lime, cilantro, and green onions – and enjoy!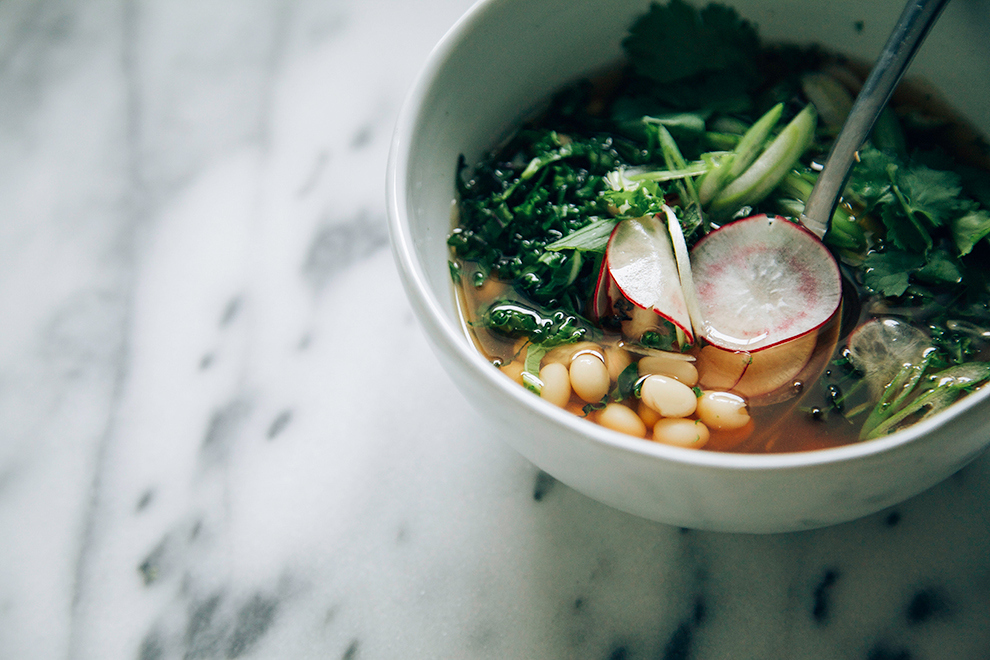 Spring Greens + Beans Soup with Ginger Green Tea Broth
Recipe by Laura Wright
SERVES 4
INGREDIENTS
for the broth
4 cups vegetable stock
thumb-sized piece of ginger, peeled + sliced
2 green tea bags
1 tsp tamari/soy sauce
for assembly
5-6 leaves of kale, stems removed + discarded
3-4 radishes
1 small shallot, peeled
2 cups cooked navy, cannellini or other beans
for garnish
1 lime, cut into wedges
handful cilantro leaves
2 green onions
PREPARATION
In a saucepan over medium heat, bring the vegetable stock to a boil. Lower the stock to a simmer and add the sliced ginger, green tea bags and tamari/soy sauce. Simmer for 2 more minutes before removing and discarding the green tea bags. Keep broth warm.
Finely shred or slice the kale leaves and place them on a platter. Then, thinly slice the radishes and shallot (with a knife or a mandolin) and place them on the platter as well.
Portion the beans, kale, radishes, and shallots among 4 bowls. Slice the green onions thin and place them on a serving plate with the cilantro leaves and lime wedges.
Bring the ginger green tea broth to a rolling boil. Strain out the ginger slices and pour broth over the bowls with the beans and vegetables.
Stir each bowl up a bit so that everything is saturated with the broth. Garnish with lime juice, cilantro and green onion slices.