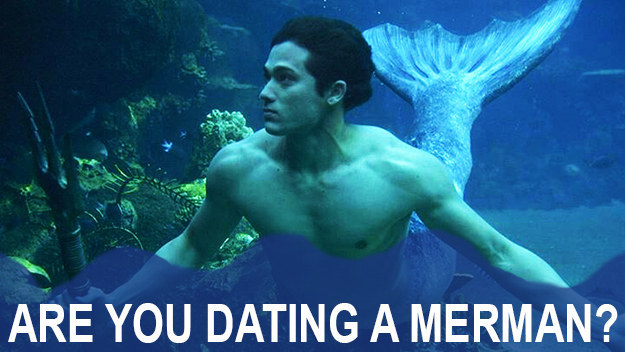 Thinkstock

He has attempted to grow out his beard at least once.

He has long luscious locks like Thor.

He has at least half a side of long locks like Skrillex.

He has at least thought about growing out his hair.

He has dyed his hair a bright color.

He has dyed his beard a bright color.

Specifically, he has dyed his hair and beard an aqua blue or hot pink color.

He prefers baths to showers.

He prefers cold water to hot water.

He loves going to the pool.

He loves going to the beach.

He owns a pair of flippers.

He has skinny dipped before.

He believes you can hear the ocean if you hold a conch to your ear.

He owns a white noise machine that plays the sounds of the ocean.

He won't even eat lobster tails from the bakery.

He loves to snack on seaweed chips.

Especially if they are from Trader Joe's.

He drinks the recommended eight glasses of water a day.

He has carried around a gallon of water to drink throughout the day.

He acts like a water sign.

He considers himself a brony (he loves My Little Pony).

He is a lover of all magical creatures, really.

He has referred to himself as magical.

He has an obsession with all things Disney.

The Little Mermaid is his favorite movie.

He has pulled out The Little Mermaid during ~Netflix and Chill~.

He THINKS he can sing like Ariel.

His room is full of gadgets and gizmos.

And he always wants more.

He has been called a hoarder before.

But he prefers the term "collector."

He secretly loves the movie Aquamarine .

And has watched H20: Just Add Water on TeenNick at least once.

Aquaman is the ONLY superhero that matters to him.

He has a love/hate relationship with Sea World.

He wishes he worked at an aquarium.

He has studied or has considered studying marine biology.

He is obsessed with mermaid tattoos.

He has dressed like a mermaid for Halloween.

He has thought about dressing up as a mermaid for Halloween.

He has dressed like a mermaid not on Halloween.

He is ACTUALLY half-man and half-fish.

And carries a large ~trident~.
This post was created by a member of BuzzFeed Community, where anyone can post awesome lists and creations.
Learn more
or
post your buzz!