Here's all I know about The Cheesecake Factory: It has a really huge menu (more than 250 items). It's the highest volume restaurant chain in the country. And, in spite of these two things, I've been told they use only fresh ingredients and make all their food from scratch daily. But with so many customers and so many dishes, how is that possible?
It's one thing to be told something is made from scratch but a very different thing to see that concept in action. As someone who's never before been to The Cheesecake Factory, my primary frame of reference is the reviews of friends who grew up with one in town. That's why I brought Kyle to tour the kitchen with me. He grew up going to The Cheesecake Factory in Hackensack, which is still a staple for locals, only now in a new location down the road. Kyle's way more familiar with the food but has never been behind the scenes. Coming from opposite ends of the spectrum, we're both learning at the same time what "made from scratch" means. And it's definitely overwhelming.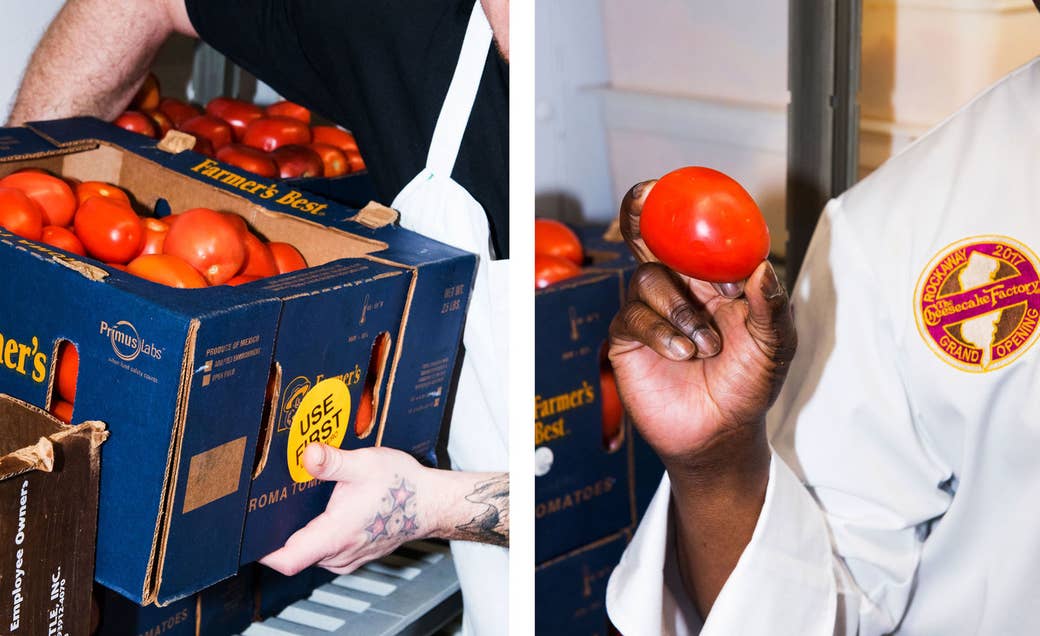 "Eleven." "Eight." "Thirteen." Executive Chef Jay Hinson is asking each cook on the line how many years they've been with The Cheesecake Factory. They look up from cutting boards and mixing bowls. They think for a moment. Many answer with double digits. It's 9:45 a.m., and this is an important time for everyone in the kitchen. Doors open at 11 a.m. There are veggies to chop, blocks of cheese to shred, loaves of bread to slice, and Avocado Eggrolls to…well...roll. But things feel calm. Maybe it's those years of experience at work.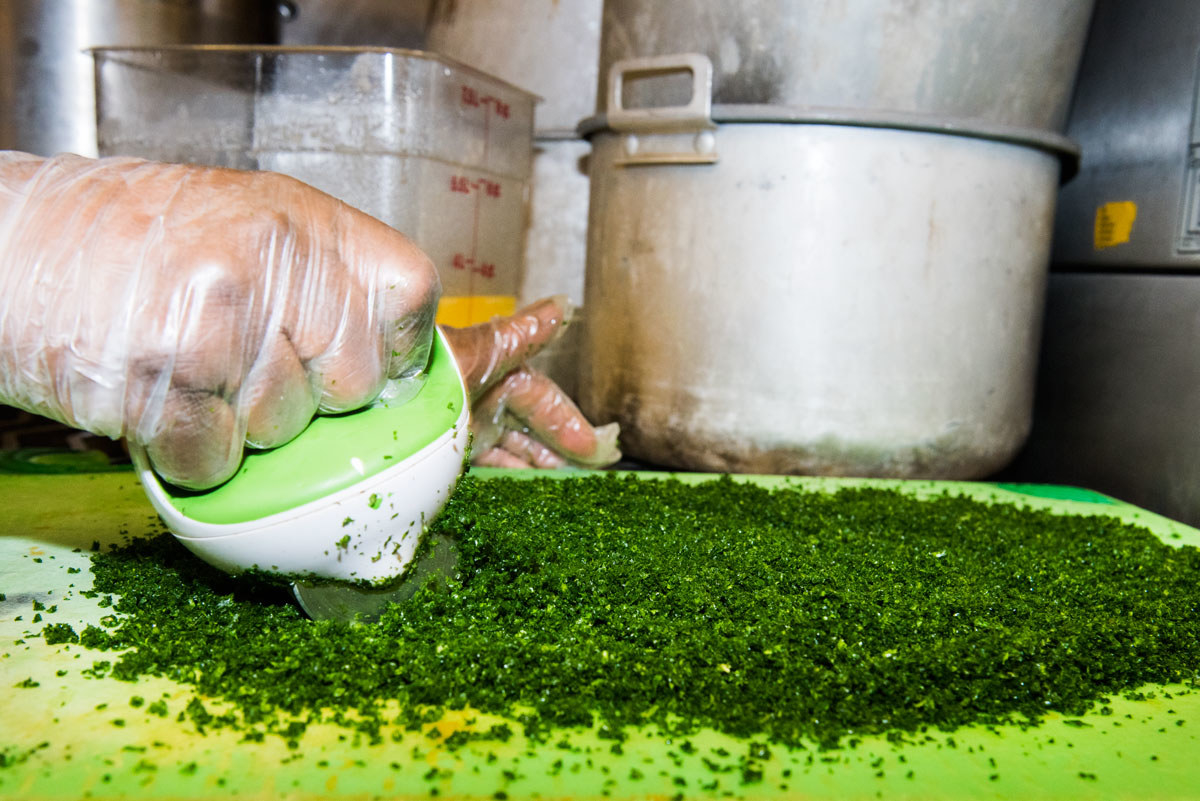 In the walk-in fridge, Hinson shows off a box of fresh tomatoes. They're a five and a half on the ripeness scale. "Coke-can red," says Hinson. Tomatoes, avocado, cilantro... Everything in the fridge — or on the slicer, or on the stove — is scrutinized the same way. Time affects everything: the proper sourcing of vegetables; the rhythm of plating dishes; and, again, how long everyone in the kitchen has been doing all of these things. Hinson holds up a container filled with brilliant pink ribbons nestled together: picked red onions. It's basic, fresh ingredients like these that take time to turn into something memorable. The black beans take four hours. Buffalo chicken marinades for an entire day. How can they do all this with such a large menu? Well, it's time, but also patience.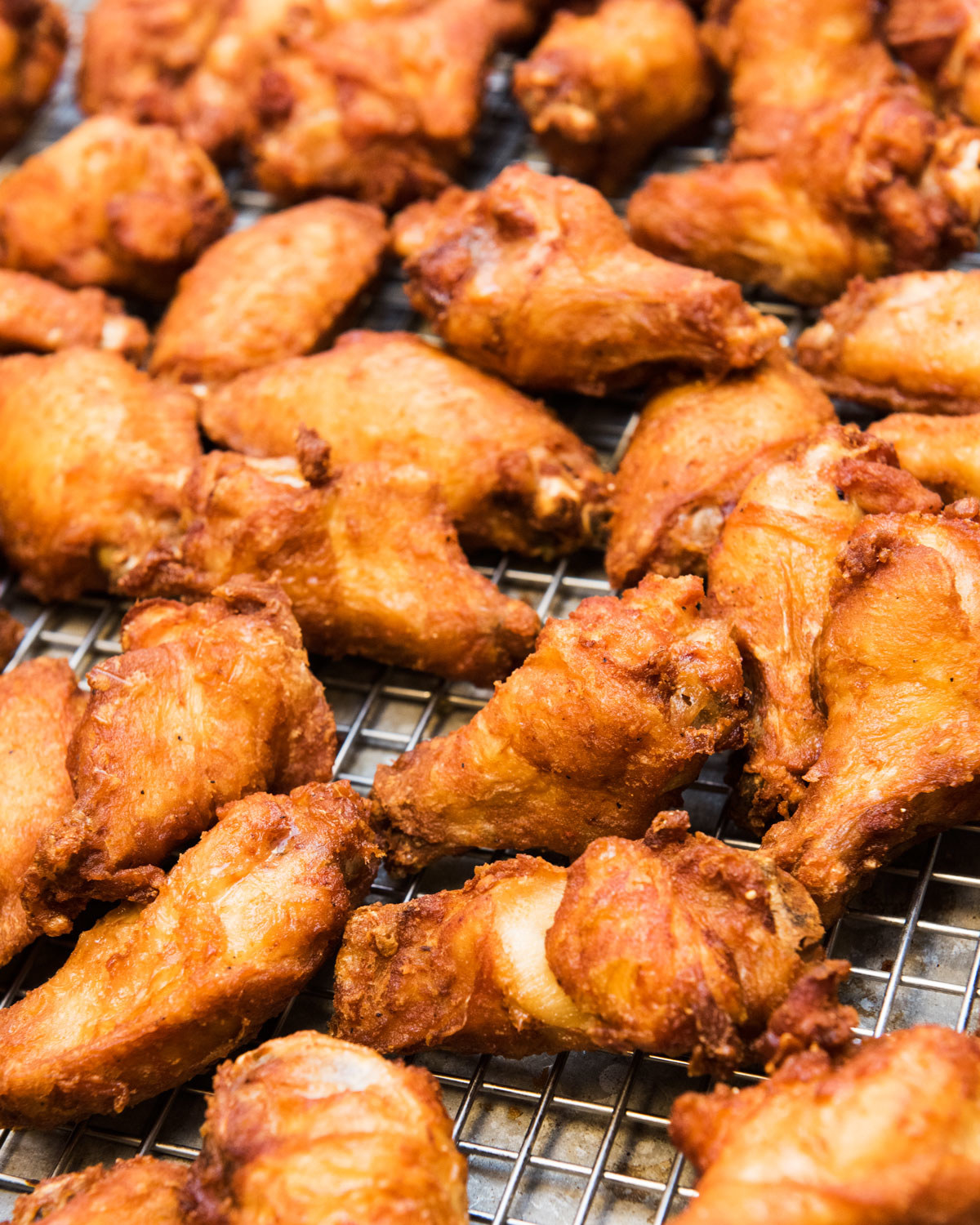 Everyone in the crew has their own style. At one point, Hinson jokes with one of the prep cooks for using a four-bladed rolling chopper. (Hinson's old-school.) But when you see the sheer volume of parsley or basil that needs to be prepped, you can't blame anyone for trying to get an extra edge. After the rolling chopper, these herbs will need to be cut again even more with a chef's knife. It would seem there are no shortcuts. For instance, it takes two cooks about 10 minutes to pluck enough fragrant leaves from bouquets of cilantro for just one signature dressing. As stems are carefully separated, the air brims with earthiness, and a large bowl brims with lush herbs. They're doubling this particular batch. But right now those tomatoes from before are being prepped for pico de gallo in smaller numbers. This time of year, the tomatoes don't stay fresh as long once they've been chopped. So pico and other tomato-based items are made as smaller portions, which stay fresh until they're replaced with new batches throughout the day.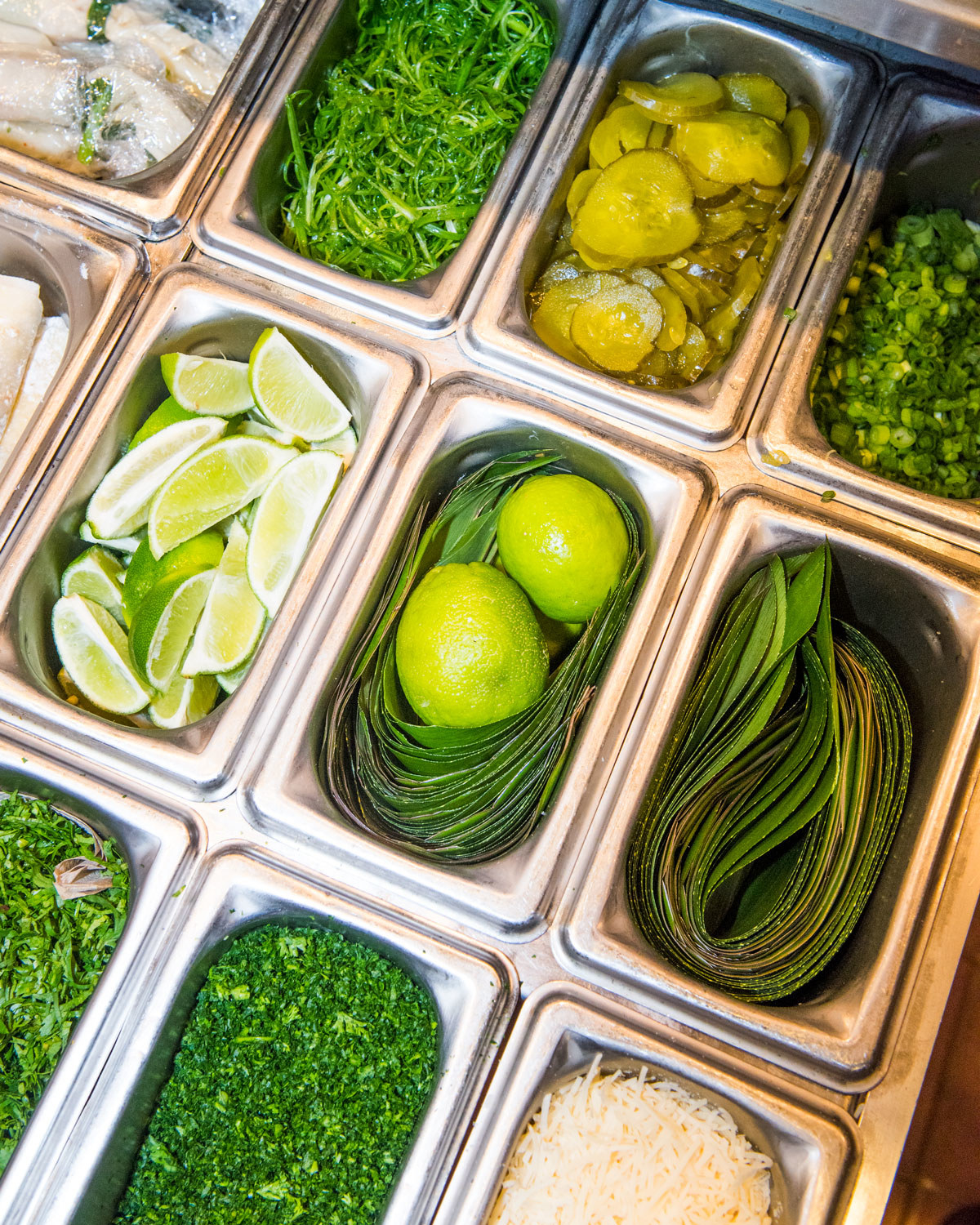 Like with the tomatoes, avocado freshness is crucial. For Eggroll prep, they are halved, twisted apart, and divorced from their pits. A cook brushes a light wash around the edges of wrappers and places a mixture (avocado, sun-dried tomato, red onion, and cilantro) in the center of each one. He rolls them individually from one end, tucking corners as he goes, rolling and tucking until there are several tightly wrapped rows before him. Eventually they'll be fried, sliced, and served with the 18-ingredient (!) Tamarind-Cashew Dipping Sauce. The Buffalo Blasts® are similar. The wash applied delicately with a brush. The 24-hour-marinated buffalo chicken placed in the center with cheese and pinched shut inside the triangle wrapper. These are later breaded twice before lowering into the fryer.

Suddenly there's a gentle thud as potatoes slowly tumble one by one into the gigantic Hobart mixer. The process may seem blunt, but achieving the right consistency (a signature "creamy, lumpy, bumpy" texture) requires close inspection. At cooks' stations, there are monitors mounted at eye level with screens listing the flavor profiles and visual descriptions for whatever items they're preparing at the moment. Everything is examined and tasted to ensure its consistency within those guidelines. All details are accounted for, right down to the freshly squeezed lemon juice. The screens even break down items as seemingly simple as "grilled asparagus." Side dishes with two ingredients receive the same analysis, the same time, as those with more than a dozen. Cooks look for olfactory and visual cues. Does the asparagus have the right patina of char?

In the case of things like that labor-intensive cilantro dipping sauce mentioned earlier, the screens indicate how certain flavors like orange or garlic should present themselves in a particular order with each bite. Too much citrus or sweetness in a sauce can throw that sequence off, in which case the cooks have to adjust accordingly. In another walk-in fridge, Hinson runs through shelves packed with these types of dressings and sauces, all made from scratch. Cilantro plucked the same way — a two-person job. This familiarity in process and consistency is important for those who've come to know and love particular sauces. And, like many Cheesecake Factory fans, Hinson has his own favorite: the Sweet Red Chili. "Just the right amount of kick."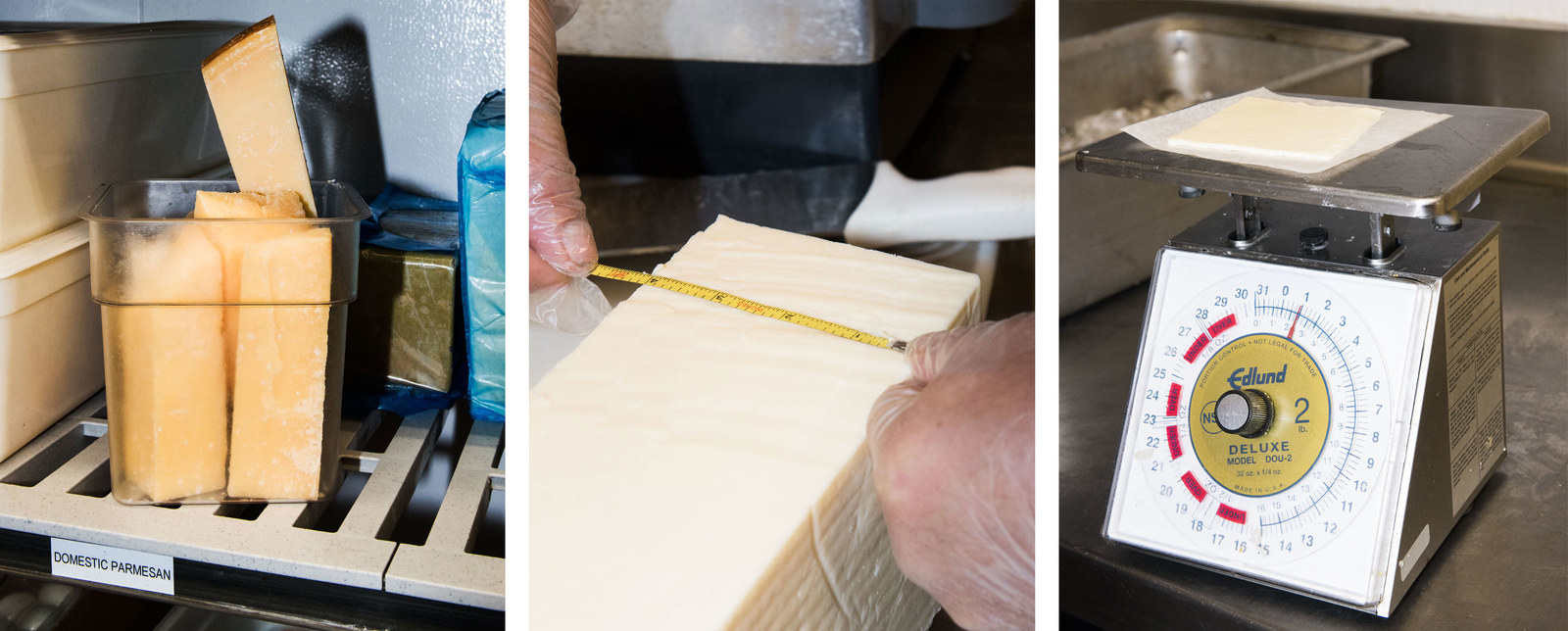 Just the right amount. There's precision in every step along the way. At the slicing station, a small tape measure defines where exactly to slice cheese and bread. The cheese for burgers should be 4x4. "Any extra hanging over the edge makes the grill smoke too much." Later, he opens a drawer in the burger station to reveal a grid of neatly stacked, uniformly-sized patties. It's one of many drawers along the narrow L-shaped stretch of cooktops that borders the expansive dining room now filling up with the lunch crowd. Here, chefs prepare things like pizzas from hand-stretched dough and Thai Lettuce Wraps assembled into colorful cornucopias framed around three dipping sauces: Peanut, Sweet Red Chili (Hinson's favorite), and that 18-ingredient Tamarind-Cashew.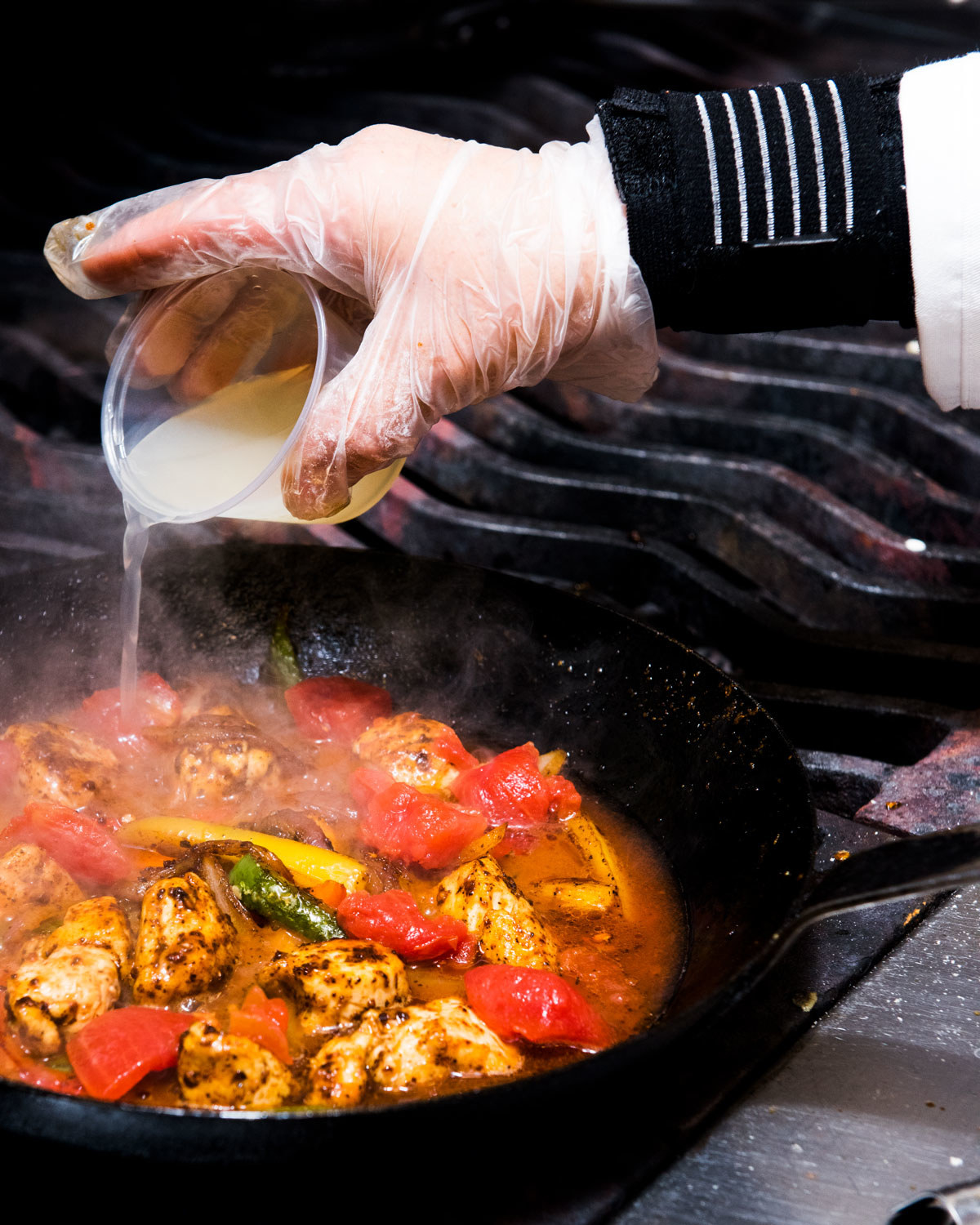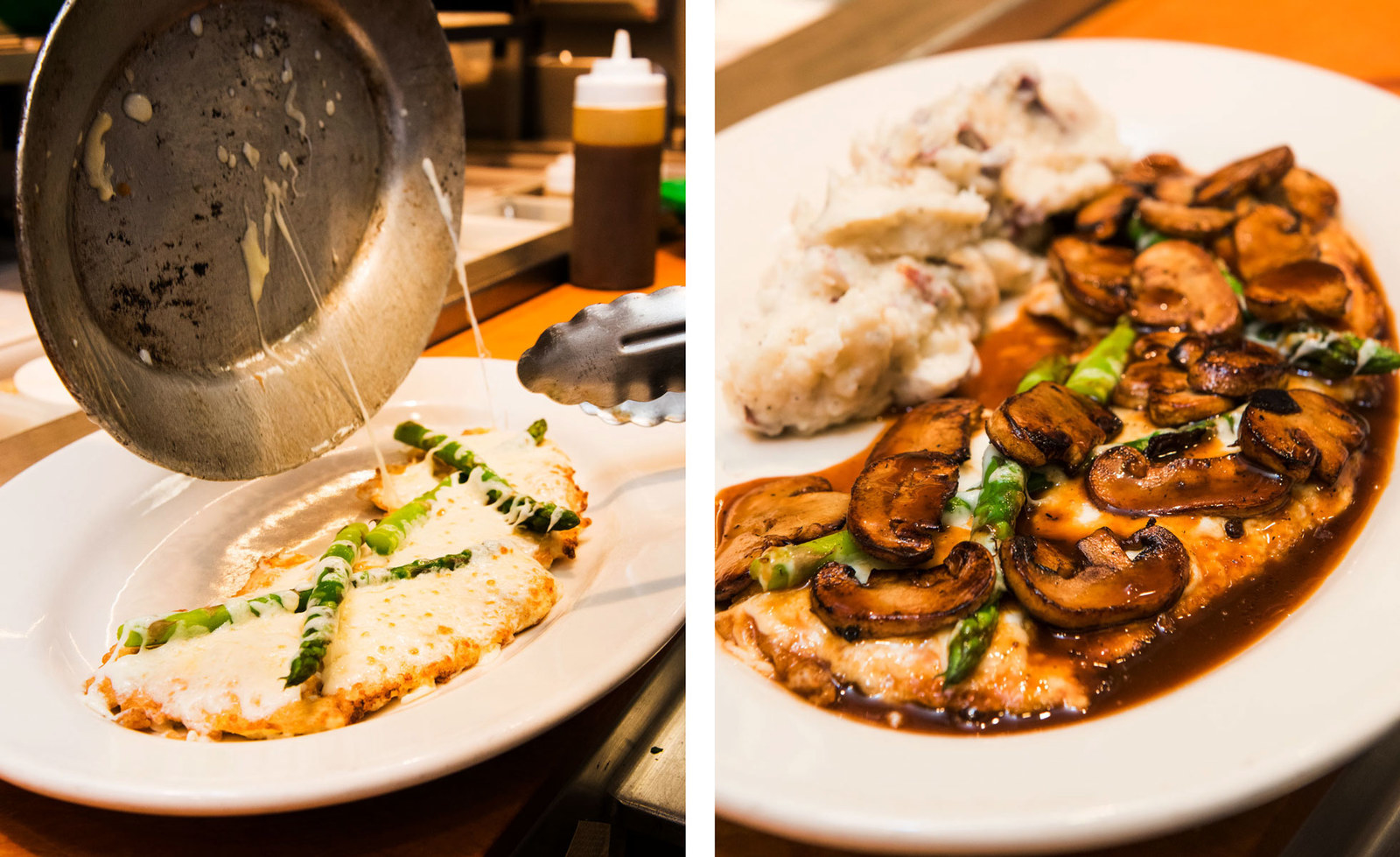 Steam wafts upward as broth pours and hisses into a pan of peppers. It settles into a simmer of shrimp, chicken, tomato, and onion along with a secret spice sauce for the Cajun Jambalaya Pasta. Close by, another plate comes to life — stalks of asparagus carefully crossed like treasure map markers on chicken breast and topped with melted mozzarella and a fresh mushroom sauce: the Chicken Madeira. Hinson looks on as chefs assemble the entrees. It's everything from earlier: the Coke-can-red tomatoes. The avocados. Ingredients reunited on stovetops or on plates, collaborating to become one of more than 250 menu items made fresh from scratch every day.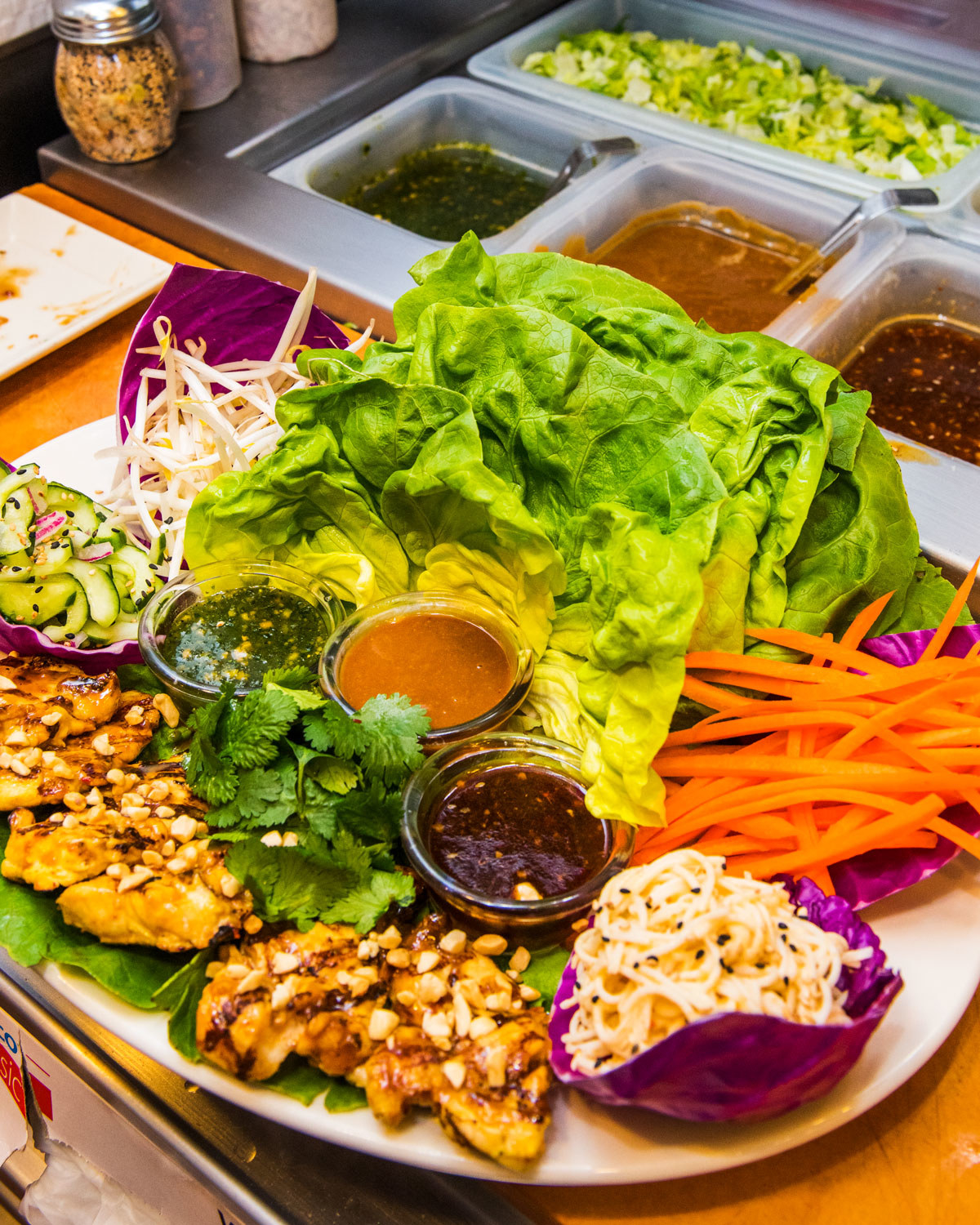 "Eighteen." Hinson is asking another cook about their tenure. Near the exit, a halo of light glows inside a glass case housing tiers of tall cheesecake. Nearly every diner leaving has a to-go bag, presumably with one of these desserts for the road. Of course people come for the cheesecake. They're obviously in the name and still one of the biggest draws. But for everything else on the menu, it's also worth taking the time to try. It's one thing to hear something is made from scratch. Now, after several hours in the kitchen, we have only a small sense of what that really means.
All photos by Lauren Zaser / BuzzFeed.