Grilled Pork And Vegetable Fall Salad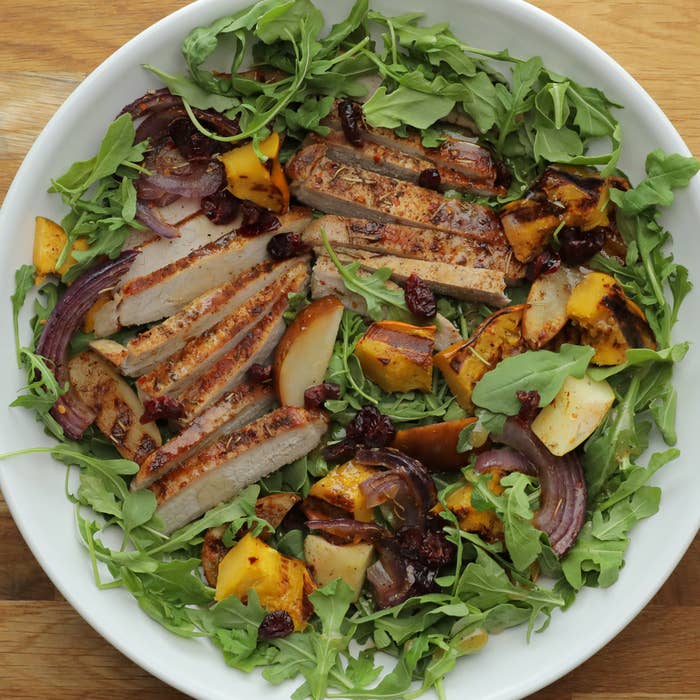 RECIPE
INGREDIENTS
2–3 thick-cut pork chops (about 1–1½")
1 green apple
1 pear
1 small acorn squash or kabocha
1 medium red onion
2 tablespoons olive oil, divided
5 ounces fresh greens
Dried cranberries
Olive oil
Seasoning mixture:
2 tablespoons sea salt
1 tablespoon red chili flakes
1 tablespoon nutmeg
1½ tablespoons dried rosemary
Vinaigrette:
¼ cup extra virgin olive oil
1½ tablespoons maple syrup
3 tablespoons red wine vinegar
1 teaspoon salt
1 tablespoon dijon mustard
½ teaspoon pepper

PREPARATION
1. Combine rosemary, nutmeg, chili flakes, and salt. Set aside.
2. Cut apple and pear into quarters. Slice squash into rings and remove seeds and pulp. Slice onions into thick rings. Drizzle with olive oil and half of seasoning mixture. Set aside. Season pork chops with remaining seasoning, making sure to season both sides.
3. Place fruit and vegetables on OptiGrill and set to medium. Check halfway through to ensure they are all evenly grilled on both sides. Cook in batches until all are cooked, but not mushy. Set aside.
4. Place pork chops on OptiGrill and set to "pork" setting until OptiGrill indicates pork is finished. Check to ensure pork is cooked to internal temperature of 160°F. Foil for 8–10 minutes.
5. Combine oil, vinegar, mustard, syrup, salt, and pepper in a jar, shake well to combine, and set aside.
6. Slice grilled vegetables and fruit into bite-sized pieces, then place on top of greens. Remove pork chop from bones and slice into ¼" slices and add to salad. Drizzle with vinaigrette and garnish with cranberries. Toss well and serve.