Easy and Tasty Party Snacks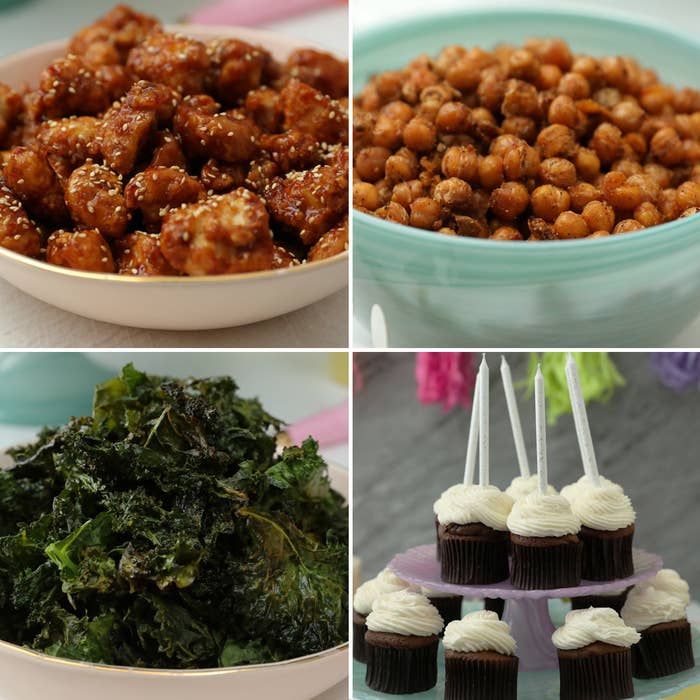 RECIPE
Boneless Sticky Chicken Bites
INGREDIENTS
2 chicken breasts cut into 1-inch cubes
1 ⁄4 cup cornstarch
1 teaspoon salt
Sesame seeds
Coating sauce:
1⁄4 cup soy sauce
1⁄4 cup honey
2 tablespoons chili sauce
1 clove garlic
1 tablespoon of sesame oil
2 tablespoons of rice vinegar
PREPARATION
1. Toss chicken pieces in cornstarch and salt, then shake to remove excess.
2. Lightly drizzle chicken with vegetable oil and cook in ActiFry for 25 minutes or until
browned, turning halfway through.
3. Combine all sauce ingredients and simmer over medium-high heat for about 5 minutes,
until thickened.
4. Toss chicken pieces in sauce and top with sesame seeds.
Crunchy Kale Chips
INGREDIENTS
1 bunch fresh curly kale, washed and trimmed, cut into 1-inch pieces
2 tablespoons olive oil
1 1⁄2 teaspoons sea salt
PREPARATION
1. Add kale to ActiFry with olive oil and season with sea salt. Cook with the paddle for 4–5 minutes or until crispy.
Spicy Roasted Chickpeas
INGREDIENTS
1 can drained and rinsed (and dried) chickpeas
2 tablespoons extra virgin olive oil
1⁄2 teaspoon sea salt
1⁄2 teaspoon chili powder
1⁄4 teaspoon cumin
1⁄4 teaspoon cayenne
PREPARATION
1. Toss chickpeas with olive oil, salt, and spices. Cook in ActiFry with paddle for 20 minutes or until golden brown and slightly crunchy.
Dark Chocolate Olive Oil Cupcakes
INGREDIENTS
2 cups chocolate cake mix
1⁄3 cup extra virgin olive oil
3 eggs
1 cup water
1⁄2 bar good-quality dark chocolate, chopped
PREPARATION
1. Combine cake mix, olive oil, eggs, and water. Stir in chocolate pieces.
2. Place cupcake liners in small canning jars and fill 1⁄3 full with cake batter. Cook in ActiFry
for 12–14 minutes or until baked through.
3. Cool and cover with frosting of your choice.