Why The "Fashion Police" Writers Are On Strike
One writer calls the Joan Rivers show a "joke sweatshop."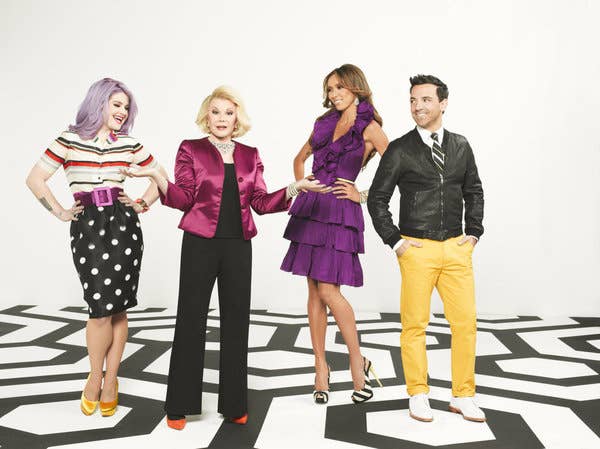 The writers on E!'s show Fashion Police went on strike this week, claiming they haven't been compensated for working in one writer called a "joke sweatshop" and demanding a Writers Guild contract, along with $1.5 million in back pay. The Guild is backing them up, prohibiting their members from working for the show until the network has reached an agreement with its writers.
"Fashion Police is one of the network's top-rated shows. Its writers are an integral part of that success," Writers Guild presidents Chris Keyser and Michael Winship said in a joint statement announcing their support of the strike. "To deny them the basic guarantees that are the right of all writers is not only unjust, it is also a counterproductive business practice."
Ned Rice started writing for Fashion Police when the show premiered in August 2010. Back then, almost none of the E! network's shows had contracts with the Writers Guild but, Rice said, that changed last summer when The Soup and Chelsea Lately were awarded contracts with the Guild.
Fashion Police writer Eliza Skinner says composing jokes for the show takes her about 35 hours a week — and that's not counting a four- to five-hour weekly pitch meeting held at Rivers' home in Pacific Palisades. It's a full-time job, but you wouldn't know it looking at her paystub.
"Our paychecks say 8 hours," Skinnner said. "We make $500 for writing an episode."
That's just for an average week — during awards season, Fashion Police goes on steroids. "We're required to be at E! from about 2:30 in the afternoon," Skinner said of a day like the Oscars or the Golden Globes, "until whenever they release us, which is anywhere from 4:30 in the morning to 7:30 in the morning — again, we still only get paid for 8 hours."
In an internal memo circulated yesterday, E! president Suzanne Kolb told employees that the network has "taken every action to expedite an election for these writers to decide if they wish to have a bargaining representative."
It's the Guild, Kolb said, that's holding things up.
"We are disappointed that the WGA has called a strike and some of the Fashion Police writers have chosen to vacate their positions," she wrote. "If the WGA had taken the same path as they did with The Soup and Chelsea Lately, we would be well into negotiations toward a deal at this time."
Rice called E!'s requests for a formal election "stalling tactic" employed by network to delay the writers' organization. There are 12 writers on the Fashion Police staff, including Rivers, and eight of them have walked off the job.
"There isn't a shadow of a doubt that there is a majority of support for this idea among the writing staff," he said.
The only difference between their situation and the situations at Chelsea Lately and The Soup, where writers were able to get Guild contracts without striking, Skinner said, is that those writers "had the hosts of their shows standing up for them. Chelsea Handler and Joel McHale stood up for their writers and demanded it — and so far we have not had the same."
Joan Rivers, whose company, Rugby Productions, produces Fashion Police, Skinner said, has not gotten behind her writers.
"We all respect Joan and like working with her and working for her. She's a comedy legend. She's very funny, but yeah, so far she has not supported us," Skinner said.
Rivers has, however, done things like helping to raise funds for one writer's double hip replacement — but the writer had to pay for the surgery out of pocket in the first place because the show does not offer healthcare coverage to its writers.
"She did do a benefit for one of the writers. It's just supremely ironic because if we had Writers Guild contracts, there wouldn't be any benefit. He'd have medical coverage," Rice said. "It wouldn't cost him a penny for the surgery."
Rivers' publicist did not respond to requests for comment. E!, however, released a statement yesterday saying, "Joan Rivers has gone on record repeatedly that she supports the Fashion Police writers and wants a fair agreement for them."