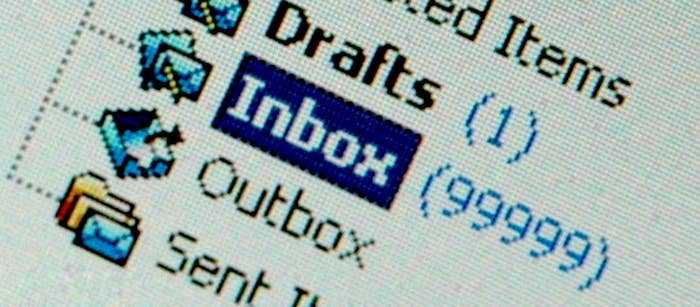 If you are like most of us, you probably look at your email and get stressed out. An email inbox represents a to do list that you have to do, but you really didn't have control over. Other people are essentially deciding your schedule. For some people, they can spend an entire day replying to emails and not get any work done.
But email remains an essential work tool. How can we balance the benefits of email, against its potential drawbacks? How can we avoid email overload and not let email be a source of stress in our life?
I reached out to 85 successful professionals who have developed an effective email strategy. Here are 85 tips that may help you master your emails.
Some of the tips may be similar, but they likely have a new nuance. Other tips may contradict each other, but they may offer an approach that works for you.
I hope you enjoy these and that you can find some wisdom nuggets to improve your life.
1.I calendar my time for responding to emails like I do my personal schedule and my meetings. By having a designated time blocked at intervals throughout the day, I know I'll be able to read through my emails and respond to those of greatest priority. Plus, with several times blocked during the day, I'll have time allocated even when my schedule shifts and one of those periods is taken away for a more pressing issue. -Audrey Morrissey, Executive Producer of The Voice
2.Take action on each message. Read the incoming mail and make a prompt decision on each: reply, delete or file away. Start drafts for new messages if you can't respond in that moment. Do not read each email and then go back to respond to them all?—?that will require twice the amount of time, if not more. -Tom Szaky, Founder & CEO of TerraCycle
3.Trust your team: Be sure to delegate. Having an intuitive assistant who can answer on your behalf will make a world of difference to your time management. It's also why I keep my staff working for me no matter what industry they started out in?—?they are crucial parts of the decision-making process, and they understand how I work. -Issa Asad, Founder and CEO, Q Link Wireless
4.If you never want to forget to follow up with someone, download Boomerang immediately. It is an absolute game changer. When you're writing an email, it allows you to set a date and a time for the email to boomerang to the top of your inbox. That way, if a person hasn't gotten back to you, you can politely follow up on schedule. Or if you know you need to deal with an email if it hasn't been responded to in 2 hours, boomerang it back to yourself in 2 hours. -Jillian Ezra, CEO, Ezra Productions
5.Make the font small and no lines of text preview below the email itself so that emails in inbox just take up one line?—?therefore maximum number of emails can be seen on one screen. Then nothing falls through the cracks. -Brian Ludwig, SVP of Sales, Cvent
6.Canned responses save me hours a week. I was able to see what responses/emails I was receiving the most, and build default messages to save in my email client. Then instead of writing out these responses every time, I could just select my default canned response and hit send. -Levi Olmstead, Manager of SEO and Community at G2 Crowd
7.Take your time: Do not feel rushed to answer every email and just take your time. Answer one at the time and keep all deadlines on your calendar. -Sharlrita Deloatch CEO Boss Women Elite
8.Many people suffer from FOMO?—?fear of missing out, and so, they keep all of their livingsocial, groupon, and others ads that infiltrate their inboxes instead of deleting them. Even if you have not read them, it is okay to delete them. If you want to find the latest deal, you can google it later. Having a sparse inbox makes the brain feel more optimized and less overwhelmed. -Gretchen Hydo
9.Recognize the toxicity of emails.My first tip is about awareness. You absolutely cannot multi-task no matter how much you convince yourself otherwise. None of us can. Our neuro-firing gets disrupted when we check an email and it takes about 5–15 minutes to get back into productive flow afterward. -Jessica Higgins, JD MBA BB
10. Check who the email is coming from. Consider the author of the email and how quickly a response is needed. Triage of email urgency is key. -Rhonda Vetere, Global Technology Executive
1.Read all emails thoroughly. It's important to be sure to read all emails before clicking that send button. Make sure names are spelled right and that the contents of your emails are specific to who you are sending. In my case, as a publicist, I frequently send a few people pitches about the same client. With that being the case, I need to make sure that there aren't any incorrectly addressed and that the content is correct. -Matthew Aversa, Vice President of Communications, Rio Vista Universal
2.Send emails as they come in to the folders and mark things as spam at the time they come in. Through folders, labels and a little thought into what you really need your daily life in your email will become more simple and not so frustrating to look at. - Francis Perdue, My Beverages
3.My single best tip when it comes to managing emails is to star emails that are important. We live in an age of email overload, and it is impossible for anyone, let anyone busy, to stay on top of their emails in real time. It is inevitable to come across important emails that cannot or need not be responded to right away, but risk getting lost in the shuffle. Star those emails, and when time allows, go through the starred email section in your email account, and re-read and respond to the emails you have starred. You can stay on top of important communications, but do so on your terms and on your own time. -Adam Mendler, CEO, The Veloz Group
4.Set aside half an hour each morning to clean out emails you can delegate to someone else. - Viveka Rydell-Anderson, CEO, PDI Surgery Center
5.Use the spam filter. I can't stress how annoying it is to receive unwanted marketing pitches when you have important tasks at hand. I screen for everything from spam emails to specific phrases. -Nadine Argueza, PR Strategist, Harden Communications Partners
6.I handle emails 90% of the time from my laptop, not my phone. I have more of a risk of ignoring something or trashing something I need when it is on my phone. If I read a message on my phone, I go back and mark it unread until I am at my laptop and can put focused thought into the process. I DO often skim my inbox from my phone and in a way that gives me the mindset of what I have ahead of me when I sit down at my laptop and I know what I have coming (lots of work issues? Or perhaps a quiet email day). - Lynn Zakeri, LCSW, Therapist
7.I focus on deleting emails that don't get me closer to my goals and aren't necessary to respond to. In the past I tried to respond to everything, but when you're telling someone no they inevitably ask why not, which leads to another message and thoughtful response. It seems harsh, but my time and sanity are more important than their ask. - Krystal Covington, GO Lead, LLC & Women of Denver
8.Prioritize your emails to immediate, weekly and reference only. You need to have a simple system that will remove the clutter and provide some breathing space for everything else you have going on. - Keli Lenfield, Director, Combine Culture
9.Check emails at regular intervals throughout the day. Check your emails once in the morning, once at lunchtime and then one last time in the evening. Do not let your email dictate your day?—consider it yet another tool for business. You don't need to be 100 per cent responsive, especially in 2018 when things are always moving at a rapid pace. Turn off notifications for emails on your phone. - Jemimah Ashleigh—Positioning Expert
10.I use the ''inbox zero'' approach to email management to keep my inbox empty. I recommend a tool called The Email Game?—?it makes you deal with each email in your inbox (reply, delete, archive, etc.) and discourages you to skip and move forward to the next email until you haven't handled the previous one. - Davis Sinskans, CEO and co-founder of Printful
1.Turn off 'threaded' emails, conversation mode. - Mark Godley, CEO, LeadGenius
2.I go through my email box once every morning to sort through all the important vs. non-critical emails. The important all get responded to on the spot or moved to a To Do folder to be responded to, usually, within 24 hours. The rest are non-critical and are set to read manually or quickly read through. This helps me ensure no critical emails fall through the cracks and I can stay focused on getting through the To Do's each day. I make sure my To Do folder is either totally empty at the end of each day or, at least, as light as possible. - Solyman Najimi, President, TubShroom, Juka Innovations Corporation
3.If it's a conversation takes 10 emails, consider picking up the phone and banging out the conversation instead of having a an email chain linger. - Grayson Lafrenz, CEO, Power Digital Marketing
4.If you've been away for some time, even just a couple of days, take a quick look at your oldest messages first, but only for info re: what has transpired in your absence. Respond to recent messages after you're comfortable you understand enough about current status of an issue or project. Ask colleagues for verbal or written updates if you're not sure. This avoids a lot a wasted time and misunderstanding. - June Severino Feldman, Chief Marketing Officer, Intelligent Product Solutions
5.Don't be afraid to archive or delete messages without answering them. 90% of emails are unsolicited or marketing material that you simply don't need to look at. Make that judgement and delete it. Stop with the fear of missing out and just click the delete button. The only emails that demand a response are people who you are working with to help or are paying you. This is such an important thing to do it is all 5 of my tips for managing emails. - Nick Leffler, Owner, Exprance
6.Digital Shut Down. After I check and file emails, I turn off my social media and email alerts for at least one hour. This feels a bit uncomfortable and crazy at first, but I promise it is an incredibly effective strategy. This is what I call my golden hour. It gives me time to knock out a huge chunk of that to-do list. Having been a live TV producer, I can accomplish more things in this one hour than most people do in an entire day. It's how I am built, which is both a blessing and a curse! But recognizing your most productive time of day is the secret sauce to productivity and streamlined efficiency. By doing this, I really free myself up to be more present for my staff , clients and also alleviates pressure of wondering if I have addressed important things — I have. I use my golden hour to write emails, make calls, and schedule meetings, doing what I call outputting rather than frantically responding to incoming tasks, as many of us have a tendency to do. If you keep checking your social media and email all day, you're really setting yourself up for distraction and unsuccessful multitasking, rather than focusing on your overall work effort. - Stacie Krajchir-Tom , Founder , The Bungalow PR / Lifestyle Curator
7.Delay delivery to communicate during core business hours — if you are sending professional emails, try to send them during business hours. Although many executives work late at night, sending an email to a customer at 2am can be offsetting and can make them question if you are using offshore marketing help. Most email programs let you delay the delivery of the email until business hours the following morning when they can be automatically sent on a schedule. - Symon Perriman, President & Founder, FanWide
8.I receive hundreds of emails a day AND I am committed to an empty Inbox at the end of every day. To accomplish this, I set up Quick Steps in Microsoft Outlook. There are three basic types of Quick Steps I create: 1) Calendar 2) Tasks and 3) Folders. Once I read an email, I decide whether to respond immediately or schedule it for further action. If the latter, I either schedule time for the activity on my calendar or add it to my To Do list. Quick Steps lets me do this with the click of a button. For example, a Calendar Quick Step will take an email, turn it into a calendar event and attach the email to the calendar event. It's an easy way to turn an email conversation into a meeting to resolve matters. A Tasks Quick Step will take an email and automatically turn it into a Task with the original email attached. I can set the due date and then not worry about it. The third Quick Step I use will take an email, mark it as read and then file it to the folder I specify. For example, if I'm reading an FYI type of email on some client work being done, I can read it and then click the Quick Step button for that client. The email will be marked as read and then filed in one step. I love having an empty Inbox at the end of the day and I love being able to look over my calendar and Task list to understand my workload and whether I need to increase delegation. I feel doing this gives me greater visibility over my week while also making sure I address each email. - Christine Benton, Managing Director, Burson Cohn & Wolfe
9.My approach to managing my personal email is odd, but effective. A while back they said email was dead, but I have found it the best tool to keep up on trends. So I subscribe to 100s of email newsletters delivered to my gmail account and daily I pick and choose which ones I want to skim and read. I delete all the emails I never get to once or twice a year by selecting delete unread emails. In this way, my personal email serves as an ongoing social feed with personal. For work email — I either take immediate action on an email or move the action item to a TO DO list and return to the email that same day or later in the week. If its a mui importante — I'm a luddite and print it out and physicalize the email as a reminder of its importance. - Robb Hecht, Adjunct Professor of Marketing, Baruch College
10.Be decisive. Read the message, make a decision, and reply with specific instructions using clear and concise language that cannot be misconstrued (thereby preventing wasted time and additional emails seeking clarification that should have been included initially). Train your team to skip replies unless a response or confirmation is truly necessary. Countless got it and will do messages clog inboxes. - Susan Dworak, CEO, Real Identities
1.Don't try to have 3D conversations via email. 3D conversations are more complex, potentially emotionally charged, and require a high degree of emotional intelligence. I often have consulting clients forward me a complex email and ask me how they should reply. My standard answer: talk, on the phone or in person. You can't coach, sell, or negotiate by email. Old school rules! - Donna Miller— Founder, C3 Workplace
2.Prioritize. This is a key element of time management which segments the mail into level of urgency categories: Immediate — a project can't move forward without my input; Secondary: It will get addressed at some point during the day; Non-urgent, evergreen: These emails will be addressed before the day or week is over depending on your job requirements. - Janine Iannarelli, Founder/President, Par Avion Ltd.
3.For all the emails I receive regularly from the same person or company, I immediately create folders in both my Inbox and Sent. In some cases, when there is large volume, I create sub-folds certain senders - Michael Medico, Author, Absolutely. Positively. Genuine. Real Fake News
4.I take public transportation or Uber whenever I can. That allows to me to use my commute time effectively. Since I'm normally commuting in the mornings and evenings, I'm able to come into the office already ahead and get home feeling caught up. - Aaron Hoey, CEO, Amour Vert
5.This might seem counter-intuitive but having three email addresses is step one in curing email overload. One email is dedicated solely to career and work related emails. A second email is related to everything personal from family and friends to schools, doctors, airline and banking correspondence. The third email is related to all things retail, social media and entertainment (newspapers, Netflix). Once emails arrive on my desk I delete what I can and open what needs addressing or answering. At the end of the day if I have not finished tending to these emails they get filed in a folder TO BE READ so they do not get lost or fall to the bottom of my screen. The email to write this article and the link sat in TO BE READ for three days before I had time to deal with it, but I try to keep this folder to a maximum of twenty emails so that I am forced to get it done. I keep files and folders for emails I need to save or refer to, like travel reservations, so they are easily accessible. For example Travel includes four sub-folders 1) business, 2) vacay, 3) interesting (articles emails and ideas for trips from people) and 4) completed or cancelled. When I no longer need a folder I put a Z in front of the name so it drops down on the list. Finally, I am pretty good about going back through my phone and my computer and deleting emails every month or so. If I feel I am falling behind I will put an appointment in my calendar for an hour so that it is booked and I have the time to deal with it the way I would a doctor's appointment or anything else. It works. - Marni Shapiro Co-Founder and Partner of The Retail Tracker
6.Category Tabs: People should organize their email within the Primary, Social, Update and Promotional tabs. Only the important emails that require your attention / reply should go in Primary. Social should be push notifications from your important social media sources. Updates are emails that might be important updates but don't all need to be read. Everything else goes into Promotional. - Kean Graham, CEO, MonetizeMore
7.Make sure your team only uses Slack instead of emailing you. Slack is only available to members of my team, unlike email where anyone can fill up my inbox. This makes Slack a higher priority channel where I know that notifications must be important. This lets me be responsive internally in real-time while keeping my sanity thanks to only checking email twice daily. - Zouhair Belkoura, Founder & CEO, Keepsafe
8.When I do check emails, I apply the 2-minute rule. If it takes me longer than 2 minutes to respond to an email, I place it in my Waiting folder. At the end of each day, I spend the time necessary to respond to each email I placed in the Waiting folder before I close email out for the day. - Maureen Lake, Managing Partner, MaureenLake, LLC
9.Tip One, Don't check your email every 20 seconds, it will stress you out, and create a nasty habit. - Alex Hanifin, CEO, Alpine Start Foods
10.Keep it short. People tend to write a lot via email. But I just write what is necessary to say. If there is too much to say then it is better to call the person involved. Do not create conversations through email. This is tied with number 3. If you need to talk then call him and you can save some time. - David de Ponte Lira, IT Engineer and Founder of FullMusculo
1.For emails that need scheduling, I utilize tools like MixMax and Calendly to increase the ease for everyone involved and function off of a single calendar (whether personal or professional). - Aidan Snee, Inside Sales Solutions
2.I use labels for everything in my inbox and automate the labels using the Gmail filter option and auto-tag auto archive certain messages types. This allows me to reduce the inbox load from anything that I know doesn't require my response. I use the starred option to mark any email that requires my response. This allows me to better manage my time and never forget to answer anything. I read the email I receive, if it requires immediate answer I answer. If it doesn't I star it and then I get back to it at the end of the day. If it is not starred it will not get a response. - Yali Saar, CEO & co-founder of Tailor Brands
3.First things first, only touch emails once. My personal rule is that if I click on an email to read, then I have to do something with it, which means answering, deleting, or filing it after reading. This helps me not to treat my inbox as a to do list! I used to flag emails that were important or urgent and keep additional ones in my inbox as reminders for things I needed to do. Then I realized that an email inbox is not a task list, it's merely a funnel for communication, and that changed everything. - Tess Ausman, Owner, CLT Leads, LLC
4.Don't check e-mail first thing in the morning. I used to do this and found that it gave me a frazzled start to the day. Instead, I get dressed and into the office by 8 a.m., which is when I begin replying to e-mail with a clear head. - Liz Toombs, C.I.D., President and Owner, PDR Interiors
5.The first rule of managing your e-mails and avoiding an overloaded inbox is to eliminate distractions. A cluttered inbox is easy to avoid if you use consolidation tools, such as unroll.me, to keep mass newsletter-type emails together. As a business owner, I'm always intrigued to see what other brands are doing, so I don't necessarily want to unsubscribe from things to eliminate the email. With unroll.me I have messages like this delivered to me in one scroll-able page each day — super helpful and efficient! - Nicole Snow, Founder and CEO, Darn Good Yarn
6.I manage my business emails exactly the same way I manage my electronic files on my computer. Everything must go into a specific folder. I create several main folders like Clients, Personal, Travel, and News. Within each one of these folders, I then create sub-folders. When a new email comes in I will either file it manually or set a rule in my email client to automatically move all new email from a particular sender into the appropriate folder. This allows me to always maintain a manageable amount of emails that hit my inbox and I do not feel that overwhelmed. If an email is critical and it requires immediate action it will stay in one of my folders as an unread message until I have time to act upon it. I will make it a point to set aside a little bit of time some time daily to catch up on emails that need an immediate response. This way I avoid any email anxiety. - Andrew Ruditser, Co-Founder & Lead Technology Coordinator, MAXBURST, Inc.
7.Purge your emails. Whether you do it monthly, quarterly, or yearly, delete your old emails. Like unsubscribing, you'll find that you don't look at most emails again after you first get it. If you have analysis or presentations you can't bring yourself to delete, save the files and delete the emails. Between Dropbox, Google Drive, and the dozen other cloud storage services, you should be able to store them free for years. - James Green, Founder and CEO, Offer To Close
8.Catch up on the easiest and time-sensitive yes/no emails first and do more of the task-based ones (requires decision making and other people). By going through the easiest ones instead of the toughest ones first, you actually are likely to go through the harder and more time-consuming ones by having a sense of accomplishment and progress earlier in the day. Instead of getting stuck with emails that usually require more than a minute to respond to, responding to the easiest ones first get you going giving you higher chances to move towards the rest of the emails. - Jonha Richman, Partner, JJR
9.Switch to a inbox system of four subfolders. Organize your messages based on urgency of response:
1)Inbox: the inbox is a holding pen. Emails shouldn't stay here any longer than it takes for you to file them into another folder. The exception to this rule is when you respond immediately and are waiting for an immediate response.
2)Today: Everything that requires a response today.
3)This Week: Everything that requires a response before the end of the week.
4)This Month: Everything that needs a longer-term response.
5)FYI: Many items are informational. If you may need to reference an email again, you can save it to this folder. - Alexander Lowry, Executive Director of Master of Science in Financial Analysis, Gordon College
10.If it ain't worth your time, delete it! I never understand why busy professionals always feel they need to answer every email the first time. If someone is truly persistent and wants to get your attention, they will send multiple emails or replies and you will be able to see this and respond after multiple inquiries. Make people prove their worth before you spend the time! - Timothy Bach, Founder, The Creator Factory
1.Set aside time each week to do a deep inbox clean — Schedule time in your calendar to go through your inbox and delete everything that you no longer need. This is the key to keeping an organized inbox. - Emily Mendez, On the Wagon
2.Hire an assistant — I use an assistant to help manage certain email accounts. This way potential clients or brands aren't waiting for my reply or small details such as headshots, bio, or standard documents I use within business. Assistants are also great at helping manage your calendar or appointments as well, if you are unable to respond to a meeting change request. - Angel Radcliffe, Financial Educator & Business Consultant
3.Our HR training has been amended to remind colleagues that they only need to respond to an email which is sent to them and cc is for information purposes only - Edward Collins, CEO, Earth Capital
4.Don't feel like you need to read every email. If you're a newsletter subscriber to a few publications but the email header for a particular month's newsletter doesn't sound like something you'd want to read, delete the email. If it's of no interest, you won't be sorry and will have cleared up a bit of space in your inbox. - Chris Wain, Director of Sales at Africatravel
5. Don't be a keyboard warrior: replying right away to emails whether they are internal or to clients/customers/suppliers not only interrupts your planned activities, but also sets a dangerous precedent. Your contacts will come to expect immediate responses from you, which will lead to an always-on state. This is a slippery slope! - Louise Reid, Managing Director, The Scott Partnership Ltd
6.Stop using email as a to-do list. If you do this, you're constantly relying on others to determine your priorities. Instead, choose a good tool that allows you to have a master task list and a daily action list. When you receive an email that needs actioning, either respond straight away, or add the action to your list. - Fiona Adler, Founder, Actioned.com
7.Hit the delete button on conversations which are no longer relevant. This will make a great deal of free space in your inbox. Certain correspondence, no matter how old, will need to remain in writing for potential future reference but don't be afraid to delete the trivial conversations, such as emails which contain expired links to web development pages or expired press opportunities. Going through your inbox and doing this could mean the difference between having 1,500 pages of emails and 2,000 pages. - Frances Geoghegan, Founder and Managing Director of healingholidays
8.I use labels in my inbox to organize my emails which allows me to reduce my inbox load from anything that does not require a direct response from myself. I also use the star option to mark off any important emails that I need to respond to in a timely manner. This feature helps me to better manage my time, but makes sure I never forget to answer an email. - Lori Gatto, VP of Marketing, TomboyX
9.Never leave an email in your inbox un replied to for over 24 hours. This is not only a good customer service tip but it also reminds you to find time to do the task associated making you accountable. Even if the email says something like, I will get back to you by tomorrow afternoon with the answers to you great questions enclosed. Thanks for your patience. - Elizabeth Sherry, Development & Engagement Manager, Minnesota Chamber of Commerce
10.Set up folders and filters so emails automatically go to the correct folder. If you want to take organization a little further, this is a great way. For example company wide emails can go into a certain folder, emails from direct team members or by a certain subject can go into another folder. - Vivek Chugh Founder & CEO Listables
1.Ask to get a coffee with the person or group. Building relationships in-person helps you understand colleagues better, improving future email efficiency. - Stephanie Bousley, Founder and Author, StudentDebtRebels.com
2.Make sure all of my emails have various auto reply's in place that are consistently updated. Whether it's an automatic email that states Hi, I am on vacation from June 1 — June 15, 2018 please contact Jill in accounting in my absence. A signature that not only includes your contact information but a link to your latest product. Any imperative information that can be distributed to the masses quickly is a win. - Chantay Bridges: Coach, Realtor, Speaker & Writer
3.Make sure your emails cluster by subject line so multiple emails about the same topic take up too much space. This also makes it easier to look through older emails without having to search. - Dana Levin-Robinson, Chief of Staff, VirtualHealth
4.Unsubscribe from everything. Literally, you need to unsubscribe from all promotional emails and newsletters in your inbox right now. After a couple of days or weeks, only add back what you miss. You will be shocked at how few of those emails will return. - Brandon Marianne Lee, Real Estate Agent, Triplemint
5.Get your inbox to zero this week, even if that means bulk archiving 2,000 old emails just so you can start fresh going forward — it's worth it! - Ross Palmer, Lab Society, Digital Marketing Manager, Laboratory Supply Startup
6.Be succinct in your responses. Mirror the predominant work culture today: clear, quick, and succinct. - Hilary Blair, CEO, ARTiculate: Real&Clear
7.Also, I wake up around 5 AM and go through about 30 minutes of emails. Getting an early start on emails reduces inbox anxiety for the rest of the day. Throughout the day, I always try to work down emails as they come in, if possible. Since I primarily handle business development, the habit of staying on top of my emails helps push the business forward.. I've found that my productivity has soared. - Christoph Seitz, Co-Owner, CFR Rinkens
8.It is impossible to advance your own goals if you allow yourself to be distracted by requests for attention from others constantly arriving in your inbox. Start with the decision that you set your own agenda, and that agenda takes priority over the demands of others. Be proactive, not reactive. This attitude is what will enable you to best implement controls on your email. - Jane Muir, Managing Shareholder, J. Muir & Associates, P.A.
9.Stay on top of your email — Go through your email everyday, that's right, even on weekends. Managing emails as they come in instead of a few times a week will save you a lot of frustration in the end. - Rob Webber, CEO & Founder of MoneySavingPro.com
10.Here are some of the things I do to manage my emails. I set up folders and sub folders so I have a place to file emails. I determine what status a particular email receives: file it (high status) leave it in my inbox (medium status) or delete it (lowest status. I also use the red flag on emails that are the highest status, that is that they need some immediate type of attention. I try not to just sit on emails in my inbox. When I do that it fills up and can seem overwhelming. One thing I have found to be critical is scrolling back through and scanning old emails. I do this because I am not perfect and do not always follow my own rules. - Beth McRae, President, The McRae Agency
1.Auto-replies: Auto-replies are great to manage people's expectations and avoid disappointments. For example, if you know that it will take you 24 hours before you can reply to all your emails, turn on an auto-reply email letting people know you will get back to them within that time frame. Then no one will be on your case! - Amber Renae, Boss Babe, Amber Renae Inc
2.Don't give out your email to just anybody. Keep multiple email accounts so you can keep family emails, business emails, and marketing emails separate. - Brian Wallace, Founder and President, NowSourcing
3.One of the most effective approaches is a four-step process that helps you get your inbox cleared.
Step 1: Scan. Rather than taking the time to read through and respond to each individual, start by scanning your inbox. Take a quick glance to see what they involve and who they are from.
Step 2: Delete. Delete emails that have no benefit or are irrelevant. This way you eliminate visual clutter in your inbox.
Step 3: Sort. Sort the remaining emails based on importance. You can sort by sender, or by header and it can be useful to create folders to store emails into — which makes them easier to find later.
Step 4: Respond. Now that you have reduced the number of emails remaining, you can read through and respond by importance — which helps you to get through your emails faster - Scott Stein, CEO of The Learning Difference
4.Lose the ego. I used to wait to respond to emails for the simple fact that I wanted to appear busy. Yes, I had email ego, and it did nothing but cause me to forget to respond and have emails pile up in my inbox. Lose the ego and respond as soon as you have a chance. The same goes for text messages! - Greg Dybec, Core Team, Wing
5.Make sure to always scan the Spam folder for stray legit e-mails that may have landed there. I find that the legit ones stand out from the garbage. - Bruce Schoenberg, CEO, Oasis Day Spa
6.Be ruthless about what you reply to. Don't feel you need to get back to everything. Some things aren't urgent or even require a reply. If you're not sure, leave it and see if the sender follows up - Lyndon Nicholson, CEO, Buffalo 7
7.Make Gmail shortcuts your friend. I'm all about time efficiency, even if it's saving seconds. With these shortcuts, you can zoom around Gmail without needing to take your fingers off home row (haven't called it that since 5th grade). - Matt Gibbs, Co-founder and CMO of UPshow
8.Stop Emailing People. I don't send out emails unless I absolutely must. Before emailing, I always ask myself, could this be settled with a quick phone call? In person/ phone communication is usually more efficient because you can get straight to the point, and the subtext of your words is immediately clear. And asking for clarification? It's as simple as a sentence, not an entire email with multiple people cc'd on. - Alex Johnson, Co-founder and CEO of Swap Motors
9.Turn off E-Mail Notifications: One of the most freeing things that I have ever done was to turn off phone notifications to my email. Most busy, successful people get 100–200 emails per day and if notifications are turned on, this means just as many interruptions. By turning off your notifications, you force yourself to check your email only when you need to. - Randall Garcia
10.The only way to stay on top of emails is to answer them the minute they come in. Of course, some emails will be higher priority than others but ideally you just answer everything as soon as you receive it. Otherwise, emails fall into a black hole that never get opened or responded to. Most Presidents of companies I know will respond to my emails to them within seconds of me sending them. - Jen Yeko, Ninja Recruiting
1.If your email is more than 200 words, delete it and call instead, or walk to the person and talk together. Long emails are horrible to read and understand, and the time invested in composing the email is rarely worth it. People will seldom understand all points in a long email, and the face-to-face dialogue is much more effective. - Erik Korsvik Østergaard, Organizational Development Consultant, Bloch&Østergaard
2.I use a timer when I work on email (or anything else!) It holds me accountable, and I can let go of the worry about how long I've spent working or how long I have left. I process my email much more efficiently when I use a timer — it's amazing what a built-in deadline does for my productivity. - Jennifer Stewart, Technology Organizer + Trainer, Gateway Productivity
3.Aim for Only 20 Items in Your In-box. Yes, seriously. Twenty e-mails means that you can see your whole in-box without scrolling. As soon as you deal with a message, file or delete it. Only messages from the past week that you've yet to respond to belong in your in-box. - Kimia Kalbasi, Founder, KimiasKravings.com
4.Only open an email once–and deal with it with a reply or note. Every time you open an email a second time it's like receiving a second message. A hundred emails quickly becomes two hundred. They don't go away unless you deal with them. Instead, they'll linger and multiply. - Neil Usher, Executive Consultant, Unispace
5.Is it important? If the answer is no, delete and if it is unsolicited, mark as spam. Done and done. It is important but belongs to a integral team members roll, delegate and forward. If it is pressing and important that it is to be responded by Heather, she carves time each day to run through them all. If it is not time sensitive, she archives in a folder to be address by each Friday. Knowing all too well, that being at the receiving end of pressing emails, it can be overwhelming at times. Heather finds success in writing lists to mark off who she has responded to and makes that her goal to accomplish each day. And last, as just an an additional tip, it is always a plus to keep your emails full of gratitude and upbeat; Heather likes to call it the Oreo affect; an upbeat greeting, address the topic at hand, sign off with gratitude. Happy emailing! - Heather Nashelle, Founder of Nashelle Jewelry