Marsai Martin Revealed What It's Really Like Working On "Black-ish" With Tracee Ellis Ross And Anthony Anderson
"My favorite part about playing [Diane] is that I'm growing up with her."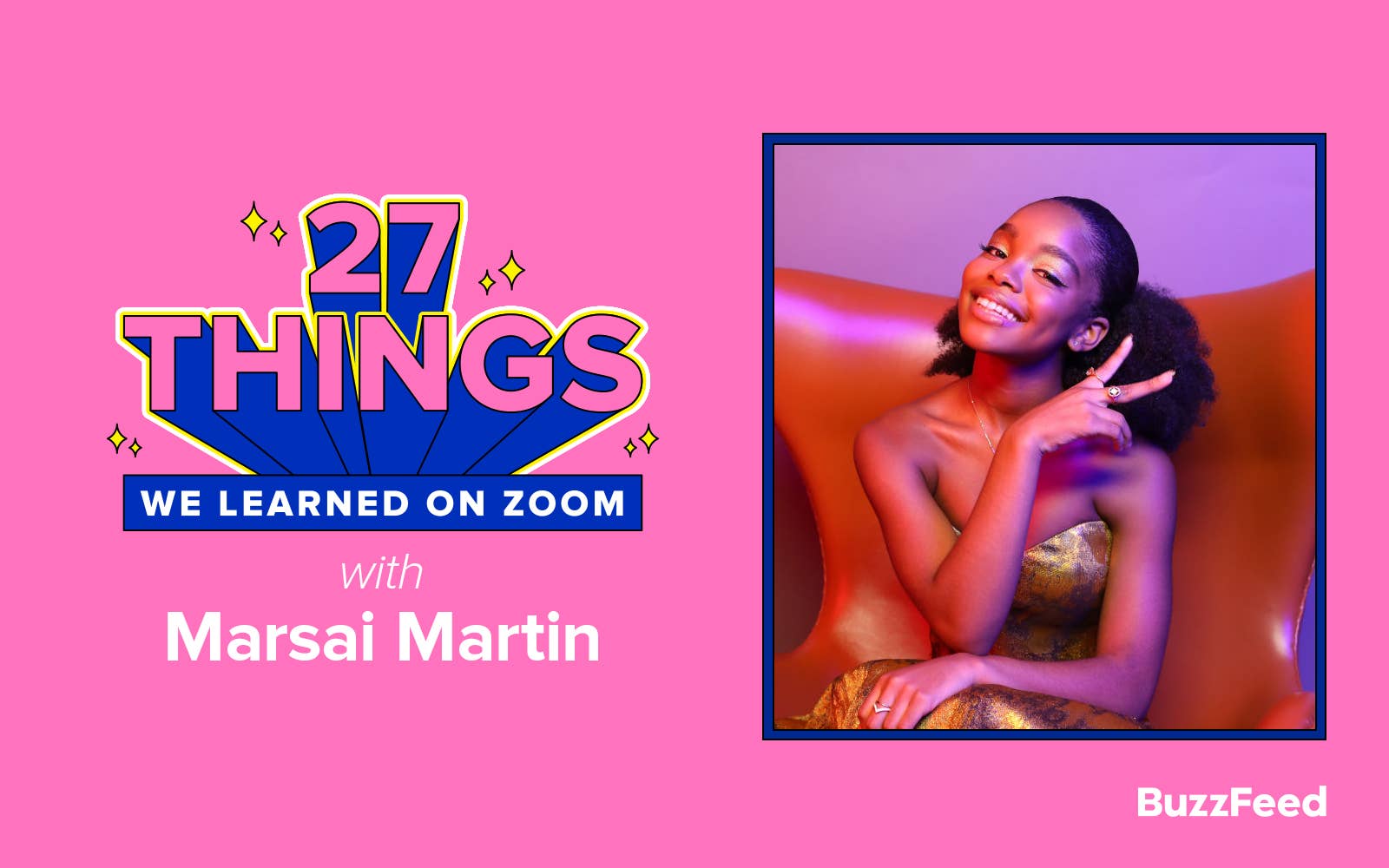 At just 16 years old, Marsai Martin has accomplished more in life than I probably ever will. The Texas native has become a household name playing the gifted and talented — yet oftentimes mischievous — Diane Johnson on ABC's Black-ish.
Proving that she's no one-trick pony, Marsai has gone on to become the youngest person to ever produce a movie, the youngest Black producer, the youngest person to get a first-look deal at Universal, and the youngest person to get a deal at any studio. Yup, her résumé is stacked.
Recently, Marsai hopped on Zoom with BuzzFeed to discuss her latest movie, Spirit Untamed, what she's learned from playing Diane, and her reaction to Black-ish ending next year. Check out 27 things we learned about the burgeoning icon ahead.
1. In what ways do you relate to your character, Pru, in Spirit Untamed?
I related to Pru in so many ways. I feel like she is very goal driven. She is a leader in her own way. She has an amazing relationship with her father, which I love because my dad's the homie. I love him. She takes pride in her craft, she loves horseback riding. She's very into it. And I am very into what I like to do, which is creating and all that good stuff.
2. Did you learn any interesting fun facts about horses while filming?
I think I did. Maybe I forgot. [Laughs] But honestly, I don't have any experience in horseback riding. I wish I did, mostly because I'm from Texas. But now that I've done this film, I feel like I have to. So we'll get into it soon.
3. What is the most challenging part about doing voice-over acting?
When you're [doing voice-over], you want the right voice that you think will fit into the character. After you say the first two lines, you're actually like, 'Now it's imprinted in the bill and I've got to stick with that voice.' In Spirit Untamed, we're in this Western type of world, so I'm like, should I go more country? Should I do my Southern accent or should I just leave it as it is? I went a little younger because Pru's a little younger than me. There are so many things that go into it. I feel like that's more of my perfectionist side trying to come through to see if [the voice] fits in with my character. [Otherwise], I would say voiceovers are pretty easy.
4. If you could have a pet horse, what would you name them?
Legend. I feel like ever since I was young, I would always say 'Legend,' so I like Legend. I like Tyrone, too. [Laughs] I like a Black name. They're fun.
"My favorite part about playing [Diane] is that I'm growing up with her."
5. What's your favorite part about playing Diane on Black-ish?
I've been playing Diane for so long, my love for her has grown so much. My favorite part about playing her is that I'm growing up with her. I'm with her when she goes through dating and friendships, trying to find what she loves and her passion. I feel like in every episode you see her become her own woman, which I love. I've been on the show since I was 9. I'm turning 17 this year. It's pretty insane to see how far we've come with her. I'm very grateful.
6. What's the biggest lesson you learned from working with Anthony Anderson and Tracee Ellis Ross?
Oh my gosh. I mean, they're so funny. There's never a dull moment with them. I wish every single person gets a chance to be around them one day 'cause it's something that you've got to witness. They're lots of fun. They're like my second mom and dad, really. Anthony is so outgoing. He knows how to cheer people up and make them smile. And he's so protective as well. He's so protective in his own way. He knows a lot about all of our crushes when we were younger. He knows a lot of stuff about us, which is pretty funny. Tracee's very awesome and very protective as well. She's just that type of person. She's very sweet and kind-hearted. The [lessons] that I would take from them would definitely be how much they put into their work. Just seeing them every day, working hard.
7. What were your initial thoughts when you learned that Black-ish will be ending after Season 8?
It was really bittersweet. We've known for a little bit now. So we were just trying to figure out the way that we wanted to announce it. Honestly, there are so many emotions when I think about it, really. Again, I've been playing Diane for so long. I'm looking forward to seeing how the writers close the show because Black-ish is such an amazing show. It's touched so many families from around the world. It's very big in our community. But all amazing things come to an end. And hopefully, things go as planned and it's a perfect ending to an amazing story.
8. What's your favorite behind-the-scenes memory from working with the Black-ish cast on set?
There are so many. I would definitely say in the beginning, from Season 1 all the way to like Season 6, we would make our own songs. Marcus [Scribner], Miles [Brown], Yara [Shahidi], and I would make our own songs from difficult lines. So if there was a word that was difficult, we would make it into a song and then we would easily remember it. We still remember the songs to this day. We'll sing it, we'd be like, "Oh, my gosh, I remember that."
9. Have you ever taken anything from a set for yourself?
I've taken so many things from Black-ish. Of course, with their permission, obviously. I have a Beyoncé poster that Diane had in her room. I took it home and I put it in my glamour room. Some of the things that I love, Diane loves as well. So, like, if I love Tyler, the Creator, she has a Tyler, the Creator poster on her wall. It's like cute little Easter eggs and gems that you get to see if you're [one of my] real friends or a real fan.
10. From what I read, your upcoming Disney show, Saturdays, takes place mostly at a skating rink that plays '90s hip-hop. That definitely feels like a throwback for us millennials. What made you want to introduce that vibe to a younger generation?
Mostly because skating is so fire! It's so lit. It's [a big deal] in our Black community. It's an activity that needs more attention. And then with that, our main character, Paris Johnson, has sickle cell anemia. We really want to shine a light on it because it is also a very big thing in our community. We wanted to make sure that it was shown in the right light, for the right reasons. As I said before, I don't like to do Black trauma, it's not a part of my thing. So [we're hoping] to talk about positivity and love, and bringing good energy to something that may seem sad at times, but it doesn't mean that you can't live your life the way that you want to. That's what our main character shows.
11. What's a Gen-Z trend you're currently obsessed with?
LED lights. I'm obsessed with LED lights.
12. Do you use your own memes IRL?
I don't use my own memes in real life. I should though, but my friends do usually. And I'm like, okay, whatever. My favorite meme is actually a video. It's this girl who says, "You're out of order. Boom, boom, boom, boom." That one is so funny to me. And it's all over TikTok right now. I use it all the time.
13. If you could work with any Black icon, who would it be?
Angela Bassett and Viola Davis. There are so many people that I love. Even Halle Berry. I'll make it happen for sure.
14. What's a role that you'd like to do next?
There are so many things I want to do. That's the blessing of acting, you get to be whoever you want to be. I would want to do something with action in it. Something where I'm kicking some bad guys or something. My dream goal is to be an assassin or being in a fantasy world. Also, another comedy film. That would be nice, too. Which I also have on the horizon. I'd like to do and try everything. We'll see what happens.
15. What's the last thing you googled?
What's JT's real name? JT from the City Girls.
16. Which emoji do you use the most?
🙄. And then I use the Black emoji hands on the side.
17. Have you picked up any new hobbies during quarantine?
I tried cooking for a little bit. That didn't work. I love to draw. I'm not the best drawer, but I did a lot of that. I was mostly with my tutor, Adam, most of the quarantine. He taught me a lot about cursive.
"I'm a teenager at the end of the day, just doing what I love."
18. What are your thoughts on being the youngest person to ever produce a movie, the youngest Black producer, the youngest person to get a first-look deal at Universal, and the youngest person to get a deal at any studio?
I never heard someone say it like that. That is crazy. Um, wow, that's so cool. It's amazing. It's so surreal. I'm still cool and chill about it, mostly because it's just me. I'm a teenager at the end of the day, just doing what I love. So having such a big title like that is a blessing. I'm so grateful for all of the support and all the love that I get every day. Nothing is better than doing a job that you love, getting paid for it, and having fun while doing it. It's an amazing feeling. Words can't express how grateful I am.
19. What's a role people would be surprised to learn you auditioned for but didn't get?
I auditioned for Hidden Figures. Saniyya Sidney ended up getting that part, which I love for her. I love her so much. Oh, The Lion King. I was trying to be the voice of young Nala. [Editor's note: That part went to Shahadi Wright Joseph in the live-action remake.] Honestly, I love my amazing Black queens who are on the side of me as well. I root for them, and I love them.
20. Growing up in the industry can be tough. Do you have a group of friends in the industry that you can always call on?
I feel like we've all grown up with each other. Throughout this entire thing, ever since I started on Black-ish, we've kind of had our own little circle of amazing Black actors and actresses that we get to grow up with. Whether they're mentors or people that are just getting started as well. We're all so busy most of the time, so I wish I got to talk to them more, but they know that I'm rooting for them and vice versa.
21. Have you ever been starstruck?
Yes, I have been starstruck by Beyoncé. I mean, who wouldn't be starstruck over Beyoncé? That was an amazing moment. [Editor's note: Marsai first met Beyoncé at the White House during the Obama administration, and yes, she cried.]
22. Is there a movie or TV show that made you want to become an actor?
There's not a certain film that made me want to become an actress. My grandma used to babysit me when I was younger and she would see films and be like, 'Oh, Marsai can do that.' So it kind of grew with me. The movies that I used to watch when I was younger was Dreamgirls, the Ray Charles movie starring Jamie Foxx, and Lackawanna Blues. I was in a very Black household, so I am a very old soul. [Laughs]
23. What's the last book you read?
Amari and the Night Brothers. That's what I've been reading, which is out now. And of course, hopefully, we're going to be filming the movies soon. [Editors note: It was recently announced that Marsai will be co-producing Amari and the Night Brothers alongside Don Cheadle.]
24. Who followed you on social media that made you say, "OMG!"?
The person that just followed me that I was freaking out over was Halle Berry. I followed back and I was like, "Wait, what?!" So yeah, I think that was the last person I was geeked over.
25. What's your current wallpaper?
I have this wallpaper that says, "I have no fear of failure if I see things clearly." It looks like a paper type of thing that's floating in the air, which I love. I can connect with it a lot.
26. Craziest fan story?
When I was younger, one of the first fan moments I had was when I walked into a mall. It was a shoe store. I walked in and I was like, "Hi, can I see the shoes?" and the girl immediately started crying. I didn't know what to do in that situation, honestly. But knowing that and remembering that...that was the very first time I really felt support from an outside perspective. So growing up with that was pretty amazing.
27. Finally, what's something you always wanted to learn how to do?
Drive. There's a lot of things I want to do, but driving is definitely one of them. Mostly because I need to. [Laughs]
Thanks for chatting with us, Marsai! Be sure to catch her in Spirit Untamed in theaters on June 4, as well as every week on ABC's Black-ish.