Listen, we're all just trying to get through the coronavirus pandemic with our sanity. The last thing anyone should be doing right now is mom-shaming.
And yet, that's exactly what happened when Halle Berry shared this adorable video of her 6-year-old son, Maceo, playing in her heels while quarantining at home:
It didn't take long for the critics to comment with their unsolicited opinions.

Yup, people were concerned about Halle's son wearing her shoes:

Apparently, playing around in your mother's heels is the "start" of something nefarious*...

Fortunately, Halle, being the class act that she is, responded with the most gracious clapback I've seen from a celebrity in a while, and I was here for all of it:
Halle said her son had a ball walking in her leather boots and he was just trying to cope with the chaos going on in the world, something every parent should be able to relate to: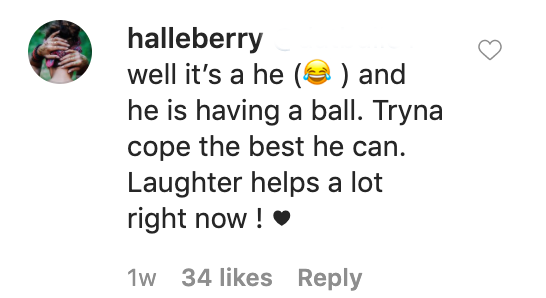 The 53-year-old also reminded us all to be kinder to one another, writing, "It's tight on these kids right now. Let's laugh and have some compassion."

On the bright side, the comments weren't all negative. Several users posted messages of love and support for Halle's son:

This person thought he was "working" her heels, and I agree:

The award for cutest kid goes to Maceo:

This mom summed it up perfectly:

I guess I still do have hope left in humanity. 💜