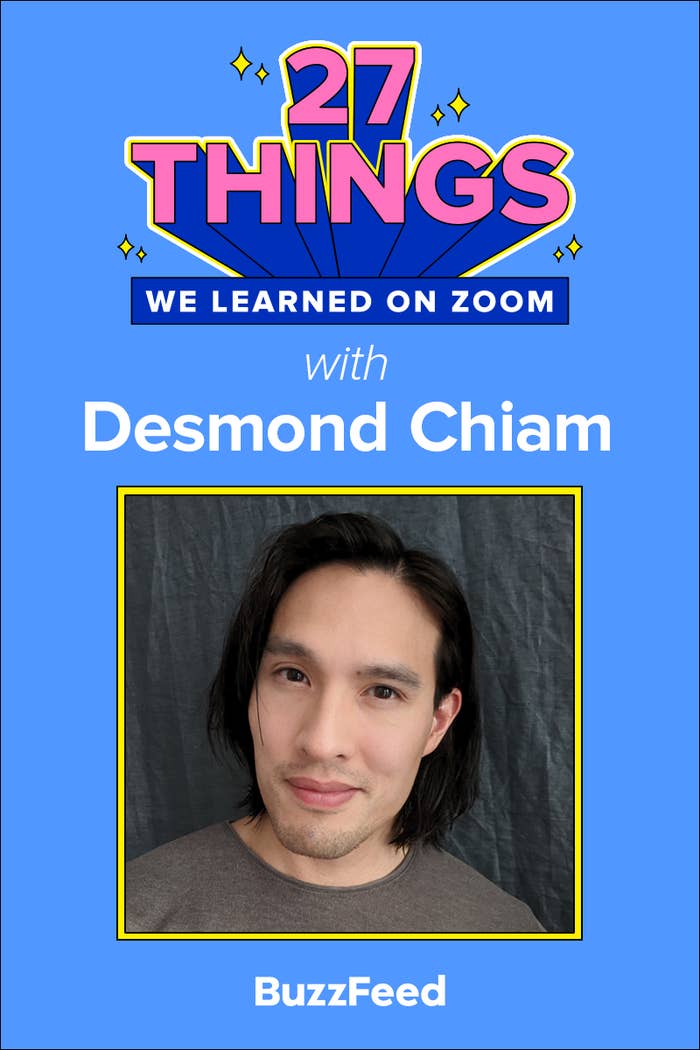 I'll just call it: Desmond Chiam's about to become the internet's newest boyfriend. Having starred in shows like Bones, NCIS: Los Angeles, and Hawaii Five-0, the Australian native has been quietly building quite a résumé for himself over the past few years. Now, Desmond can be found starring in the hit Disney+ series The Falcon and the Winter Soldier. We caught up with the burgeoning star over Zoom to find out 27 things you'll need to know to kickstart your own fandom.
🚨Obviously, spoilers ahead! 🚨

1. You play a pivotal character in The Falcon and the Winter Soldier. What was the audition process like?
The audition process was surprisingly chill. Sarah Finn and Jason [Stamey] run a super-chill room. They give you space to work. You'll do a read and they'll be like, "Feel free to play around, the whole space is yours. Don't worry about where the camera's pointed, that's our job. We'll point it out to you." Which is so nice.
(Editors Note: Sarah Finn and Jason Stamey are both casting directors for Marvel Studios and Disney+, including Falcon and the Winter Soldier.)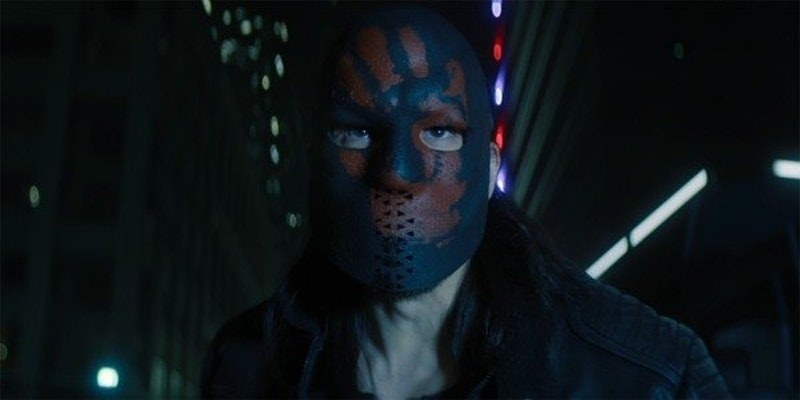 2. Who was the first person you shared the news with once you learned you got the part of Dovich?
The first person I told was my wife. We were actually at the gym when I got the call. I was in this gym full of gym bros and my wife, who watched me have a breakdown when I got the call.
BuzzFeed: Oh wow, I'm sure that had to be such a surreal moment. What did you say to her?
Desmond: I don't tend to tell anyone about the auditions that I go on. I just wait till one of them falls in place, so she had no idea that I've been going out for the part. She was like, "Oh, who was that?" And I was like, 'That was Marvel. Marvel called." I almost thought about not picking it up because I didn't recognize the number and I was gonna screen it.
3. Your character does not exist in the comics. How did you prepare for the role without having the comic book material to reference?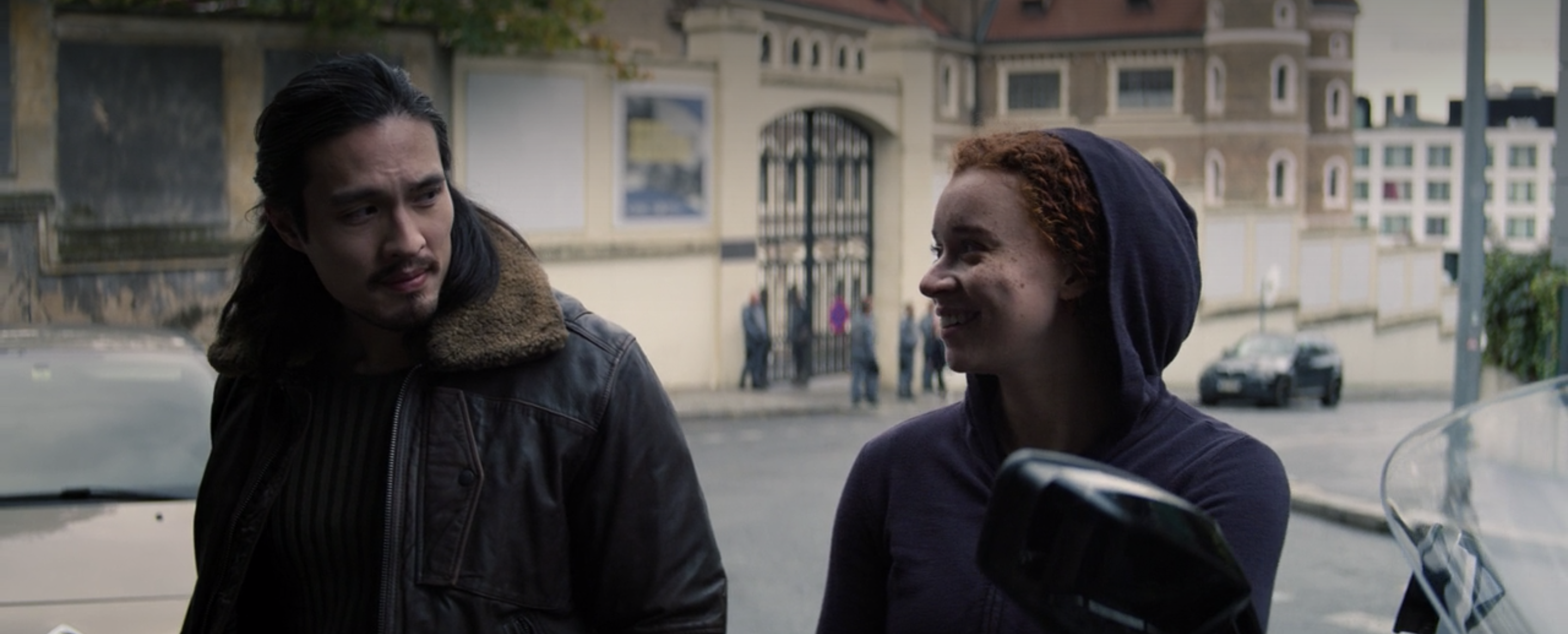 I had stacks of references from all the guys who have been cast in Marvel and then suddenly their bodies are just like Greek statues. [Laughs] So those were my references.
I also had some information about the abilities of the character. So going off of that, and there were clues in the code names they used for some of the other characters. I can't get into the specifics, but when I got the call at the gym, I was like, "Alright, I was about to leave, but I'm gonna stay here for another five hours."
Essentially, The Flag-Smashers come from Karl Morgenthau, the Flag-Smasher character in the comics. Now it's Karli, played by Erin [Kellyman], and we're sort of her devoted adherents.

4. What was it like shooting the fight scenes and how many of the stunts did you actually get to do yourself?
Honestly, not a lot. We have a crazy good stunt team. They cover all our bases on most of the stuff that is double-able. Obviously, there are some close-ups here and there where [the director] is like, "Well, we can see that it's you. We need you to be able to convincingly throw a punch." So we had some training sessions for that, but the stunt team was in charge of a lot of it, which I wholeheartedly support. I really think there should be a category at the Oscars for them at this point because they do so much work. For this one, [my stunt double] played a large fraction of the character.
BuzzFeed: I love that you give them props. I agree, stunt doubles deserve more praise!
Desmond: Yeah, shoutout to Kim Do Nguyen. He's a beast. Legend.
5. What is your favorite memory from filming the show?
Dude, just meeting the Flag-Smashers. Erin's so dope, she's chill. Tyler [Dean Flores] is a cool guy, Dani [Deetté]'s cool. Ness [Bautista] is cool. Renes [Rivera]'s cool. Noah [Mills] is dope. They're all good people. And getting to spend a week or two wandering around Prague with those guys was like the summer camp I missed out on and somehow got later in the millennium. That was my favorite part, the people. And that goes for the crew and the rest of the cast as well, too. Literally could not have been a better bunch.
6. What were some of the fun things you all did to bond between filming?
If you get the chance to talk to any of the others in the cast, ask them about NBA 2K18. There were lots of strong words said over a TV screen in the hotels. [Laughs]
But no, honestly, the first day we got into Prague, we had this big wander. We went around the city and it was just lovely. I've been to the city once before for another job, but didn't get a chance to see it. But there were some people who had never been out of the country. It was just really nice going around and seeing this place for the first time. And sharing in everyone else's experience of that.
7. Did you get to keep anything from the set?
Actually, yeah! I got this:
At one point, I was gushing over Captain America to the prop guy. The character means a lot to me. And he was like, "Hold on a second. I'll be right back." He comes back with this little red flag. I'm like, "What's that?" And he's like, "Well, this is a piece of paint. In every movie that we shoot with Captain America's shield, pieces of paint flake off because of all the action and we have to keep them as a color reference. Here's your piece of Vibranium, man. Hold on to that." Immediately, I was like, "I'm keeping this. This is precious from now on, dude." Like, that meant a lot.
8. Having now acted alongside Anthony Mackie and Sebastian Stan, what is one thing you've learned from watching them work?
"[Anthony and Sebastian] are so relaxed about it and that extends to everyone on set. They're super chill and really easy to talk to."
There's a consummate professionality they bring. They've got this duo dynamic. I mean, you see it the moment they're on camera together. Like, that's chemistry. You think you've had chemistry with someone on camera before? No, no, that's a masterclass right there in front of you.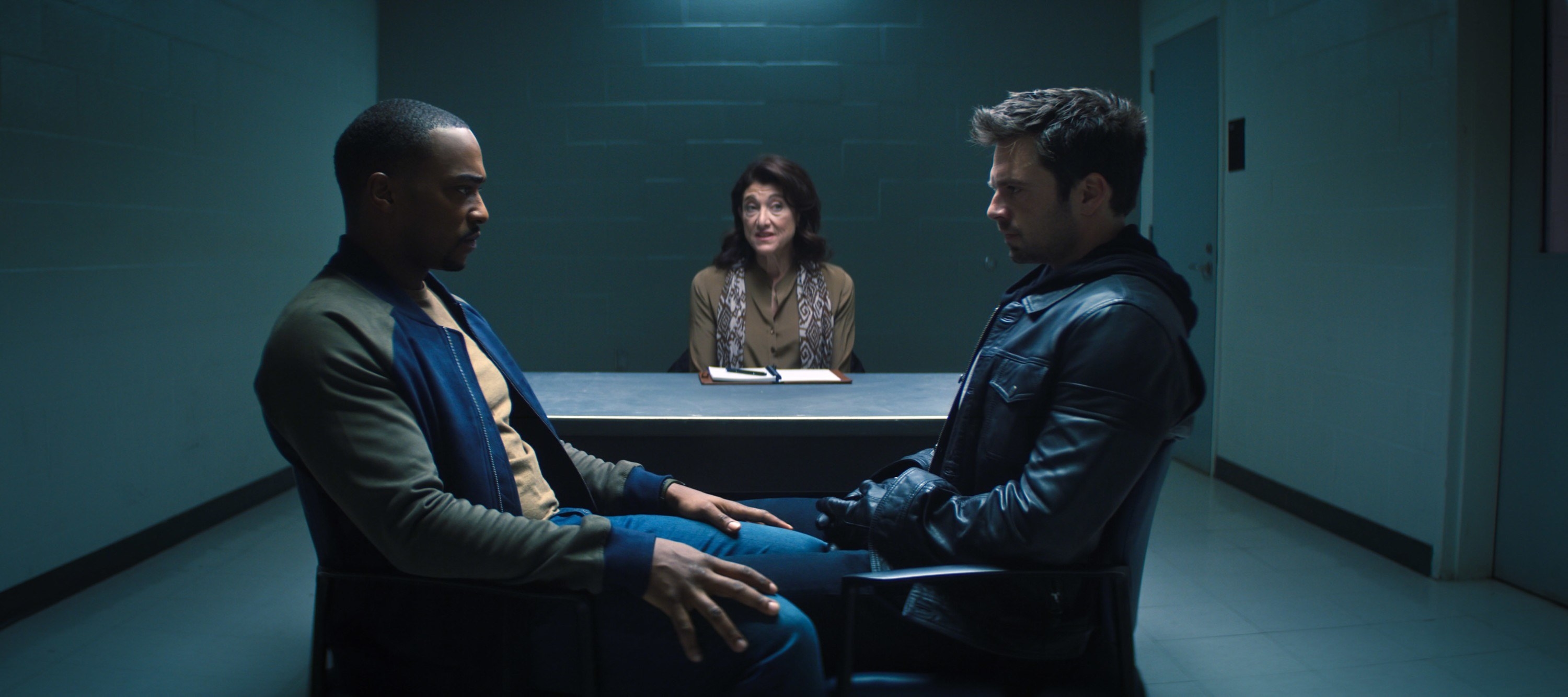 I think there's a preponderance of actors who sometimes get a little too in their energy and be like, "Oh, I need to do this," or "I need to bring this thing." [Anthony and Sebastian] are so relaxed about it and that extends to everyone on set. They're super chill and really easy to talk to. That's the baseline of chemistry. You don't have to push it. You just be chill and people will get along with you. It was a really good lesson to learn and get to watch in practice. I'll take any lesson that's like, "Hey, try less hard. You can be lazy." Yeah.
9. If you could share a scene with any other Marvel character, who would it be and why?
It would have to be [Robert] Downey Jr. as Iron Man. He's just left the MCU, but it would have to be him. I've been a fan of Downey Jr. since back in the day. Kiss Kiss Bang Bang is my favorite movie.
10. Who was your favorite superhero growing up?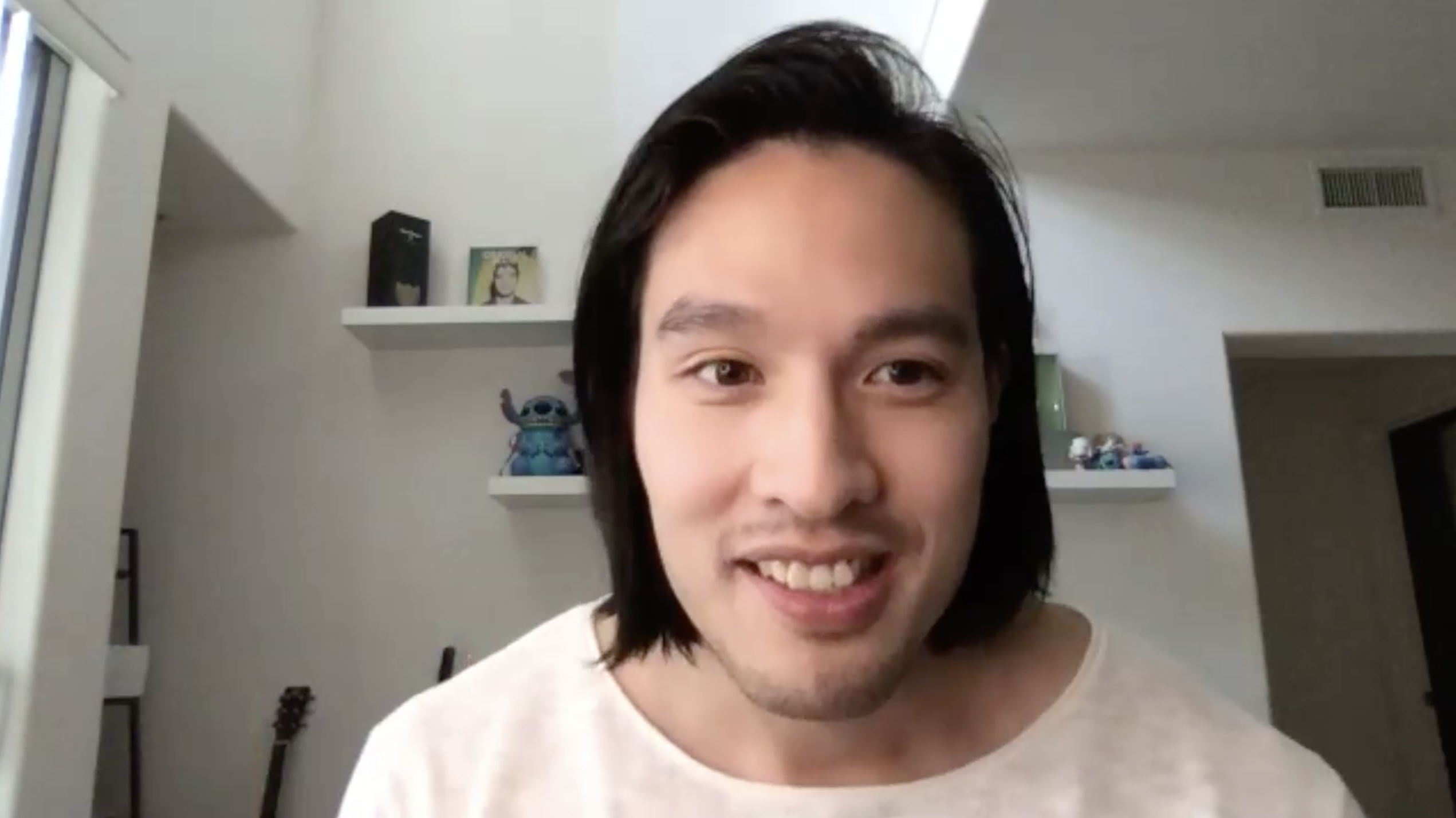 Iron Man was one of my favorite characters. If I was at the arcade picking two characters from that old Marvel eight-bit or 16-bit game, it was either Captain America or Iron Man. Steve Rogers has been with me since 1966. I wasn't around in 1966, but I had this really old VHS that I'd watch [from back then].
I was a nerdy kid. It was rough in the playground. [My favorites were] Captain America, boy scout Cyclops, and the Blue Ranger. Does he count as a superhero? That was a bad combination of people to be worshipping if you wanted to be looked at as cool in the schoolyard.
11. You studied both law and screenwriting. How does your background in those fields inform your acting?
They can't screw me over in the contracts. [Laughs] No, they definitely still can. They fully can. [Laughs] No, but it gives you a reality. It takes the stakes off. I think there are some people who are career actors and acting is all there is. I think having more divergent backgrounds [aside from acting] helps you relax into it a little bit more.
Really, it just helps open you up. There are other things you can bring to a scene and be like, here are a whole bunch of other experiences and other ways people live their lives that you as an actor need to be able to realistically represent. What better training ground than to actually have lived them to some degree?
12. You're also a break dancer. How does being a dancer shape how you perform on screen?
The physicality, obviously. Body awareness is so useful in fight scenes. I had a chat with a dress mate of mine recently and he said, "A lot of the time, dancers tend to not necessarily be better actors, but easier actors to work with. [Dancers] go all out and then it's easy to pull back rather than having to draw something really intangible out of someone."
13. Is there a movie or TV show that made you want to become an actor?
Community. That was back in the era. I really loved watching Community, and I was like, "Yeah, I want to do that."
14. What's a role people would be surprised to find out you auditioned for but didn't get?
I mean, there hasn't been a lot of work for us until the last couple of years. But I think people would be surprised that I went up for Lord of the Rings. Yeah, carving that niche of Asian elf for myself. [Laughs]
15. Best piece of advice you've ever received?
Unequivocally, be kind. That's been a north star. It's really hard to maintain it, especially in this industry. In the face of some people being not necessarily kind, to be able to sit there and be like, hey, I'm going to resolutely be kind despite you. And sure, you're going to take advantage of that, but that's not gonna affect the way I engage with you. That's been really important in terms of relationships but also just mentally, because no one can touch you.
"Unequivocally, be kind."
16. What's your guilty pleasure?
Desserts. Oh my god. I literally just go on GoldBelly and browse the sweets and dessert categories. It's a site where you can get food from everywhere in the continental United States. I just sit there and browse cakes.
17. Favorite home-cooked meal?
I just made some Hainanese chicken rice last night. I'm really happy with it. That's currently my favorite by proximity.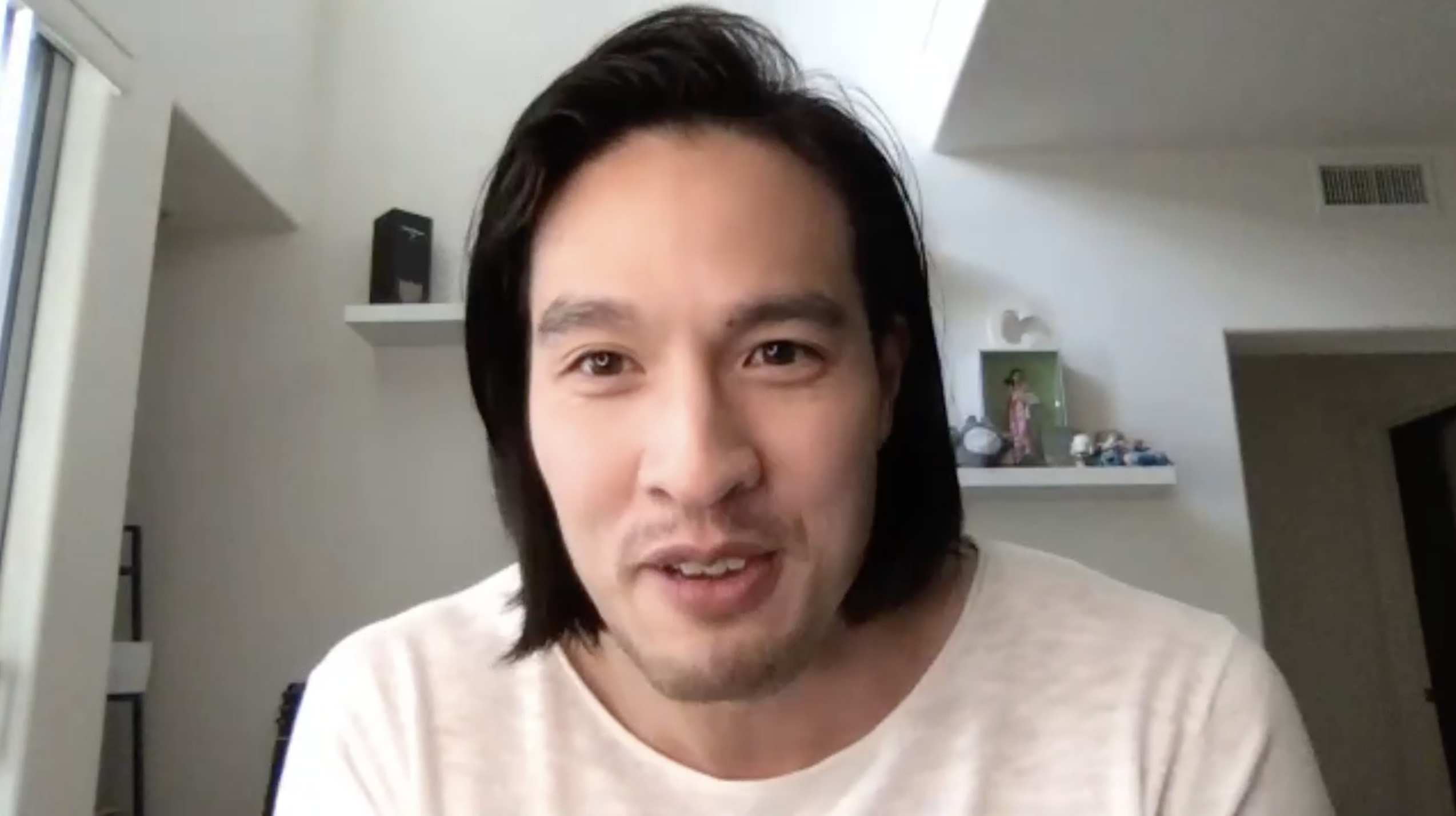 18. Have you ever been starstruck?
Oh god, yeah. On set. Anthony Mackie and Sebastian Stan in my favorite superhero's universe. Look, I don't tend to get starstruck, but that was a big one.
19. Childhood celebrity crush?
Natalie Portman.
20. Favorite emoji?
The crying one [😭]. It's different on Android and iPhone. On the Android, it's like sad crying and on the iPhone, it's laughing crying. It helps keep conversations really chaotic.
21. When you're not filming, what's your favorite thing to do to unwind?
Video games. I play so many video games. I was on Apex Legends for about six hours yesterday. That's really unhealthy.
22. What's a role that you would love to play next?
Oh, cowboy. But not like any cowboy. Specifically a space cowboy. I'm revealing a lot about myself right now. [Laughs] Obviously, I love genre stuff, but cowboy just sounds cool. I want to write one of those [parts] for my Asian brothers. There are stories that we have, stories from the railroad days, that we can bring to life.
23. If you could have any superpower, what would it be?
Teleportation. Nightcrawler style. Maybe not Nightcrawler style 'cause he has to see where he's going. Teleportation, but just like meta teleportation, so I can pop over into wherever I want on the other side of the world without worrying about if I'm going to bury myself in a wall.
24. Name something on your bucket list.
I want to walk that trail in Spain, the Camino de Santiago. It takes many weeks to complete. You can do portions of it and there are stops on the way, but it's not predefined. You sort of have to figure out how you can camp, etc. I want to do that. It takes some months, but that would be something I very much want to do.
25. We've seen an increase in diversity and inclusion when it comes to the Marvel Cinematic Universe, with films like Black Panther and the upcoming Shang-Chi having BIPOC leads. Is there anything that you'd like to see as the franchise progresses?
They're doing a lot of the right things already. We have Ms. Marvel coming out, which is focusing on a South Asian, Middle Eastern [character] and is really dope. Shout out to my boy Saagar [Shaikh]. I think they're on a very good track. If you really think about it, Simu [Liu] is one of the first Chinese males coming out on the big screen. I don't think any other company would have done that. They wouldn't have hedged their bets.
There's this saying that I heard once in screenwriting school and it has stuck with me, it's that producers aren't looking for a new item when they say they want something fresh and new. They're always looking for the new item on the Olive Garden menu. I don't think that's true at Disney. I really think that they do [want something new]. Otherwise, they wouldn't have cast Ms. Marvel the way they did, they wouldn't have cast Shang-Chi the way they did if that were the case. So yeah, I really do give them props for that.
26. With the recent spike in hate crimes against the Asian community, what are your thoughts on how we heal and move forward?
It's a hard question because I think right now we're in triage, which by definition is less about healing and more about not dying. We have to move together. As minorities, we have to come together. There's a lot of division. None of that attitude is helpful.
"Our collective answers as millions of people in this country will form the solution."
As diverse peoples within this country, we come to different symptoms, but they're all from the same root source. There is a supremacy system in this country that needs to be addressed. And the economic reality is, once it is, there's more for everyone. We don't have to brawl over everything.
And that's not enough of an answer. No one has enough of an answer. But I think, collectively, our collective answers as millions of people in this country will form the solution. Looking to one specific person for very specific guidance doesn't always work; this is going to have to come from everyone.
27. Finally, if you could have the dream job you wanted as a kid, what would you be doing right now as an adult?
Does this include fantasy jobs? I wanted to be a Knight of the Round Table, man. Again, I was very bullied in high school. [Laughs] Everyone else was talking about Terminator and stuff, and I was like, "But I'm Lancelot."
Thanks for chatting with us, Desmond! Be sure to catch him in The Falcon and the Winter Soldier, now streaming on Disney+.
Correction: An earlier version of this post misstated Sarah Finn's title.