On Sunday, June 30, New York City celebrated its annual Pride March.
Several celebs also joined in on the festivities — because who can resist a queer party?! — taking to social media to share their pride.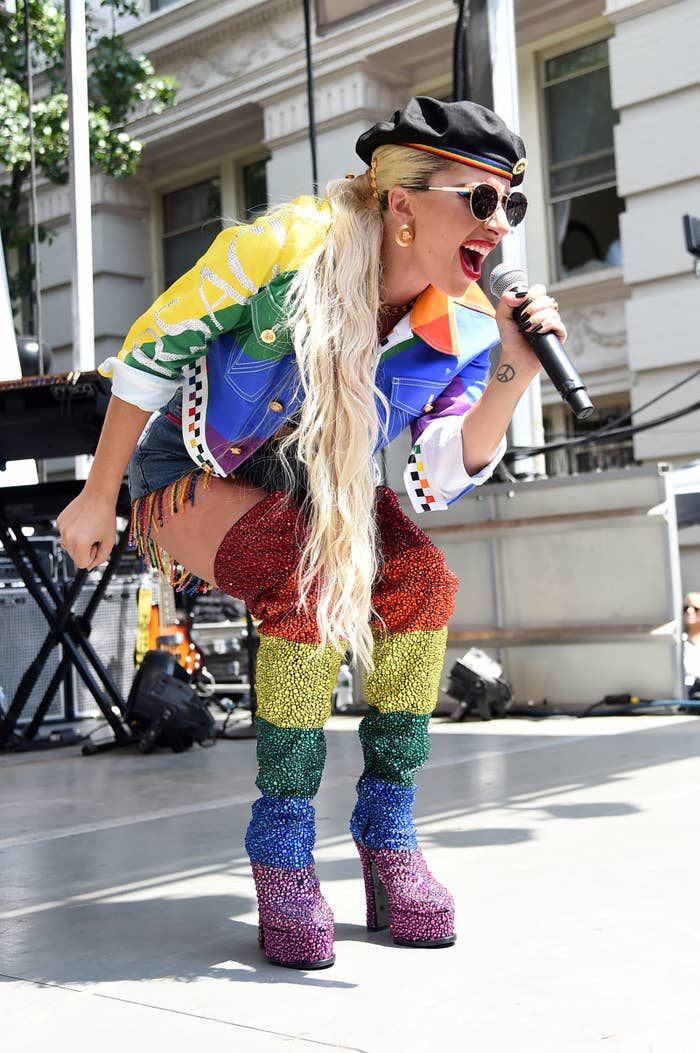 "This community inspires me so much. Your courage, your bravery, your relentless pursuit of kindness. Celebrate yourselves today, and hopefully every day. I love you," she added.
Forever President Barack Obama also expressed his sentiments by acknowledging the 50th anniversary of the Stonewall riots.
Matt Bomer visited the Stonewall Inn in person and shared some poignant words, too, but honestly, all I could focus on was his chiseled jawline.
Madonna, gay icon extraordinaire, shared a video of herself getting ready to celebrate.
Fashion designer (and former Spice Girl) Victoria Beckham also used her visuals to rep her pride.
On Friday, Andy Cohen posted this snap of himself in front of the Empire State Building, which lit up in honor of the pride flag.
Meanwhile, Kate Hudson looked fab in a sailboat while schooling us on what it means to be "straight."
Wendy Williams was also spotted rocking the rainbow flag, literally.
Olympic skier Gus Kenworthy wore a tie-dye crop top to show off his pride — and his abs — because hunny, why not?
Queer Eye's Karamo Brown and Jonathan Van Ness also made bold statements with their Pride day outfits.
Nicki Minaj gave a shoutout to her LGBTQ+ Barbz...
...and Drew Barrymore got artsy with her Pride love.
Looks like all of my faves were feeling gay (see: happy) AF to showcase their pride this year and it makes my heart overjoyed. :')