1.

Jennifer Lee directed this animated film, the first directed by a woman to earn more than $1 billion in gross box office revenue.

Getty Images

Lee is also the first female director of a Walt Disney Animation Studios feature film. Yep, she's pretty much a badass.

Via Disney

2.

The world's largest standing army belongs, appropriately, to this country.

Thinkstock

The most populous country in the world fittingly has the largest standing army, which currently numbers at a whopping 2,333,000 service members.

Via Thinkstock

3.

We mustache you if you can name the only U.S. president who also served on the Supreme Court.

Thinkstock

Who is William Howard Taft?

After he got dislodged from his bathtub, Taft went on to serve as Chief Justice of the Supreme Court for nine years!

Via The White House

4.

This comical Shakespeare character was so popular, he appeared in not one, but three of his plays.

Thinkstock

The buffoonish character appeared in Henry IV, Part 1 and Part 2 and The Merry Wives of Windsor.

Via Creative Commons

What is Beauty and the Beast of Burden?

Before & After is the most common Jeopardy! category, according to Tableau Public.

Via Disney

6.

Fidelio, the story of a woman disguised as a prison guard, is the only opera written by what German composer?

Thinkstock

Believe it or not, he really did only write one opera. What a failure.

Via Thinkstock

7.

Starting in 2017, this author of just six books will be featured on the £10 British bank note, replacing Charles Darwin.

Bank of England

Go Jane!

Via Thinkstock

8.

This Danish astronomer allegedly died from a burst bladder after a banquet, believing that going to the bathroom during a meal was poor etiquette.

Thinkstock

If a Jeopardy! clue mentions a Danish astronomer, the answer is almost always Brahe. This is known as a Pavlov in Jeopardy! parlance, and there are many of them.

Via Thinkstock

9.

This European duchy is also the least populated country in the European Union.

World Atlas Book

Another Pavlov! The words "European duchy" always mean Luxembourg.

10.

It's the northernmost state capital named after a U.S. president.

Library of Congress

What is Madison, Wisconsin?

Jeopardy! loves asking about state capitals, and so does this quiz.

Via state-capitals.org

11.

Lather up! The word for this hygiene product is derived from a Hindi word whose Sanskrit root means to press, knead, or soothe.

Thinkstock

Word origins is an incredibly common Jeopardy! category. Study up!

Via Thinkstock

12.

These darn ancient people of what is now Italy used a unique and highly mysterious language to communicate.

Thinkstock

"Those Darn Etruscans" is a classic category and clue, and it usually gets a good laugh out of everyone.

Via Flickr

13.

This Arctic animal, described as having "skin like a beard," is Alex Trebek's favorite.

Thinkstock

Trebek really, really loves those musk oxen, and they show up in clues from time to time. Read more about his obsession here.

Via Jeopardy!

14.

It's the only letter not to appear in anywhere on the periodic table.

Creative Commons

Every other letter of the alphabet appears on the periodic table, except J. Poor J.

15.

The first football mascot is thought to be Yale's Handsome Dan, which is what type of dog?

Yale University

Colleges and universities (and sports!) are incredibly common Jeopardy! categories. Anyway, Yale still uses a real bulldog at its games!

Via Yale University

16.

This iconic classic rock band was known as The Quarrymen before its name changed to this much more familiar one.

originalquarrymen.co.uk

The Quarrymen doesn't have quite the same ring to it, does it?

Via The Beatles

17.

It's time for Final Jeopardy question!!! The category is College Towns, and here's your question:

Ann Arbor was founded in 1824 by land speculators John Allen and Elisha Walker Rumsey, who named it for their wives, both named Ann, and for the stands of Bur Oak in the 640 acres of land they purchased for $800 from the federal government. What a steal!

Via youtube.com
Only A True Genius Will Ace This "Jeopardy"-Style Quiz
You're smart, for sure, but you've got a little studying to do before you become a true Jeopardy! master.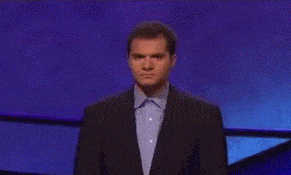 You're pretty good at this trivia stuff! Good enough, we bet, to even win an episode. Keep on learnin' and you might become the next Ken Jennings!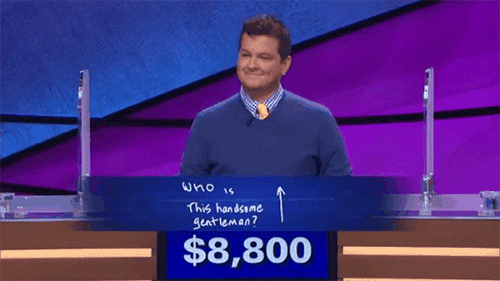 You know your shit, and you could own a couple episodes of the show! Keep on keepin' on, you smartypants, you.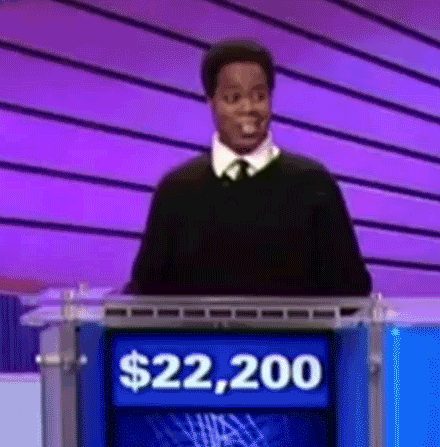 Ken Jennings, is that you?! Not only are you brilliant (and a wagering whiz), but you also get all the cult-like inside jokes of the show. Bravo!