Hello from your friendly neighbors, Sofía and Leslie. We write for BuzzFeed. Sometimes, having this job means you get to try the world's spiciest chip, watch a watermelon explode IRL, go ghost-hunting for a day, or, on a really good day, hit up one of those fancy events you'd never get invited to were you not a writer for BuzzFeed. Last Monday, that event was Telemundo's "Shift Happens," where Enrique Iglesias gave a private concert to advertisers and business partners in NY. And so we went, we conquered, and, in the process, THINGS GOT LIT. Here's why it was craay, in the best of ways.

1. The talent present was incredible.
Leslie: When we arrived at the event, we weren't sure which Telemundo ~stars~ were going to show up. And then we were handed two pages showcasing the guests — a plethora of uber-recognizable TV personalities: Adamari Lopez, Carmen Villalobos, Jorge Bernal, Danna Paola, AND DON FRANCISCO (among others).
I MEAN, had I known this'd be the day I get to know my childhood idol, Don Francisco, I would've at least combed my hair (I would've felt more comfortable wearing the mask from El Chacal). Anyway, me, perhaps the more dramatic of the two, got a little lightheaded after seeing this robust guest list, so Sofía suggested we cross the street and get me some Tex-Mex. After a hearty bowl of beans and beef, I felt ready to marvel at the sight of some hotties (look, Don Francisco is hot for his age, k?).
Sofía: Leslie devoured her burrito, and we headed to meet the man of the hour: DON FRANCISCO. I seriously texted my mom to tell her I was about to meet this amaaaaazing man of my childhood memories.
Leslie: It was a bowl, Sofía.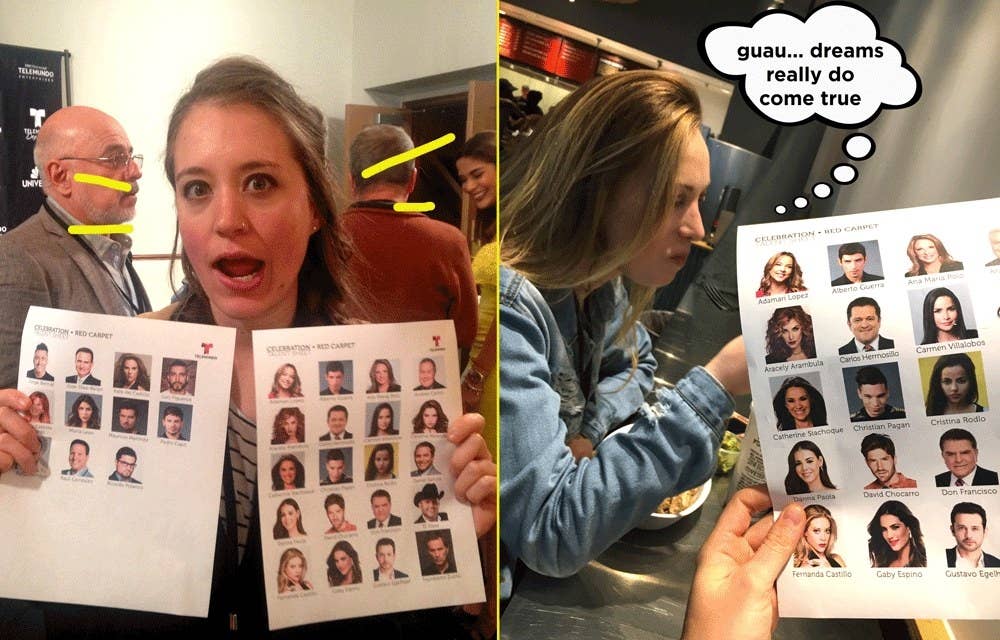 2. And then we ACTUALLY saw them walk the red carpet.
Leslie: There we were, just a couple of stiff bodies, frozen with excitement, witnessing one Greek (err, Latino) statue after another. You know the term "starstruck"? Well, when you see creatures that look like gods and goddesses, I'd say it's more like getting "star-punched-full-force-right-in-the-feels."
Sofía: Yes, Leslie was enchanted with all the hot Latino actors…and even tried talking to one of them. Although I THINK the only words that came out of her mouth were: "What did you have for breakfast this morning?" But it could have been worst.
3. It even made us ponder some big life questions.
Leslie: After seeing the celeb guests graciously walk and give interviews, we wondered: How the heck did these people have so much energy and display cero nervousness as they talked to one reporter after another? I can barely talk right and look at the cashier in the eyes when I'm trying to get my order at a cafe. AND HOW THE HECK CAN THEY WEAR THOSE HEELS? I would've taken five steps in those and reached for my chanclas.
Sofía: Yeah…I kept wondering how could they look so flawless wearing heels. I can't stand in them for more than 15 minutes. Seriously.
4. We saw the most beautiful creature on earth.
Leslie: Don Francisco graced the red carpet with his presence, and his golden aura eclipsed all other living beings around him. Sofía and I decided to interview him, settling on asking him the most meta question of all questions: "Don Francisco, you are one of Latin America's most well-known interviewers, what is one of the best questions one can ask a celebrity?" And bam, after he'd replied, we'd ask him his own answer. BUT…Don Francisco walked, or should I say, levitated too rapidly for us to grab him, and all we were left with was a whiff of his scent, a mixture of nostalgia, havanos, and brujería. I'm pretty sure Sofía died and went to heaven, then resurrected and died again when she saw Don Francisco — she was fangirling hard. #RIPSofia ("Murió feliz.")
Sofía: LOL. Of course I died, and I think I'm still dead as we speak. So much joy was too hard to handle!
5. We saw the second-most beautiful creature on earth.
Leslie: OK, seeing Don Francisco was a beautiful experience, but then Carolina Miranda, the star of Señora Acero, hit the red carpet, and I understood that in this world there's beauty capable of inciting wars. She's what I imagined Helen of Troy must've been like.
Sofía: She's Helen of Troy dipped in glitter and perfection!
Leslie: Yeah, like a human version of My Little Pony.

6. The venue was bomb.
Leslie: There was an after-party scheduled after the red carpet, where Enrique Iglesias was set to perform. Tbh, I was expecting something intimate, like, maybe a couple of projectors and Enrique going full-out acoustic, BUT NO — I couldn't have been more wrong. We walked into what seemed like the baddest club in Las Vegas combined with the techno tent at a music festival. I don't know if it was the Tex-Mex I ate or the excitement, but my stomach felt like a lavadora on the spin cycle.
Sofía: We were hipnotized with the cube-shaped screens and the surreal visuals and music that were coming out of them. Waaaay cooler than what you see in any other music venues.
7. Cesar Conde, Chairman, NBCUniversal Telemundo Enterprises, got us pretty excited about everything Telemundo, tbh.
Leslie: Before Cesar Conde said a few words about Telemundo's steady growth, they showed an action-packed reel of Telemundo's upcoming productions, and I really want to watch every single one of them, especially La Reina del Sur with Kate del Castillo and this one mini-series called El Secreto de Selena, which is probably going to perplex the crap out of viewers, much like the name suggests. Plus, like, IT'S FRIGGIN' SELENA. If I go missing in 2018, you can find me locked in my room, Telemundo and chillin'.
Sofía: Wait…and please don't forget Luis Miguel. We'll finally know the real story behind El Sol de México! Aaaaand the FIFA WORLD CUP is finally coming! I'll be watching some Telemundo too.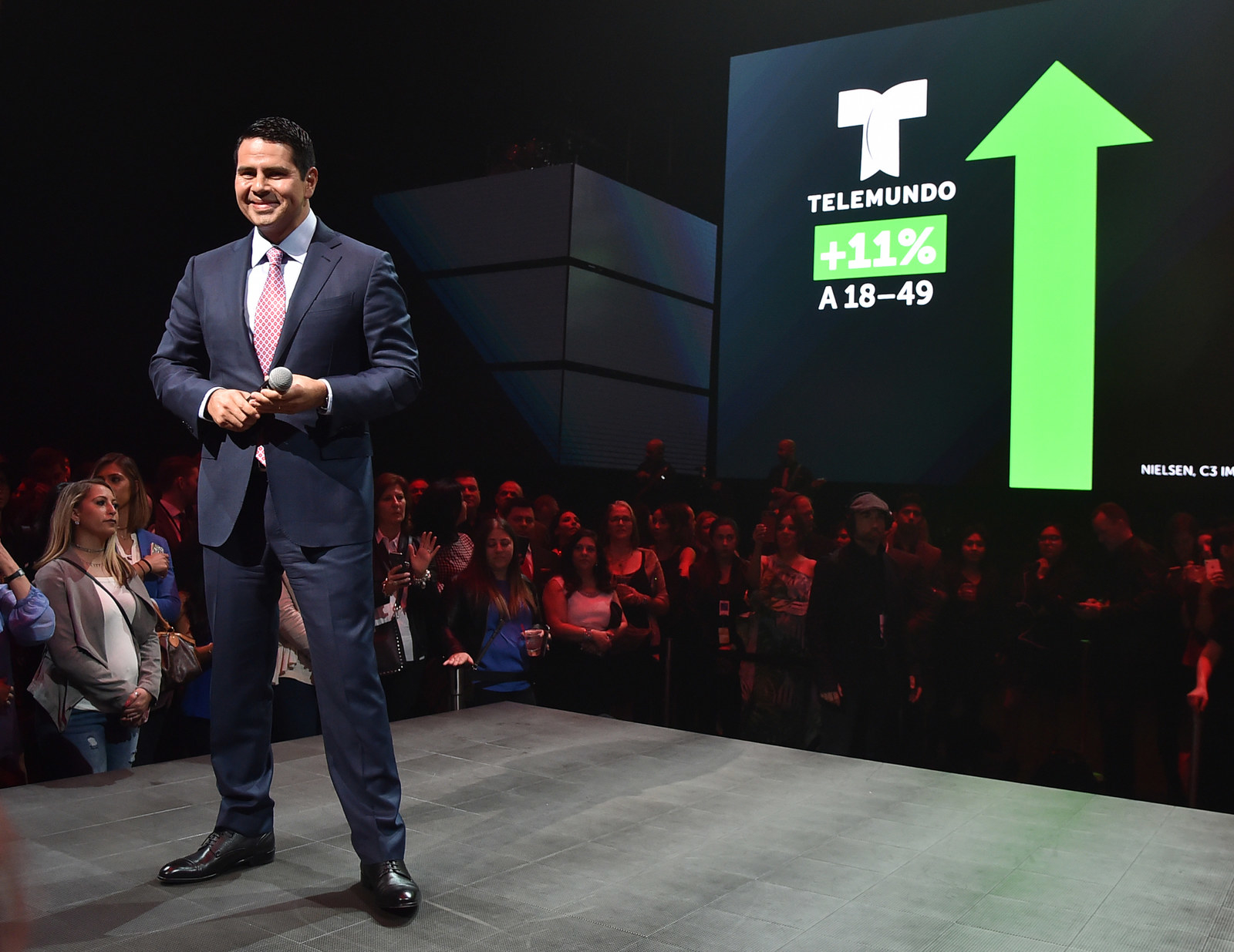 8. Four talented musicians kicked off the party.
Leslie: Christian Pagan, Luis Figueroa, Pedro Capó, and María León jumped on stage, which was this sort of shiny cube right in the middle of the venue — and man, things got LIT. Luis's hips swayed like a sexy pendulum, completely hypnotizing me. I mean, I didn't know someone's dancing was capable of producing a neurobiological reaction in me, but dang…I was in a trance.
Sofía: Also, they had the most pristine hairstyles I've ever seen. Like…how can someone wear a perfectly groomed field of grass so graciously?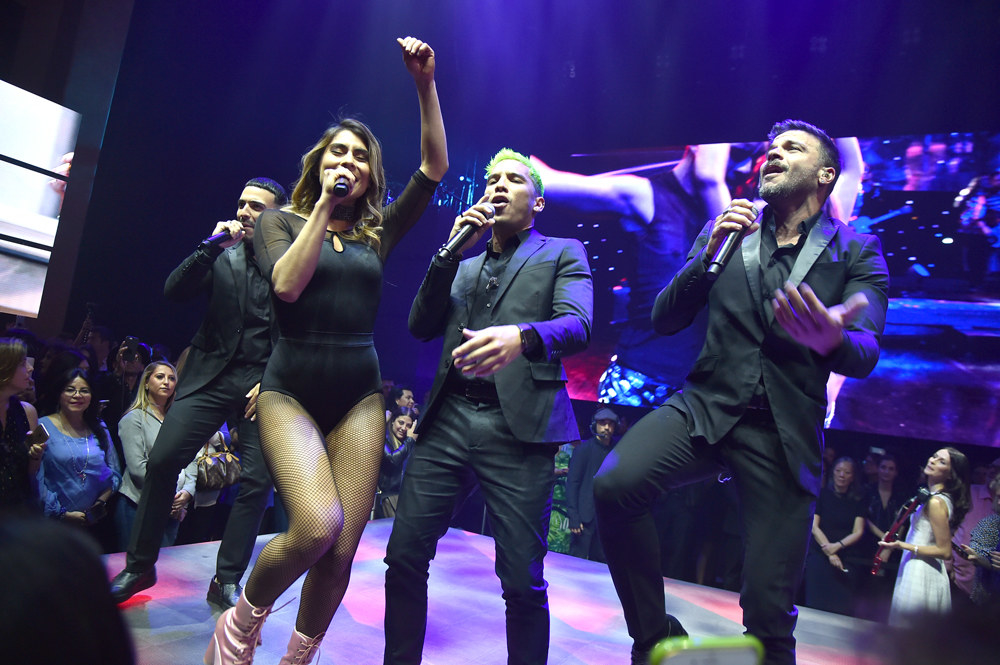 9. Enrique Iglesias made all our dreams come true.
Leslie: Enrique Iglesias healed my broken heart back in 2001 with his album Escape and then made me cry countless times with Quizás. Monday night, watching him perform, a sweaty mythical hybrid, half-human and half-deity, I fell in love with him all over again. Sofía was yawning, but I was dancing harder than anyone in the venue…BAILAMOOOoOOs, let the rhythm take you over bailamoooOoOs. THANK YOU TELEMUNDO. ENRIQUE, MARRY ME.
Sofía: I wasn't yawning! I was singing. Enrique was having SO much fun. And of course that is contagious! Thanks, Telemundo. You gave our Monday an unexpected and amazing turn!
Leslie: Yeah…that myth about Mondays being awful? Not for me, not for us.