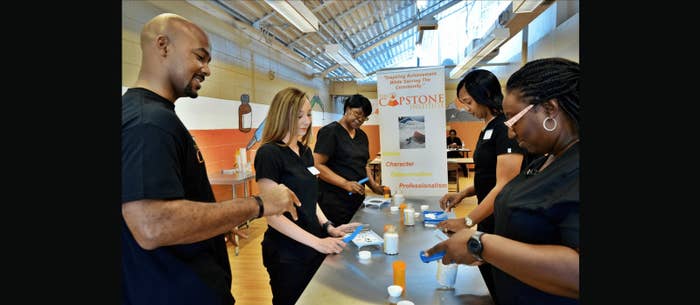 The Capstone Institute changes the way young people in the community look at education.
Talk about innovation: A new type of tech school is booming in the somewhat forgotten community of northwest Jacksonville. It's a pharmacy tech school, that changes the way the young people in the community look at education. This pharmacy tech school goes by the moniker "The Capstone Institute" which is a nod to the goal of helping people reach their full potential, a.k.a. their capstone.
What makes this school stand out from other campuses in the sunshine state? It's community-based, community driven, and community supported. In layman's terms, it feels more like home than any other campus you will step foot on in the near future, because it views each of its promising students as a potential game-changer, and not simply an I.D. number. As the founder, Dr. Albert Chester II (a native of the area), states "The need was there. We're trying to provide an opportunity…", moreover, an opportunity they certainly have provided! The healthcare industry is on the path to becoming one of the largest employers of the next decade! If there's any way to secure a satisfactory future for the young people in the community and the businesses they run, it would be through the fast-growing industry.
"People are living longer. Everyone is on a pill nowadays," Chester said. "It is a complete introduction to the health care field." That statement may seem like a bit of a laughing matter, but he certainly was not wrong. More and more people are prescribed medications as the healthcare field improves and advances, as a very positive side effect, humans are also living longer in our country than ever before. The quality of life is sliding somewhat downhill, though, as we struggle to find a place for everyone. As Dr. Chester, himself, noted: the average income for individuals between the ages of 18-24 in his Jacksonville neighborhood is under $13,000 per year. As a pharmacy technician, salaries can range from $30,000 to $50,000 a year.
A testament to the success of The Capstone Institute is that while there were only 9 students in the first semester that the doors of The Capstone Institute were open, Dr. Chester was able to personally find donors to cover each of the students' entire tuition costs! In addition to The Capstone Institutes 9 students the institution recently received Sierra Woodcock & Affiliates Award for Excellence. The program only costs $2,600 in its entirety, but for a student straight out of high school or a low-income parent, that can be a heavy burden to carry. That's why the Capstone Institute's staff were so relieved at the outpouring of support from the community. Dr. Chester admitted in a recent interview that the amount of support the community has shown this project has been incredible, welcomed, and possibly even a bit surprising. "It's a launching pad. The reaction has been great," Dr. Albert Chester stated. Of course, who would expect any less from a community that has been known to come together and support one another in natural disasters, economic crises, and much more?
The question now stands as to whether or not The Capstone Institute should branch out beyond its Florida roots and expand into other parts of the country. While there are plans for expansion, you probably won't be seeing The Capstone Institute in New York anytime soon. Chester said he wants to see the program grow but also seeks to keep the footprint on Moncrief Road, right there in northwestern Jacksonville, Florida. "You meet people and hear their stories. If you change the way you look at things, things you look at will change.", he said, and he's actually right. It's this type of belief that brings a community together in this fashion and keeps these innovative businesses running. In a big city of secluded residents and distant travelers, like L.A., New York, or Seattle, you'll still find some support, but you probably won't be able to find a group of people with this level of passion and determination to help you succeed as you will in a small American town like the one on Moncrief Road.
Regardless of where Dr. Chester and his wonderful team choose to expand this institution, it must be recognized that this is a platform that will change the lives of students from across the country and will change countless communities in the process. After all, it's the spirit behind the idea and the drive in the hearts of the participators that will keep this business thriving.