1.
A Revlon paddle brush hair dryer that'll dry, detangle, and smooth your hair in one fell swoop! With this brush, you can say "goodbye" to tangles and frizz, and "hello" to the rest of your good hair day.

Promising review: "This product really deserves its 5-star review. Let's be really clear here, I HAVE 4C HAIR. No really, 4c hair. I spend so much time detangling my hair that it is ridiculous!!! I mean hours. And I have tried every trick in the book. By the time I finish one section, the other has gotten tangled again. My hair is so thick that it would take me 45 minutes to blow it dry, so I just never did it. I was able to blow dry my hair on the cool setting in 20 minutes. I am able to comb through my hair now. I am so relieved. I think I am going to start seeing some real growth now that I will not be putting off my wash days because I simply don't have the time for all that detangling. Not to mention that I was always losing a lot of hair with the detangling process. There was some hair in the brush styler but nothing compared to my usual hair loss. I love this product. The bristles are very malleable, and the bristle tips are rounded. I have read that some folks have had a problem getting their roots to dry. I had no problem at all. This product is well worth the price. I would have paid three times as much just to be able to part my hair without all of the tangles." —king 
Get it from Amazon for $39.99+ (available in two colors).
2.
A moisturizing and detangling almond and avocado shampoo from Design Essentials if you're looking to get rid of tangles, remove dirt, and strengthen your hair all without losing your hair's natural oils. 

Promising review: "This really detangles your hair, no conditioner needed. I could finger comb my natural type 4 hair very easily and remove shed hairs without breakage (great for length retention). Left my hair very soft and moisturized, no stripping of my natural oils. It is very thick, and you don't need much to get a lather. It smells great also. It is the best shampoo I have used for natural hair, and I have tried many." —Millie 
Get it from Amazon for $12.99+ (available in two sizes).
3.
A cute detangling brush for gliding through wet or dry hair, removing knots as it goes. Whether you need it for you or your little one, it'll get the job done without so much as a single "ouch."
Promising reviews: "This is my new favorite brush, and I use it all the time. I have mostly 4a hair, with maybe a touch of 3c here and there, but my hair is definitely in the kinky category, and this brush works great. I'm able to use it on my hair wet or dry as long as I have some product in it. When it's wet, I normally use oil and leave-in conditioner, and it glides right through with ease. With my dry hair, I normally just use oil if I'm doing a pre-poo, and it still glides through, but obviously, I'm much more careful working root to tip. I feel like some of the people who are struggling with this brush maybe don't know how to be careful while brushing your hair root to tip and making sure to use product for extra slip." —Marisa
Get it from Amazon for $11.99 (available in six colors).
4.
A post-workout dry shampoo made with micellar water and apple cider vinegar to refresh your roots and remove odor, sweat, and buildup.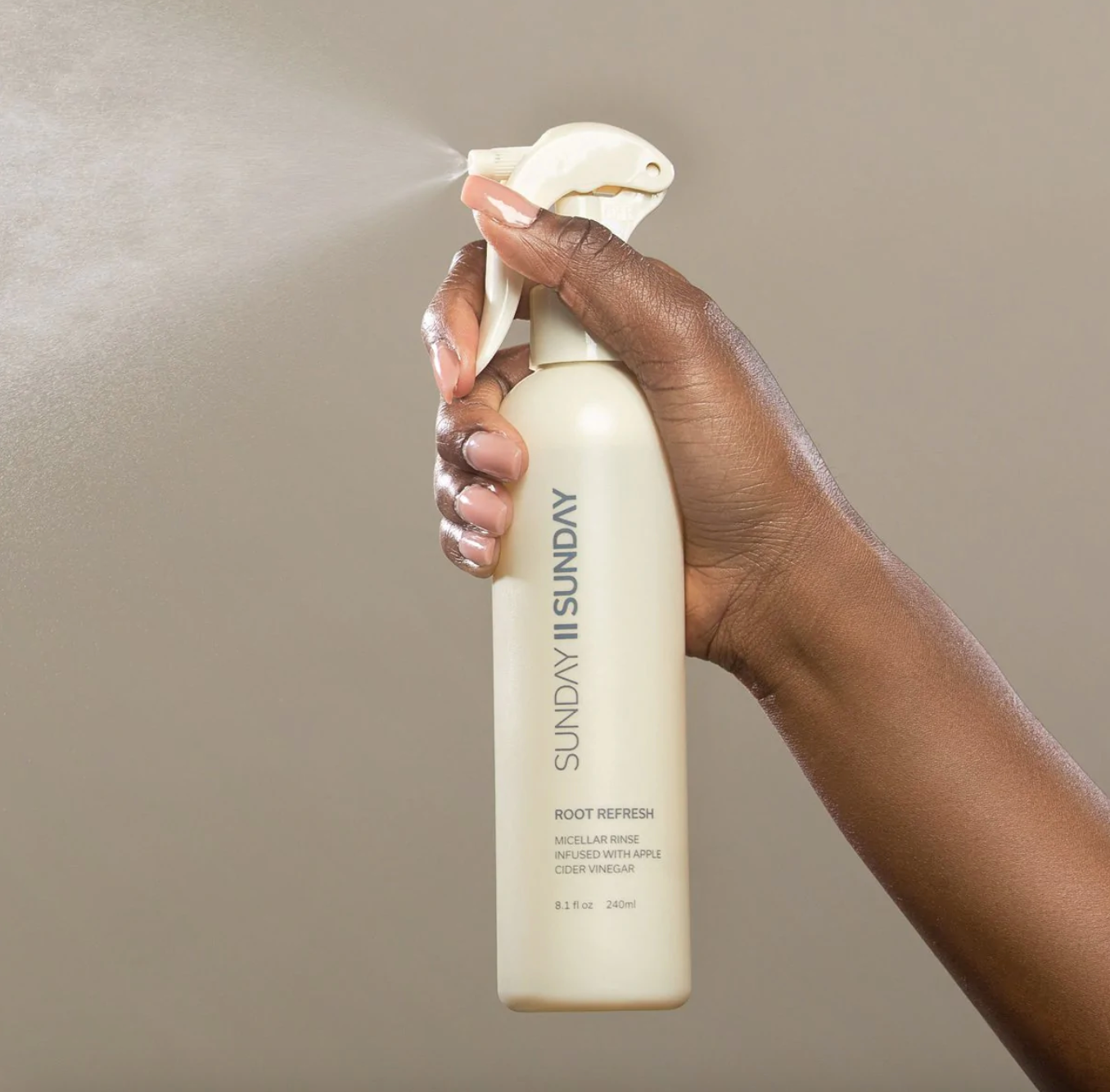 I regularly get knotless braids, and my type 4 hair is not a fan of the sweat buildup that occurs in the heat or after a workout. That's where this miracle spray comes in! It relieves my itchy scalp and leaves it looking and feeling clean. It also smells really good. Just wins all around!
Promising review: "I have a lot of hair, and it is very dry. Dry shampoo makes it frizzier and also hurts my scalp. This stuff is absolutely amazing. Worth every penny. I work out in the mornings, and my scalp gets nasty sweaty. As soon as I'm done, I spray this on my roots and let my hair air dry while I get ready. As soon as my hair dries, it looks like a fresh wash. I am so impressed." —Clare 
Get it from Sunday II Sunday for $31.
5.
A Mielle Organics all-natural mint almond oil that'll reduce shedding and breakage as well as calm itchy scalps.

Mielle Organics is a Black woman-owned small haircare business dedicated to using natural ingredients in their products.
Promising review: "The unique combination of oils in this product works great for my type 4 hair. It has been one of my favorite products for the last few years." —Patrick Elizabeth Sims 
Get it from Amazon for $9.80.
6.
A nourishing leave-in conditioner from My Black Is Beautiful formulated with turmeric, honey, and coconut oil because you deserve frizz-free, easy-to-manage coils! It'll also lock in moisture and elongate each strand.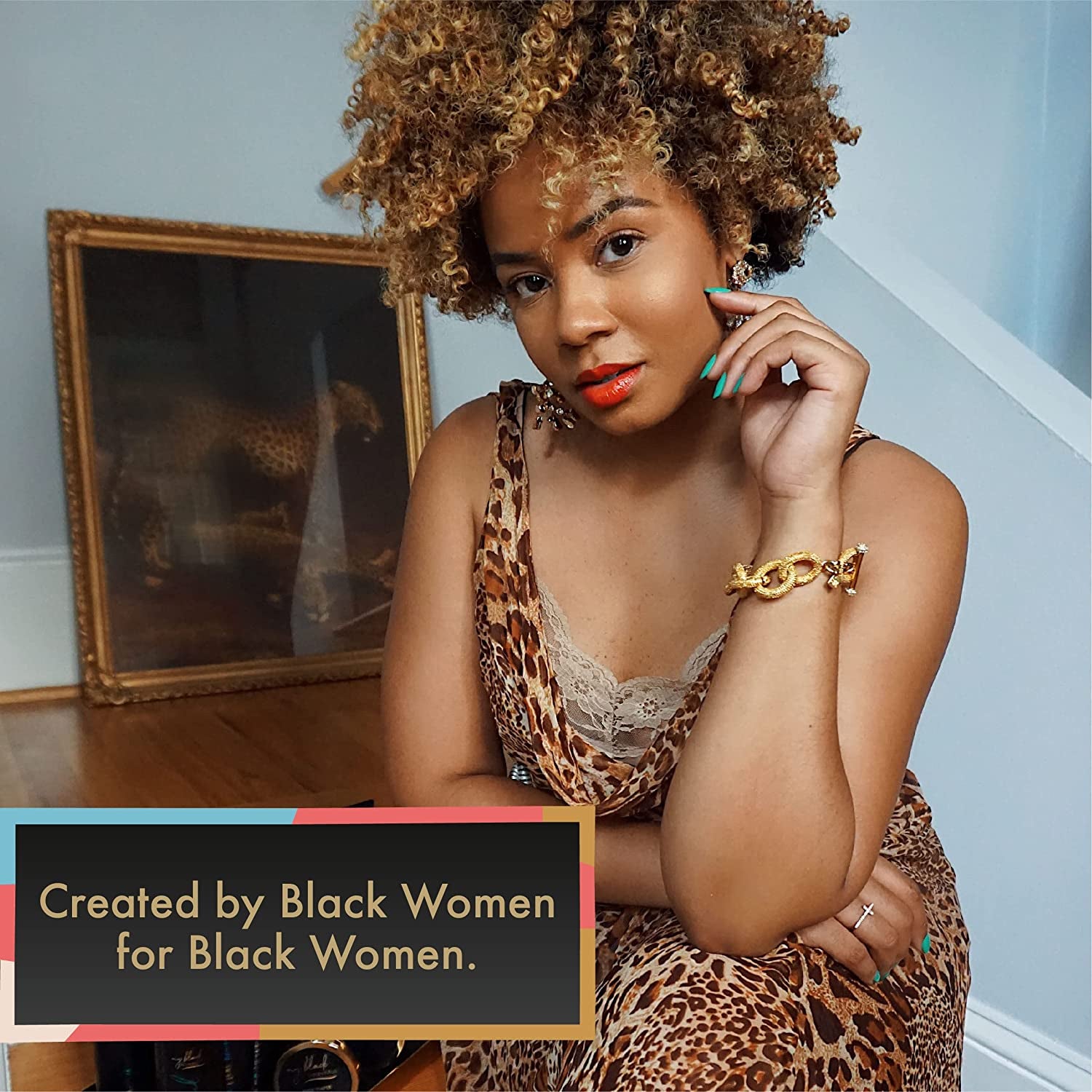 Promising review: "I purchased this product a month ago in anticipation of taking down my double strand twists on my natural hair. I just stopped halfway through my takedown to write this review! It is legit. 🙌🏾 I watched a YouTuber use it, and her hair type was similar to mine, so I took a leap of faith (super thick 4b). I have too many products that are useless, but this right here is one of the best purchases I've made in a long time." —Austen's mom 
Get it from Amazon for $9.59.
7.
A set of satin pillowcases so you can protect your hair (and skin) from the abrasiveness of cotton pillowcases. Its luxurious silkiness will also make you feel like the royalty you are. 👑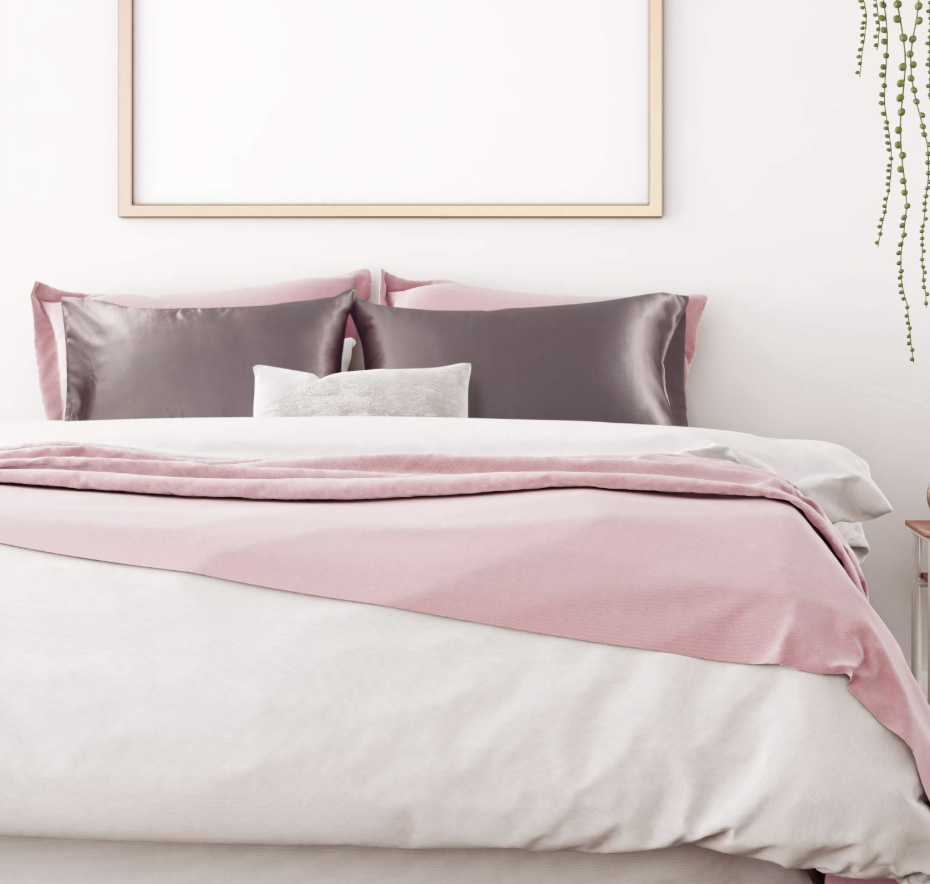 Promising review: "Love themmm!!! Soft and silky. I purchased these for my natural 4a hair. These pillowcases are way better than a silk scarf. When I wake up, I fluff my hair out with my fingers, and that's it! Before these pillowcases, my hair would be flat and stay flat." —Julia
Get a set of two from Amazon for $8.06+ (available in four sizes and 22 colors).
8.
A coconut oil-enriched leave-in softening treatment sure to help you control frizz, define your hair's natural curl pattern, and detangle all in one fell swoop. This vegan formula contains aloe vera and papaya extract because your hair deserves to be spoiled.
Promising review: "My 4c hair loves it. For a twist-out style, the key for my hair: I spritz with water, next apply the Maui Moisture Quench + Coconut Oil, make sure my ends are curled (you can use a few comfy hair rollers), and cover my hair at night. In the a.m., the waves are very defined and beautiful. I've used one container so far, and what I noticed is that when I would wash my hair, the texture was so curly, and my hair was much fuller. I highly recommend." —NEECEE
Get it from Amazon for $7.78.
9.
A volumizing biotin shampoo for hair regrowth. This shampoo has keratin and coconut oil to both strengthen and moisturize your hair.
Promising review: "I'm an African-American woman with type 4C hair. I bought this shampoo recently when I was on the hunt for hair repair products after my hair got damaged during a blowout. I used this shampoo for the first time yesterday, and my hair and my scalp feel amazing. There are very small sections of my hair that are heat damaged permanently. I'll just have to cut those strands off, but this shampoo saved the rest of my hair. I will post some pics later. I hope with continued usage that my regular curl pattern will fully return to normal. I'll keep you guys updated. Update: My hair hardly sheds since using this shampoo!! This is the best shampoo I have ever owned!" —Simone Johnson
Get it from Amazon for $10.76.
10.
A revitalizing hair protein treatment that'll help condition and repair dry, damaged, and over-processed hair. TBH I'm already obsessed with your hair evolution!
Promising reviews: "I have 4c hair and was looking for a protein treatment for my thin and fragile hair. I had recently used a product in my hair that had so much alcohol in it that it wreaked havoc on my hair, leaving it pretty damaged. I was very skeptical about this product because I have never seen anyone with my hair type use it. Boy was I wrong to doubt this product. It left my hair looking and feeling beautiful. I highly recommend it to anyone with natural or curly hair." —Therese-Claire

Get it from Amazon for $7.50.
11.
A pair of scalp massagers because they'll help remove flakes when washing your hair. They'll also provide a nice, soothing sensation to your scalp, which it definitely deserves.

Promising review: "I had been having issues with dry scalp during the winter months. I was also feeling that I could not get my scalp as clean as I wanted. I saw an advertisement on Facebook for a scalp massager and came to Amazon to find one. This is a great find. My scalp is clean. It does not cause my hair to tangle (African American 4c hair type), and it leaves my hair feeling great. I gave the second one to a friend to try, and she loves it. Highly recommend." —sherm98 
Get it from Amazon for $8.49+ (available in six color combinations).
12.
A SheaMoisture hair mask with a manuka honey, shea butter, and mafura oil formula to deep condition and hydrate your hair. Looking for healthier hair? Look no further! Just leave it in for five minutes, and rinse it out.

Promising review: "I use many of SheaMoisture's products. I think it's a great line. This particular product is very nice for my 4c hair! It is rich enough to control the curl pattern, yet not too greasy. I like that a lot." —JoAnn Solomon
Get it from Amazon for $11.37.
13.
A pomegranate and honey Mielle Organics sculpting custard so you can hydrate and condition your coils. The natural ingredients in this custard will help you maintain your hair's health from root to tip.

Mielle Organics is a Black woman-owned small haircare business.
Promising review: "I really love this product. I get questioned often about the product I use on my hair, and I recommend this product. For tight 4c hair, it really helps to bring out and define the coils, and it makes the hair look moisturized. This product makes me love my TWA so much! It creates beautiful definition and shine to the hair." —Hershey C
Get it from Mielle Organics on Amazon for $10.99.
14.
An adjustable and reversible satin bonnet that'll protect your coils as you sleep. And because it has a drawstring, you can be sure it won't slip off during the night.

Promising review: "I normally don't do reviews, but I had to for this. I bought two of these! They are the best I've ever owned, and I have worn a bonnet since I was a kid. I have natural thick 4c-type hair, and I wear my hair in flexi rods, and twist out styles, and I can also fit my flexi rods under this bonnet. I had been looking for a silk XL bonnet for years and finally found the perfect one! Please do not stop making these!" —DEWAmazon Customer 
Get it from Amazon for $14.99+ (available in two sizes and 26 colors/patterns).
15.
Or a satin-lined sleep cap stylish enough to wear outside! This will keep your hair hydrated and safe from breakage.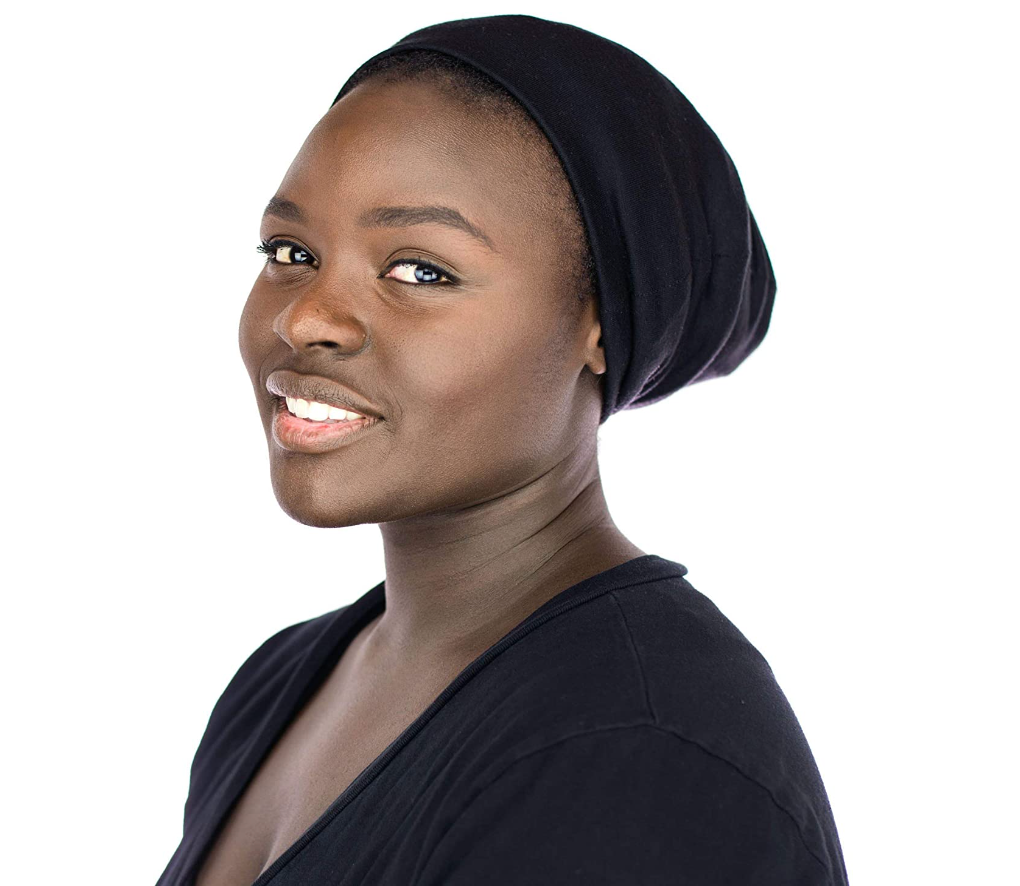 Grace Eleyae is Black woman-owned small business caring for Black women's hair!
Promising review: "Silky wonderfulness. Yeah, I wore it every day the first week I had it. During the day, too! If you have big mixed girl type curls, I suggest the larger size. If you are 4c like me, with extra shrinkage, then the regular fit is good. I can't believe I spent so much for a beanie, but I really do love it!" —Dr.PinkUnicorn
Get it from Grace Eleyae on Amazon for $19.99 (available in five colors).