1.
A pair of teething-friendly silicone food pouch tops because your little one loves their apple and peach snack so much they want to save some of it for later. And now they can! They also help prevent spills and promote self-feeding (since you don't have to worry about messes, you can let them hang onto the pouch themselves).
ChooMe is a small business making it easier for your little one to eat their favorite foods.
Promising review: "These are a game changer. I don't trust my baby to eat a food pouch without one of these on top. Without these caps, she slings food everywhere and ends up a mess. She loves these because they give her the independence of getting to hold and feed herself a pouch without my assistance." —El Kling

Get the pack of two from Amazon for $8.99 (available in five color combinations).
2.
A set of eight colorful stacking cups they'll have so much fun building up and knocking down. It'll also help them practice counting so they can finally tell you exactly how many cookies they want.

Promising review: "My son loves playing with these and it's exciting to see his development stacking, inserting, pretend sipping, and sharing." —Catherine Miller

Get it from Amazon for $7.49.
3.
A pacifier-style baby medicine dispenser since baby doesn't wanna be sick anymore and whenever you use a spoon, medicine just ends up spilling everywhere. This syringe helps with spit-up too since it helps the (nasty) medicine bypass their tastebuds. Double win for baby!

Promising review: "This is an absolute must-have, and you should order it before you're desperately wrestling medicine into your baby's mouth and wishing you did. My daughter wouldn't even take a pacifier and this still made giving her medicine 100x easier. The different components detach easily for cleaning, and the syringe is a standard size so it's compatible with most bottles. If/when your kid outsmarts or outgrows the pacifier part of it, the syringe is still functional and nice to have on hand." —JH

Get it from Amazon for $12.84.
4.
An anti-slip potty-training seat with step stool ladder for allowing your munchkin a little more privacy when they have to do their business now that they won't need help getting onto and off of the toilet.

Do make sure to monitor your little one until you're sure they can use this on their own without falling off.
Promising review: "I couldn't be happier with my purchase! This product has made potty training a breeze and so much fun for my little one. The step stool ladder is adjustable so it is the perfect height for my child to reach the toilet, and the seat is comfortable and fits securely on the toilet. I also appreciate the non-slip design of the step stool, which gives me peace of mind knowing my child is safe while using it. The seat is also easy to clean and the compact design allows for easy storage when not in use. Overall, I highly recommend this to anyone looking to make potty training a fun and stress-free experience. It's a 5-star product that I would give 10 stars if I could! Thank you for making such a great product!" —Shannon M
Get it from Amazon for $35.99 (available in seven colors).
5.
And a portable potty seat you can take on the go so they don't have to hold their pee while you're all out and about. This seat has suction cups that'll help make sure they don't slide off.

Promising review: "I have been having a hard time potty training because if you're in public, the restrooms are dirty and you don't want your little one to touch the bathroom at all. With this potty seat, you place it on the toilet and it suction cups for a secure seat. You place your little on and have them hold you and perfection. My little loves to use it and I love that I don't have to hold her over the toilet or have her touch anything. It is also small enough to carry in your diaper bag." —Jessica A Elliott

Get it from Amazon for $14.99 (available in two colors).
6.
A grape cutter if grapes are your tot's fave snack but it takes you forever to cut them up by hand. And no one likes waiting for snack time to begin. This will quickly slice grapes into quarters so they're less of a hazard for your snacking tot. It's also safe enough for your tot to use (with your supervision, of course).
Promising reviews: "LOVE it. It took three minutes to cut grapes that would have taken me at least 10. As a mom of a toddler, those minutes are precious. It was also fun and easy to use." —Jacqueline

"I wish I would've had this a LONG time ago. This little gadget has come in so handy. If you have a toddler or small child, you NEED this. It quarters grapes, cherry tomatoes, olives, etc. so they aren't choking hazards for little ones. So much faster than slicing every tiny grape up yourself. 10/10 would recommend." —Sara Waits
Get it from Amazon for $11.95.
7.
A set of quick-drying tempera paint sticks because the quicker they dry, the quicker they can get their artwork displayed up on the fridge. There's a masterpiece burning inside of them!
These paint pens are also easy to wash off!
Promising review: "Best invention almost ever (there's still sliced bread). I mean how can you go wrong with paint in a stick?! I mean certainly a toddler can go wrong with it. A toddler can go wrong somehow with a spaghetti noodle!!! But seriously, I saw these paint sticks at one of our local art galleries and it was an immediate MUST-HAVE!!! Vibrant colors and they fit in little hands SO well!!! My kiddo loves them and so does her momma!!" —RNinMD70

Get a pack of 24 pens from Amazon for $19.
8.
A tube of Boudreaux's diaper rash cream — no one likes an irritated booty, least of all your little one. This cream is made with 40% zinc oxide and will last through the night to make sure their butt stays dry. 
Promising review: "The BEST BY FAR! Must have!!!! This is by far my favorite diaper cream! It works instantly for any almost any rash! My son has super sensitive skin and I can put it on before bed and by morning any rash he has ever had is gone or almost gone! Amazing stuff!!! I give it to all my first time mom friends! I HIGHLY recommend, I have tried it all!!!!!" —Amazon Customer
Get it from Amazon for $4.94.
9.
A light-up whale bath toy that spouts water like an actual whale! Your tot will love playing with this during bath time!
See this product in action on TikTok!
Promising review: "My grandson LOVES this! He has so much fun! Loves the colors and how it squirts the water. Really cute for a 1- or 2-year-old. Heck I think it's fun and cute! Definitely a must-have for bath time!" —Faye

Get it from Amazon for $15.98+ (available in four colors/styles).
10.
A machine washable shopping cart cover if your little one hates germs and dirt as much as you do. And if they don't, at least now they can be left alone to suck on the handle without hearing "no" since it'll be covered.
Promising review: "A must-have item. No joke. This thing is a game changer. We used to just carry our daughter in the store because the cart seats are so dirty and uncomfortable. But this thing has made shopping so much easier. It takes like less than a minute to put it on the cart, and it's sturdy and comfy and my daughter loves it. I also like the pockets, toy loops, and clear phone pocket. And they fit any cart — Walmart and Costco carts both fit great." —Amber Brown
Get it from Amazon for $27.99+ (available in nine prints).
11.
A bath toy organizer because your little one wants all their toys with them during play time — I mean bath time. What can they say? They love having options! Made from durable and nontoxic mesh, this quick-drying organizer won't fall apart or grow mold. 
Promising review: "For the price, this thing is unbeatable! The suction cups have held tight to the shower wall since I installed this stuff. It holds all my kid's toys and allows the water to run off of them to prevent mold. I think this is a must-have for bath time organization!" —internalburn
Get it from Amazon for $11.99+ (available pre-stocked with toys or by itself and in five colors).
12.
A pack of spill-proof Munchkin snack catchers whose soft flaps allow for easy access to some good old-fashioned Goldfish but will make sure none go flying out so your little one won't need a chaperone during snack time.
Promising reviews: "This cup is great for toddlers' snacks. The snacks are easily accessible but don't fall out." —Amazon Customer
"What a lifesaver! I mean really! My daughter loves her snacks, she also loves to make a mess, give them to the dog, or fill her car seat up with them. Then cry when she has nothing to eat. My wife picked one up and man...we used it so much, we couldn't clean it fast enough. SOOOO we bought a few more and for less than $5 for two. This is a no-brainer!" —jeffgrantMEDIA
Get a pack of two from Amazon for $6 (available in two color combos).
13.
A battery-operated vibrating mattress pad to help them fall asleep without the constant annoying tossing and turning. If they could count sheep, they probably would. But this is a little easier.
Promising reviews: "Ummmm this thing is MAGIC! My 2-month-old was able to sleep through the night in her Rock 'n' Play but did NOT like her crib for some reason. So I got this just to see if it would work. And oh did it work! I put it under her crib mattress and not only did she NOT cry when I left the room, but she fell asleep in five minutes. No paci either!" —Lauren

"This is honestly one of our most used baby items. We keep it in the car seat but also use it when traveling to soothe baby to rest. People are always asking what it is and I gladly show them and recommend it. It gets daily use at our house." —J. Behnke
Get it from Amazon for $28.75.
14.
A pair of lil' sandwich cutters and sealers if your little one wants to make their own crust-less lunch. For a little bonus independence, you can even let them choose their own fillings!

Promising reviews: "This is a popular item with my grandkids. They are even able to use it themselves." —D Walker
"Ahhhhh, this thing is the best! So mad I didn't buy this sooner and I've been spending all my money on Uncrustables!" —Taylor

Get it from Amazon for $6.96+ (available in 10 shapes/colors).
15.
A pack of Munchkin Arm & Hammer pacifier wipes because baby is tired of you confiscating their pacifier when it falls (or is tossed) to the ground. Now you can quickly clean their self-soother and get it back to them.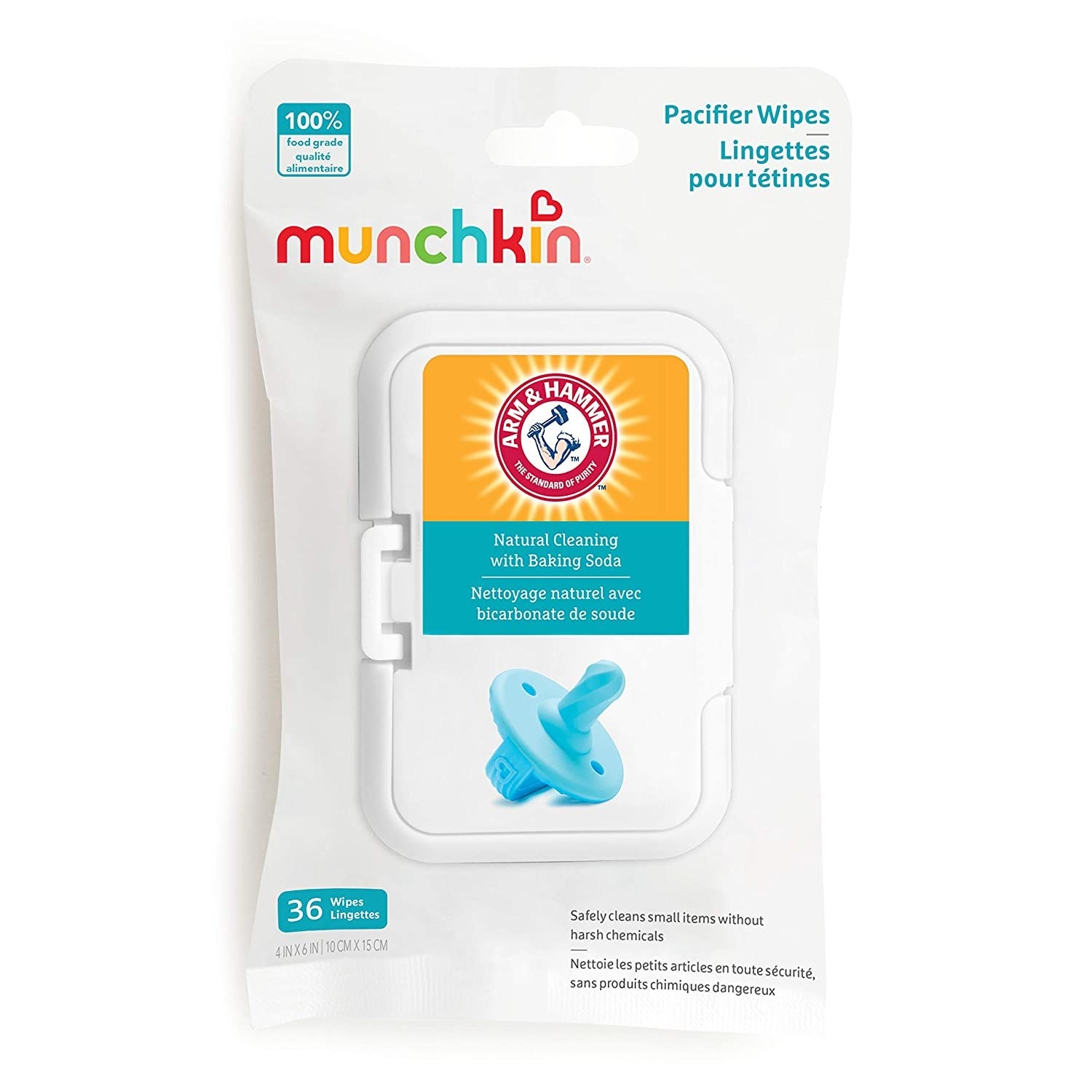 Promising review: "If you have a baby, you know they can get into everything and anything. Keeping the baby and everything your baby uses CLEAN feels impossible. Plus a lot of options for cleaning out there make you concerned to clean your toy/pacifier/bottle/etc. and give it back to your baby. These wipes are 100% food safe. You can wipe off your pacifier or toy or bottle or so on, and as soon as it dries (about three seconds) you are good to give it back to your baby and know that you are giving them something clean you WOULD put in your mouth. Have bought these since our baby was born in January 2019, and will continue to do so. The 36-packs are perfect for diaper bag and on the go! A must-have." —Matt
Get a pack of 36 from Amazon for $4.19.