1.
A pack of teeth-whitening pens to get rid of coffee and wine stains for far less money than you might've thought. This pen's soft-bristle brush is perfect for anyone with sensitive teeth. It even makes application as easy as saying CHEESE!
Promising review: "I was hesitant to try a new teeth-whitening product after using harsh whitening strips that caused pain and lingering sensitivity. But, as a coffee and red wine drinker, I wanted to find a solution. This teeth-whitening pen is terrific. Easy to use, works well and does not have the downside of either the strips or the $450 option at the dentist. I also really love this product since whitening my front teeth is the objective. It is a great value as I anticipate the two pens that are included will last one year. I will definitely buy this again and am very happy to recommend it." —Rebecca Shehee
Get it from Amazon for $19.99.
2.
A coconut oil-rich leave-in cream you let air dry for perfectly smooth and hydrated curls!
Promising review: "I'm so grateful that I found this product. My hair is wavy and frizzy. Every once in a great while my waves resemble curls but the frizz is always there. I've only used this product one time so far and I never want to be without it. I put some on after towel drying (no brushing) my hair, and my waves actually resembled curls! It wasn't instant so I was skeptical but after about 15 minutes I caught a glimpse of my hair in the mirror and I was amazed. It looked styled. I slept on it and it still looked great in the morning!!!" —mich0610
Get it from Amazon for $6.97.
3.
A paraben- and fragrance-free CeraVe hydrating cleanser made with hyaluronic acid and ceramides so when you go to remove dirt and makeup from your face, you're also moisturizing your skin! 
Promising review: "I absolutely love this product! I spent so much money on expensive face wash and face creams and nothing worked like this. I always had breakouts on my chin and redness. No matter what products I used, it didn't fix my problem. I bought this cleanser two weeks ago and used every day. I noticed my redness and pimples clearing up in three days! It leaves my skin smooth, healthy, and clear. I just order another bottle in case they sell out. CeraVe, please never discontinue this product. I can't thank you enough for making me have confidence again 💕💕💕" —Adriana
Get it from Amazon for $14.29.
4.
The Pink Stuff cleaning paste because no sticky saucepans, streaky stainless steel, or gunked-up glass shall prosper against you or this versatile and easy-to-use cleaner. This can also remove those colorful drawings your kids left on your white walls!
Promising review: "I need this in bulk!! I have tried so many cleaning solutions to get out hard cooking stains on my stove top and nothing worked! This stuff took it right out without a problem!!" —Micaela Gunderson
Get it from Amazon for $9.99.
5.
A vegan and paraben-free self-tanner if you simply don't have the time to lay in the sun to get the glow you deserve. Get the tan of your dreams in just an hour!
Promising review: "If you use St. Tropez tan products or any fake tanner, do yourself a favor and try this. This stuff is AWESOME. Dries quick, lasts longer, does NOT make your skin stinky, applies even, and you get a fair amount of product!! Other tanners I've used become VERY noticeable when they start fading. Gross hand lines, patchy white spots, etc., but not this stuff." —Amazon Customer 
Get it from Amazon for $9.97+ (available in nine shades).
6.
Some Glisten garbage disposal cleaner that'll foam up and scrub your disposal, leaving a fresh scent behind instead of icky drain pipe odors.
Promising review: "Wow, OK, so this is the coolest thing ever (y'know, as far as cleaning goes). It's super easy to use and works SO well! I've only ever used DIY methods to clean my disposal and just assumed it was working. I decided to buy this because I noticed that flies were starting to hover around my sink. So glad I did! After using this, I saw something silver in my drain that caught my eye and omg, it was my garbage disposal. I've lived in this apartment for three years and legit didn't know it was silver down there — and I clean it regularly! Absolutely incredible. Let me tell you, that sink was sparkling. Highly recommend." —Lindsay S.
Get it from Amazon for $3.98.
7.
A curly hair children's leave-in detangling conditioner made with jojoba oil, vitamin B5, and plum seed oil to make wash day for your little one waaaay easier.
Promising reviews: "This has been a life saver for thick, somewhat fine, curly hair that tangles and elicits the screams of a banshee when brushed with a wet brush and any other detangling product or oil. We've tried at least six different ones, including making our own with coconut oil/grapeseed oil/conditioner, which just resulted in oily tangles. This spray is now on our subscriptions and all our kids ask for me to use it." —happyshopper
"Why didn't I buy this sooner? Tamed my kid's frizzy curly hair and gave him the most beautiful ringlets." —Lindsay
Get it from Amazon for $8.28.
8.
A hydrating leave-in conditioning spray because it's made using argan oil, shea butter, and jojoba proteins. It's formulated to get rid of knots, tangles, and flyaways, so you can expect to have a good hair day every day. 
Promising review: "I was very skeptical at first but was quickly impressed with how much easier this product made my hair to brush tangles out of. I use it on my wet hair after I shower. I have thick, straight hair that is past my shoulder blades. After having gotten a balayage, my hair gets super tangled and is drier now after my showers, even with conditioner. This helped add a light extra conditioning to my hair as well as help detangle my wet hair, allowing me to quickly brush my hair without pulling more hair out." —TeamDavidAndSarah
Get it from Amazon for $5.99.
9.
A fume-free oven cleaner so powerful you might just convince yourself you replaced your oven altogether. This heavy-duty cleaner can remove grime, stains, and caked-on food in 30 seconds!
Promising review: "I don't normally write reviews, but HOLY MOLY if you're looking for an oven cleaner, BUY THIS ONE!! I'm fairly sure no one has ever cleaned my oven since the day it was installed in this apartment many years ago, and I'm embarrassed to admit that includes me (seven years living here). I wiped up spills and such after cooking, but never did a deep clean before because I thought it was going to be a gargantuan task. I sprayed on a layer of Easy Off foam, let it sit overnight, and started wiping it off with a wet sponge the next day. Talk about 'easy to remove' — this cut through YEARS of baked-on grease splatter like it was nothing. My sponge was black after the first swipe, but I could actually see clean metal! Many rinses/wipes later, I have an oven that looks almost new." —L. Lietzke

Get it from Amazon for $6.27.
10.
Or an eco-friendly oven scrub cleaner for tackling all the caked-on messes you've learned to ignore. It's made with natural ingredients (including pumice stone and baking soda), so you'll get your oven back without all the toxic fumes.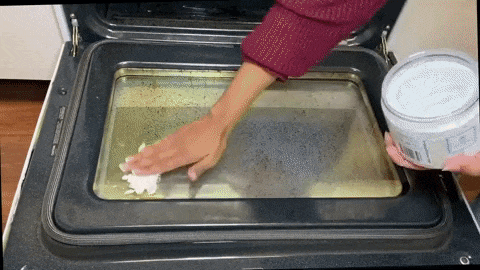 Everneat is a small business based in Fairfield, Connecticut, that specializes in natural cleaning products.
Promising reviews: "This product is amazing! It works fast with pretty minimal elbow grease. The stainless-steel sponge that comes with it makes it easier. And it smells great!" —Melissa C.
"This cleaner exceeded my expectations! I have the nastiest oven and thought it would never be clean due to all the baked on grease. But this amazing oven scrub took it all away!" —kahernandez75
Get it from Everneat on Etsy for $19.99+ (available in a plastic or glass container).
11.
A CeraVe body wash with salicylic acid and ceramides that'll help you deal with any "chicken skin" flare ups. This will exfoliate your skin and leave it feeling moisturized!
Promising review: "My 6-year-old daughter has keratosis pilaris, commonly known as 'chicken skin.' This year it really flared up during warm weather so I gave this wash along with lotion a try. Wow, I saw results after just a few uses and after a couple of weeks most of her bumps disappeared. Thrilled we skipped a trip to the dermatologist! Can't beat this price for the results either." —Ashley Steigerwald
Get it from Amazon for $12.74.
12.
A set of color-coded Scrub Daddy sponges because they're magically scratch-free *and* tough on water stains and caked-on messes. Your kitchen, bathroom, and every room in between won't know what hit 'it.
Promising review: "I LOVE them! They remove food off of dishes more easily than a sponge, and I can just throw them in the top rack of the dishwasher and they come out spotless! They never smell and always rinse out nicely between washings. These little gems even take off hard water buildup from my shower doors!" —DivaGranny
Get a pack of three from Amazon for $9.98.
To learn more, check out our Scrub Daddy sponge deep dive.
13.
A foaming wall cleaner if you've got scuff marks, fingerprints, or your kids' drawings all over your walls. Just spray and wipe!
Promising review: "This product worked very well where my 4-year-old wrote on the wall. I found it takes more than one application depending on the ink. Smudges and doors come clean with one use. I'm very satisfied and will reorder. I have found that all Zep products work very well. It's become my go-to brand for cleaning supplies." —John Winand, Jr.
Get a two-pack from Amazon for $14.99.