1.
A fume-free oven cleaner so powerful you might just convince yourself you replaced your oven altogether. This heavy-duty cleaner can remove grime, stains, and caked-on food!
Promising review: "This is truly a miracle product. My husband and I are fairly new homeowners and inherited an oven that quite possibly had never been cleaned before. It was completely brown with caked-on debris. It smelled so bad when we used it that I had to do something. I sprayed the oven throughly, left it overnight, and wiped clean with paper towels. There were still a few spots that I scraped with my nails, but overall this product did an outstanding job. Now I know what color my oven is and can see through the glass. Highly, highly recommend!!!" —Suzanne Butler

Get it from Amazon for $6.27.
2.
Or an eco-friendly oven scrub cleaner for tackling all the caked-on messes you've learned to ignore. It's made with natural ingredients (including pumice stone and baking soda), so you'll get your oven back without all the toxic fumes.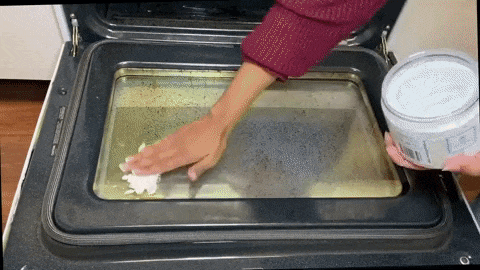 Everneat is a small business based in Fairfield, Connecticut, that specializes in natural cleaning products.
Promising reviews: "This oven scrub is LEGIT!!! An absolute miracle worker. Before trying this, nothing seemed to be able to cut through the baked-on grease that had accumulated on the window glass over the years. Plus I didn't like using harsh chemicals, especially having a dog in the house, I didn't want her breathing chemical fumes. I tried this scrub because of so many good reviews and they are true!!! I took a picture after scrubbing one half of the oven door and window and couldn't believe the difference. And that was after only 10 minutes of scrubbing! I had forgotten what a pretty cobalt blue my oven's interior was! I will be telling everyone I know about this amazing scrub. This would be a fabulous gift to a new homeowner!" –katemgs

Get it from Everneat on Etsy for $19.99+ (available in a plastic or glass container and in three scents).
3.
A bottle of professional grade callus-removing gel that'll remove years' worth of calluses quick and easy. Just presoak your feet, apply the gel, let it do its magic, and rinse!
Promising review: "Miracle worker. I had really callused feet from years of dancing, running around barefoot, and just not taking care of them. My heels were cracked and rough and I had tried just about everything and pretty much accepted that they would never be much better. But this stuff seriously made a HUGE difference the first time I used it!! I've used it twice now and my heels are so smooth! I'm literally so thankful I tried this stuff. As others have said, be careful with it since it is so intense! Start out with just a few minutes and see how you respond to it ;)" —Meryl Marciniak
Get it from Amazon for $13.87.
4.
A vitamin E-rich fade cream to help even out your skin if you have dark spots, scars, or discoloration. It even contains sunscreen so you don't have to worry about spots getting dark again!
Promising review: "This stuff has been a miracle worker for my skin. I had purchased it with the intent of spot treating some post-acne facial scars, but instead I just put it on my face like any other cream. In the couple weeks or so since I've had it, my dark spots have dramatically lightened. Not only that, but it has also calmed the redness in other areas of my face, like around my nose; that was a bonus! My face has not been this clear and even-toned in a LONG time. The cream is lightweight and moisturizing, so much so that I don't even need the other moisturizer that I had been using. I have also been spot treating a couple of scars on my leg (bad shaving job) and it seems to be helping with that. I'm not out yet. but I placed another order because I don't ever want to be without this product!" —Amazon Customer
Get it from Amazon for $7.99.
5.
A non-toxic, odor-neutralizing candle because as much as you love your pet, you can't quite stand the smells they bring into your home. These soy wax candles can burn for up to 60 hours!
Promising review: "This successfully eliminates pet and other odors. It's in a beautiful container. It's easy to maintain. I will always have one in my home. This product is the miracle pet owners have been waiting for." —Daniel

Get it from Amazon for $22.99 (available in 43 scents).
Check out my coworker's Pet House candle review to learn more!
6.
A hydrating intense-therapy lip balm with SPF 25 so you can heal your lips as you protect them! It's also rich with antioxidants, vitamin E, and green tea!
Promising review: "This is truly a miracle product that provides intense moisture every time that I wear it." —Elizabeth W
"This is the best lip repair ever! My lips were so chapped I was beside myself and nothing was working! This stuff did the trick and I just ordered another tube to keep on hand." —Joanne Romero
Get it from Amazon for $8 (available in six flavors).
7.
A pack of two ready-to-use fruit fly traps for luring and killing the fruit flies trying to take over your home. And each trap lasts for up to 45 days!

8.
A cute detangling brush that'll glide through wet or dry hair, removing knots as it goes. Whether you need it for you or your little one, it'll get the job done without so much as a single "ouch."
Promising reviews: "I received this pink miracle a week ago and noticed IMMEDIATELY I had 2/3 less breakage and hair loss when I brush and/or detangle out of the shower. This little beauty is worth every penny, and I sorely wish I had known about it years ago." —Cris in Houston
"I'm a single dad of a 6-year-old girl and combing her hair is the hardest part of taking care of her. She gets really bad knots in her hair. This brush is the only thing that has ever worked. Thank you so much. She even likes to brush her own hair now." —Nguyen P.
Get it from Amazon for $12.49 (available in six colors).
9.
And a curly hair children's leave-in detangling conditioner made with jojoba oil, vitamin B5, and plum seed oil to make wash day for your little one waaaay easier.
Promising reviews: "My 4-year-old has long, curly hair. She sleeps like she's in an MMA ring and subsequently wakes up with hair matted and tangled. She cries if you brush it because it's obviously a nightmare. I got this and sprayed it all over her dry hair and HOLY MOLY where has this been?! The brush glides through her hair with no issue. I don't know what magical unicorn made this stuff, but I swear buy this now! A miracle product." —Meghan Anne

Get it from Amazon for $8.57.
10.
A water-based instant carpet spot remover because all messes should be quick and easy to clean. Say goodbye to those stubborn wine, pet, coffee, food, and dirt stains!
Promising reviews: "It's a miracle in a bottle. My German shepherd mix decided to pull a black fountain pen out of my purse and chew it to pieces on my beige carpet while I was sleeping. This cleaner lifted the stain and now it's like the devastation my dog caused never happened! As soon as I saw it lifting the ink, I got back on Amazon and bought more bottles. I will never let myself run out of this." —L. Logan
Get it from Amazon for $9.45.

11.
A pet hair remover so you'll be able to reclaim your couch from the mob of fur that's been calling it home in a few quick swipes. And because it doesn't use disposable adhesive strips, you can use this thing over and over and over and over and...
Promising review: "We rescued a little couch dog from the pound. I was weary of her little furrrrrs getting all over our previously pristine couches and knew that I'd need some sort of solution. I was willing to buy the lint rollers with sheets you rip off but was hoping for a better and less wasteful option. This thing works GREAT. I was so doubtful of it being the miracle product that so many of the reviews claim it to be. But it really is! A family member came by today and I swiped this baby over my couch a few times, emptied it into the trash, and you can't even tell a dog has been sleeping there. Highly recommend investing in this!" —JT
Get it from Amazon for $24.95.
12.
A CeraVe body wash with salicylic acid and ceramides for helping you deal with any "chicken skin" flare-ups. This will exfoliate your skin and leave it feeling moisturized!
Promising reviews: "It has done miracles to my skin. I've had rash-like bumps on my arms and legs my whole life, and this is the first time IN MY LIFE where a product has actually gotten rid of it!!" —Ruth
"My 6-year-old daughter has keratosis pilaris, commonly known as 'chicken skin.' This year it really flared up during warm weather so I gave this wash along with lotion a try. Wow, I saw results after just a few uses and after a couple of weeks most of her bumps disappeared. Thrilled we skipped a trip to the dermatologist! Can't beat this price for the results either." —Ashley Steigerwald
Get it from Amazon for $13.99.
13.
A rejuvenating eye cream whose all-natural and vegan ingredients absorb quickly into the skin to start the process of brightening and lifting your under-eye area. Perpetual late nights got nothing on this cream!
Promising review: "This eye cream is a miracle in a good-sized jar! I have only had this product for a week, and I began noticing differences after one day. My under-eye is softer and lines are disappearing. My skin is very sensitive and this product does not irritate me at all! HIGHLY recommend this product as well as their face cream!" —Nikole
Get it from Amazon for $14.99+ (available in three sizes).
14.
A revitalizing hair protein treatment to condition and repair dry, damaged, and over-processed hair. TBH I'm already obsessed with your hair evolution!
Promising review: "Not gonna lie, I was skeptical that this could help me. A few months ago I decided I could bleach my hair. I burnt it to such a crisp that I've literally been wearing it up under a cap. That worked when it was winter. But now it's warm so I needed a solution. I saw this product highly recommended on other sites and the reviews were good. So, I ordered a tube. Used it twice now and OH. MY. LANTA. For months my hair has felt like crunchy noodles ready to snap at a moments notice. After one treatment (left in about 15 minutes after shampoo before conditioner) my ends feel soft!! After the second, it actually moves like it's not damaged and it is visibly SO much healthier. Like seriously IDK how they bottled witchcraft. But I'm going to continue to use this product even when my hair grows out. An absolute magical miracle potion! I seriously prepared myself to explain to the world that it doesn't work. But instead I have the healthiest hair I've had since being an idiot home hairdresser. 10/10." —Beth
Get it from Amazon for $7.90.