1.
A pack of cold sore healing patches containing hydrocolloid to help your skin heal faster. These discreet patches create a moist environment that helps relieve pain, reduce blistering, and prevent scabbing.

Promising review: "I wish I had found these sooner!! These cold sores were probably the worst I've had, and wouldn't clear up or stop itching/hurting. I googled cold sore remedies and these happened to pop up. After reading the reviews, I immediately ordered them. They came right on time and I put them on before bed last night. It's been less than 36 hours and already these cold sores are healing up beautifully. I plan to order another pack or three so I can keep one at home, one in my purse and one in my locker at work so if I ever feel the warning tingle/itching of a new breakout, I can slap one of these bad boys on and get rid of it quickly! Highly recommend for my fellow cold sore sufferers." —Jessica Hill

Get a pack of 15 from Amazon for $13.33.
2.
An ear-washing bottle for easy removal of wax buildup. Reviewers noted that the process was not only easy but comfortable, too.

Promising review: "My son has earaches all the time. Took him to ear doctor and they basically said he's got a lot of ear wax buildup and to purchase this item. I was skeptical at first but as soon as I used it on my son, he had so much relief because all of the hardened wax was pumped out. I use it on myself and it's worth every penny and so much cheaper than going to the ear doctor every other month." —Tootie

Get it from Amazon for $29.45.
3.
A set of multipurpose dermaplaning razors if you're looking to exfoliate your skin while getting rid of peach fuzz. These are also perfect for shaping your brows when you don't have the time to individually pluck each hair.
Promising review: "I suppose it's my hearty German peasant ancestry, but I've always been a hairy girl. Plucking the more egregious of the thick black hairs is required at least a two to three times week. I'd been eying these razors for a while and finally took the plunge. I could not believe how easy and quick it was. After a couple of swipes down my cheek, I noticed that it was done. I thought it was going to take a lot more skill and time. So much easier than tweezers and depilatories!! Wow." —Tara D.

Get a pack of three from Amazon for $5.94.
4.
Some deep-reaching, ergonomic "flossing toothbrushes" with dual-layered flossing bristles that are designed to get deep into the grooves of your teeth and gums.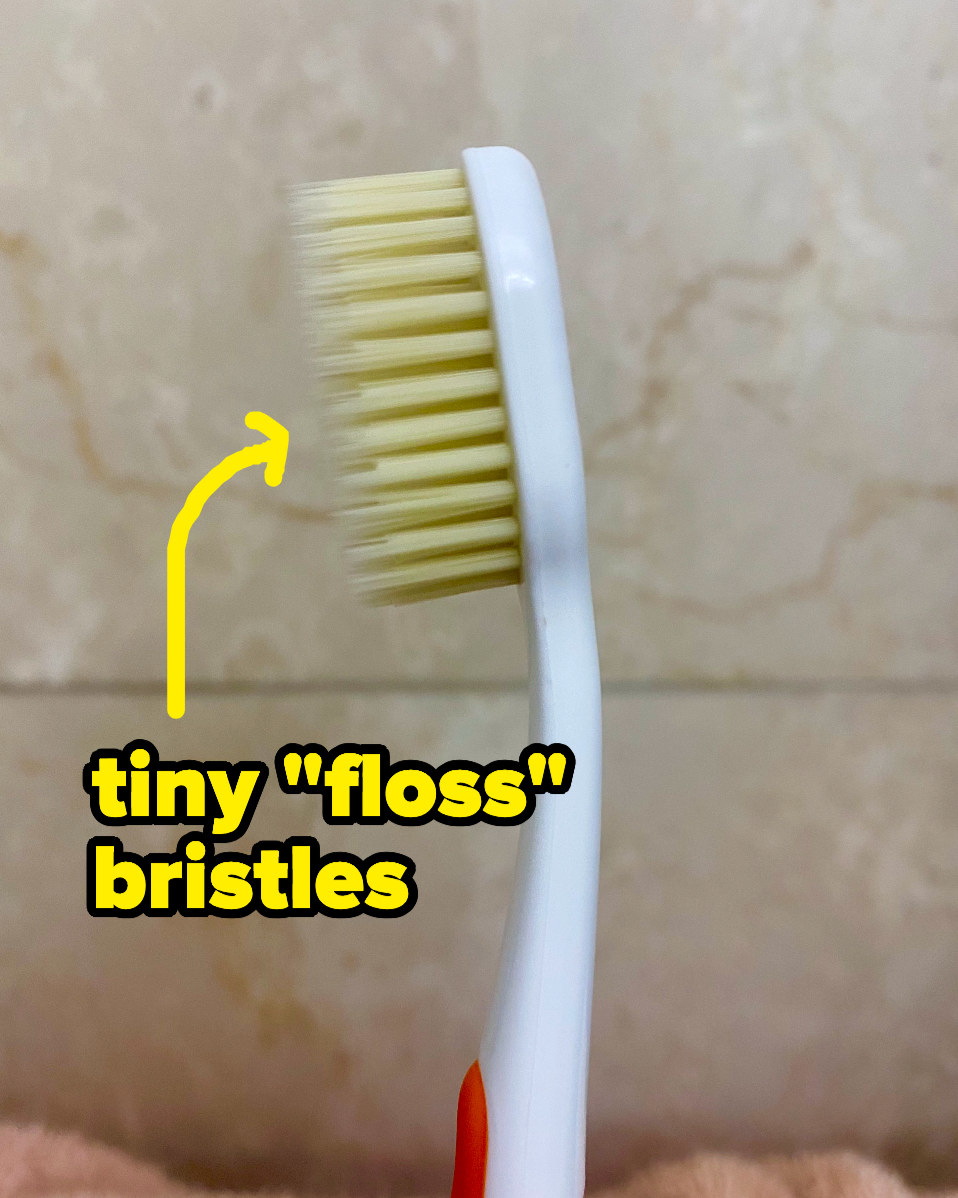 Mouthwatchers is a small business established by Ronald Plotka, DDS, specializing in antimicrobial toothbrushes designed for deeper cleans.
Here's what BuzzFeed Shopping writer Emma Lord has to say: "I love it just after the first few days of use! I use an electric toothbrush usually, but I feel like I'm getting a much more satisfying clean from these?? Especially because I tend to get yellow stains between my teeth no matter *how* much I floss, and these bristles seem to actually target that a lot more effectively." 
Promising review: "I'm amazed at how well this toothbrush cleans my teeth — it definitely gets between the teeth and also more importantly for me, gets in the small, deep crevices in my molars where I always have food stuck and regular toothbrushes couldn't get stuff out. I brush more often (after meals/snacks) because of how effective it is. As stated, definitely go easy around the gums. The bristles feel soft, but will cause your gums to bleed if you use regular pressure. Nice and easy does the trick, SO WELL!" —Jason A.
Get a pair from Amazon for $9.90.

5.
A fast-acting mold and mildew remover so you can watch the stains your shower has accumulated over the years just melt away. No scrubbing required! And you can say goodbye to any embarrassing musty, damp smells too. Cleaning your bathtub just got a whole lot easier.
This can also be used on mold and mildew stains outside of your home!
Promising review: "We've been struggling with mold/mildew stains in our shower and front load washer for quite some time. Nothing bought at the grocery store or hardware store would work. We found this product and used as directed and wow, what a difference! This is the only product that has helped remove those stains. Highly recommended!" —David B. Neely
Get it from Amazon for $16.99+ (available in three sizes and in multi-packs).
6.
An anti-bacterial butt acne-clearing lotion made with tea tree oil to help prevent breakouts. You'll truly have a bottom as smooth as, well, a baby's bottom.

Promising review: "This product really is effective! Immediately, I noticed softer and smoother skin. After multiple uses the bumps and redness started to improve as well! It has a great smell, is easy to apply like lotion, and doesn't leave any sticky or unsatisfying residue. I will most definitely continue to use the product!" —Lauren Erickson

Get it from Amazon for $24.99. 
7.
A lightweight and sweatproof antifungal tea tree balm formulated with beeswax, eucalyptus, and macadamia oil for nourishing, moisturizing, and protecting against dryness, discomfort, and irritants.
Promising review: "I ordered this balm on a whim as a remedy for a skin rash, and was very impressed with its effectiveness! After getting rid of my rash, I decided to try it elsewhere and it worked wonders on dry skin areas like elbows, knees, and feet. I was blown away with how I changed my feet entirely! As a dancer, my feet have always been a war zone: dry skin, callouses, ingrown toenails, and athlete's foot (all frequent problems over the course of many years). I was always embarrassed to wear sandals or any type of shoes that would show off parts of my feet because of all the dry skin, but sometimes it couldn't be avoided. This balm has made my feet the loveliest they have been and now I can choose any type of shoes I want to wear without embarrassment." —anengstrom
Get it from Amazon for $36.32.
8.
A pack of hydrocolloid acne patches if you need help preventing yourself from picking/popping your pimples, which could lead to scarring. These ultra-thin, translucent patches will absorb pimple pus (yuck) to reveal calmer-looking skin (yay).
Promising review: "These patches are the only reliable way to shrink an existing pimple. I always get pimples that swell up but won't come to a head. I've tried all the lotions, creams, salves, hot compresses, etc. Nothing worked on existing pimples. But these patches take the swelling right down. For really bad ones, it sometimes takes a couple of days of wearing the patches. But it will go away (much faster than the one to two weeks it always takes if I just do nothing). Plus the patch keeps you from touching or picking at it." —snowmentality
Get 72 stickers from Amazon for $21.99 (also available in a pack of 36).
9.
A skin-repairing body oil chock-full of oils (like vitamin E and vitamin A oils) that'll help reduce the appearance of scars and stretch marks. Its skin-renewal formula will also help fade acne scars, surgery scars, and so much more!
Promising reviews: "I love everything about it, especially applying it at night after a relaxing bath, right before going to bed. It smells wonderful and my skin feels like baby skin." —Derek Schmiedl

Get it from Amazon for $11.12+ (available in two sizes).

10.
A fume-free oven cleaner so you can get rid of the years worth of ick that seems to have burrowed into every inch of your oven because, well, you never cleaned it. This heavy-duty cleaner can remove grime, stains, and caked-on food!
Promising review: "I am amazed at this stuff. I've lived in my house for three years, and I had never cleaned my oven. I doubt the previous owners ever did either. It was a blackened, grody mess. I sprayed a heavy coat of this stuff all over the inside and let it sit for awhile. Then I got to scraping and wiping. I couldn't believe how much rock-hard soot came off. I gave some stubborn spots a second coat, and eventually had the entire thing looking new. It's a miracle spray." —GinHum

Get it from Amazon for $8.98.
11.
A box of extra strength Gas-X chewables formulated with 125mg of simethicone to help quickly relieve gas and bloating so you don't have any mishaps in mixed company.
Promising review: "Sometimes you eat something that is too rich on an empty stomach and wham — the pain, the bloating, the weird weird noises start. And then if you have this, within minutes it helps relieve the gas, bloating, and discomfort. Taking this is nothing to be ashamed about; it happens to everyone whether they like to admit it or not." —MusicLover
Get a pack of 72 chewable tablets from Amazon for $13.28.
12.
A pumice cleaning stone for scrubbing away toilet rings, limescale, and rust buildup from your porcelain throne (and other porcelain and ceramic surfaces).
Promising review: "I have a 19-year-old primary bathroom toilet that had accumulated some nasty stains over time, and regular toilet brushes and cleaning products just would not remove them. I decided to try this pumice stone, and it worked like a charm! Given the nature and severity of the stains, it required some elbow grease. But 10 minutes later, I have a new-looking bowl, and I see no signs of scratching." —Happy Retiree
Get it from Amazon for $12.99.
13.
An easy-to-use tonsil stone remover — if you've been struggling with bad breath and brushing your teeth, scraping your tongue, and using mouthwash aren't working, you may have tonsil stones. Don't worry about scratching your throat; each attachment has a silicone tip to slip safely behind your tonsils.
These also come with an LED light to get right to the source of the problem.
Promising review: "I'm in my early 30s and just started getting tonsil stones. Until a few months ago, I never even knew what these things were! Anyways, I've been struggling with cotton buds to fully remove the stones, but couldn't get rid of them and they would just come back within the week. I received this and OMFG...best investment ever. No struggle holding my phone as a flashlight while awkwardly poking myself in front of my badly lit bathroom mirror. I sat comfortably at my vanity, used one hand, and removed the whole stone in less than a minute. Why did I not know this was a thing? Why have I been struggling? Get it! Stop struggling, suffering, and awkwardly dealing with this ridiculous condition...trust me." —Wren
Get it from Amazon for $9.98+ (available in two colors and in a multipack).
14.
A bottle of professional-grade callus-removing gel that can remove years' worth of calluses quickly and easily. Just presoak your feet, apply the gel, let it do its magic, and rinse!
Promising reviews: "This is a Hail Mary! This is hands-down the best product ever!!!! I have been using this product on my clients and it has made my job so much easier and less time consuming." —Diamante Valentine
"Best foot callus remover I have ever used! I read a lot of the reviews before purchasing this product. Most callus removers I have purchased in the past were not very effective. So I was encouraged by the reviews. I saw that a lot of reviewers mentioned to be very careful not to leave it on longer than three or four minutes. My feet were the softest they have ever been. Love love love." —Cheri whisker
Get it from Amazon for $11.19.