We hope you love the products we recommend! All of them were independently selected by our editors. Some may have been sent as samples, but all opinions and reviews are our own. Just so you know, BuzzFeed may collect a share of sales or other compensation from the links on this page if you decide to shop from them. Oh, and FYI — prices are accurate and items in stock as of time of publication.
1.
A dishwashing brush with nylon bristles that are perfect for scrubbing away food and stains on pots, pans, dishes, and more. It's even got a built-in scraper for those more stubborn spots so you can save some elbow grease!

Promising review: "This brush is the best for deep cleaning, whether it's a pot or air fryer. It definitely does its job and is easy to hold. It doesn't hurt your hands. It scrubs everything off and is easy to clean. I will definitely purchase another. Great dish brush!" —Just for GP

Get it from Amazon for $7.95.
2.
Or a soap control dish wand to dispense soap and effectively scrub dishes without leaving any scratches behind. And because you can control how much soap you use, you'll end up wasting less of it!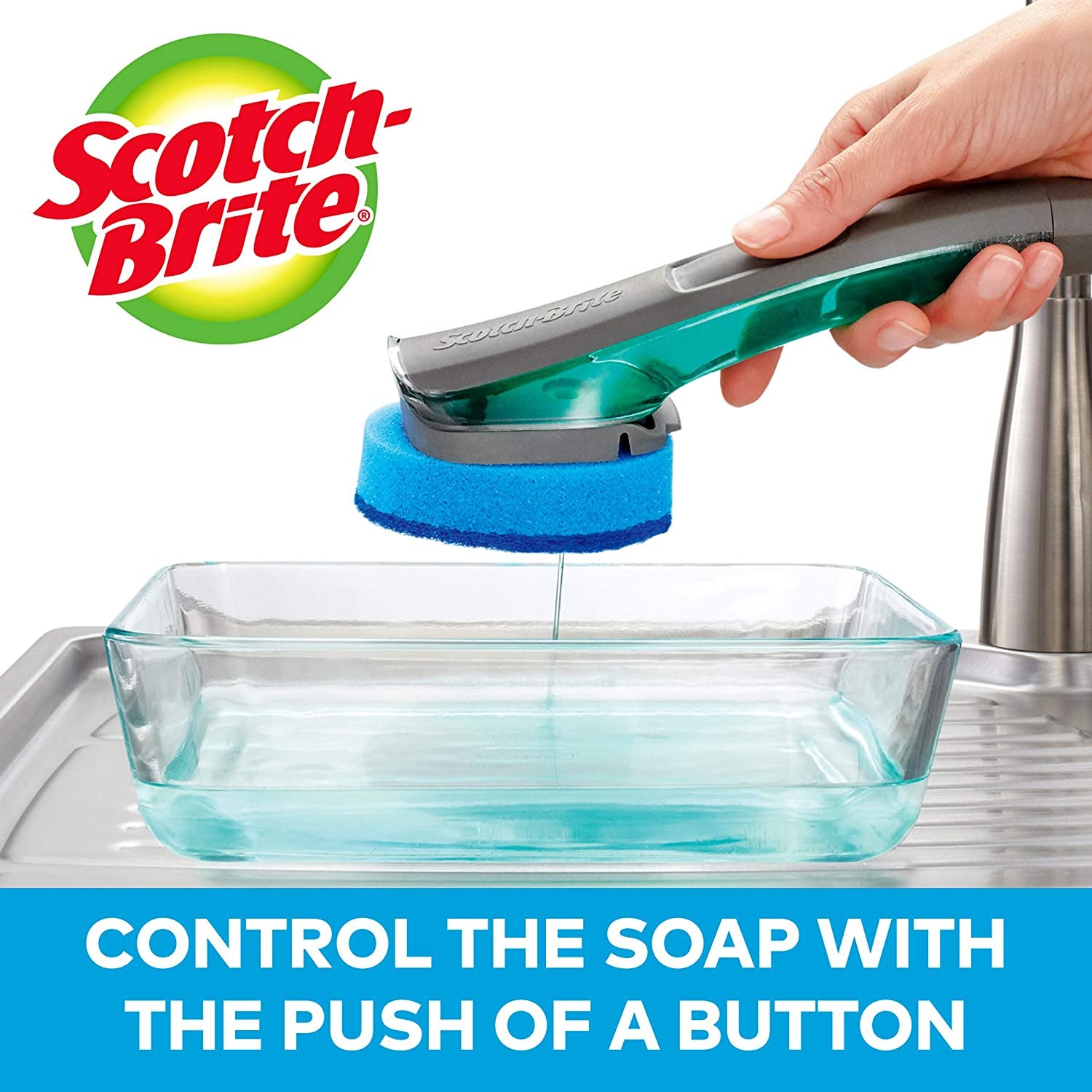 Promising reviews: "I don't like to do the dishes but with this it's easier." —TITO TRIMARCHI
"Doesn't leak, easily filled, dispenses soap properly, and helps keep my hands out of the hot water. Just what I needed." —Renn Faire Wench

Get it from Amazon for $7.14.
3.
A pack of Bottle Bright cleaning tablets because regular ole soap and water haven't gotten rid of the tough stains and odors in your travel mugs and water bottles. The best part is, there's no scrubbing involved. So you get super clean gear with minimal effort!
Promising review: "My tea mug was horrible: 'stainless' steel that was totally brown from tea. It's now shiny and silver again. I used it on my coffee mug and my gym water bottle as well, and they're all like new! I highly recommend it, and it works super fast. No scent during or after use." —afK2
Get 12 tablets from Amazon for $8.
To learn more, check out our Bottle Bright tablets deep dive.
4.
A pack of reusable Swedish dishcloths made of cellulose and cotton so absorbent, they'll help you cut down on drying time so you can do something you actually enjoy. And then pop them in the dishwasher for a quick clean!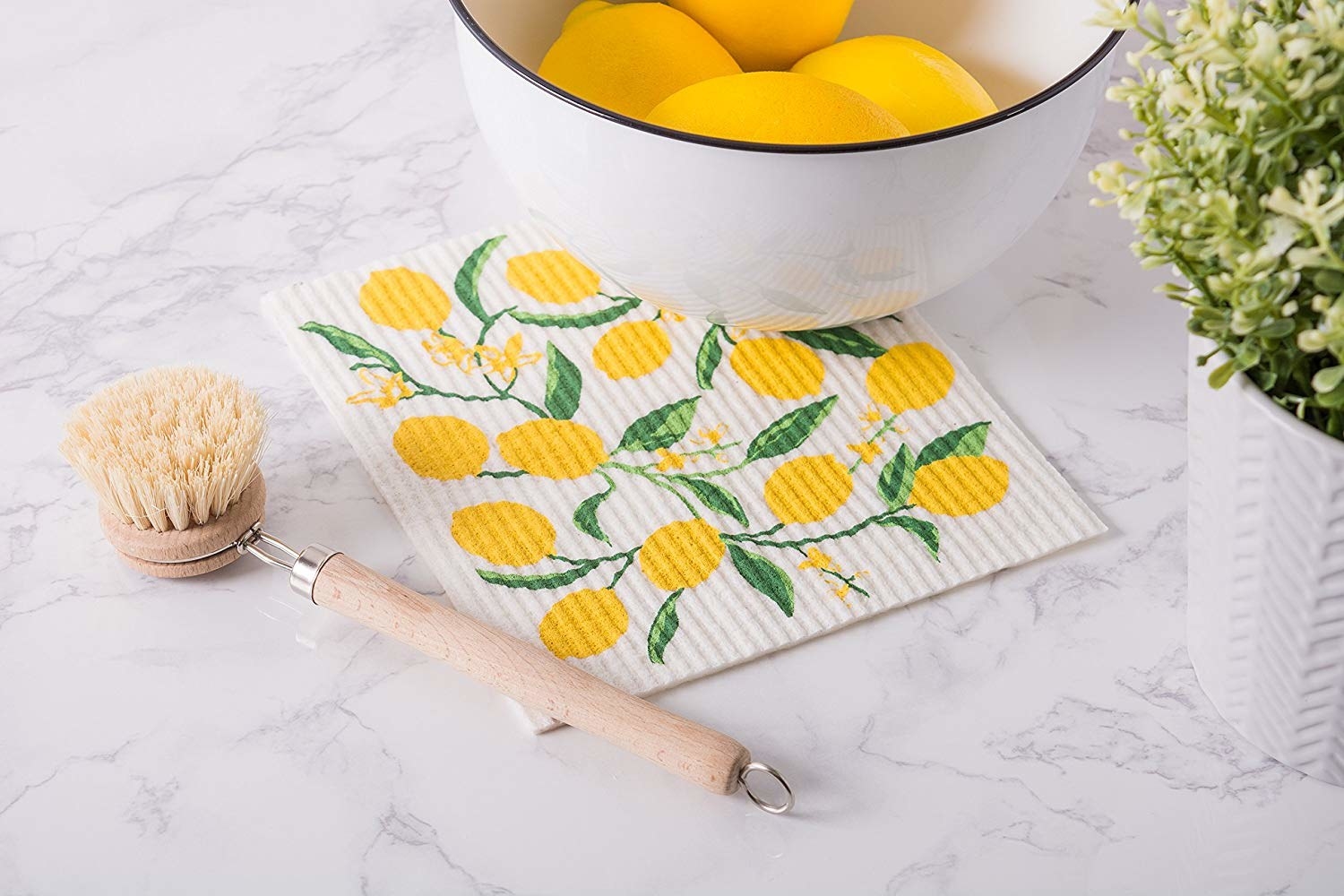 Not sure you can part with your sponge? Read here about why you should look into (less gross) alternatives.
Promising review: "I got these for my mom who absolutely hates using sponges to wash dishes. I figured this would work similarly but look 100% better; and it does! My mom is in love with these and is going to buy different patterns so she can switch them out!" —Samantha R
Get a pack of three from Amazon for $12.99+ (available in 30 designs).
5.
A washable and reusable sponge — now you can finally replace your rubbery, disintegrating sponges with something that'll actually last.

Marley's Monsters is a woman-owned small business making eco-friendly alternatives for your home.

Promising review: "I waited a few weeks to review these so I could also comment on their durability over time. I was not disappointed! These have held up well to multiple washes, and I use them as my everyday sponges! They scrub well, the mesh doesn't tear easily, and the terry cloth side is great for washing and wiping down tables and counters. I do switch them out every one to two days so they don't get smelly, and I occasionally soak in an oxygen cleaner to prevent any lingering smell. I highly recommend this product! Exactly what I was looking for and I anticipate being able to use them for a long time :)" —Carrie Plett
Get it from Marley's Monsters on Etsy for $12+ (available in four colors).
6.
A Dawn Powerwash dish spray bundle if your ideal dishwashing experience consists of spraying, waiting, and wiping. This spray can easily cut through grease to clean heavily soiled dishes so no extra effort is needed on your part.

My mom swears by this spray! It can be used to clean more than just your dishes.
This bundle includes one spray bottle and three refills.
Promising review: "I had my doubts as rave reviews are usually exaggerations, but not this time. This thing is MAGICAL. Literally cleans everything with a spray. I have hard water at my place, and soap scum buildup is quite bad in my bathtub and shower glass doors. With this Powerwash, I just spray, wait a couple of minutes, and wipe, and literally all the soap scrum is completely gone. I am left with spotless shower glass doors AND shiny faucets. I spray this stuff on everything that is hard to clean. Sticky stuff like stickers and labels? Spray, wait, wipe. Poof it's gone. Sticky stuff like food residue on dishes or your oven? Oil on top of or around your stove and/or cabinet? Spray, wait, wipe. Poof it's gone. Soap scrum, yellow tubs, oily tools, spotty hand prints on fridge? Say no more. Spray, wait, wipe. Poof it's gone. Dirty tires, rims? Yup, spray, wait, wipe, poof it's gone! I have successfully used this magical cleaner on all of the above." —Es 
Get it from Amazon for $17.50.
7.
A multi-angle glass rinser to make quick work of washing cups and bottles. Less time waiting for them to soak and less time scrubbing = huge wins for you.

8.
A countertop dishwasher because the best way to avoid hand-washing dishes is to have a machine do it. This mini dishwasher has five pre-programmed settings and doesn't need to be hooked up to your water system.

Promising reviews: "This holds both my largest bowl and pot, so I hardly have to do any dishes by hand anymore." —cyndrekitty

"Better than advertised. I have had the mini plus for a month and have used it almost every day. Sometimes twice in one day. Gets dishes cleaner than washing by hand and saves water." —TB
Get it from Amazon for $287.99+ (available in two sizes).
9.
A pair of reusable dishwashing gloves that'll turn your hands into magical cleaners that don't have to get wet or touch the food stuck to your picky eater's plate if that's your least favorite part of washing dishes. Plus, you won't have to worry about your hands drying out or your manicure getting messed up!
Promising review: "I bought these because I really liked the idea of transitioning from less sponge use (sponges can get quite gross easily and I don't like the idea of 'washing' dishes with a bacteria-loaded sponge). These gloves are comfortable, durable, the silicone bristles foam up really well, and the bristles on the fingers are really handy for scrubbing hard-to-reach areas (such as the nooks and crannies of my food processor, a lifesaver there)." —Ella
Get it from Amazon for $9.89+ (available in three colors).
10.
An electric bottle sterilizer and dryer you can use to safely and effectively steam and sterilize all your bottles, pumps, and more. Know that everything you use to care for your little one is clean and stop waiting for the things you need to air dry!
Promising review: "This bottle sterilizer/dryer has been put through the paces. I have used this multiple times every single day for almost 10 months. I have been pumping since my daughter was a few days old, so this equipment has hundreds of parts going through it every week. At one point, I estimated going through about 100 bottle/pump parts per day. It has held up beautifully! I could not be happier with the durability and quality of the product. Additionally, they actually come out of the sterilizer very dry. I have not had problems with wet bottle parts. The heating element can be descaled with cleaning vinegar and comes out looking good, if you don't want to bother with distilled water every time you sterilize. Anyway, I love this purchase and I think it was one of the best items I bought preparing for baby." —Monika 
Get it from Amazon for $54.94+ (available in two styles).
11.
A spill stopper if you hate having to scrub up the sides of your pots after cooking because of overflowing water or sauce. Stop the mess before it ever occurs.

Promising review: "No more special cleaner for my glass top stove! No more special sponge! No more straight-edge razor to scrape away burnt-on spills!!!!! Not one drop spilled over when I made rice or a huge pot of steamed vegetables." —Colordoctor

Get it from Amazon for $17+ (available in three colors).
12.
A flexible dish squeegee that curves to make cleaning out your pots, bowls, and plates super easy! Because cleaner dishes before you start washing = less time washing dishes. And if you hate it when your sponge gets discolored from red or orange liquid (lookin' at you, pasta sauce), this squeegee will get rid of those remnants before the sponge even touches the plate.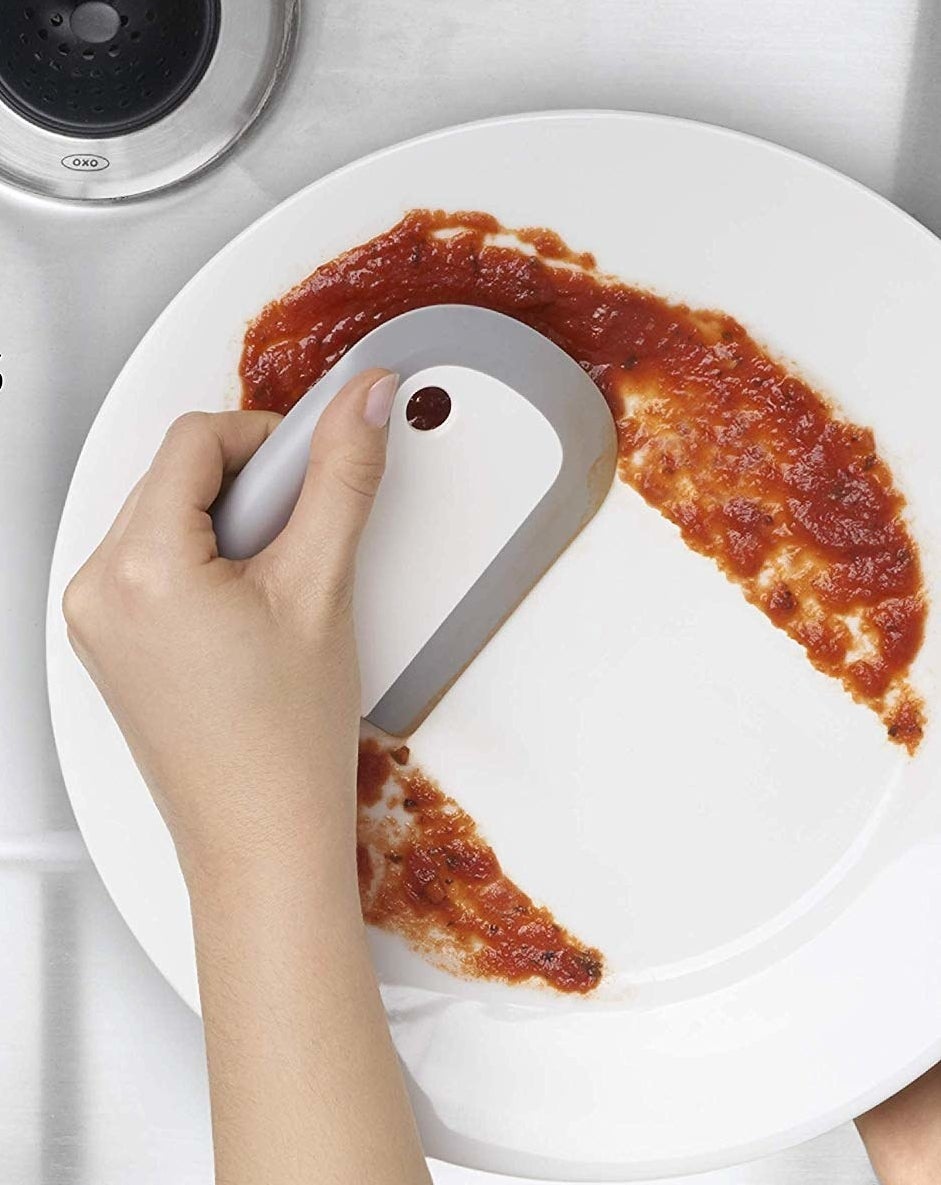 Promising review: "If you have ever had to repair or replace a garbage disposal, then I am sure you have been lectured on basically only allowing crumbs to fall into the disposal. This dish squeegee makes prepping dishes for a dishwasher or sink washing a breeze. I hold the dish over the trash can and after a few swipes, the dish is ready for washing. In comparison to using a paper towel, it saves you money, helps protect the environment, and keeps your fingers free from gunk." —She Who Reads
Get it from Amazon for $7.95.
The reviews for this post have been edited for length and clarity.