1.
An Alexa-enabled Fire TV Stick for simplifying your streaming experience. Now all your subscriptions can live in one easy-to-access place. You can even launch TV shows and movies using just your voice!
2.
A pair of compact security cameras to help give you peace of mind when you're not home. These allow you to see, hear, and speak to any people or pets in your home right from your phone!
Promising review: "SO...I rarely write reviews but was so amazed by this camera I wanted to let others know. The setup was a breeze; it was up and running in 30 seconds. The app is responsive and user friendly. My Wi-Fi is sloooow but it still loaded a 1080p HD quality view when I accessed it from my mobile app. My favorite feature is the night vision. All my previous cameras just showed a dark room or shadows but this camera shows a clear and crisp picture in pitch black darkness. Very pleased with this and you can't go wrong here. My two-year indoor camera journey has come to an end here." —Tech Guru

Get two from Amazon for $64.99 (cameras are also sold individually).
3.
A reusable duster that'll attach to Swiffer's two-prong duster handles. It's made with eight layers of nonfraying fabric so you'll be able to get the cleanest clean of your life. Then, you just pop it in the washing machine!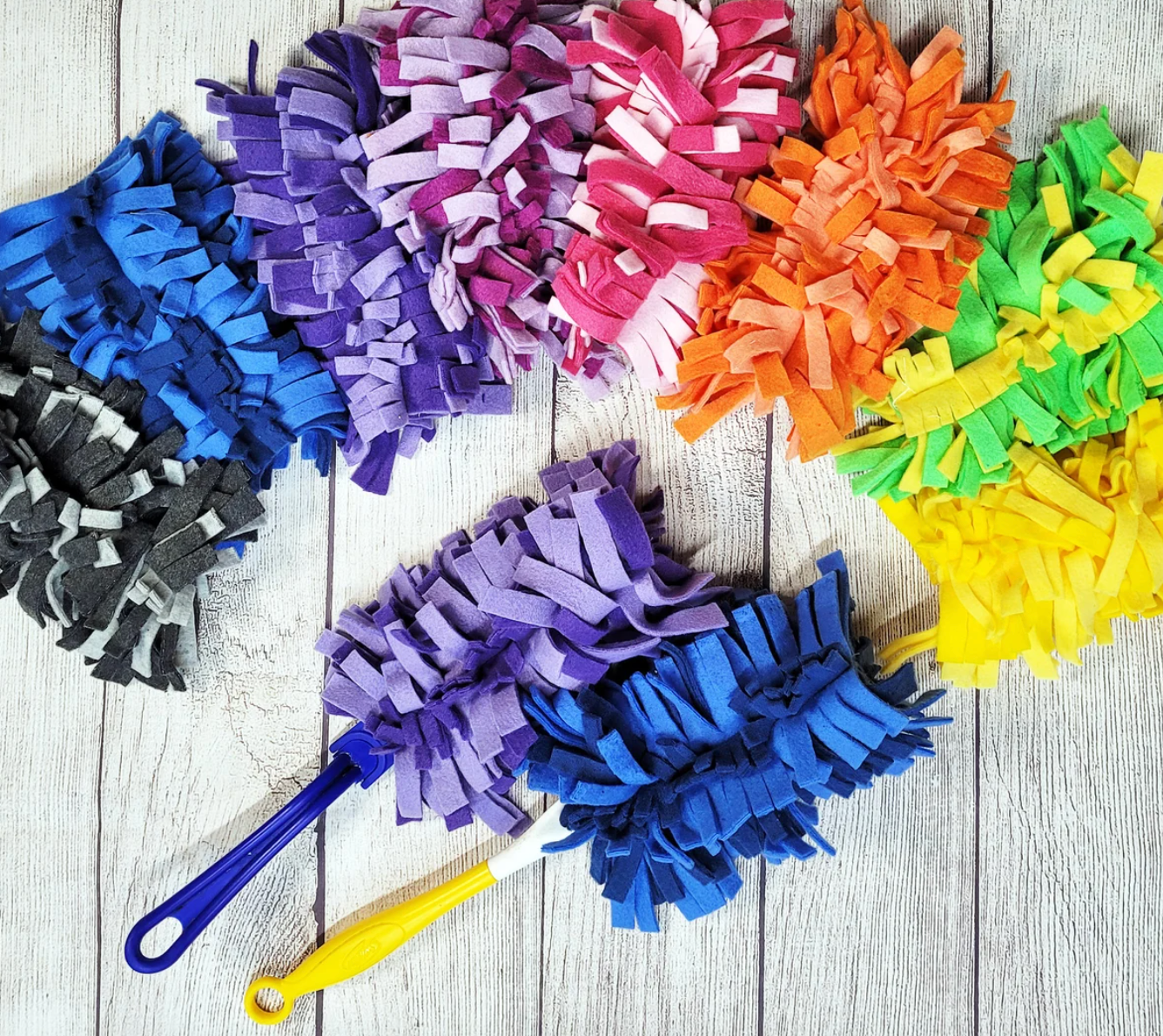 Based out in Michigan, TS Designs is a small Etsy shop filled with vintage gifts and decor paired with eco-friendly items.
Promising review: "Great product. Works wonderfully! It cleans 100% better than the disposable brand name. It went through my washer and came out just like new. These are sewn very well!! I definitely recommend these." —Christi 
Get it from TS Designs on Etsy for $5.49 (available in 10 colors).
4.
A set of lock laces so you don't have to waste time worrying about tightening your bunny loops when all you wanna do is go out for a run. These elastic laces stretch to fit you and provide a little added compression for comfort.
Promising review: "I can't believe just how pumped I am over these shoelaces! They make me wanna slip my shoes off and on just because I can! They make my shoes more comfortable than I could have ever imagined (due to the elasticity). I have them set up to just the right amount of tightness to where I can just slip my shoes on and off without having to adjust them at all (and they are plenty tight). Welcome to the 21st century!" —dm925
Get it from Amazon for $9.99 (available in 13 colors).
5.
A bug bite suction tool from Shark Tank if you're excited for tank tops and short shorts but not the fact that you'll be exposed to some nasty bloodsuckers. It pretty much sucks the irritant out from under your skin so you can live an itch-free life.
Promising review: "I am a magnet for bites of all kinds and carry topical and medicines with me at all times, so I figured this would be a good product to see if it really works. It arrived Monday, and Tuesday morning I woke up with a bug bite on my arm, so I used this little tool (three times per the instructions). Immediately after use it stopped itching! And less than 24 hours later the bite gone! There is a very faint red mark from using the thing but a small price to pay IMO. Bottom line: it's awesome. I'm carrying it with me everywhere!" —Rebecca
Get it from Amazon for $6.99+ (available in four styles).
6.
A flexible faucet extender because now you don't have to lift your little munchkin up every time they need to wash their hands. And, it'll make them feel like a lil' grown-up!
Promising reviews: "Does what it says it does. My son loves the water coming to him instead of him having to be picked up and moved closer." —Michael Snyder
"Before I knew a thing like this existed, I spent the time it took to wash my squirming kiddo's hands one at a time wondering how long it was going to take for his arms to grow enough to reach the faucet. I'm so glad I have this thing now! The setup is just taking it out of the box and stretching the rubber part around the faucet; it took two seconds plus some time to adjust to the best angle. Now I can wash my 15-month-old's hands at the same time and the whole process is much faster and easier. He liked it right away too!" —Michelle G 
Get two from Amazon for $10.95.
7.
Shower curtain rings with separate hangers for your curtain and liner that will make taking them down and switching them out so much faster and easier.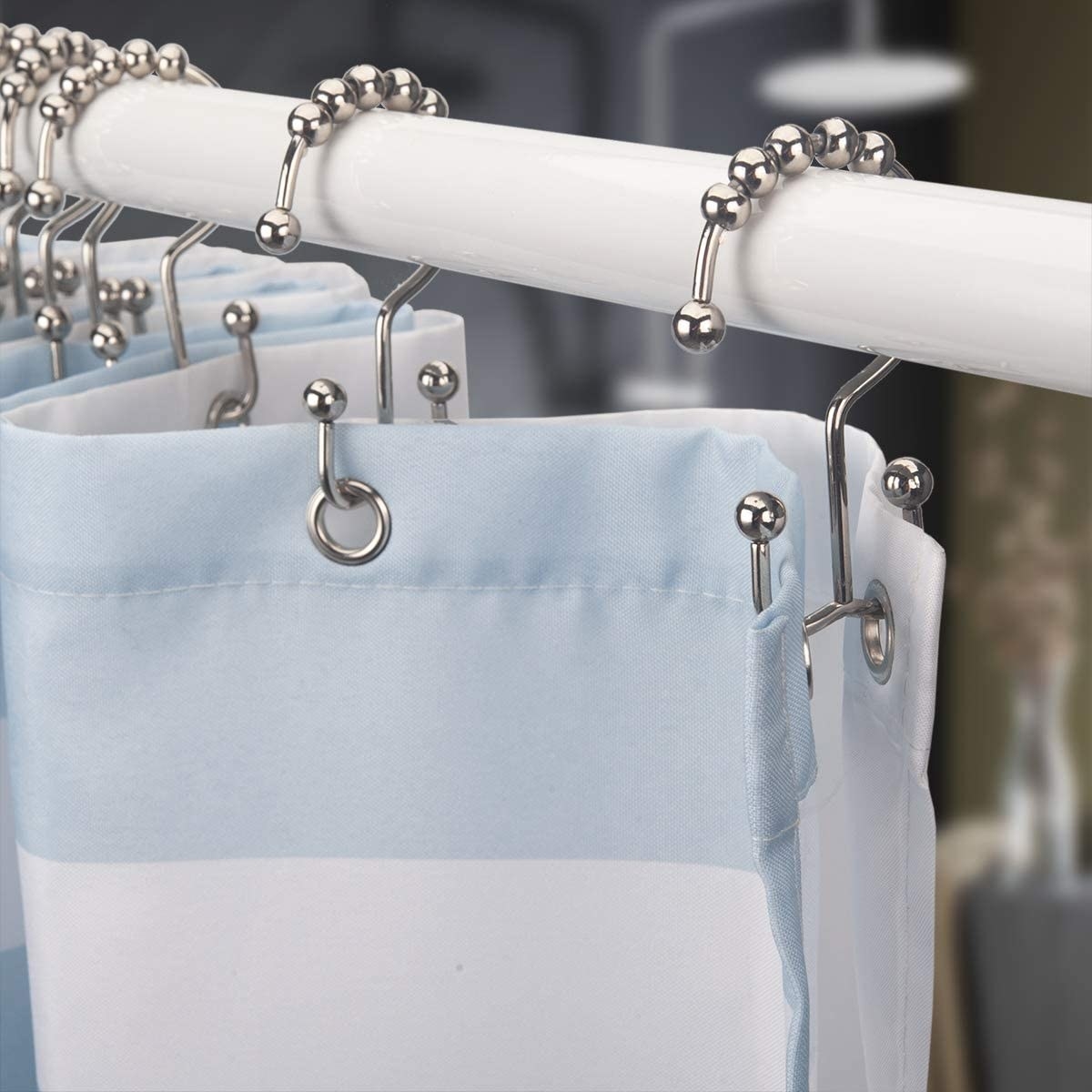 Promising review: "This is one of those items you didn't know you needed, and once you get it you can't help but wonder how you ever managed before. I absolutely hate taking the shower curtains off because of the whole open and close for multiple shower curtains. I know you're like, 'It's just shower curtain hooks.' And it is. But when you have to change out the creepy shower liner that likes to attack you, and you dread doing so, this just adds seconds to your life. No more unsnapping. Simply take out the liner, place the liner on the appropriate hook, and presto." —Nardsbaby
Get it from Amazon for $7.99+ (available in seven colors).
8.
A pancake batter dispenser to help make breakfast time a quicker and less messy affair. No more splattering! Drop the wire ball inside with your wet and dry ingredients, give everything a shake, and now your batter is mixed without having to take out and clean any appliances.
Promising review: "If you're thinking of buying this item, DO IT! I originally purchased it because I was tired of scooping my batter with a measuring cup, dripping along the way, just to have oblong-shaped pancakes. This thing makes the perfect round cakes with no mess! I was skeptical about it holding as much batter as we usually use; enough for four people. But it was perfect when we doubled the original recipe! It has a built-in stand when you add your ingredients through the bottom and cleanup is a breeze." —Michelle W.
Get it from Amazon for $12.89.
9.
A set of affordable wireless earbuds that are water-resistant so you can sweat it up on your next run without worrying about ruining your music-listening experience. They offer premium sound quality and pair easily with your smartphone! 
Promising review: "I researched Bluetooth earbuds for several weeks. Reading the reviews and questions on this product, I decided to give them a try. They had EVERYTHING that I wanted in wireless earbuds. I wanted great sound, a charging case that could be charged with USB as well as being charged on a wireless charger, the option of using just one earbud for phone calls, great usage time, quick charge time, and good range. I have put them through the gambit and they met or exceeded my expectations." —T. Farner
Get it from Amazon for $25.99+ (available in five colors).
10.
A shower foot scrubber so you don't have to perform a dangerous balancing act in the slipperiest place known to man. This will not only clean but also exfoliate your feet!

11.
A cute stasher scrunchie you can safely store money or keys in while you're out and about. Fashion meets function with this lil' accessory!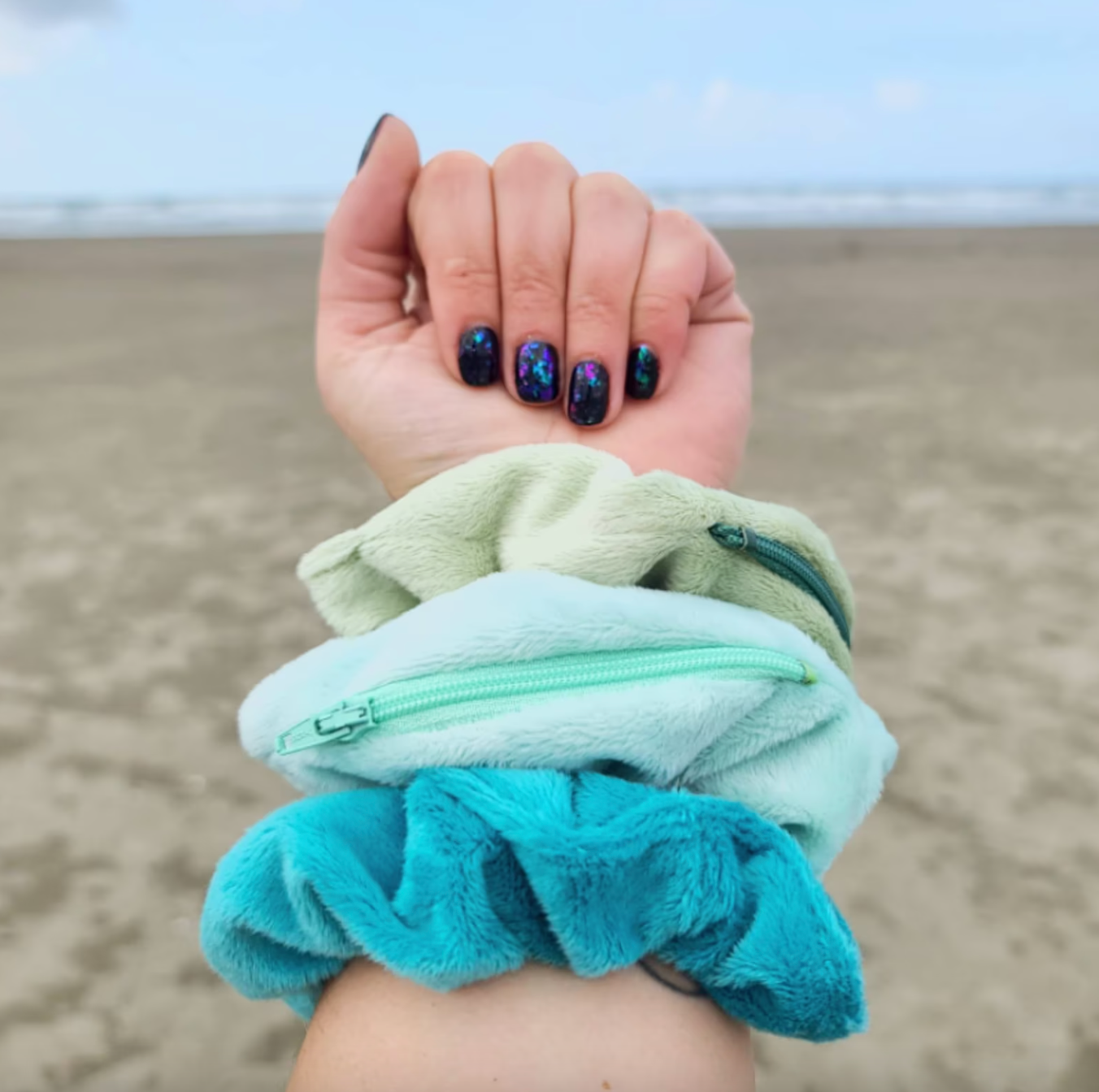 Based in Oregon, Hustle & Sew is a small Etsy shop hand-sewing quality goods that you can ask to have personalized.

Promising review: "Absolutely in love with my scrunchies! I was able to fit my house and car keys in it." —Hannah 
Get it from Hustle & Sew on Etsy $8 (available in 14 colors).
12.
A high-voltage bug zapper because being outside is supposed to be fun, not a battle against the bloodsuckers. This will also get at those annoying gnats, moths, and flies zooming around.
Promising review: "You will not be disappointed. I just moved out to the country and have been working out in the garage late at night. With the weather getting warmer, I've had the garage doors opened and mosquitos, gnats, and everything else have been finding their way into my garage, so I had to do something about it. I bought this and hung it next to my garage door opener because there's an outlet there and it is way better than expected. I have dead bees, stink bugs, gnats, mosquitoes, and other bugs that I do not know what they are. My 8-year-old son keeps asking me to remove the bottom tray so he can see all of the dead bugs that got zapped. Again, you will not be disappointed, I'm extremely happy I bought this!" —Chris & Jenny
Get it from Amazon for $36.99.
13.
Dimmable stick-on lights for under your cabinets so you can go to the kitchen for your midnight snack without facing the harshness of your overhead light. Each strip has adhesive backing, so no need to whip out the tool belt for this project.
Includes a remote that can adjust the brightness.
Promising review: "This is a wonderful product; just what I wanted. Super easy to install and I love that it breaks off into sections so you don't have any hanging over to hide. The remote is awesome and there are lots of brightness settings. I'm going to use these everywhere!" —Queen Halloween
Get the six-piece kit from Amazon for $20.99 (available in three light colors).
14.
A six-outlet wall charger designed to house larger chargers as well as USBs (and those ports offer fast-charging). It even functions as a night-light if you tend to work into the wee hours.
Promising review: "Love this. I have many items to plug in now that I have to office at home. There's plenty of room to plug in two laptops, a computer, a monitor and my Alexa safely. It's a little bulkier than I was expecting but that is due to the room your items will need." —Jennifer
Get it from Amazon for $14.99.