1.
A bundle of The Pink Stuff — no sticky saucepans, streaky stainless steel, or gunked-up glass shall prosper against you or these versatile and easy-to-use cleaners. They can also remove those colorful drawings your kids left on your white walls!
This comes with a tub of the TikTok-famous cleaning paste and multipurpose cleaning spray.
Promising review: "WOW!!!! This stuff is amazing. I literally just have to spray it, let it sit for a few minutes, come back and depending on what I'm using it for I either wipe it right off or use a scrubbing pad and it comes off. There's nothing out there that compares to this product!!!! This stuff is the absolute best. I highly recommend purchasing this. I can tell you that half of my cleaning products are now going to be thrown out because all I need is The Pink Stuff 😀😀. Whoever invented this stuff is an absolute genius. If you're a clean freak like me, this really is the way to go. Also it doesn't have that nasty chemical smell; it smells great. Just buy it won't regret it." —Twin33 
Get it from Amazon for $19.99.
2.
A set of heel caps because it's stiletto weather but you shouldn't have to risk sinking into dirt and grass just to look sharp.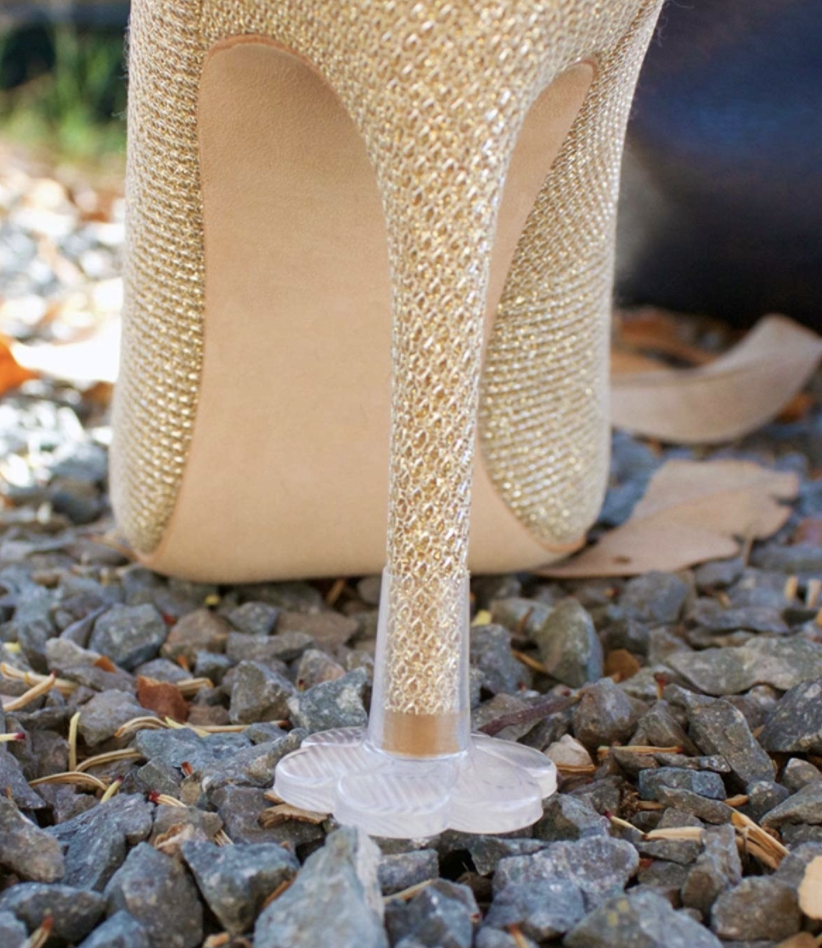 Promising review: "I just tried these last weekend at an outdoor wedding with an indoor reception. They were amazing! I kept them on all night. First, I walked outside in thick grass, and the wedding photos were taken in a mushy grassy area. I didn't sink even a little bit. It was fantastic. My heels were fabulous. I then decided to leave them on for the rest of the night since they made my heels more stable and comfortable. So glad I tried them. I was showing them off to the other ladies, and everyone loved the look of them." —J L D
Get a pair on Amazon for $11.99 (available in four sizes).
3.
A bottle of Fanola purple shampoo to help brighten your hair without spending $$$ on a trip to the salon. It tones down any pesky brassy hues so your hair's color is more even.
Just don't use it for more than three minutes (once a week), because then your hair will turn lavender (unless you're into that, which some reviewers are!!!).
Promising review: "I never write reviews, but this shampoo is amazing. I always struggle with brassy tones almost immediately after getting highlights and I could never find a good no-yellow shampoo until now. My stylist recommended this and it did not disappoint. After leaving it on for about four minutes, my hair looks like I just got it done professionally again. It does still leave hair a bit dry, but not as dry as some other purple shampoos. I plan on using this once a week at least to help keep my perfect tone between highlights. 100% recommended to anyone who struggles with the brass!" —Kassandra
For more info, check out our Fanola No Yellow deep dive.
Get it from Amazon for $8.99.
4.
An easy-to-use rose gold rechargeable electric lighter that's also wind- and moisture-proof because lighting a candle, campfire, or joint on a windy day shouldn't feel like an Olympic event.
Promising review: "Works like a charm. I saw this on a TikTok and knew immediately that I needed it. I love candles and this is so much better than a match or lighter. It's kept a charge for months. I use it several times a month." —dwhite0312

You can read our Leejie electric lighter review for more deets!
Get it from Amazon for $8.49 (available in five colors).
5.
Hydrocolloid acne patches for times when you feel a pimple coming on. Apply one of these overnight and wake up to find that your acne gunk has been absorbed by the patch.
Promising review: "I do not claim to understand the science behind this tiny miracles, but they have changed my life. I spent my workday looking forward to going home and putting one of these bad boys on my newly erupted Mt. Zit and the overnight results were shocking. Not only is it grossly satisfying, but it saved me several days of walking around with a bloody crater in my face because my previous method of dealing with unsightly blemishes was to pick pick pick." —Adg 
Get 36 patches from Amazon for $12.99.
6.
A pet hair remover so you'll be able to reclaim your couch from the mob of fur that's been calling it home in a few quick swipes. And because it doesn't use disposable adhesive strips, you can use this thing over and over and over and over and...
Promising review: "I am allergic to cats, so here I am with two cats who shed. Their hair is covering all the furniture. I have special pet covers on my bed to protect my comforter but I hate having to sleep under it since my cats sleep on my bed. I have tried so many cat hair remover brushes, gloves, and sponges that never worked. I was ready to shave the cats and call it a day. Then along comes the ChomChom brush. It not only has the lint roller but a bar that collects the hair. I love the little hairball container of the roller so I don't have to spend time cleaning off the lint brush. I can't believe this product works! I have an off-white couch and I didn't realize how much hair there was. After I used it, my couch looked lighter in color. I got my comforter cleaned off in minutes. It's a simple and inexpensive way to cure your pet hair woes." —Dondi
Get it from Amazon for $24.95.
7.
The Bacon Sponge — a biodegradable, 100% organic cotton sponge that absorbs 10 times its weight so you won't break a sweat cleaning up after a greasy meal or go through a ton of single-use paper towels.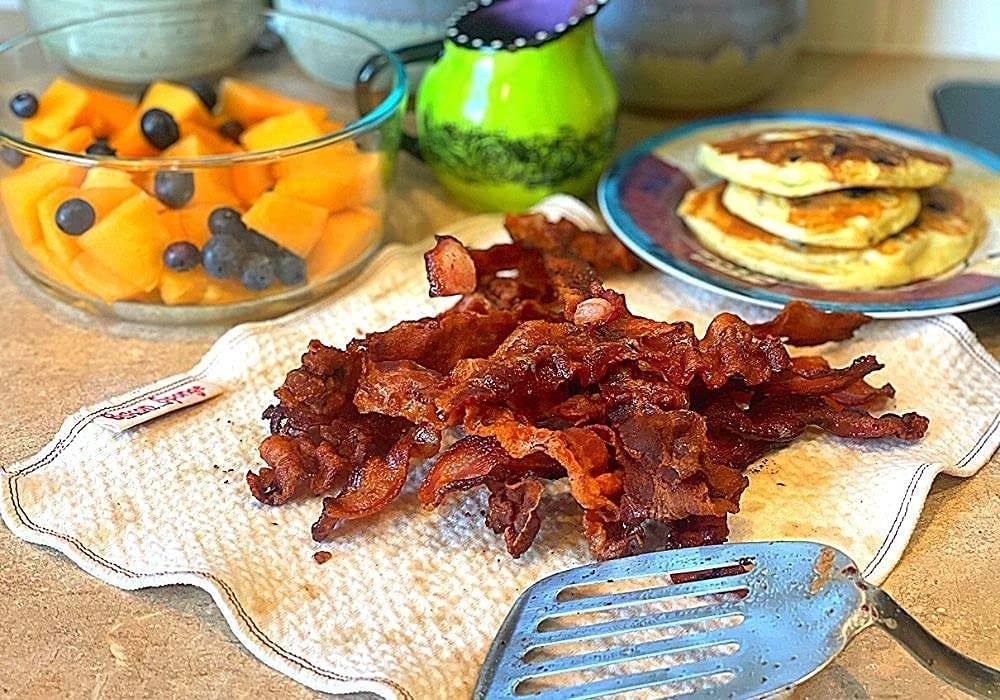 In Denver, small business Green City Living creates products to help you and your family live a greener, more sustainable life. They also donate 2.5% of their sales to Climate Emergency Fund, an organization that supports climate activists.
Promising review: "I absolutely love the Bacon Sponge. I feel it absorbs oils better than paper towels and the cleanup is easy! I'm ordering a second for big batches of food." —Karen
Get it from Green City Living on Amazon Handmade for $14.99.
8.
A water-based, instant carpet spot remover because all cleanups should be quick and easy! No matter the stain — pet accidents, grease, red wine, coffee, rust, food, dirt, and grime — it'll be gone in mere moments.
Promising review: "I just have to write a review on this! We just bought a house and the previous owner and his adult son were quite lazy when it came to cleaning up spills. The very light carpet was stained from dumped drinks, so I immediately had the carpet professionally cleaned and I actually watched him using stain-removing products that did not work. I ordered this Folex spot remover based on the high reviews. With fingers crossed, I used it on the carpet stain. I came back about 10–15 minutes later, and OMG, it was GONE. Completely gone!! Unbelievable!" —taliaferrovaia
Get it from Amazon for $9.45.
9.
A pack of teeth-whitening pens to get rid of coffee and wine stains for far less money than you might've thought. This pen's soft-bristle brush is perfect for anyone with sensitive teeth. It even makes application as easy as saying CHEESE!
Promising review: "I was hesitant to try a new teeth-whitening product after using harsh whitening strips that caused pain and lingering sensitivity. But, as a coffee and red wine drinker, I wanted to find a solution. This teeth-whitening pen is terrific. Easy to use, works well and does not have the downside of either the strips or the $450 option at the dentist. I also really love this product since whitening my front teeth is the objective. It is a great value as I anticipate the two pens that are included will last one year. I will definitely buy this again and am very happy to recommend it." —Rebecca Shehee
Get it from Amazon for $16.99.
10.
Some Glisten garbage disposal cleaner that'll foam up and scrub your disposal, leaving a fresh scent behind instead of icky drain pipe odors.
Promising review: "It seems counterintuitive to put a little packet down your garbage disposal to clean it, but this does actually seem to work, at least for getting out weird smells that baking soda and vinegar don't really touch. I scrub the sink down first, especially around the garbage disposal area, rinse it down, and then just follow the directions on the package. I have used it with single, large-size sinks and with double sinks — only difference is that the double sink will have blue cleaning foam rise up the drain, which you rinse away when the disposal sounds clear again. I have tried the foaming cleaner in a can, but unfortunately it stopped coming out of the can about 10% of the way through. Went back to this tried and true." —KS
Get it from Amazon for $3.98.
11.
An eight-second L'Oreal lamellar rinse-out treatment for shinier, healthier, and silkier hair in, well, eight seconds. Its amino acid-rich formula specifically targets damaged areas and smooths them out.
Use this two to three times per week after shampooing your hair, and remember not to use it on your scalp. This treatment is just for the length of your hair.
Promising review: "I bought this stuff on a whim because I'm always in the market for products that promise to smooth frizz and enable easier blowouts. My hair is almost shoulder length and has been through a lot of damaging bleach and harsh keratin treatments. Honestly, I was shocked at how well this worked. After one use, my hair was so easy to blow-dry. It came out straight with just a paddle brush and I was able to skip the flat iron. It still had bounce and volume, though. I'm a huge fan!" —LisaG
Get it from Amazon for $8.09.
12.
A bottle of Poo-Pourri toilet spray so when you go to do your business, it stays *your* business. Just spray a few times into the bowl before you go, and leave the bathroom smelling like a spa since Poo-Pourri is actually made of essential oils!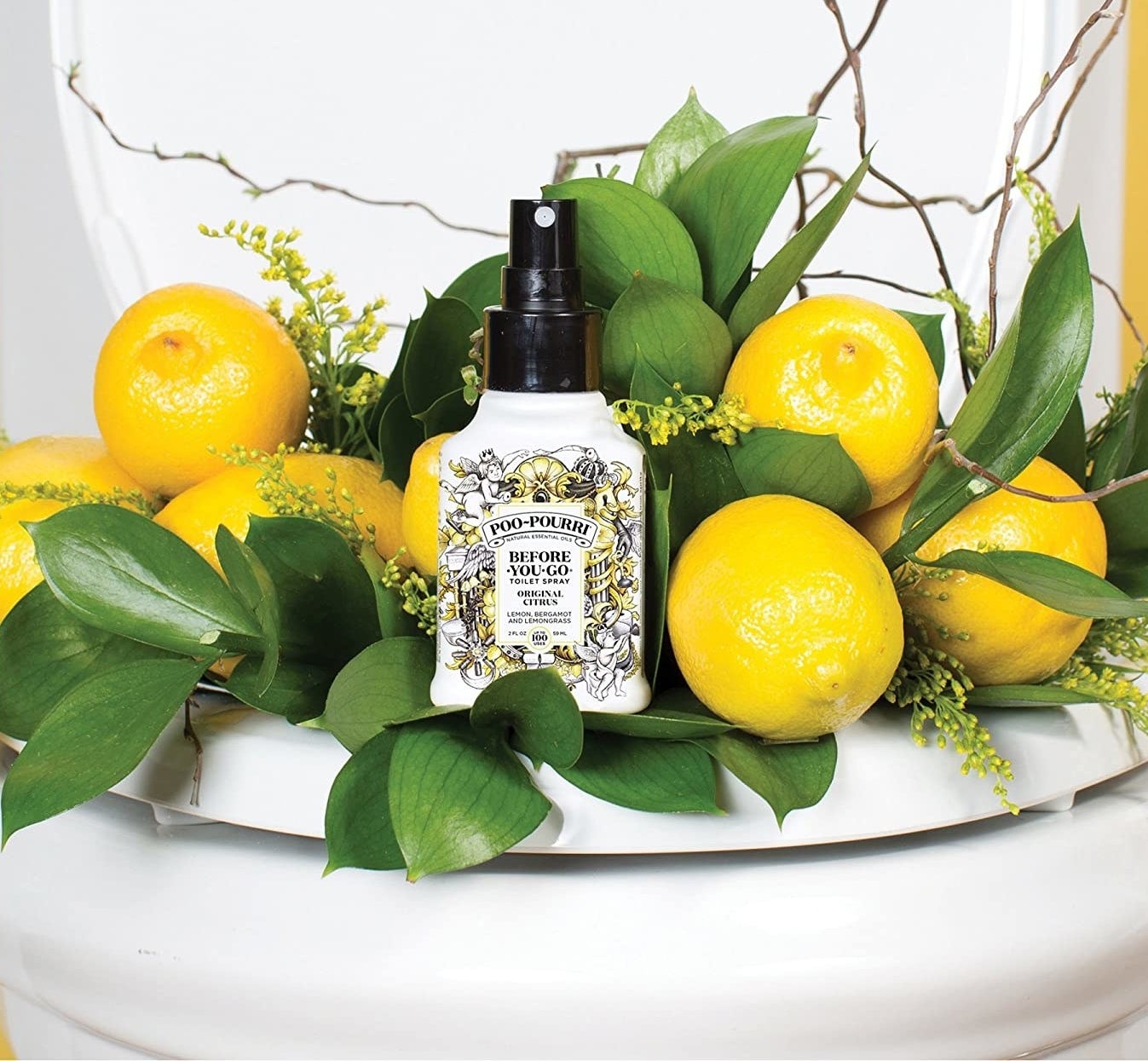 Promising review: "I didn't think I would like this, but it works! I was shocked. My husband has very regular BMs and that usually means that the rest of us have to avoid that part of the house for at least a little while. I got this for his birthday as a gag gift, but we tried it and it works amazingly well! The only downside is that I'm starting to associate the pleasant citrus scent with poop as well. It is not a subtle coverup, as anyone who walks by the bathroom will smell a great outpouring of citrus, but it's better than the alternative! Since then, we have also purchased other scents, which are also pleasant without being excessively overwhelming." —steel_muffins
Get it from Amazon for $9.10+ (available in a variety of scents).
13.
Miracle-Gro indoor plant food spikes if your plants aren't growing as fast as they should. Just stick one of these in your planters and your leafy babes will be continuously fed for up to two months!
Promising review: "I swear by these plant food spikes!!! The package says they are for indoor plants, but I actually use them for all of my outdoor plants, especially my herbs. I first tried these after planting some basil and other herbs that seemed to be taking an eternity to grow. I went to a local home improvement store and searched the garden center for plant food but many of them were priced much higher than I was willing to spend until I found these spikes. I figured I'd give them a try since they were so inexpensive and wow!!!!! Within just a few days, my plants had grown more than double what they had grown in the previous several weeks!!" —GatorDO17 
Get 24 spikes from Amazon for $2.79.
14.
An acne-fighting body wash formulated using 10% benzoyl peroxide because this wash is gentle on skin but harsh on acne!
Promising review: "For years I have struggled with really embarrassing back acne. I was a field hockey goalie in high school (gross, sweaty pads on my body) and played lacrosse in college (constant sweating under the hot Florida sun). Even after college, my back acne continued and left embarrassing scars. Now I'm 25 and still workout a lot, so my persisting back acne is SO embarrassing. All I ever wanted to do was wear a low open back dress and feel comfortable. And unfortunately, I don't have health insurance so going to the dermatologist was out of the picture. About to give up and get laser treatment for my back, I ran across this wash and decided to give it a try. And WOW. I actually wish I had taken a before picture, but I think I was too embarrassed by my back to do so. Now I NEVER get back breakouts and it's even healed some of my scarring! I'm so happy I found this product!! I wish I had found it years ago!" —joanna youssef
Get it from Amazon for $8.49+ (available in four sizes).