1.
A game of Coup if you're really great at bluffing in order to get your way. The rebellion is underway, and your objective is to be the last one standing.

2.
A game of Taco Cat Goat Cheese Pizza because it's easy to learn, fun to play, fast-paced, and a round is sure to end in a barrel of laughs!

Dolphin Hat is a small business whose mission is to create easy-to-learn games that are fun for the whole family!
Promising review: "Seriously, you need this game! We've played from ages 11–60+ with three to five players in many different settings. You'll laugh and laugh, guaranteed. We play this at home for family game nights, give it as gifts, and take on trips for fun evenings of hanging out. Each player will develop a unique style of playing and there will be goofy strategizing against the player who always seems to win. This inevitably ends in at least one player laughing so hard that they can't keep up and then the chain reaction starts. Always a great hit!" —SKK
Get it from Dolphin Hat on Amazon for $9.84.
3.
A game of Photosynthesis so you can plant and nurture trees. Earn points as your trees grow and collect energy from the sun. This calm-yet-strategic game is great for new gamers!

Promising review: "This is my favorite board game at the moment. The look and feel of the game is great, the gameplay is great, and it's just a lot of fun to play. It's a competitive game in that there's a score, but it doesn't feel competitive to play. I like watching the forest spring up and cycle through generations of trees. My wife and I usually play two players, and it holds up well for that. The game supports up to four players, which changes the strategy but makes for a better looking forest. The game is also pretty durable, we've played probably 15–20 times now, and the pieces are still holding up well." —Jesse Cronce

Get it from Amazon for $39.99.
4.
Scythe — the only way to protect your land is to build armored mechs, go into combat with your friends, and explore "The Factory." Be sure you have time to play though; this game takes a little while to set up and at least 90 minutes to play.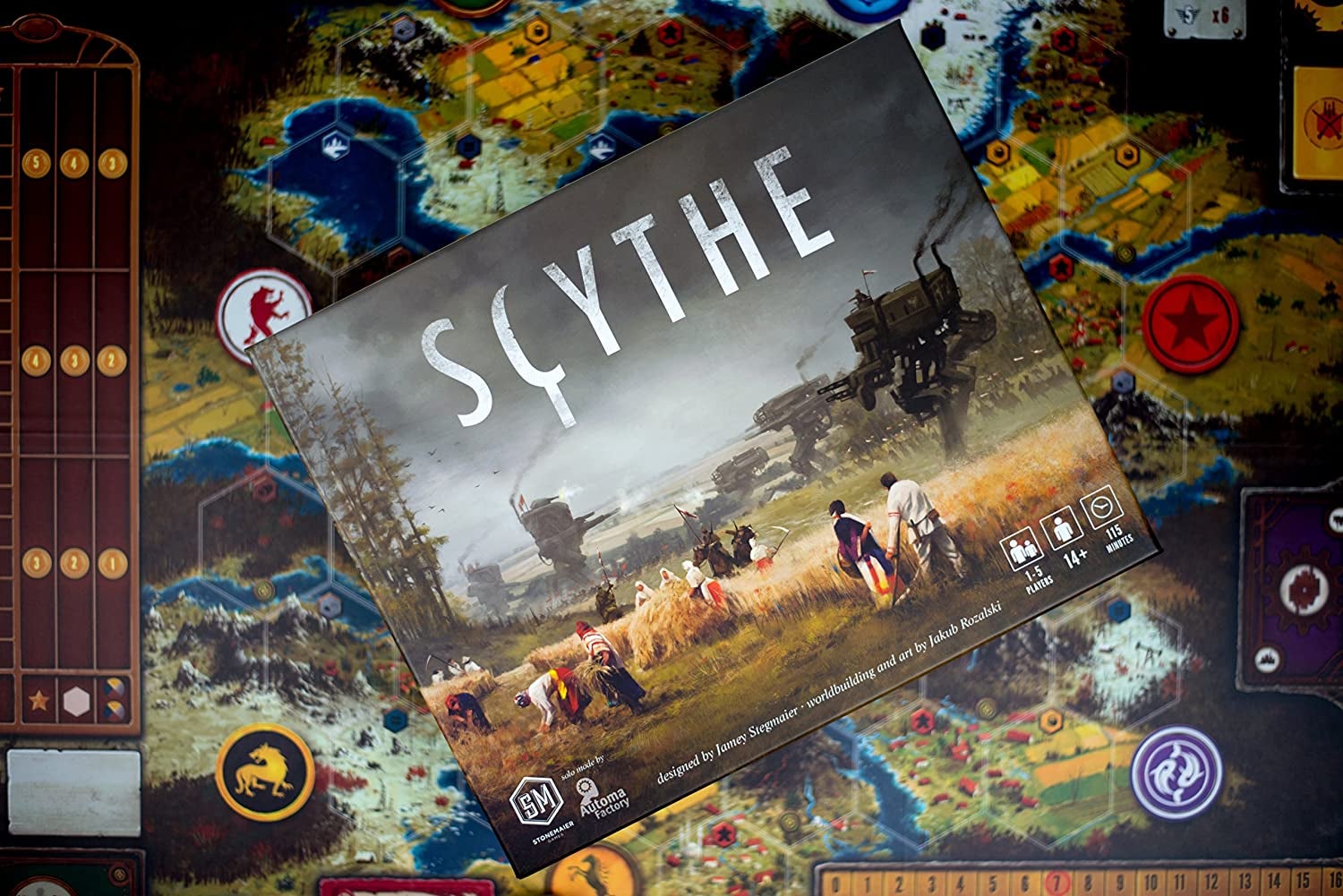 Promising review: "Behold!! Gaze in amazement, as you have stumbled upon the greatest board game in all the ages! Prepare yourself to be immersed in a glorious steam-punk reality of endless wonder! You, my friend, are about to embark on the intrepid journey that is...Scythe!! I've currently played well over 100 games of Scythe, which probably clocks in close to 150 hours of total game time. I can honestly say it is THE most fun board game I've played, and I'm still not tired of it. Scythe is a massively wonderful game of strategy that I would absolutely suggest to any board game enthusiast." —Luke Marrs

Get it from Amazon for $66.82.
5.
A game of Citadels if you like strategic world-building games. At the top of each round, a new player starts and each player receives a new role (with a fun, unique power). The first to build their kingdom ends the game, but the person with the most points wins the game.

6.
Sushi Go! because you fancy a quick game of chance. Build the perfect sushi meal with cards that are passed around each player and prove that you are the sushi master.

Promising review: "My mom freezes up on complex games, but she really enjoyed this one! It's straightforward but still leaves space for strategy, so the gamers in the group can still enjoy the game." —Somer Rowe

Get it from Amazon for $11.99.
7.
A game of Catan so you can strategically buy, steal, and trade to build a new world while making sure your opponents don't have the resources to do the same.

Promising review: "Love this game! I recommend this game (including the extensions) to anyone who enjoys a good challenge and has lots of time on their hands as this game can take up a good chunk of time to play." —Brooke Hess

Get it from Amazon for $47.85.
8.
Betrayal at the House on the Hill — explore a haunted house, but beware! There is a traitor amongst your group. With seemingly infinite potential storylines to follow, you'll never get bored playing this cursed game.

Promising review: "We love this game. It's not the quickest game to learn, but it is tons of fun. It's set up so that every time you play this game, it's different. Different characters, items, omens, bad guys, etc. That's one reason we love it: It's not the type of game you play a couple of times and then get tired of it. Every time is different. We love taking it to friends' houses for game nights." —Taylor

Get it from Amazon for $37.64.
9.
Monopoly Cheaters Edition if you've ever been tempted to cheat and just wished there were a game that encouraged it. Here you can follow, bend, or break the rules in order to win! Cheat cards even help you decide exactly how to attempt it.

Promising review: "Family of six here. Who knew I had a bunch of sneaky cheaters in my house?! My 10-year-old asked for this game for Christmas. It's a big hit at our house. It's a struggle for me to keep up with trying to spot everyone else's sneakiness and try to play my own game, but it's been hilarious. Even our 5-year-old was able to be sneaky and get money 💵 from the bank without anyone noticing." —Saadia

Get it from Amazon for $15.99.
10.
Or Golden Girls Monopoly for having fun traveling down the road and back again. And when it's time to play, just make sure you grab the cheesecake token before anyone else does.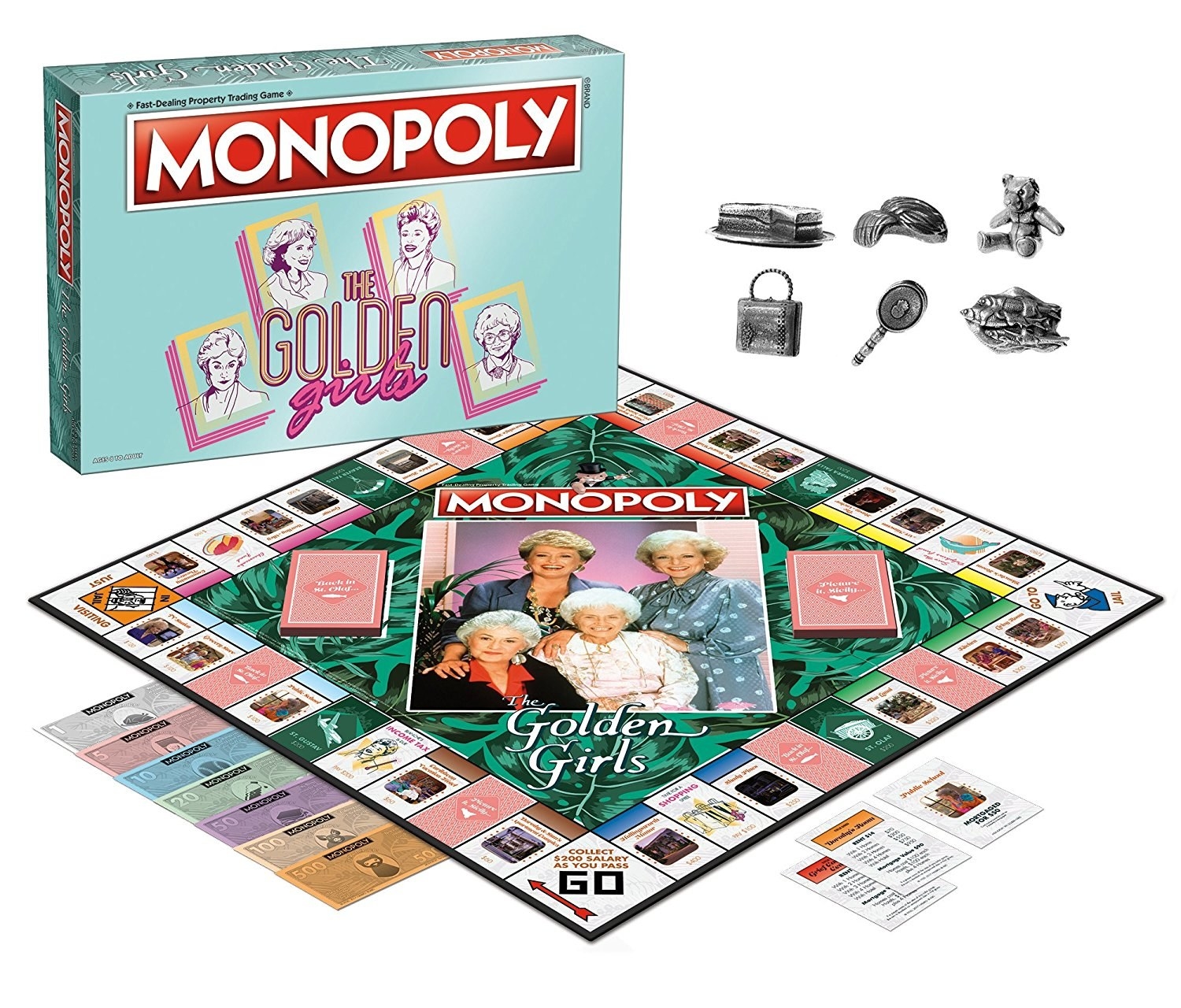 Promising review: "Love this game and to play it Golden Girls–style adds to the enjoyment! Love buying properties like Shady Pines and Blanche's bedroom. The TV show may be over but the fun goes on! If you're a fan of the Golden Girls, you'll love this game. Get it, you'll be glad you did!" —Rosemary Wiseman
Get it from Amazon for $35.99 (also consider GG Trivial Pursuit and Clue).
11.
A family-friendly game of Ticket to Ride where you are tasked with building train routes from one city to another. Gain points by completing routes and by having the longest one!
Promising review: "Engaging game for everyone! Ticket to Ride is one of my favorite games in recent years. Fairly easy to learn, competitive, and fun. There is an element of luck with the draw of destination tickets and train car cards, plus strategy of how to complete your routes through different cities to reach your final destinations. The longer routes are more challenging to complete and give you more points. You will usually complete several routes in each game, but be careful to not have any incomplete routes, because they count against your final score. There is a large, well-made game board, plastic train cards, destination tickets and different-colored train car cards. The more people playing means more competition and challenges to complete your routes. All in all, a great game and a good value." —Island April 
Get it from Amazon for $47.99.
12.
Unstable Unicorns, a friendship-destroying strategy game about unicorns and betrayal. Be the first to build up an army of seven unicorns using action cards to slow down your opponents.

Promising review: "I love that this game is easy to understand. The first time I played with a group of friends, the game went on for two hours because we could brilliantly sabotage each other and team up so no one won but everyone was close. I've played quick rounds and long rounds, and you can kind of control what is happening with what you're willing to play. ONE OF THE BEST PARTS: You can play with a big group or with just two people. There is a guide for how to play with two people (taking out some cards) that still works and is really fun!!!" —Brooklyn
Get it from Amazon for $14.49.
13.
The Chameleon — in this game of suspects and secrets, the chameleon doesn't wanna get caught not knowing the topic at hand. See if you can fool your friends into thinking you know exactly what's going on. 

Promising review: "This game allows you to get super clever with your family and friends, and I would definitely suggest this for some good laughs. It is super easy to learn and doesn't require too much space or too many pieces. It would also be a great gift for anyone who loves to play games, and would be a great drinking game as well!" —ABH
Get it from Amazon for $16.43+ (available in two packaging styles).
14.
Codenames if you're both a wordsmith and a mind-reader. You must work with the other agent(s) on your team to make contact without landing on the assassin.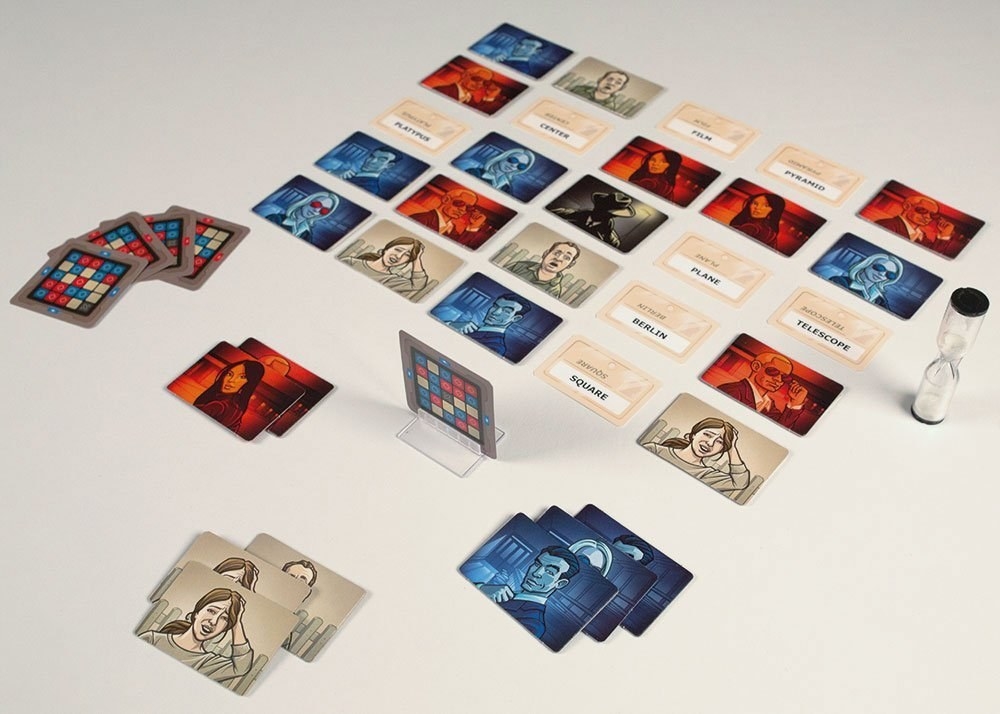 Promising review: "This might be the best game I have played since Cards Against Humanity. This is a great game for people that know each other, or a great icebreaker for those who don't. You can be as literal or as creative as you'd like with your descriptions. Unlike other games with cards, the possibilities of card layouts are nearly infinite so you don't have to toss it just because you play it often. At least three other people have bought this game after playing it with us. If you enjoy 'thinking outside the box' this is definitely a game for you." —Kristine R.

Get it from Amazon for $11.99.
15.
A spicy, fast-paced game of Sriracha for a fun but intense slapping game where you must quickly collect all the cards.