1.
Reusable cotton and bamboo makeup pads that'll help you apply toner or remove foundation. Disposable rounds got nothin' on these!
Promising review: "These reuseable makeup rounds work great! They are by far the SOFTEST rounds I've used. They feel as soft as disposable cotton rounds and much better than other brands I've tried that have a slight towel feel. The rounds are a good size and are also easy to clean. So far if I've taken any makeup off with them; I just rinse them off in the sink for a few seconds and the makeup slides right off the pad. I like to do my part in helping the environment and this is a very simple way to do that." —Jessica A Durando
Get the pack of 10 from Amazon for $15.
2.
A two-pack of reusable mop pads so you don't have to waste money on single-use Swiffer pads for your deep cleans. Made using extra-thick microfibers, these mop pads are super absorbent!
They're compatible with the original Swiffer Sweeper!
Turbo Mops is a family-run small business that wants to help you live (and clean) more sustainably.
Promising review: "The Velcro closure alone is worth the purchase. It was really easy to put on (no more pinched fingers) and the hold is very strong. No more having to handle the dirty, drippy sheets to try to reattach them in the middle of cleaning the floor. I noticed that my floors are cleaner because the microfiber absorbs more and doesn't just push the grime around the floor. Also, these can be washed in the washing machine for the next use." —Rosemary Patterson
Get a pack of two from Turbo Mops on Amazon for $10.94.
3.
A vegan and biodegradable conditioner bar designed for normal to dry hair and formulated with cocoa butter, coconut oil, vitamin B5 and lime oil. Since one bar is the equivalent of five bottles of conditioner, you'll be saving lots of money and plastic!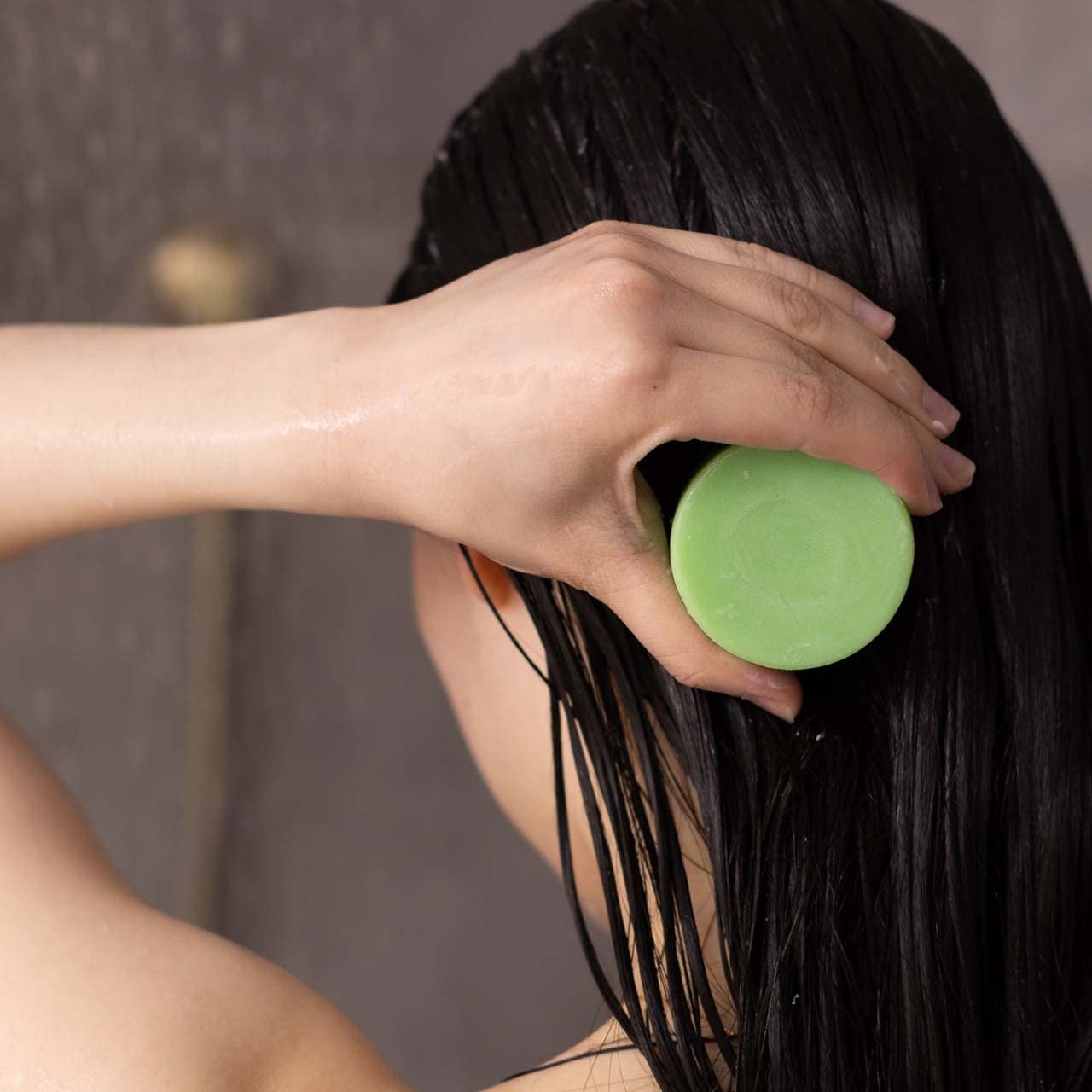 Promising review: "I have curly hair that is very fine and has a LOT of curl and volume. I need a good conditioner that will coat my hair without adding weight or any 'filminess.' And this bar gives me exactly what I need! My hair looks healthy and feels good and soft, without any oiliness or anything! I've decided to switch to a subscription, because I'm not going back to bottled shampoos or conditioners ever again!" —Christi

Get it from Amazon for $16.99.
4.
A plant-powered and biodegradable stain remover providing a safe and effective way to get rid of those grass, blood, dirt, wine, chocolate, and makeup spots and smears.
Puracy is a family-owned small business making cleaning and skincare products using natural and organic formulas. 
Promising review: "I'm always skeptical of these kinds of products, but I went ahead and decided to give this stain remover a chance because I have clothes that have small grease spots from cooking that I never notice until after I've already washed them. I used this on those items (which have already gone through the dryer several times), as well as my trusty old 'period panties' that hide in the back of my drawer. I sprayed it on the stains pretty generously, let it sit for a few hours, and then washed them as I usually do. When I took everything out of the dryer, the stains were gone! I have never seen such results from anything I've used before, including all of the big name stain removers that claim to be the best. This product will remain a staple in my laundry room forever!" —Kerry
Get it from Puracy on Amazon for $7.99+ (available in three sizes and two styles).
Read our full review of Puracy Natural Stain Remover.
5.
A pack of reusable silicone baking cups that have no need for grease. So you'll be saving money by not only skipping the single-use paper cups but also forgoing the nonstick spray!
Each set is dishwasher, microwave, and freezer safe!
Promising review: "Love that this takes up almost no space. It is a great alternative to a traditional muffin pan! The colors are so cute, and I also love that it doesn't create all the paper waste. Would definitely buy again!" —medici28
Get a pack of 12 from Amazon for $9.98+ (available in two sizes).
6.
A sleek, BPA-free time-marked water bottle if you need a little help staying hydrated throughout the day and hate how wasteful single-use plastic bottles of water are.  

Promising reviews: "I love this water bottle! Its BPA-free and looks amazing. It helped me keep track of how much water I'm drinking per day with the timestamps on the bottle while [reducing] plastic waste. It took me so long to find this bottle but it was definitely worth the trouble finding it!" —K7
"Saw it on TikTok and thought it would be a great bottle for work. It is very sleek and lightweight enough to carry when you have other items in your hand. I love the modern look, and it cleans very easily! The time increments really do motivate me. I'm definitely ordering again for myself and for gifts. Fast delivery and very nice packaging." —Rosa

Get it from Amazon for $19.99 (available in two sizes and in three colors). 
7.
A pack of dishwasher-safe refillable K-Cups — get the single-serve experience but with any of your favorite coffees. Just fill up the K-Cup and brew! No need to spend money on wasteful plastic K-cups.
Plus, DeliBru is a small business!
These BPA-free plastic cups are designed to work in any Keurig machine!
Promising review: "Really like these reusable K-Cups. I hated wasting so much plastic using regular K-Cups and found this to use as an alternative. I have had these for two years and they have held up great! Easily to fill, clean really nicely, and no complaints! And it's great you can put your own coffee in so you're not stuck to certain brands or flavors. Highly recommend if you are trying to be more environmentally friendly." —Amazon Customer
8.
A reusable stainless-steel coffee filter to replace all those paper filters with this gem. It's super easy to use and even easier to clean! Just rinse it out and you're ready for your second pot of coffee of the day. No judgment here. Just remember to descale the filter by soaking it in white distilled vinegar and warm water every two weeks.
Born in Los Angeles, Ovalware is a small biz providing useful and trendy coffee brewing products.
This dripper is carefully engineered to fit most branded coffee carafes including the 6-, 8-, and 10-cup Chemex Coffee Makers and Hario V60 02 and 03 drippers. 
Promising review: "Love this! We purchased a Chemex to minimize the amount of plastics or additional waste associated with making coffee. Also, due to the pandemic, we find we make a lot more coffee at home, which means we go through more filters — this solved our filter waste issue! We now don't worry about a ridiculous amount of paper filters being tossed out and also the way this filters is fantastic. It fits perfectly, is easy to wash, and makes for a great lid to keep the coffee warm. Would 100% recommend to others!" —Jaycob Simpson
Get it from Ovalware on Amazon for $21.99+ (available in three colors).
9.
A pack of Swedish dishcloths made of cellulose and cotton so absorbent, they'll help you cut down on drying time and trips to the store for single-use paper towels so you can do something you actually enjoy.
Not sure you can part with your sponge? Read here about why you should look into (less gross) alternatives.
Promising review: "These are absolutely wonderful and I have already bought a second set. I like to use reusable items and these washcloths are best in our kitchen as I cook most everyday and make all the normal mess that comes with daily cooking from scratch. These have washed well and clean up both using a cleaner, with water alone, and dry. Well worth the money." —Jessica M
Get it from Amazon for $20.95+ (available in 10 color combinations).
10.
A pack of three biodegradable loofahs for a deep clean that removes dead skin and wipes away excess oil from pores.

11.
A set of reusable produce bags to replace the in-store plastic bags that you're just gonna toss the second you get home and unpack your groceries.
The set includes three small, seven medium, and five large bags.
Promising review: "I ordered these to help reduce both the waste and clutter of plastic produce bags. I tried these bags last night when I went for my weekly grocery shop. They hold a good amount of produce and seem to be very durable. I used the self-checkout, and I was able to see the produce labels through the mesh. The drawstring held everything securely during the drive home. I would highly recommend these bags." —E
Get a set of fifteen from Amazon for $11.99.
12.
A reusable beeswax food wrap that'll help you preserve your fruits, veggies, breads, and cheeses. Say goodbye to plastic storage bags and clingy plastic wraps! 
Promising review: "Seriously love this product. It is sooooo much better than plastic wrap. It smells great and has a slight stickiness to it, making it great for wrapping literally anything. If you are thinking about switching from endless wasteful plastic wrap, then you have to get this!" —Maxx Kaglic
Get an assorted three-pack from Amazon for $17.49 (available in four prints).
13.
A pack of three hand-knit hemp sponges if you're tired of wasting money on rubbery sponges that disintegrate during every dish-cleaning session. These sponges don't absorb odor and are machine-washable!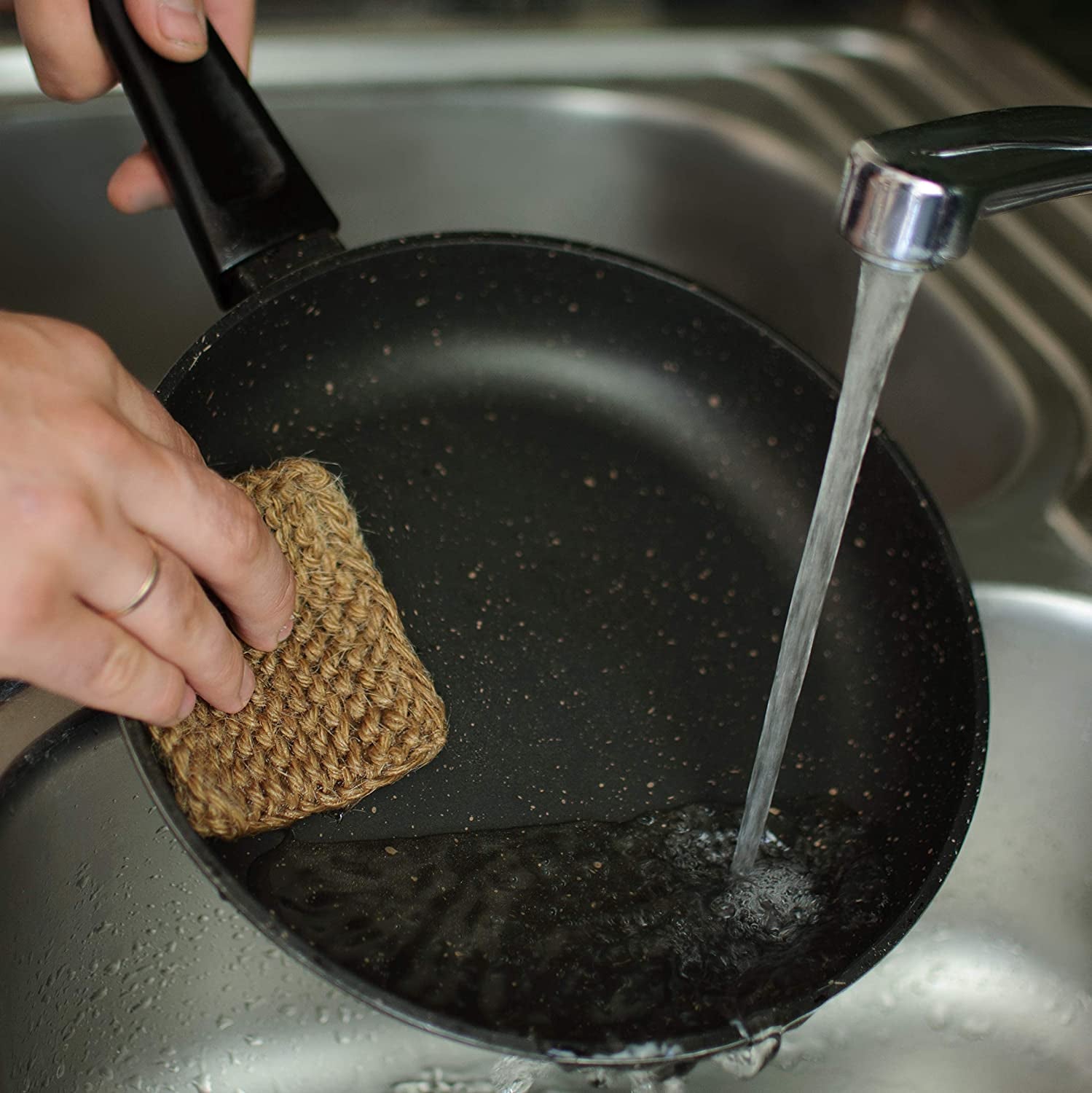 Promising review: "I was looking into low-waste/zero-waste options for hand-washing dishes, but I didn't want to buy all the different brushes most blogs and posts talk about. These hemp scrubbers are biodegradable, natural, and wicked good quality! They are tightly woven, and can do the job of any conventional dish sponge. When food debris get in between the fibers, it easily rinses away with water. I have washed it in the laundry along with my towels, and it still keeps its shape. They will definitely last a long time; they are reusable after all!" —Alexis 
Get the pack of three from Amazon for $17.
14.
A comfortable menstrual cup so you don't have to worry about leakage ruining your favorite pair of white pants. This bb can be worn for up to 12 hours and holds as much as four tampons can. Plus, if you take good care of it, it'll last up to 10 years!
Promising review: "I just bought a second cup, because I love it so much! I've been a pad wearer for over 20 years. I've always hated the way tampons feel. I finally decided to try a cup after I kept hearing about how awesome they are from so many people. This cup is seriously amazing! I've been using it for about three months now, and I'll never go back to pads! Once it's in, I don't feel it at all. There have been times when I've forgotten that it's that time of the month! I haven't leaked even on my heaviest days. And I love that I only have to mess with it every 12 hours. This cup is life changing. I'm so glad that I finally decided to give it a try!" —RavenRachel
Get it from Amazon for $28.99 (available in two sizes and three colors).
Not sure if menstrual cups are for you? Check out menstrual cup tips from people who actually use them to make a more informed decision.
15.
A plant-based oven scrub cleaner for tackling all the caked-on messes you've learned to ignore. It's made with natural ingredients (including pumice stone and baking soda), so you'll get your oven back without all the toxic fumes.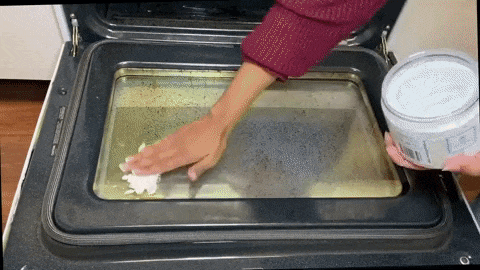 Everneat is a small business based in Fairfield, Connecticut, that specializes in natural cleaning products.
Promising reviews: "This product is amazing! It works fast with pretty minimal elbow grease. The stainless-steel sponge that comes with it makes it easier. And it smells great!" —Melissa C.
"This cleaner exceeded my expectations! I have the nastiest oven and thought it would never be clean due to all the baked on grease. But this amazing oven scrub took it all away!" —kahernandez75
Get it from Everneat on Etsy for $19.99 (available in three scents).