1.
An odor-eliminating Levoit air purifier because cold and flu season is here and the last thing you need are allergens, dust, and smoke to make this time of year even harder. Its three-stage HEPA filtration system will help keep your home's air easy to breathe.

Promising review: "I struggle with terrible winter allergies. After several years of getting bronchitis at this time of year, and swallowing two 24-hour allergy pills a day, and fighting with extremely painful ear infections, I HAD to try something new. I got this little thing hesitantly. I was worried it wouldn't work, or it would be too loud but none of that has been the case. My headaches are gone. My stuffed up nose in the morning is gone for the most part. No allergy pills required. The volume is adjustable and on its lowest it's barely noticeable. If you suffer like I have, please give this a try. I am so thankful I did." —Bunny
Get it from Amazon for $74.99+ (available in black and white).
2.
A super sleek and super quiet Levoit humidifier and diffuser if the cold weather has brought with it congestion, coughs, or dry skin. It's even got a 360-degree mist nozzle. Raise the humidity by 10% in just 20 minutes!

Promising review: "I have searched and searched for the perfect humidifier for my bedroom. After reading the positive reviews of this one, I ordered it. It is awesome! I love that it is top fill. I will be able to get into every nook and cranny to clean it, and it's super super quiet! I also appreciate that it doesn't have an annoying bright light on it anywhere!! The most important thing is that I can adjust how much moisture comes out of the top. I have used it a few nights now and I'm not waking up choking with my mouth and throat being so dry and stuck together. Great product and I would recommend to anyone who is looking for a humidifier to put beside their bed at night during the winter. You will not be disappointed!" —MH

Get it from Amazon for $37.99 (available in two colors).
3.
A super smart (and cute) humidifier tank cleaner for keeping your humidifier mold and mildew free for up to 30 days. It also kills 99% of odor-causing bacteria, which you need if your humidifier has been spewing out some smelly smells.
Promising reviews: "I LOVE these little fish. I've been using them for about 2.5 years now and I truly believe they help keep the humidifier and water cleaner. People don't realize all the nasty mold and bacteria that can be growing in their humidifier and then released into the air in their room! I've noticed a huge difference in mold growth when I use these fish." —Shelly
Get it from Amazon for $5.28.
4.
A gorgeous, handcrafted wreath to stamp the front of your home with. Now even passersby will know that no Grinches live here.

Promising review: "This is such a beautiful and FULL wreath; no skimping on materials here. It was fun unpacking it and unbending/arranging some of the branches, etc. It was packed beautifully and it is so nice to have that keepsake box to store it in when not in use." —Mindy Silver

Get it from Amazon for $69.47.
5.
A fast-acting and environmentally friendly ice melt that won't irritate or dry out your skin when handled. Be prepared for any rogue snowstorms that come your way.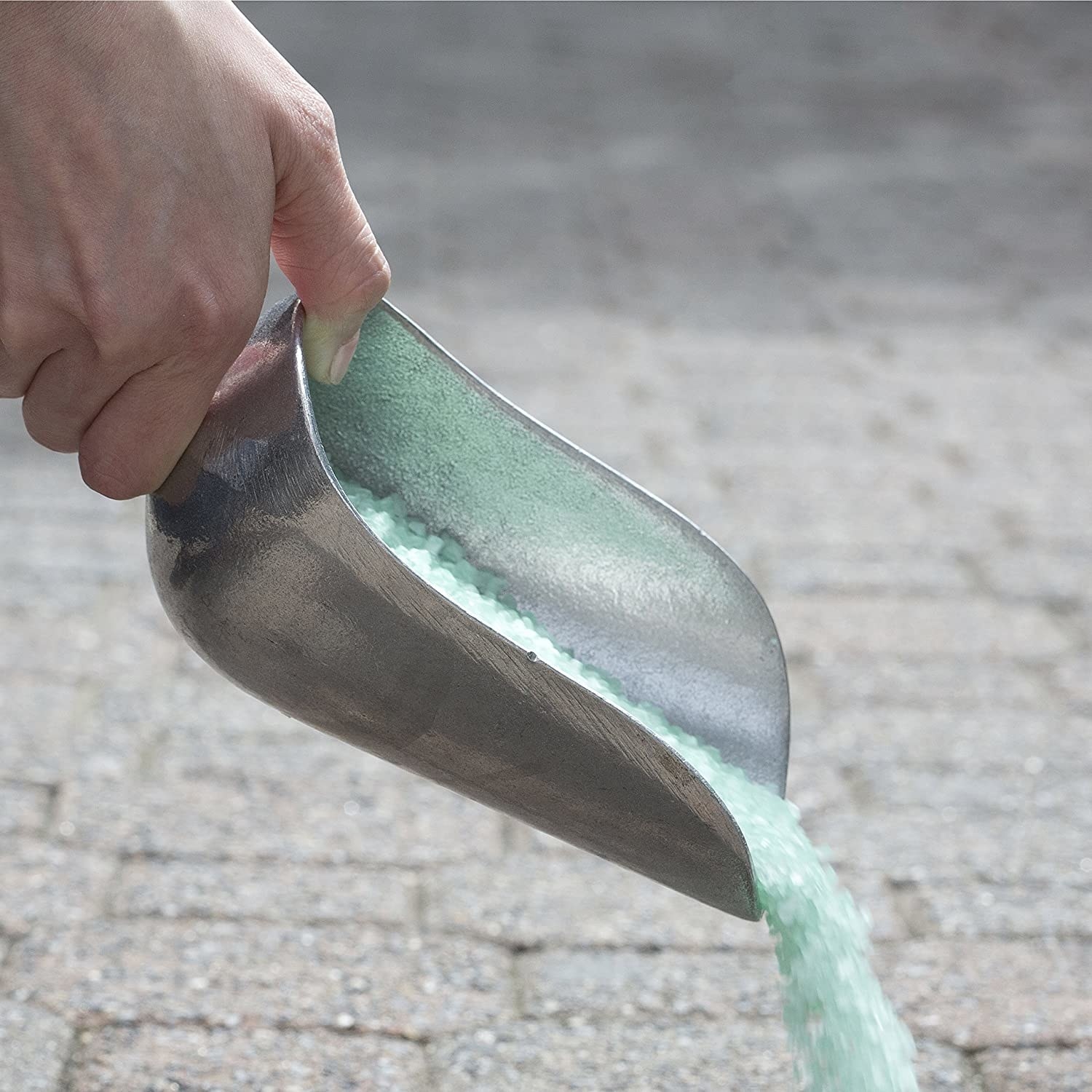 This even comes with a handheld ice melt spreader!
Promising review: "Today in Chicago it snowed throughout the day, not blizzard, but a normal 5-ish inches. I live in the city and have to keep my sidewalks clean, so I shoveled midday to break up the torturous foot-traffic-packed snow that builds up, and broke a decent sweat (shoveling about 15 feet of sidewalk). I said 'see you later' to my neighbors who were also shoveling. I put this salt down over the remnants of my hardship, figuring it'd make round two easier. It has been six hours and my sidewalk is clear — no random patches of ice, clear — while my neighbors already had a solid new layer of snow to shovel. I will not be joining the next round." —Kate
Get a 50-pound bag from Amazon for $43.82 (available in other sizes). 
6.
A gingerbread simple syrup so you can step up your home latte game without artificial flavorings and colorings. Give your coffees, mochas, and hot chocolates a wintry twist!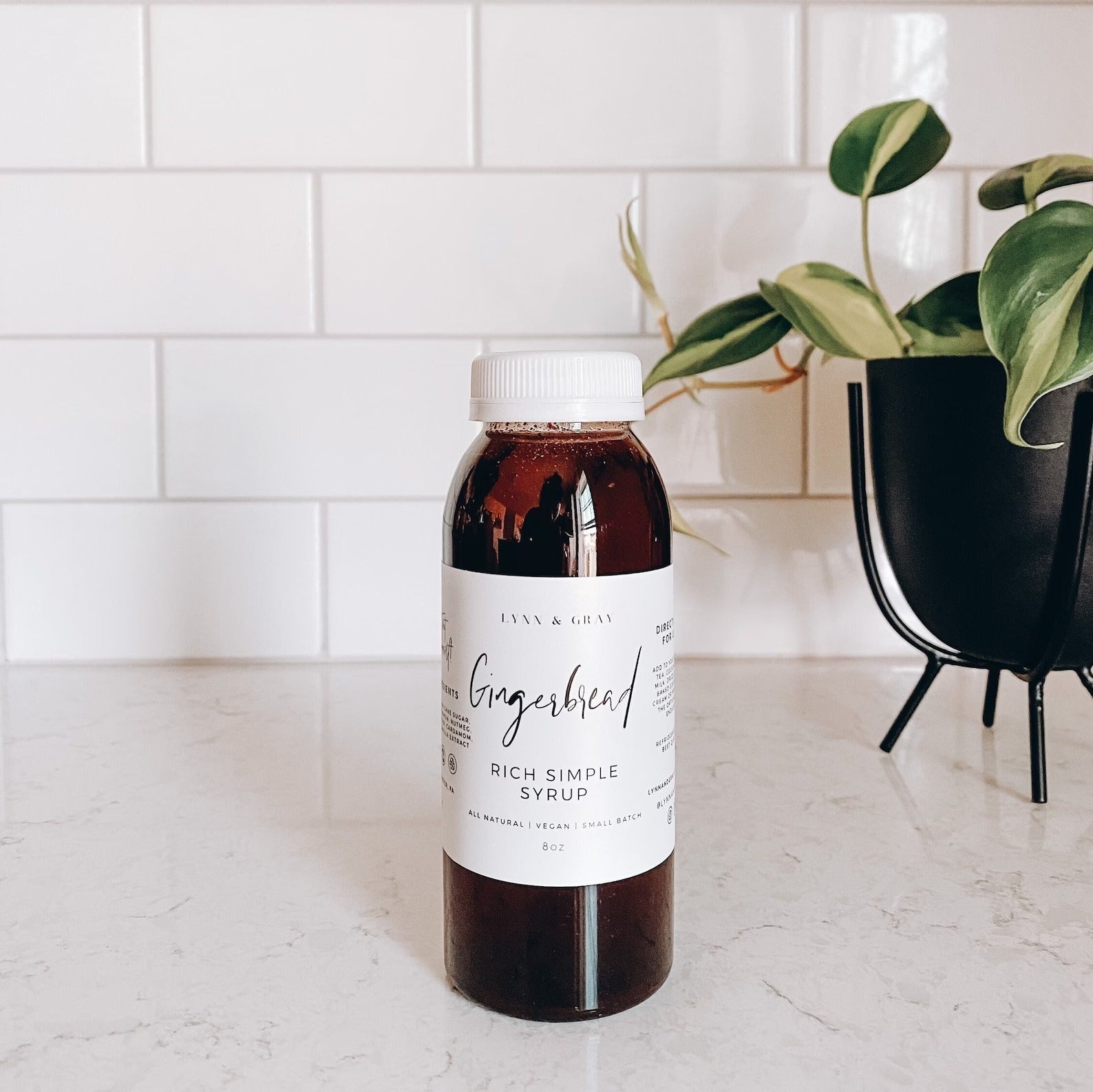 Lynn & Gray is a Pennsylvania-based small biz handcrafting essential oil diffusers and simple syrups.
Promising review: "This is the best gingerbread syrup I've had. I was looking for something to replace Starbucks to make my own gingerbread lattes, and this is actually better than theirs. It is delicious." —Ellie Clinesmith
Get it from Lynn & Gray on Etsy for $10.50+ (available in two sizes).
7.
A cheese board and cutlery set because 'tis the season for gathering and merrymaking and that means making sure your guests are full of cheese and crackers. Made of acacia wood, this water-resistant cheese board will take your hosting to the next level.

The set includes the three bowls, a matching knife set with three utensils, and three compartments that can be used for the bowls or on its own for snacks.
Promising review: "Got this for my mom who is obsessed with making cheese boards. She loves it. Great gift and pretty unique design. The packaging was also very impressive, which made it an even better gift." —Amazon Customer
Get it from Amazon for $49.99 (also available in a lazy susan style).
8.
A UV-free LED sunlight lamp if the sun's early setting is ruining your vibe. This lamp provides glare-free "happy light" that feels just like the sun's rays, so you can enjoy boosts of energy and focus throughout the day.

Promising review: "I've been using my HappyLight for a month and I can honestly say that I do notice a difference in my morning outlook and energy. I have it on my vanity table and sit with it for at least a half hour while drinking coffee, scrolling TikTok, answering emails, catching up on the overnight news, and solving Wordle. It also serves as a supplemental makeup light while I do my makeup and morning skincare routine! Like many of you, I go to work in the dark/come home in the dark during this time of year. I know I need at least some artificial sunshine in my life to ward off the winter blues." —Virginia

Get it from Amazon for $39.99.
9.
A très chic acrylic bathtub tray for a series of well-deserved self-care days. Prepare a glass of wine, light a candle, drop in a bath bomb, and get ready for a relaxing and rejuvenating bath.
10.
A seasonally appropriate doormat sure to let anyone visiting you know that once they cross that threshold, they must be prepared to spend the day lounging with a soft blanket and a mug of cocoa.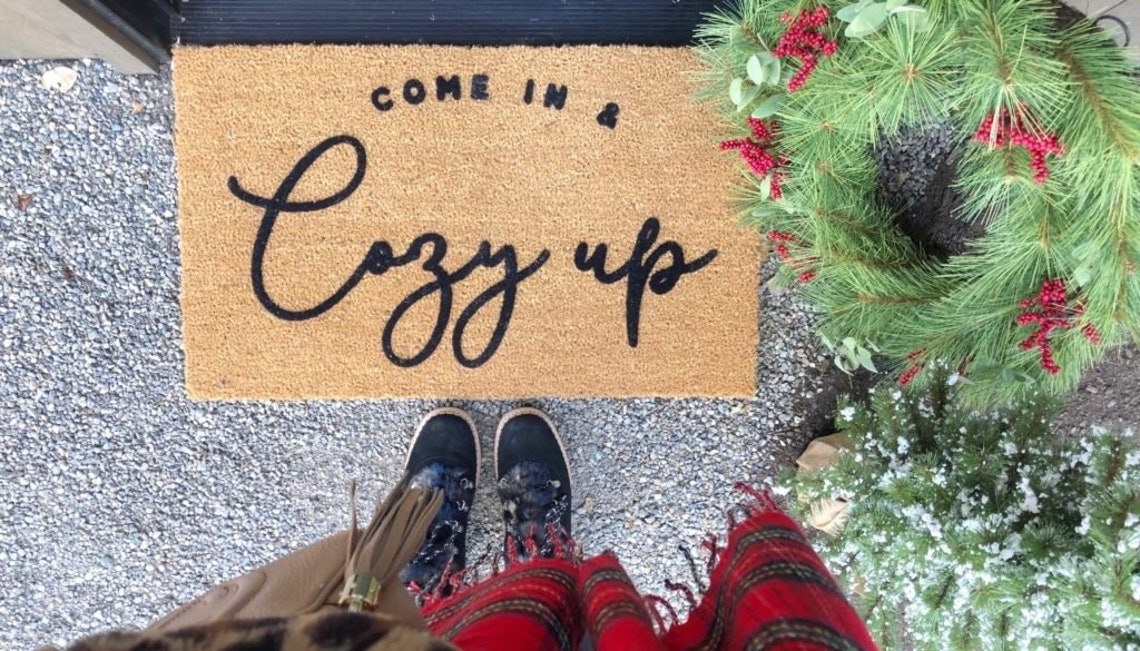 Home Maven is a woman-owned small business based in Tampa, Florida, making cute, custom doormats.
Promising review: "Beautiful rug! It came quickly and is absolutely gorgeous! It doesn't shed too much and looks very durable!" —coliver102
Get it from Home Maven on Etsy for $54+ (available in five sizes).
11.
A pack of foam socket sealers that'll stop any rogue breezes from finding their way into your home through slight gaps between your walls and switch plates and outlets.
You'll get 16 outlet sealers, 6 switch plate sealers, and 2 decorative covers.
Promising review: "These actually work. I admit that I had my doubts at first, but then, I verified the results with the a thermal leak detector. Outlets that were at least two or three degrees lower in temperature prior to installation were actually warmer than the wall after I installed. Pretty amazing. Package comes with mostly double round sockets and a few square. Our house has all square, so we cut the round to fit the square plate, and they work very well. We used the light switch cutouts for cable coax outlets, which made a huge difference." —K. S.

Get the variety pack on Amazon for $14.99.
12.
A pack of six aromatherapy shower steamers for turning shower time into a nice trip to the spa this winter. Relieve a little stress with a lavender, eucalyptus, vanilla, watermelon, grapefruit, or peppermint steamer.
Promising review: "These are the best shower steamers I've ever tried. Usually they aren't strong enough or they melt too quickly to even enjoy. They are also bigger than what you can buy at the store. One lasted my entire shower and still smelled amazing even after I was done. These are the best shower steamers hands down. I would definitely buy these again." —Krista 
Get it from Amazon for $19.99.
13.
A Bluetooth record player so you can play all the biggest and best holiday hits! Sit back and relax as Mariah Carey croons about Christmas on this retro-inspired record player.
Promising review: "I'm in love with my record player. I don't have any bad thing to say about it. The sounds quality is great. The way it looks is perfect. I actually own a second record player and this is my favorite as it looks very vintage. Is definitely giftable. I'm buying this for my sister who also loves collecting vinyls." —Liliana

Get it from Amazon for $59.99+ (available in eight colors).
14.
A boot dryer and warmer because you don't have time to wait for your boots to thaw from yesterday's snowy excursion; you have things to do and people to see! This device silently warms the air that rises into the boots so they dry more quickly.
Promising review: "I was skeptical for the 'no moving parts' thing, and also concerned for energy usage because I'm a cheapskate when it comes to that electric bill. But some sorcery allows for this thing to have no moving parts, low energy consumption, AND the boots are hot in the morning. No more wet toes before I even leave the house. I read a lot of reviews of people whining about not having an on/off switch or having to unplug it to turn it off. I thought it was a legitimate concern before purchasing but have now determined that it was just whining. I have two pairs of boots anyway so there's always one pair on it. Pleased with purchase." —Public name (required)
Get it from Amazon for $49.99.