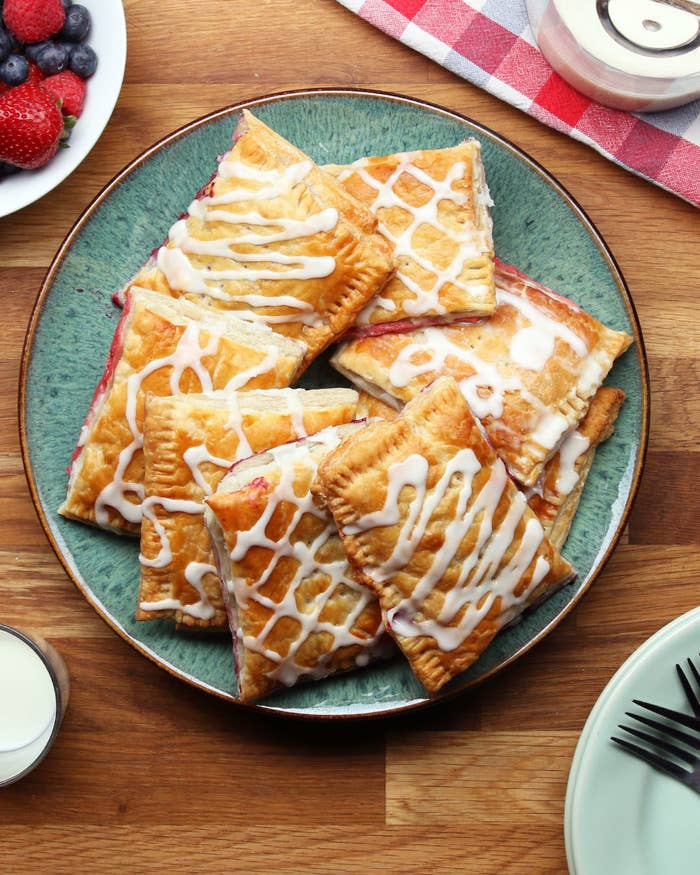 INGREDIENTS
for 8 servings
¼ cup all-purpose flour, for dusting (30 g)
2 sheets puff pastry, thawed if frozen
STRAWBERRIES 'N' CREAM FILLING
¼ cup cream cheese, softened (55 g)
1 tablespoon sugar
1 teaspoon vanilla extract
4 strawberries, stemmed and diced
VERY BERRY FILLING
⅓ cup raspberry (40 g)
⅓ cup blueberry (35 g)
1 tablespoon sugar
½ tablespoon lemon juice
½ teaspoon lemon zest
CHOCOLATE BANANA FILLING
¼ cup chocolate hazelnut spread (75 g)
1 banana, sliced
APPLE PIE FILLING
½ green apple, sliced
1 tablespoon brown sugar
⅛ teaspoon cinnamon
EGG WASH
1 egg, beaten with 1 tablespoon water or milk
GLAZE
1 cup powdered sugar, sifted (120 g)
1 tablespoon milk
¼ teaspoon vanilla extract
PREPARATION
1. On a lightly floured surface, roll out the puff pastry sheets to 9x12-inch (23x30-cm) rectangles. Set one pastry sheet aside and fold the other in half lengthwise, then in half crosswise twice, to form creases for 8 pockets. Unfold the pastry sheet on the prepared baking sheet.
2. Make the Strawberries 'n' Cream filling: In a small bowl, combine the cream cheese, sugar, and vanilla, and mix until smooth.
3. Make the Very Berry filling: In a small bowl, mash the raspberries, then add the blueberries, sugar, lemon juice, and lemon zest. Mix with a fork.
4. Spoon the berry mixture over the center of 2 of the 8 rectangles.
5. Use a spatula to spread the chocolate hazelnut spread over the center of 2 more rectangles, then top with the banana slices.
6. Use a spatula to spread the cream cheese mixture in the center of 2 more rectangles, then top with the strawberries.
7. Place apples slices in the center of the remaining 2 rectangles, then sprinkle with the brown sugar and cinnamon.
8. Preheat the oven to 400˚F (200˚C). Line a baking sheet with parchment paper.
9. Brush the egg wash over the pastry around the edges and between each filling, then top with the remaining puff pastry sheet. Use your fingers to press the pastry down around each filling. Once tightly pressed, use a pizza cutter or knife to cut out each pocket.
10. Seal the outside edges with a fork. Poke the top of each pocket with a fork 3-4 times to ventilate. Brush the tops with egg wash.
11. Bake for 25 minutes, or until golden brown.
12. Make the glaze: In a medium bowl, combine the powdered sugar, milk, and vanilla. Stir until smooth and thick.
13. Remove the pockets from the oven and let cool for 5 minutes. Decorate with the glaze, then serve immediately, or wrap in wax paper and freeze for up to a week. Reheat in the toaster oven.
14. Enjoy!