Sheet-Pan Crispy Chicken Strips And Veggies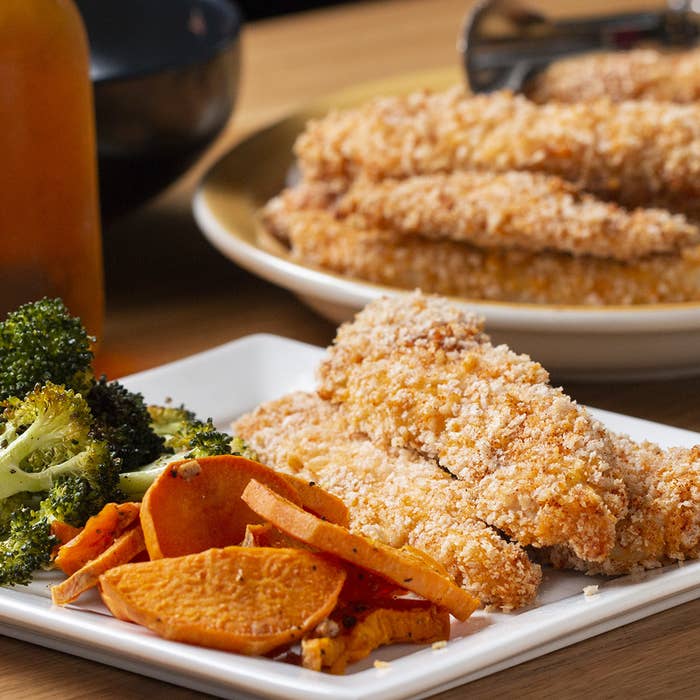 Ingredients:
for 4 servings
CRISPY CHICKEN STRIPS
4 boneless, skinless chicken breasts
2 large eggs
3 tablespoons extra virgin olive oil, divided
1 ½ cups panko breadcrumbs (75 g)
2 teaspoons paprika
1 ½ teaspoons kosher salt, divided
1 cup all-purpose flour (125 g)
2 cups broccoli floret (300 g)
½ teaspoon ground black pepper, divided
2 cloves garlic, minced, divided
2 sweet potatoes, peeled
DIPPING SAUCE
½ cup mayonnaise (120 g)
2 tablespoons dijon mustard
2 teaspoons honey
BBQ sauce, for serving, optional
ketchup, for serving, optional
Preparation:
1. Slice the chicken breasts into strips.
2. In a medium bowl, add the eggs and 1 tablespoon of olive oil. Whisk to combine.
3. In a large bowl, combine the panko bread crumbs, paprika, and 1 teaspoon of salt.
4. Place the flour in another medium bowl.
5. Coat the chicken strips in the flour, then in the eggs, then in the bread crumbs and place on a baking sheet.
6. Cut the broccoli into florets.
7. Preheat the oven to 375°F (190˚C) and line 2 baking sheets with parchment paper.
8. In a large bowl, toss the broccoli florets with 1 tablespoon olive oil, ¼ teaspoon salt, ¼ teaspoon pepper, and half of the minced garlic. Arrange on half of the remaining baking sheet.
9. Cut the sweet potatoes in half lengthwise, then slice into half-moons.
10. Toss the sweet potatoes in a large bowl with the remaining tablespoon of olive oil, ¼ teaspoon salt, ¼ teaspoon pepper, and minced garlic, and place on the baking sheet next to the broccoli.
11. Bake both baking sheets simultaneously, until the veggies are browned and the chicken is crisp, about 20 minutes.
12. Make the dipping sauce: Combine the mayonnaise, mustard, and honey in a small bowl.
13. Serve the chicken and veggies with the dipping sauce, BBQ sauce, and ketchup, if using.
14. Enjoy!