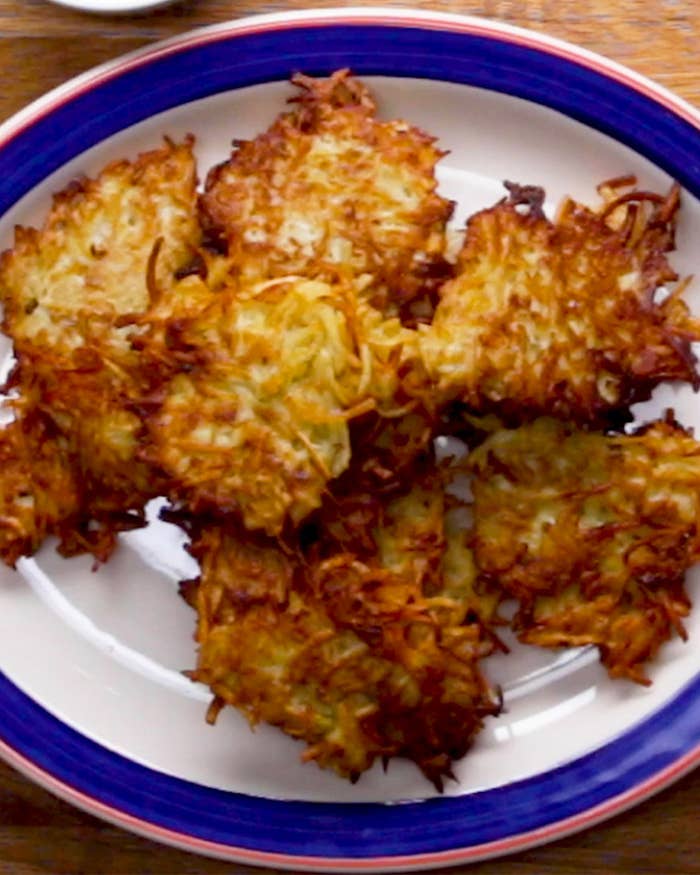 INGREDIENTS
for 25 latkes
¾ medium yellow onion, peeled and cut into large pieces
3 medium russet potatoes, peeled and cut into large pieces
¼ cup all purpose flour (30 g)
1 teaspoon kosher salt
2 large eggs
vegetable oil, for frying
cinnamon applesauce, for serving
sour cream, for serving
PREPARATION
1. Using a food processor fitted with a grater blade or the large holes of a box grater, grate the onion. Transfer to a bowl and set aside.
2. Line a large bowl with paper towels or a clean kitchen towel. Squeeze the excess liquid from the potatoes into the bowl. Drain the liquid, then add the potatoes to the bowl, along with the grated onion, and toss to combine.
3. Add the flour, salt, and eggs and stir to combine.
4. Heat 2 inches (5 cm) of vegetable oil in a heavy-bottomed pot over medium-high heat until it reaches 350˚F (180˚C).
5. Dollop about ¼ cup (30 g) of the latke mixture at a time into the hot oil and spread to make pancakes, about 3 inches in diameter. Do not overcrowd the pan.
6. Reduce the heat to medium and fry until the latkes are browned on the bottom and the edges are crispy, 3–5 minutes. Flip and cook on the other side for about 5 minutes more, until browned and crispy. Transfer the latkes to a paper towel–lined plate to drain, and repeat with the remaining batter.
7. Serve the latkes with cinnamon applesauce and sour cream.
8. Enjoy!