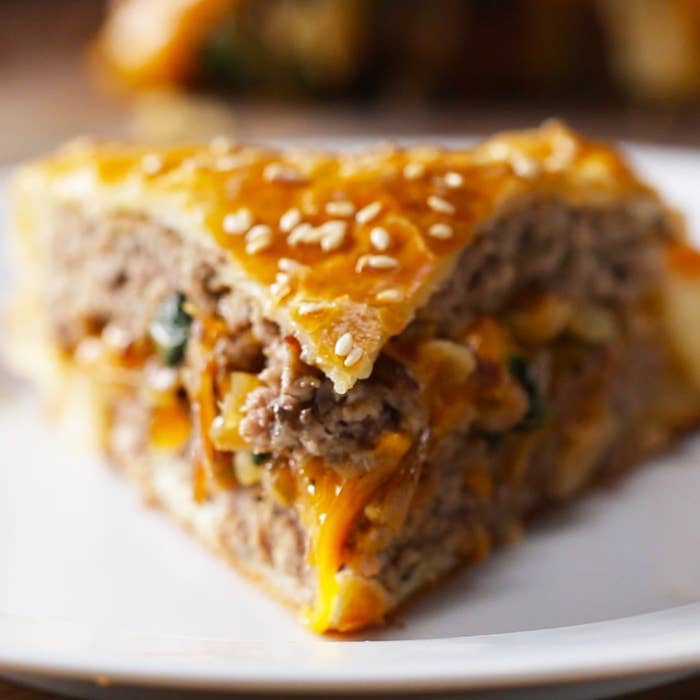 Ingredients
for 5 servings
2 lb (905 g) ground beef
salt, to taste
pepper, to taste
1 medium yellow onion, sliced
3 cloves garlic, minced
2 cups (80 g) fresh spinach
2 sheets puff pastry
8 slices cheddar cheese
1 egg, beaten
sesame seeds, for sprinkling
Preparation
1. Preheat the oven to 400°F (200°C).
2. In a medium 8-inch (20-cm) cast-iron skillet, press down half of the ground beef with a spatula to mold into a patty. Season with salt and pepper.
3. Place the cast-iron skillet over medium-high heat and sear the patty until browned, about 4 minutes on each side.
4. Remove the patty from the skillet and set aside. Repeat with remaining beef.
5. Return the pan to low heat and add the onion. Cook, stirring occasionally, until the onion is caramelized, about 20 minutes.
6. Add the garlic and spinach, stirring until the spinach is cooked down, about 5 minutes.
7. Lay one sheet of puff pastry on a baking sheet and top with 1 patty.
8. Layer 4 slices of cheese over the patty, then top with the caramelized onion mixture.
9. Top with the remaining 4 slices of cheese and the other patty.
10. Cover with the other sheet of puff pastry.
11. Trim the edges of the pastry with a knife and discard.
12. Crimp the edges of the pastry, then press with a fork to seal.
13. Brush the top and sides of the pastry with the beaten egg and sprinkle with sesame seeds.
14. Bake for 30 minutes, or until the pastry is golden brown and cooked through.
15. Slice and serve with additional toppings of your choice.
16. Enjoy!