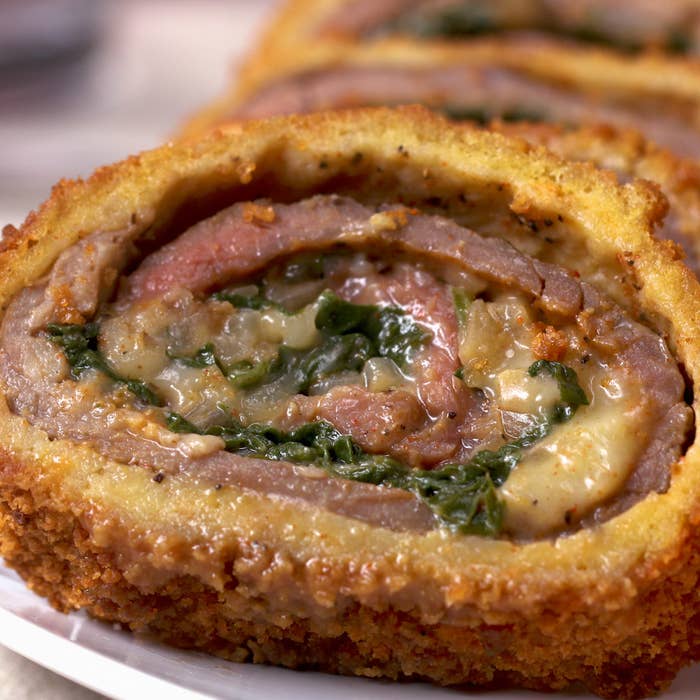 Ingredients:
for 6 servings
1 tablespoon olive oil
1 onion, finely chopped
2 cloves garlic, minced
5 cups (200 g) spinach
2 lb (905 g) beef sirloin flap
salt, to taste
pepper, to taste
1 tablespoon garlic powder
1 tablespoon paprika
4 slices monterey jack cheese
2 cups (250 g) flour
5 eggs, beaten
3 cups (150 g) panko bread crumbs
oil, to fry
CREAMY PEPPERCORN GRAVY
¼ cup (60 g) butter
2 tablespoons garlic, minced
¼ cup (30 g) all-purpose flour
2 cups (480 mL) milk
salt, to taste
½ teaspoon nutmeg
freshly ground black pepper, to taste
Preparation:
1. In a large pan, heat the olive oil over medium-high heat. Add the onion, garlic, salt, and pepper. Stir until softened, 3-4 minutes.
2. Add the spinach and stir until wilted down. Remove the pan from the heat.
3. Season the steak on all sides with salt, pepper, garlic powder, and paprika. Lay a piece of parchment paper over the cubed steak. Using a meat mallet or rolling pin, pound the steak until ¼-inch (6-mm) in thickness.
4. Remove the parchment paper. Lay the slices on Monterey Jack evenly over the cube steak. Add the sauteed spinach mixture over the cheese.
5. Gently roll up the steak, making sure to keep it as tightly wrapped as possible. 6. Place the steak log on a sheet of plastic wrap. Wrap the steak up, tightly securing each side.
7. Refrigerate the steak for 1 hour.
8. Place the flour, eggs, and panko in three separate shallow dishes.
9. Gently unwrap the steak roll from the plastic wrap. Dip it into the flour, dusting off any excess. Dip the steak roll into the eggs, into the panko, and then back into the eggs, and back into the panko.
10. Preheat oven to 325˚F (160˚C).
11. Fill a pot with tall sides with one inch (2 cm) of oil and heat to 350˚F (180˚C).
12. Gently place the steak roll into the oil, and fry until golden brown, about 2-3 minutes.
13. Gently turn the steak over with tongs, and fry until the other side is golden brown, about 2 minutes.
14. Transfer the steak roll to a baking sheet.
15. Bake for 25-30 minutes.
16. To a small pot on medium heat melt the butter, add garlic and the flour, mix the ingredients together until a loose paste forms and cook this mixture on low until it starts to darken just a bit, about 5 minutes.
17. Add in the milk, salt, nutmeg, pepper, and whisk until smooth. Let the gravy come to a simmer, then take off the heat.
18. Once the steak Rolls are finished. rest at room temperature for at least 10 minutes. Slice into four to six slices.
19. Serve with mashed potatoes, green beans, carrots, corn and peppercorn gravy.
20. Enjoy!