Chocolate Cheesecake Pudding Cups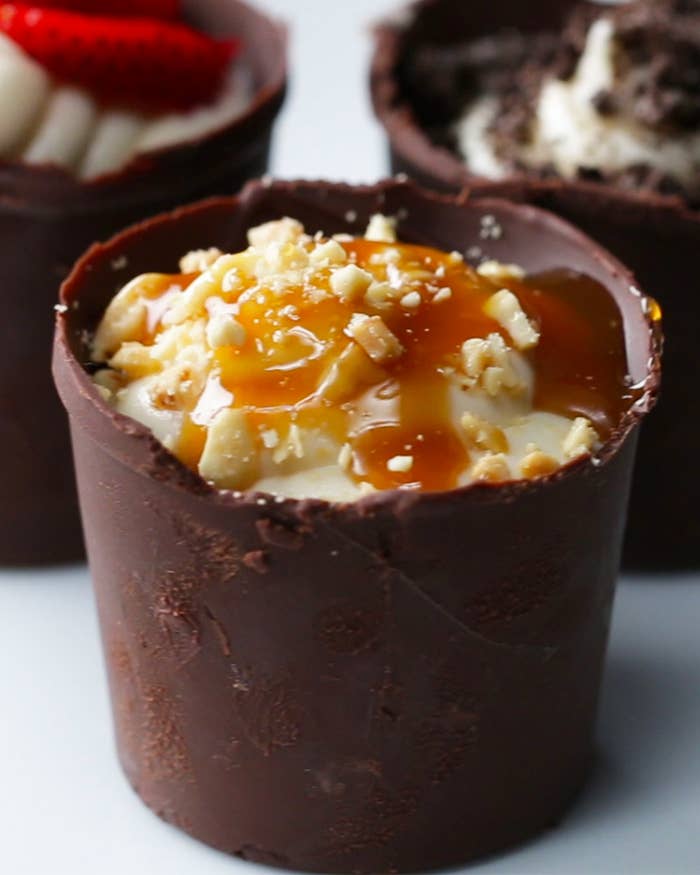 Ingredients:
for 3 servings
3 chocolate pudding cups
1 cup semisweet chocolate (170 g)
2 teaspoons coconut oil
8 oz cream cheese, softened (225 g)
¼ cup sugar (50 g)
1 teaspoon vanilla extract
TOPPING
peanuts, crushed
caramel
cookies, crushed
strawberry, sliced
Preparation:
1. Open the chocolate pudding cups and spoon the pudding into a medium bowl.
2. Place the pudding in the refrigerator and wash out the plastic cups.
3. Using scissors, cut the cups down one side and across the bottom, leaving one side of the cup intact. Tape the cut edges together to seal the cups. Set aside.
4. Place the chocolate chips in a medium microwave-safe bowl. Add the coconut oil and melt in the microwave in 30-second intervals for 1 minute total. Stir the chocolate until smooth.
5. Spoon the melted chocolate into the plastic cups. Tilt the cups to coat the insides completely and pour any excess chocolate back into the bowl.
6. Place the cups on a baking sheet and refrigerate until set, about 5 minutes.
7. Add the cream cheese to a medium bowl with the sugar and vanilla. Stir until smooth and well-combined. Transfer to a piping bag or zip-top plastic bag with a corner cut off.
8. Transfer the reserved chocolate pudding to another piping bag or zip-top plastic bag with a corner cut off.
9. Peel the tape off the pudding cups and carefully remove the plastic from the chocolate cups.
10. Flip the cups upright and pipe the chocolate pudding into the bottom of the cups. Top the pudding with the cheesecake mixture and your favorite dessert toppings, such as crushed peanuts, caramel sauce, crushed cookies, and/or strawberries.
11. Enjoy!