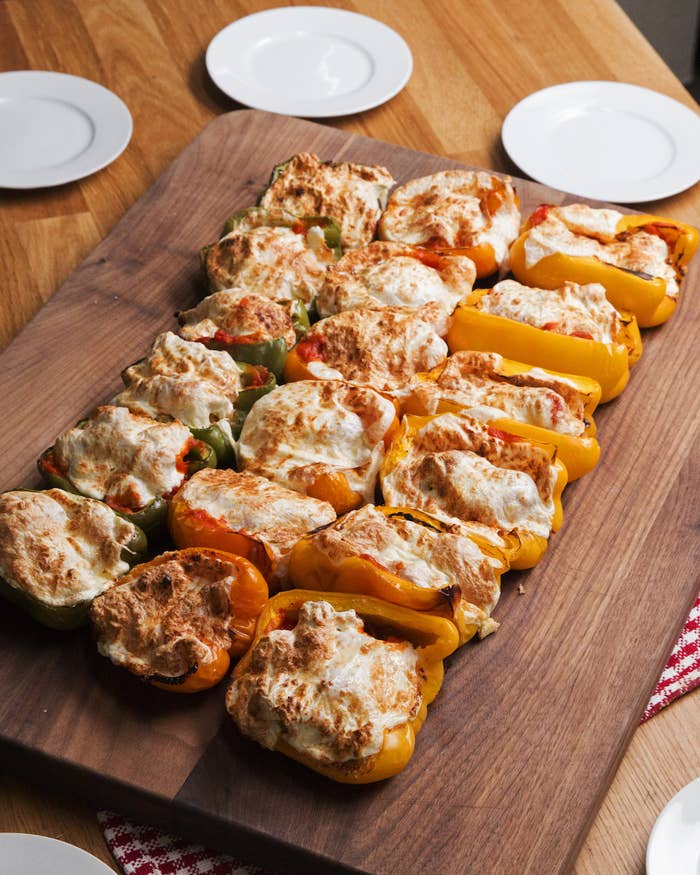 Ingredients
for 15 servings
nonstick cooking spray, for greasing
2 lb chicken breast, diced (910 g)
2 teaspoons salt
2 teaspoons pepper
2 teaspoons dried oregano
2 teaspoons garlic powder
2 teaspoons dried rosemary
2 teaspoons onion powder
2 cups all purpose flour (250 g)
6 large eggs, beaten
3 cups plain breadcrumbs (345 g)
9 bell peppers, halved lengthwise, seeds and ribs removed
3 cups marinara sauce (720 mL)
1 cup parmesan cheese, grated (110 g)
32 oz fresh mozzarella cheese, sliced (905 g)
Preparation
1. Preheat the oven to 400°F (200°C). Set a wire rack over a baking sheet. Grease another baking sheet with nonstick spray.
2. In a medium bowl, combine the chicken, salt, pepper, oregano, garlic powder, rosemary, and onion powder, and toss until evenly coated.
3. Add the flour, eggs, and bread crumbs to 3 separate medium bowls. Coat a few pieces of chicken at a time in the flour, then the eggs, then the bread crumbs. Once coated, transfer to the wire rack.
4. Bake for 25 minutes, or until golden brown.
5. Arrange the bell peppers, cut-side up, on the greased baking sheet.
6. Spoon half of the marinara sauce into the peppers. Sprinkle half of Parmesan over the marinara. Add a few pieces of chicken to each pepper, then spoon over the rest of the marinara sauce, and sprinkle with the rest of the Parmesan. Top each pepper with couple slices of mozzarella.
7. Bake for 25 minutes, or until the cheese is melted and the peppers have softened.
8. Serve immediately.
9. Enjoy!