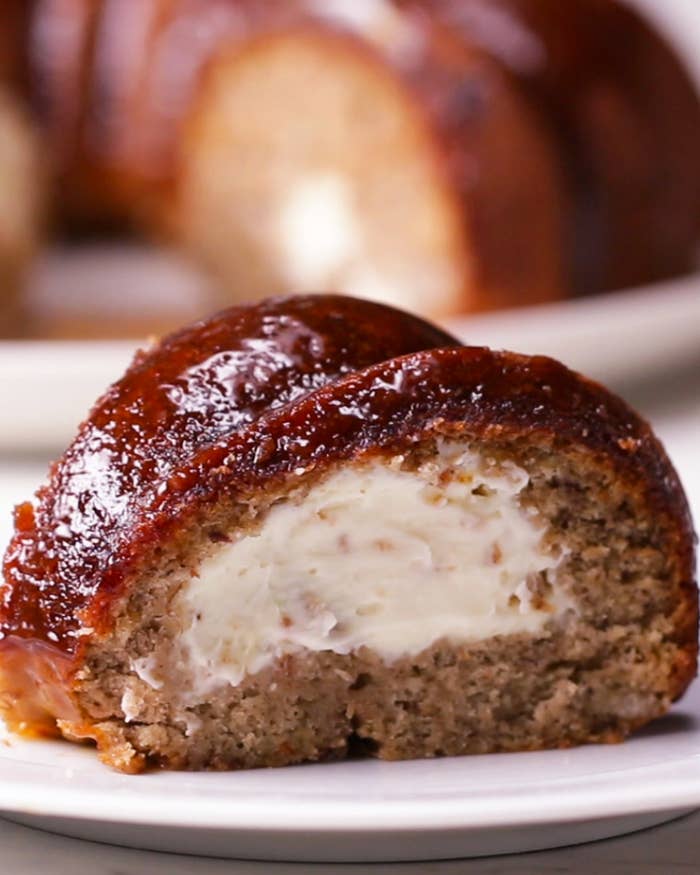 Ingredients
CHEESECAKE
16 oz (450 g) cream cheese, softened
½ cup (60 g) powdered sugar
1 teaspoon vanilla
BANANA BREAD
4 ripe bananas
4 tablespoons vegetable oil
1 egg
½ cup (100 g) sugar
1 teaspoon vanilla extract
1 ½ cups (190 g) all-purpose flour
1 teaspoon baking powder
1 teaspoon baking soda
¼ teaspoon salt
1 teaspoon cinnamon
CARAMEL
1 cup (200 g) sugar
6 tablespoons butter
½ cup (120 mL) heavy cream
Preparation
1. In a medium bowl, whisk together the cream cheese, sugar, and vanilla extract, stirring until smooth. Refrigerate.
2. Preheat the oven to 350°F (180°C).
3. In a large bowl, mash the bananas with a fork.
4. Add in the flour, sugar, baking powder, oil, egg, baking soda, salt, cinnamon, and vanilla. Stir until just combined, without over mixing.
5. Pour half of the banana bread batter into a greased bundt pan.
6. With an ice cream scoop, scoop the cream cheese mixture evenly onto the cake batter, making sure that it does not touch the sides of the cake pan.
7. Pour the rest of the banana bread batter on top and smooth it evenly.
8. Bake for 30 minutes, or until the banana bread is golden.
9. To make the caramel glaze, heat the sugar in a saucepan over medium-high heat.
10. Once the sugar begins to melt, stir with a wooden spoon or whisk.
11. Once the sugar reaches a boil, add the butter and stir until melted.
12. Remove from heat, add in the heavy cream and immediately stir until incorporated.
13. Allow the caramel to cool and thicken.
14. Invert the banana bread onto a wire rack set on top of a baking tray.
15. Pour the caramel glaze over the cake, letting the excess drip off the wire rack and onto the baking tray.
16. Once the glaze has set, slice the cake.
17. Enjoy!