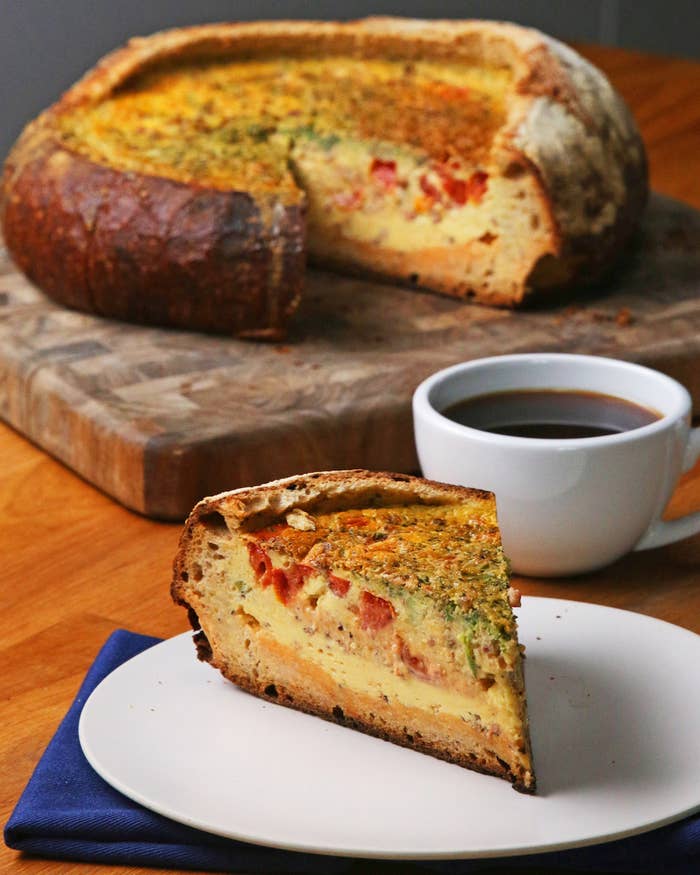 INGREDIENTS
for 8 servings
1 large loaf sourdough bread
10 slices cheddar cheese
18 large eggs
2 teaspoons salt
2 teaspoons pepper
½ lb bacon, cooked, chopped (225 g)
1 cup shredded cheese blend (100 g)
1 cup broccoli, chopped, cooked (150 g)
1 tablespoon fresh scallion, sliced
2 cups heavy cream (480 mL)
1 cup cherry tomatoes, halved (200 g)
mixed greens salad, for serving
PREPARATION
1. Preheat the oven to 350°F (180°C). Line baking sheet with aluminum foil and place a sheet of parchment paper over the foil.
2. With a serrated knife, cut off the top half-inch (1 cm) of the sourdough loaf. Cut around the edge of the bread, then use your fingers to remove the center and set aside for later.
3. Line the inside of the bread bowl with the sliced cheddar cheese.
4. Place the bread bowl on the baking sheet and wrap the outside with the parchment and foil.
5. Bake for 8 minutes, or until the cheese is melted.
6. In a large bowl, combine the eggs, salt, pepper, bacon, shredded cheese blend, broccoli, scallions, and heavy cream. Whisk until smooth, then add the cherry tomatoes.
7. Pour the egg mixture into the bread bowl, leaving a half-inch (1 cm) of space at the top. Cover the bread bowl with foil.
8. Bake for 1 hour and 40 minutes, or until the center of the quiche has set
9. Let cool for at least 30 minutes before slicing. Serve with a mixed green salad.
10. Enjoy!