Bacon-wrapped Mashed Potato-stuffed Meatloaf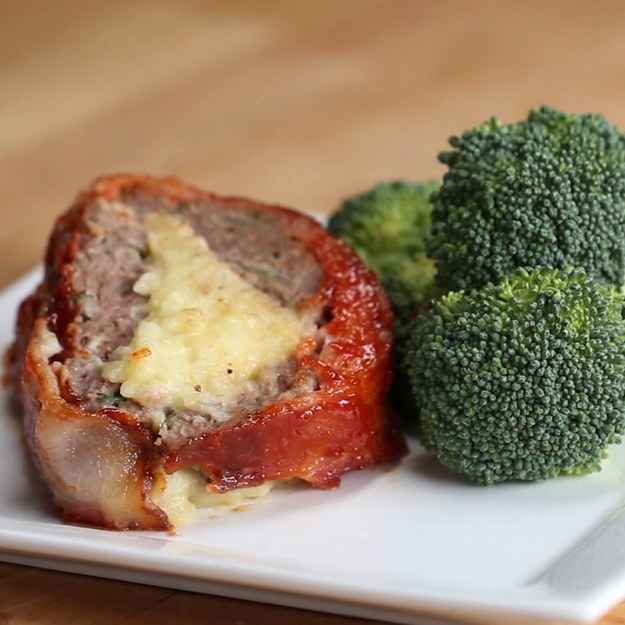 Ingredients:
8 servings
900 g (2 lb) ground beef
150 g (1 cup) onion, diced, sauteed
3 cloves garlic cloves, minced, sauteed
165 g (1 1/2 cups) grated parmesan cheese, divided
2 egg
50 g (1 cup) panko breadcrumb
2 teaspoons salt
1 1/2 teaspoons pepper
2 teaspoons worcestershire sauce
120 mL (1/2 cup) milk
15 g (1/2 cup) fresh parsley, finely chopped
Glaze
360 mL (1 1/2 cups) ketchup
110 g (1/2 cup) brown sugar
2 teaspoons mustard powder
2 teaspoons onion powder
2 teaspoons paprika
55 g (1/4 cup) tomato paste
Mashed Potatoes
455 g (1 lb) yukon gold potato, peeled, chopped, cooked
2 tablespoons butter
1 teaspoon salt
1/2 teaspoon pepper
240 mL (1 cup) milk
28 slices bacon, slices
Preparation:
1. Preheat oven to 350˚F (180˚C).
2. In a large bowl, mix together beef, cooked onions and garlic, Parmesan, eggs, panko, salt, pepper, Worcestershire, milk and parsley. Set aside.
3. In another bowl, make the glaze by mixing ketchup, brown sugar, mustard powder, onion powder, paprika, and tomato paste. Reserve half of the glaze in a separate bowl for after the meatloaf is cooked. Set aside.
4. In a large bowl, mash cooked potatoes, butter, salt, pepper, milk and parmesan to desired consistency. Set aside.
5. Line a bundt pan with slices of bacon and use a pastry brush to spread a layer of glaze on the inside of the bacon.
6. Add ⅔ of the meat to the bottom of the bundt pan and spread up the sides and up the middle of the pan making a "bowl" for the mashed potatoes.
7. Add the mashed potatoes into the "bowl" and smooth out. Top the mashed potatoes with the remaining meat, smooth out, coat the top with the raw meat glaze, and fold the slices of bacon over the top of the meat. Cover with foil and bake for 1 hour, remove the foil after 30 minutes and carefully drain some of the fat before putting it back into the oven.
8. Place a cooling rack on top of the bundt pan and flip over onto a baking sheet. Remove the bundt pan and coat the meatloaf with the reserved glaze.
9. Broil on high for 3-5 minutes or until the glaze has caramelized.
10. Enjoy!