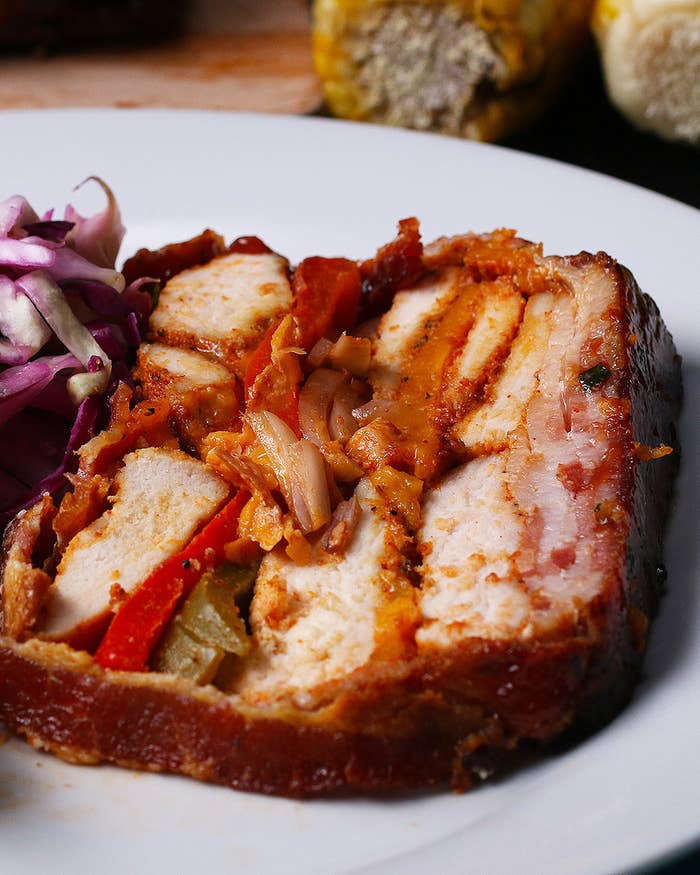 Ingredients:
for 6 servings
5 chicken breasts
1 tablespoon salt
1 tablespoon garlic powder
1 tablespoon smoked paprika
1 tablespoon onion powder
1 teaspoon chili powder
1 teaspoon pepper
½ teaspoon cayenne pepper
20 slices bacon
1 cup BBQ sauce, divided (290 g)
10 slices cheddar cheese
2 green bell peppers, sliced
½ red onion, sliced
2 red bell peppers, sliced
Preparation:
1. Preheat the oven to 350°F (180°C).
2. Cut each chicken breast in half crosswise, then cut the larger half again horizontally, creating 3 cutlets. Transfer to a large bowl.
3. In a small bowl, combine the salt, garlic powder, smoked paprika, onion powder, chili powder, black pepper, and cayenne pepper. Stir to combine.
4. Pour the spice mix over the chicken cutlets and toss to coat completely in the seasoning. Set the chicken aside.
5. Arrange the bacon slices in a 9x5-inch (23x13-cm) loaf pan, making sure the bottom and sides are fully covered, and that the strips hang over the sides.
6. Layer in 4 seasoned chicken cutlets, 2 tablespoons of barbecue sauce, 5 slices of cheddar cheese, 4 more chicken cutlets, another 2 tablespoons of barbecue sauce, the green pepper, onion, 2 tablespoons of barbecue sauce, the red pepper, 5 remaining cheese slices, and the remaining chicken. Then, wrap the overhanging strips of bacon over the top of the loaf.
7. Cover the loaf with foil and bake for 1 hour. Then remove the foil, drain any excess fat, and bake for another 30 minutes uncovered, making sure the chicken is cooked through and the bacon is brown and crispy.
8. Remove the bacon loaf from the oven and turn on the broiler. Invert the loaf onto a wire rack set atop a baking sheet and baste the loaf with the remaining barbecue sauce.
9. Broil for 5 minutes, until the glaze dries slightly.
10. Slice and serve with rolls or other barbecue party food.
11. Enjoy!