5-Ingredient BBQ Chicken-Stuffed Sweet Potatoes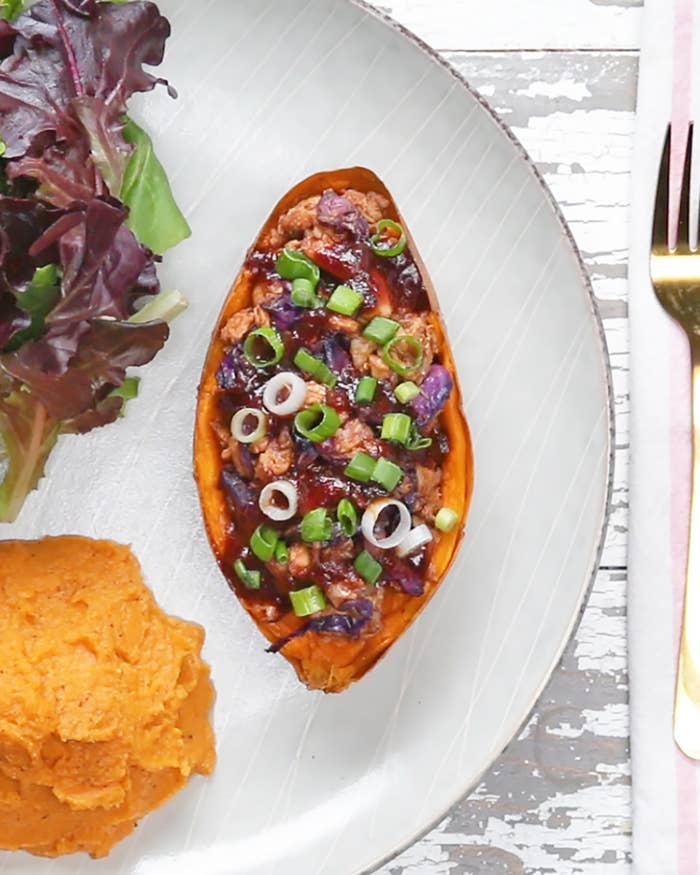 Ingedients:
for 2 servings
1 large sweet potato
1 tablespoon olive oil
1 pinch salt
1 rotisserie chicken breast
1 cup red cabbage, shredded (100 g)
⅓ cup barbecue sauce, plus more for serving (85 g)
2 tablespoons green onions, thinly sliced
Preparation:
1. Preheat the oven to 425°F (220°C). Line a small baking sheet with parchment paper.
2. Using a sharp knife, carve out one of the breasts from the rotisserie chicken. If the chicken is particularly small, use both breasts. Chop the chicken breast into very small pieces and set aside.
3. Use a fork to poke holes all over the sweet potato. Transfer the sweet potato to the prepared baking sheet.
4. Bake for 40-50 minutes, until the sweet potato is tender when pierced with a paring knife or skewer.
5. Add the cabbage to a medium skillet over medium heat. Add the barbecue sauce and sauté until the cabbage starts to soften, about 3 minutes.
6. Add the chopped chicken and stir just to incorporate. Remove the pan from the heat.
7. Once the sweet potato is cool enough to handle, slice it in half lengthwise and scoop out the flesh with a spoon until a ¼-inch (6 mm) layer remains.
8. Fill the sweet potato skins with the chicken and cabbage filling, drizzle with barbecue sauce, and top with the sliced green onions.
9. Enjoy!