4 Layers 4 Textures, 1 Chocolate Cake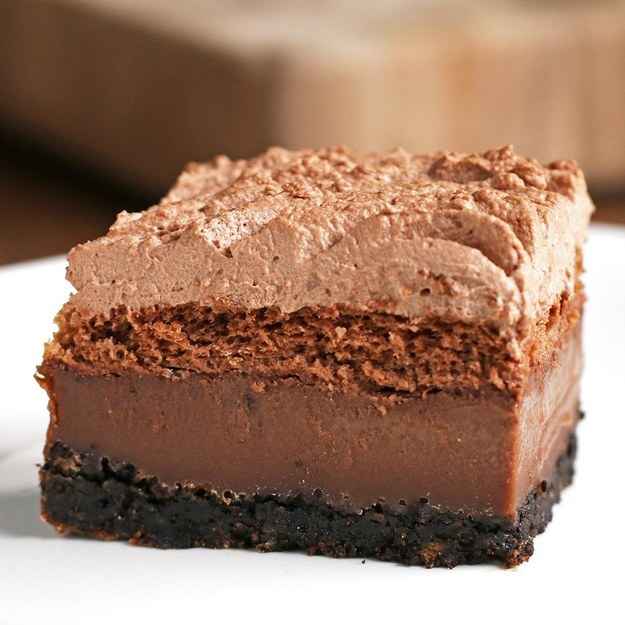 INGREDIENTS
12 servings
10 graham cracker, crushed
150 g (3/4 cup) granulated sugar, divided
3 tablespoons granulated sugar,
40 g (1/3 cup) cocoa powder, plus 4 tablespoons cocoa powder, divided
14 tablespoons unsalted butter, 1 3/4 sticks, melted, divided
4 large egg
1 teaspoon vanilla extract
60 g (1/2 cup) all-purpose flour
480 mL (2 cups) whole milk
1/2 teaspoon cream of tartar
360 mL (1 1/2 cups) heavy cream
2 tablespoons powdered sugar
PREPARATION
1. Preheat oven to 350˚F (180˚C). Line an 8-inch (20-cm) square baking pan with parchment paper.
2. In a large bowl, combine the graham cracker crumbs, 3 tablespoons of granulated sugar, 2 tablespoons of cocoa powder, and 6 tablespoons of melted butter until fully incorporated and mixture looks rich and chocolaty.
3. Transfer the mixture to the baking pan and pack down to fill the bottom of the pan.
4. Bake for 10 minutes, then let cool.
5. Reduce the oven temperature to 325˚F (160˚C).
6. Separate the eggs into two large bowls.
7. Add the remaining ¾ cup (150 g) of granulated sugar to the egg yolks and whisk until pale yellow.
8. Add the remaining 8 tablespoons of melted butter and the vanilla, and mix until fully incorporated.
9. Sift in the flour and ⅓ cup (40 g) of cocoa powder, and mix thoroughly.
10. Slowly add the milk, stirring continuously, until a very wet batter forms.
11. Beat the egg whites with a hand mixer until frothy. Add the cream of tartar and continue beating until medium peaks form. Whisk a third of the egg whites into the egg yolk batter, then gently fold in the remaining egg whites with a rubber spatula.
12. Pour the batter over the graham cracker crust and bake for 40 minutes, or until the edges are set and the center jiggles slightly. Let cool for at least 1 hour.
13. In a large bowl, whip the heavy cream until soft peaks form and the cream has doubled in volume.
14. Sift in the remaining 2 tablespoons of cocoa powder and the powdered sugar and fold with a rubber spatula to incorporate.
15. Invert the cooled cake onto a cutting board. Remove the parchment paper and flip the cake again so the graham cracker crust is on the bottom.
16. Spread the chocolate whipped cream onto the cake.
17. Slice and serve.
18. Enjoy!
Inspired by:
https://www.jocooks.com/recipes/chocolate-magic-cake/